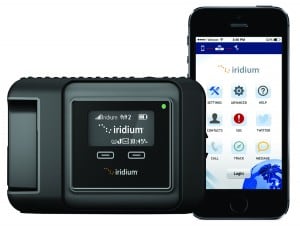 UPDATED 08/16/16 See our new article, Iridium GO! Review for details on how we set it up and how we used it.
For our upcoming ocean passage we are planning to use the Iridium GO!. Crossing from the Canary Islands to Miami will take us about 20 days. During that time, we have to be in contact with our clients. Not only will we be selling boats, we will also be closing on some deals. So, communication is vital to us. We have done a lot of research for the best option and the Iridium GO! unit sounds like the perfect choice for us. It's designed for data and voice with an "unlimited data" plan, so high per-minute data charges should not be an issue.
The Iridiumc GO! is a hotspot that allows one access to the Iridium network for satellite communications. With your smartphone you can make phone-calls, and through apps on the smartphone, can access email, texts, data, weather and more. Sending photos, email, doing social media, getting weather info and more is now a breeze with a few caveats. We will be testing this device extensively before we set off on our ocean passage and will report on our findings, so stay tuned. Meanwhile, read this great report on the Iridium GO! by the guys from Distant Shores and this Q & A interview of Tim Johnson, director of Iridium Land Mobile Business, by editor-in-Chief Peter Swanson of Passagemaker. It is full of useful information.
Also read our article How To Save On Internet Data While Blue-Water Cruising