Today, Catamaran Guru™ is the number one go-to company for the catamaran buyers, sellers and owners.  We are completely independent and will give you an honest insight into boat ownership. As experienced yacht brokers and live-aboard catamaran owners ourselves, we help you realize your cruising dreams safely and comfortably while maintaining more of your investment. Whether you are a cruiser looking for a well priced, well-equipped catamaran or want to reduce cost of ownership by placing your catamaran in a charter fleet, we have the expertise to help you. We have countless happy owners in our community and would love to welcome you too!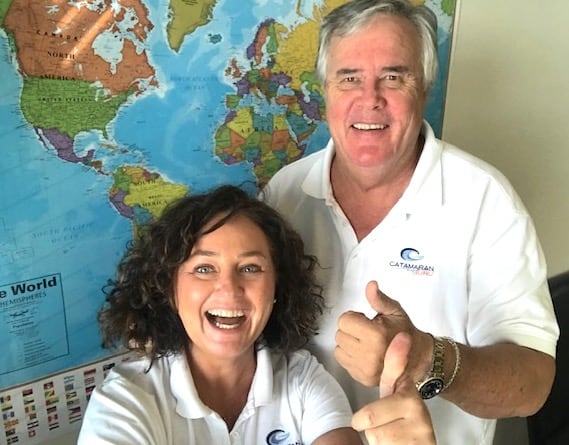 After much encouragement from friends, clients and colleagues, we took the plunge and created this website. We hope to tell our story as a way to not only entertain, but also to encourage and educate all the sailing dreamers and planners out there. We have owned six yachts (monohulls and catamarans) during our sailing career and have sailed 60,000+ miles in different parts of the world. Our story starts in 1992 in Cape Town, South Africa. With the same feeling of 'wanderlust' and a dream of traveling around the world, there was only one thing for us to do…make the dream a reality!
our founders: Stephen & Estelle
We are Stephen & Estelle. 25+ years ago in a friend's backyard in Cape Town, South Africa, we built our first boat and then sailed the world. Discovering new places, meeting extraordinary people, and enjoying unique experiences was fun, not work! We've co-owned a catamaran manufacturer, consulted with catamaran manufacturers, managed charter companies, and taught sailing. These experiences and living aboard for 22+ years have taught us important lessons that we happily share with fellow sailors and yacht owners like you. Read about our own story and boats!
Being successful catamaran broker-consultants isn't just business, it's our lifestyle. 
Stephen Cockcroft has been sailing since 1975. For more than 25 years, he has influenced and consulted in many aspects of the sailing industry. He is formerly from South Africa where he built his first ocean-going yacht in his backyard. This DIY sailboat project set him on a course to sail it 30,000 NM ending up in the USA where he now resides and is a proud citizen.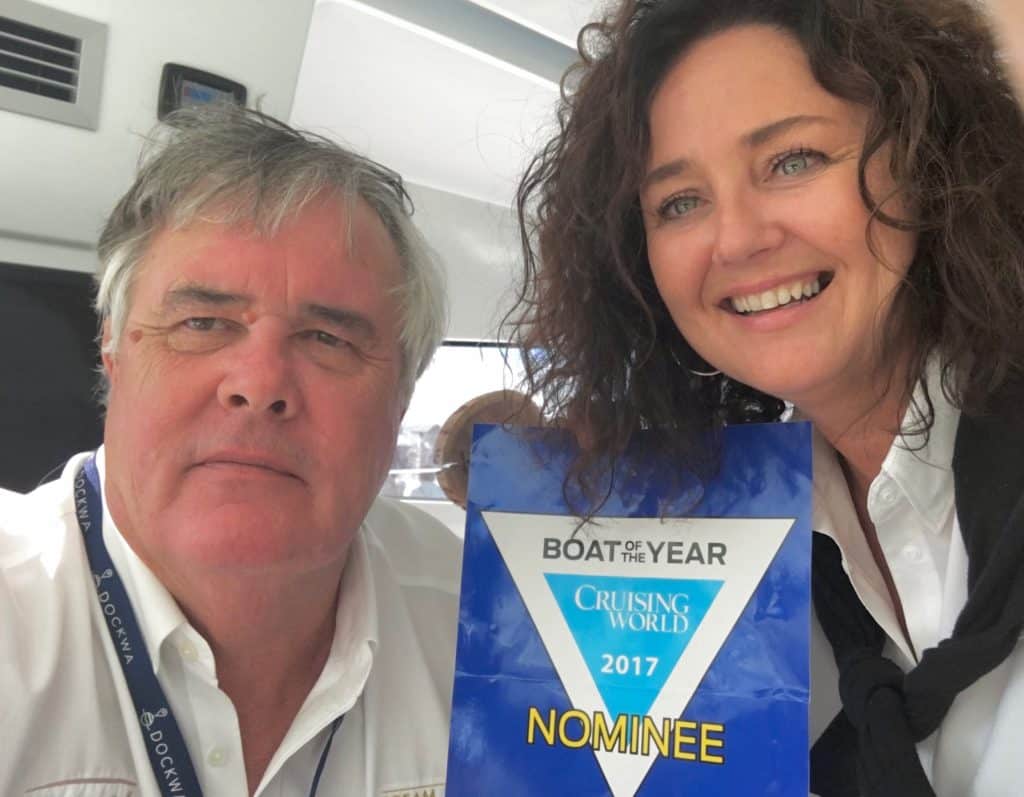 Estelle Cockcroft is known to her friends as the yacht gypsy…the girl with the crazy hair and even crazier personality, who is always on the move. A South African native, she has for 20+ years been traveling the globe as a contemporary "yachty" combining her love for the freedom of boating and travel with adventure, travel writing, cooking, fashion design, and catamaran sales.
Catamaran Guru is a team of professionals and custom-make 
yacht
ownership to meet the needs of our clients. We all live the lifestyle we sell. Our brokers don't just excel at buying and selling catamarans, they live the lifestyle. Each of our brokers have been a part of the Catamaran Guru community for years and:
Are boat owners themselves and have lived aboard or have done extensive sailing.
They have a broad technical knowledge of catamarans in general and do sail training and train new boat owners on their own catamarans.
Are a highly experienced and enthusiastic team!
...a note of sincere appreciation of the job you did as my broker. You have exceeded all my expectations. There wasn't a time day or night that you didn't pick up your phone or answer email when I called with questions. I started to wonder if you ever sleep! I was so blown away how you flew out on such short notice to the BVI to be there with me as the Yacht was surveyed and through negotiations. Your knowledge and eye for detail saved me a bunch of money...
...your clear and realistic explanation about the pros and cons of performance charter yacht ownership persuades us of the feasibility of doing it. The quality of the construction and finish to your boat Zuri convinced us of the value in a Lagoon 450s even though you both went to great lengths to present an unbiased review of the currently new and used catamarans in the marketplace...
I highly recommend Stephen ...The knowledge that Stephen has regarding catamarans and the charter business is the best I have experienced. His contacts in the industry are deep and seasoned which allows him to makes things happen with least amount of bother for the buyer...
Catamaran Guru Graduates & Clients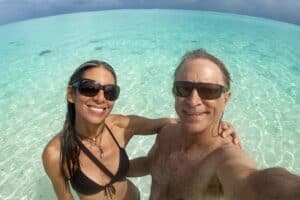 We got to know Tanya & Kevin first when they signed up for a live-aboard sailing course with us in the Bahamas several years ago.
Read More