Is a Guaranteed income program a Good Deal?
Ownership in a charter management program can provide solutions to the financial and practical disadvantages of traditional private ownership. It really is an easy option provided you go into it with the right expectations and goals.
If you are looking to retire in the next 3-5 years and want to go cruising, the Guaranteed Income program may be a good option for you. 

This program allows you to partially pay off the boat (around 45%) while you get ready to move on board. 
Meanwhile, you get to sail in different places in the world and try different boats (some companies will allow you to charter different types (Catana, Bali, Lagoon, Fountaine Pajot) and sizes of boats). Not only will you learn a lot about the different boats or specifically with your own boat, but will get comfortable with sailing and living aboard in general.  At the end of the program you will have paid around 45% of the cost of the boat from the guaranteed monthly payment for 60 months The boat will be worth around 65% of the original value when you sell and you will have had 4-6 weeks / year for 5 years of free sailing time (most owners are unable to take more weeks).  So, you will have good equity in the boat and know if you want to sell and upgrade or refurbish and continue cruising your own boat.
Alternately, you may have friends who love sailing as much as you do. You could put together a partnership with several other families. That way this investment becomes an even more desirable endeavor and you can use all 12 owner weeks, rather than only 3-6 weeks as a single owner. At the end of the program, the partnership company sells the boat and you could invest in a new boat in a program or move on and outright sell the boat. So, you will have paid around 45% of the cost of the boat from the guaranteed monthly payment for 60 months, recoup around 65% of the original value when you sell and you will have had 12 weeks / year for 5 years of free sailing time.
What is the Guaranteed Income Program?
The bigger charter companies like Dream Yacht Charter or Moorings offer:
9% guaranteed income over 60 months on the value of the yacht.

You also get up to 12 weeks of owner time at any of their bases in the world, although most owners can use on average only about 5 weeks per year. If you have a partnership arrangement, the 12 weeks are very attractive

There are no costs to the owner for the duration of the program. So, insurance, dockage and maintenance is paid by the charter company

The yacht will be maintained for the duration of the program and then be phased-out at the end of the 60 month period. The owner receives a full schedule of the phase-out program and should receive a boat back at the end of the program that is in good condition, with all systems working, excepting for fair wear and tear.
*Charter company programs and boat prices may differ. This is an example only.
Is A Guaranteed Income Program A Good Deal?
For this exercise we will use a Lagoon 400S2, 4 cabin layout, in the BVI as an example. See the spreadsheet here: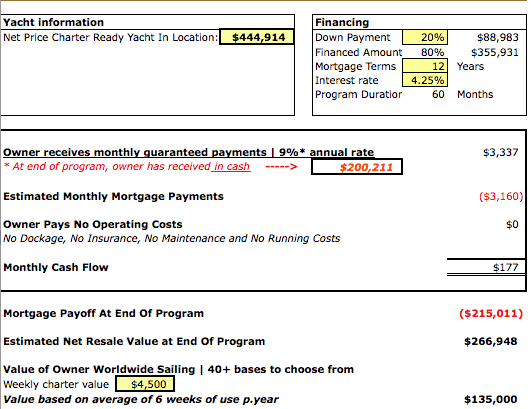 Equity in your boat: $51,937
Value of 6 owner weeks @ $4500 average: $135,000
Value after 5 years based on statistics of SOLD boats over five years: $266,948
Mortgage Payoff: $215,011
Monthly Mortgage Payment: $3,160
Monthly Guaranteed Payment: $3,337
20% Down Payment: $88,983
Lagoon 400 Net Price: $444,914
You will receive back 45% of the cost of the Yacht in guaranteed income and pay no

insurance

, no dockage, and no maintenance. All you have to pay is your mortgage, which the guaranteed income payment will cover.

The yacht, provided you bought a desirable yacht and layout, will be worth up to 65% of the original price. Catamarans are more desirable than monohulls.

The owner weeks have a value and should be calculated in this equation. Your weeks are worth on average $4,500/week. That will be $27,000 / year of free vacation on the above mentioned catamaran model. You can also "upgrade" on your owner weeks. The bigger companies will allow you to pay a small upcharge to charter a bigger yacht anywhere in their fleet with some exceptions.

Maintenance becomes a non-issue. A friend once remarked that he spent a week just working on his boat he owns and keeps in a marina close to his house. He had planned one day to go for a quick sail, but instead, had to do unexpected maintenance. He never had the time to go sailing! The following week he flew to the

BVI

 and used his owner exchange time with the Moorings. He walked aboard the boat and that night he was anchored out, enjoying the islands, with no time needed for

maintenance

and no unexpected headaches. He says: "It may be hard to put a dollar value on that, but that worry-free convenience has a great value for me."
Conclusion
Looking at the numbers on the spreadsheet, it shows that after five years you will walk away almost even or slightly ahead. Your sailing for the 60 month period is free because it is owner time which you do not pay for but has an intrinsic value.
End Of Program Options
You may want to keep your yacht for personal use or live-aboard, most charter companies offer alternative options. Smaller companies like TMM or BVI Yacht Charters do not limit your time in the fleet, provided the boat is in good shape. However, 
you have to assess the increased cost of maintenance and the lower revenues that the aging yacht will fetch. Bigger companies limit the age of yachts to 5 year or max 6 years as they bill themselves as "first tier" companies and charge accordingly. Some of them do have second-tier fleets where you can extend your management program. Alternately, some companies offer trade-in options if you want to continue in the program and buy a new yacht. They will also help you sell your pre-owned charter yacht for a 10% brokerage commission.
If you would like to discuss this or any other charter management programs, contact us here: