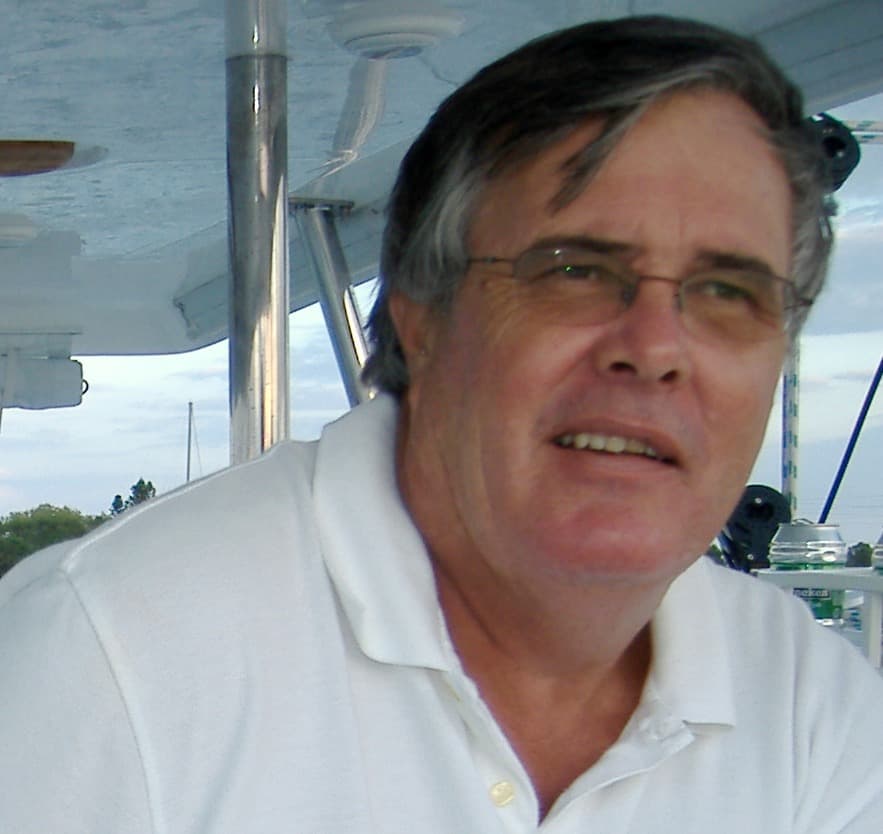 STEPHEN COCKCROFT / EXCLUSIVE BUYERS' BROKER LARGE CATAMARAN SPECIALIST
Stephen Cockcroft has sailed since 1975. For 30+ years, he has influenced and consulted in many aspects of the sailing industry. He is formerly from South Africa where he built his first ocean-going yacht in his backyard. This DIY sailboat project set him on a course to sail it 30,000 NM ending up in the USA where he now resides and is a proud citizen.
stephen@catamaranguru.com
  | 
804-815-5054
  |  Skype:
stephencockcroft
Stephen's involvement in the sailboat and sailing industries are diverse and broad-reaching. As owner of the very successful and popular Island Spirit Catamarans factory, co-owner of the third largest charter company in the Caribbean and North America, and longtime yacht and charter broker, he has gained insight into the inner workings of how to build and buy a yacht as well as how to operate the boat as a business. He has brokered many brands including the Flagship catamaran ranges for Lagoon, Fountaine Pajot, and Sunreef in the USA and has been involved in product development and customization of large catamarans for buyers. Stephen is a licensed and bonded yacht and ship broker in the State of Florida and operates his own US-based brokerage house.
Sailing Experience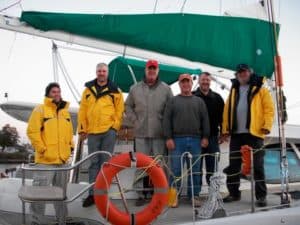 He is an accomplished offshore catamaran sailor having completed multiple trans-ocean voyages including the delivery of his own Island Spirit from Cape Town, South African, to Miami, a voyage of 7,000 NM. He has participated in offshore races on catamarans and most recently he won the Bahamas leg of the Caribbean 1500 on a Prout 50 (pictured right). Stephen is an Instructor Examiner for the American Sailing Association (ASA) having taught hundreds of people to sail catamarans and monohulls in hands-on, live-aboard courses in the Caribbean and the Bahamas.
Stephen and his wife, Estelle, have cruised 65,000+ NM aboard their ocean-going yachts (Bruce Roberts 45, Island Spirit 401, Prout 45, Lagoon 450S, Bali 5.4) and have visited more than 40 countries. They are sought-after experts on catamarans, yacht ownership solutions, yacht management, liveaboard cruising lifestyle, and understanding the needs and specifications for a successful cruising yacht. Through their thousands of posts on diverse sailing topics on this website and their direct consulting and brokerage relationships, they are a valued resource for all sailors and often become friends with the customers and students that they have worked with.
Catamaran Expertise & Yacht Ownership Programs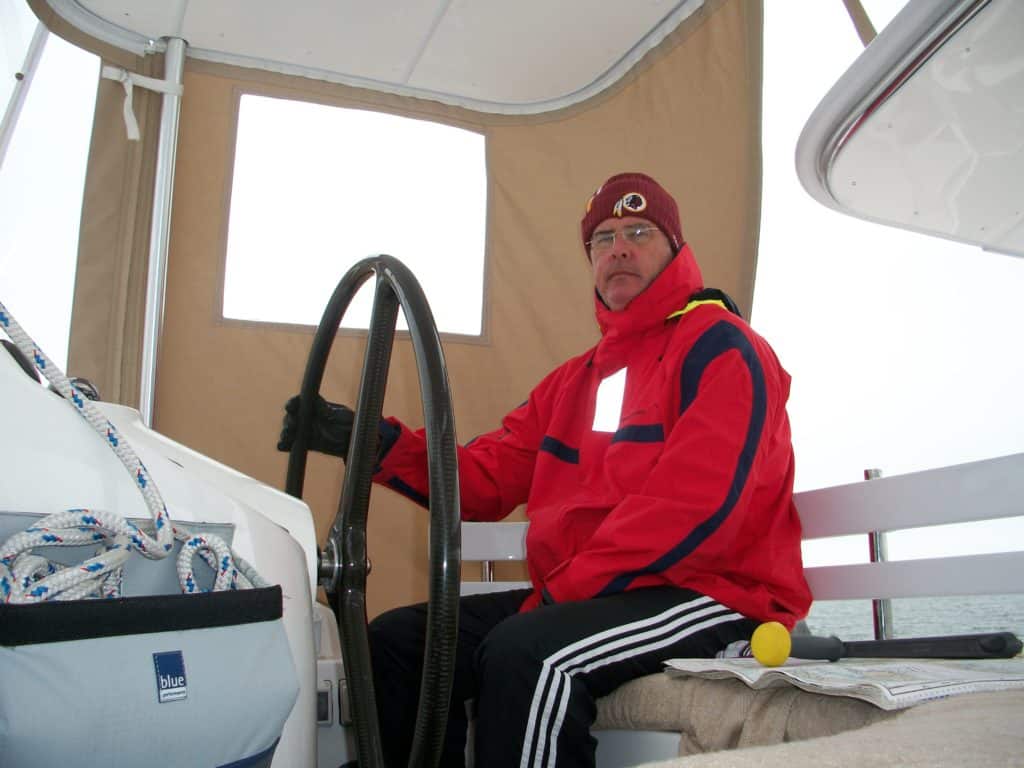 Stephen has represented hundreds of catamaran buyers in transactions as an independent consultant. Stephen Cockcroft has in recent years consulted with several clients to buy Flagship catamarans like Lagoon 77, Lagoon 620, Fountaine Pajot 59, Lagoon 52, Fountaine Pajot Alegria 67, and others into crewed charter all over the world.
With his vast and diverse experience in the international marine business, Stephen possesses a spectrum of technical, financial, taxation, contractual and sailing lifestyle insights. You want him in your corner representing your interests when buying or selling a yacht. Stephen helps you learn to set up your boat as a business to benefit from business tax deductions, understand the different charter management models, figure out which model helps you achieve your goals, identify ways to offset the cost of yacht ownership, and, most importantly, figure out your exit strategy.
...a note of sincere appreciation of the job you did as my broker. You have exceeded all my expectations. There wasn't a time day or night that you didn't pick up your phone or answer email when I called with questions. I started to wonder if you ever sleep! I was so blown away how you flew out on such short notice to the BVI to be there with me as the Yacht was surveyed and through negotiations. Your knowledge and eye for detail saved me a bunch of money...
...your clear and realistic explanation about the pros and cons of performance charter yacht ownership persuades us of the feasibility of doing it. The quality of the construction and finish to your boat Zuri convinced us of the value in a Lagoon 450s even though you both went to great lengths to present an unbiased review of the currently new and used catamarans in the marketplace...
I highly recommend Stephen ...The knowledge that Stephen has regarding catamarans and the charter business is the best I have experienced. His contacts in the industry are deep and seasoned which allows him to makes things happen with least amount of bother for the buyer...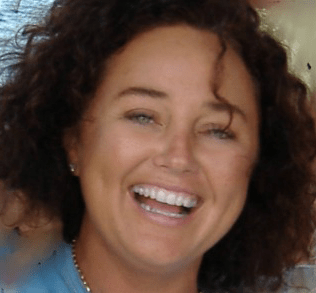 ESTELLE COCKCROFT / EXCLUSIVE BUYERS' BROKER LARGE CATAMARAN SPECIALIST
Estelle Cockcroft is known to her friends as the yacht gypsy…the girl with the crazy hair and even crazier personality who is always on the move. A South African native, for 25+ years she has traveled the globe as a contemporary "yachty" combining her love for the freedom of boating and travel with adventure, travel writing, cooking, fashion design, and catamaran sales.
estelle@catamaranguru.com
|
954-249-9764
| Skype:
estellecockcroft
She has been intimately involved in the boating business for many years with
Stephen
, from the building process of catamarans to selling and managing charter yachts in the Caribbean and the USA to teaching sailing. Before her life as the intrepid sailor, she worked as a fashion designer for the houses of Hang Ten and Gossard designing swimwear and luxury lingerie…a preparation of sorts for the life as a sailor / diver…?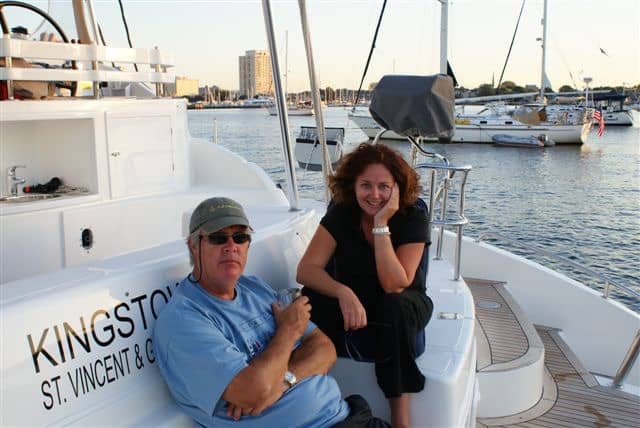 She has sailed 60,000+ nautical miles with Stephen in remote and exotic locations around the world. Her latest "love interest" is riding their customized Harley Davidson motorcycle in some of the most spectacular places in the USA. She's thrilled to share her boating experiences and knowledge with a growing community of women in sailing. As a qualified ASA captain and sailing instructor, she has helped many tentative and reluctant sailors take the plunge into the exciting world of sailing and adventure. She loves helping people prepare to venture out into the world and live their travel dreams! Estelle is passionate about cultural preservation and sustainable travel as she feels they are crucial movements to ensure enjoyment of global adventures for generations to come. Always looking out for her next challenge, she relishes testing her nerves and muscles. The freedom and independence of the sailing lifestyle suits her personality as a free spirit. She has no "home" in the traditional sense, because according to her '…life is a journey and the journey is her home…"