TESTIMONIAL: GREG & CHRISSY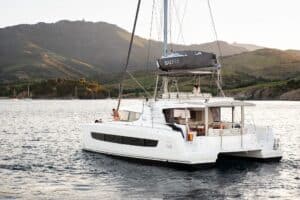 From the first time we met Stephen and Estelle, we were taken in by their charismatic personalities, hospitality, knowledge, and willingness to listen; and it has been an incredible journey with them ever since then! They were always accessible, helpful and guiding as we navigated through the process of building our new Bali 4.8. Even through delivery and set up of our luxury crewed charter business (www.dreamcaribbeanblue.com), they were there to lend a helping hand when needed. The purchase of this yacht has been a dream a long time in the making, and we can't imagine having taken this path and made this journey with anyone but Stephen and Estelle. We look to them not only as mentors and an exceptional source of knowledge, that they are always willing to share, but also as great friends. Greg & Chrissy / 2020 Bali 4.8 "Belle Vie"
Testimonial: From Emailing to Liveaboard Sailing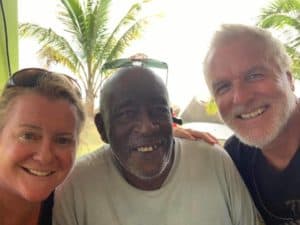 In all my life I had jumped on a Hobie Cat maybe a handful of times and took a dinghy sailing course with the Royal Navy when I was a teenager. Yet I had always had a dream that when I retired, I would quit the rat race, sell everything and sail a beautiful yacht around the Caribbean. When I met the love of my life online just over three years ago, one of our first email conversations was about that dream since Dara had both sailed extensively and lived in the Caribbean. I didn't really think it would happen; it was more a commonality, among many, that brought us together. Read more about how we worked with Catamaran Guru to make our liveaboard dreams come true.
– Captain Dara & David Knight, Lagoon 440, 'India'
Boat as a Business Program With A Twist Testimonial
Testimonial from Brian & Jen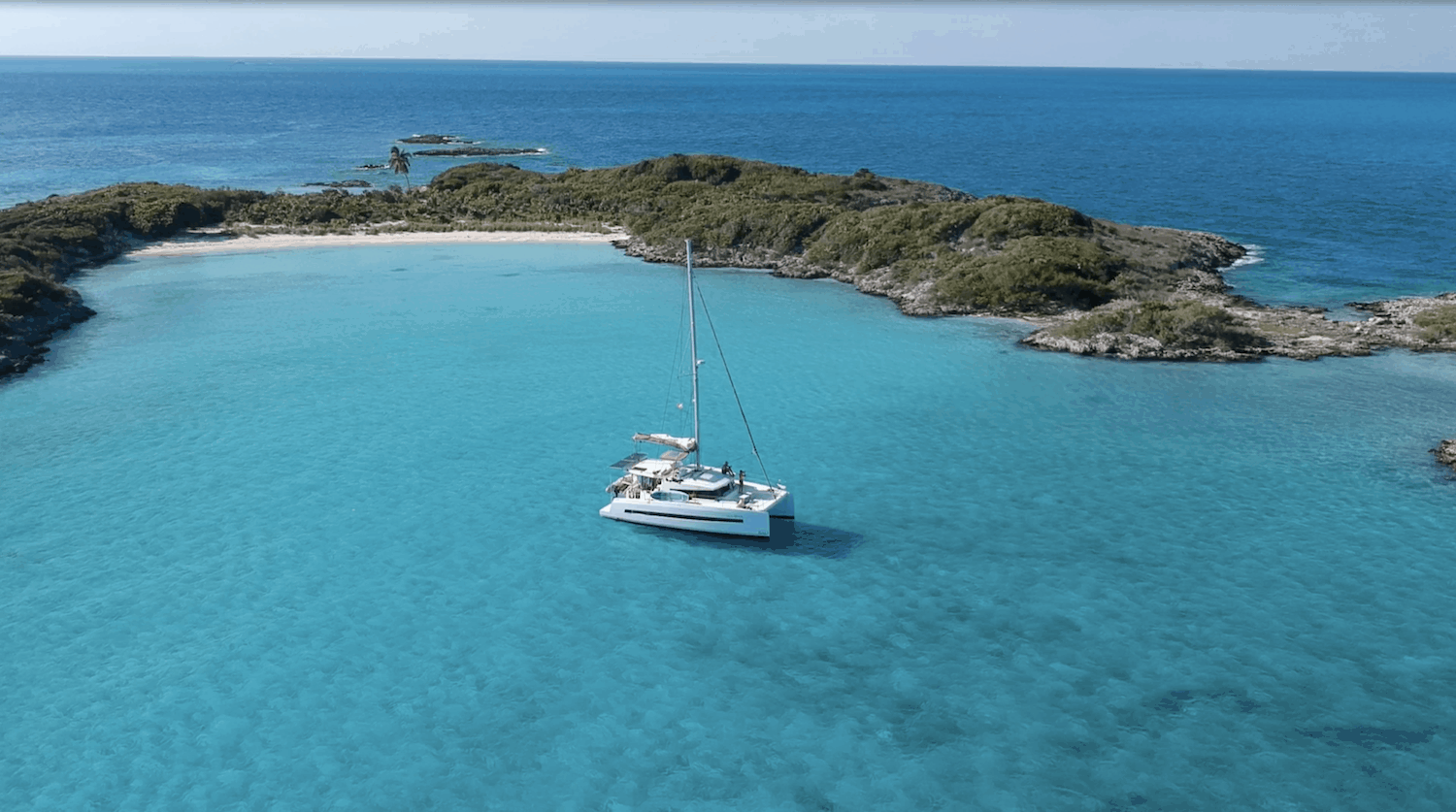 I just wanted to reach out to you again and thank you for the time and energy you spent responding to our emails a few months ago about our Bali4.0. It was obviously a stressful time in our lives buying out first boat sight unseen and trying to manage projects from afar and you were one of the rare very helpful people we stumbled upon along the way and I apologize that we were so caught up we never wrote to thank you (until now). We are now island hopping our way south through the Bahamas/Caribbean and loving the boat (and the lifestyle) so far!! Certainly, if you find yourselves south don't hesitate to reach out, we'd still love to host you for that happy hour. ) best and again a huge thanks for your responsiveness and helpfulness!
– Bryan+Jen, Bali 4.1
Testimonial from The Millers for a Brokerage Boat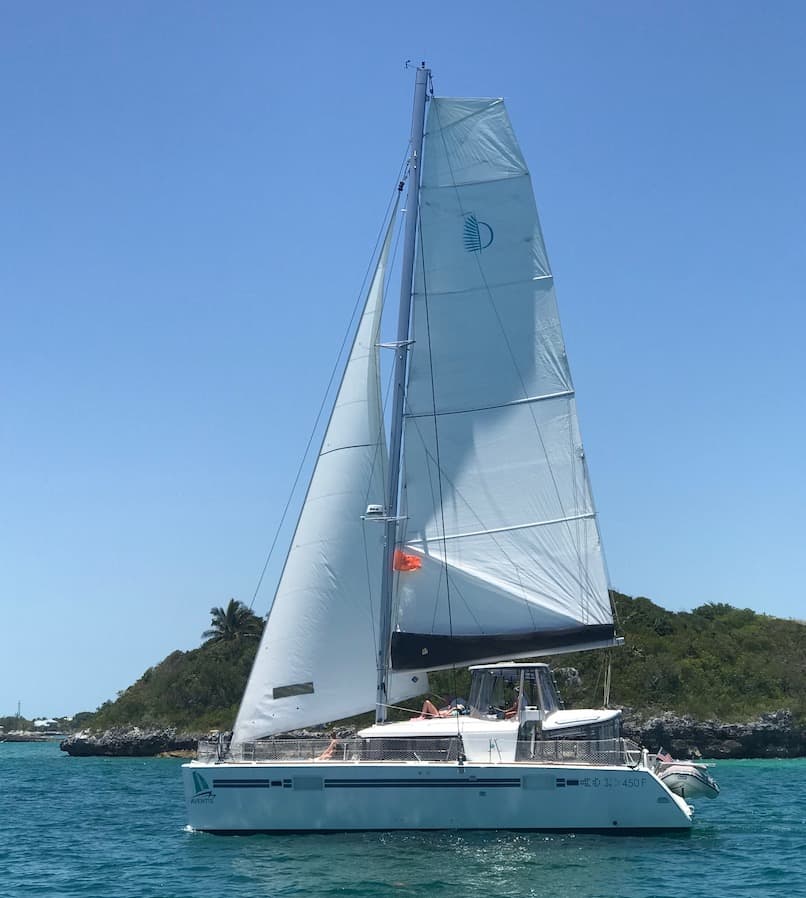 Hello team Catamaran Guru!! A quick thank you is in order. When I called you (Stephen) back in May (after selling my home and having cash in hand), I did NOT expect to have a boat available for purchase that day! The whole process has been a bit of a whirlwind…in a very good way for sure. I want to say "thank you" to the both of you for making the process as smooth as possible and for getting the job done! And to say that Martin has been there "after the sale" is a GIANT understatement. Thank you, Team Catamaran Guru!!
– Jeff & Cindy, 2017 Lagoon 450
Testimonial for Owning a Boat as a Business
Chris offers a first-hand account of his experience as a boat owner in a charter fleet. He openly talks about how the program has worked for him, why he chose this program over a conventional guaranteed income program, and much more.
In Chris' video testimonial, Stephen interjects some highlights and important points to remember when considering this program.
Testimonial for How to Buy a Yacht in 30 Days from Donavan & Mary Beth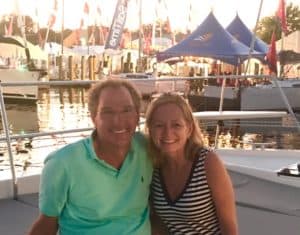 From the start of this journey on July 17 as I was perusing through Sail Magazine and saw the advertisement from Dream Yacht Sales, "Yacht Ownership Made Simple", to exactly three weeks later on August 11, we closed the deal and wired the final funds. We owned a boat. On August 22, we arrived in La Rochelle, France. And on August 25th, we were underway bringing our brand new Bali 4.3 yacht back home. Currently we're at sea, just a day from arriving in Las Palmas, Canary Islands. We plan to have our Bali 4.3 catamaran, Corazon", at the Annapolis Boat Show on October 4, 2018. Yes, you can buy a boat in 30 days. However, I came to the conclusion, how could anyone possibly purchase a boat overseas for the first time without the help of a trusted advisor like Stephen Cockcroft? [See their complete entertaining and informative testimonial about how they bought a yacht in 30 days.]
– Donavan Lane & Mary Beth Geraci, 2018 Bali 4.3, 'Corazon'
Luxury Crewed Charter Business Testimonial from Fabiola & Nim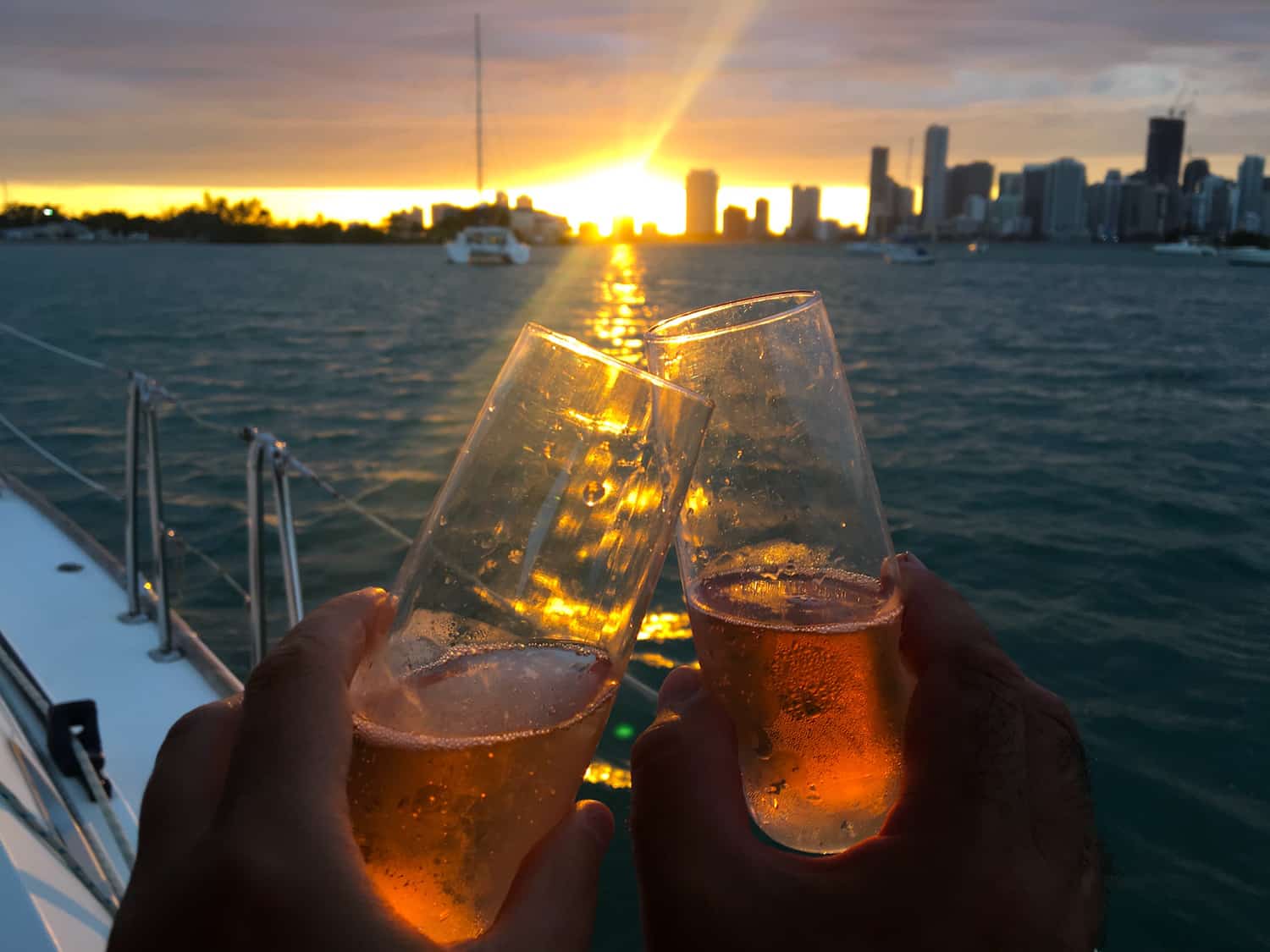 Thank you, thank you, thank you for making our DREAM come TRUE. It has been a GREAT experience to work with Stephen and Estelle. From day one until the delivery of LUNA, our new Lagoon 450S, and beyond, we always felt that we were in the right hands. Stephen and Estelle live up to their name, they truly are THE Catamaran Gurus! They are hard workers, very knowledgeable, give great advice and know how to point you in the right direction. It was a smooth ride. They know all the right people in this industry and connect you with the right professional in their network to make things happen. For us, it was much more than just buying a new boat. It was starting a new luxury crewed charter business, SailLUNA and a big change in our lives. Stephen and Estelle gave us the confidence and really helped us build our business from scratch. They were a key figure in making it happen. We fully trusted them and they delivered. Thanks again for making it happen, we are forever grateful.
– Fabiola & Nim, 2019 Lagoon 450 SporTop, 'Luna'
Testimonial from Toni & Robert: Liveaboard Charter Business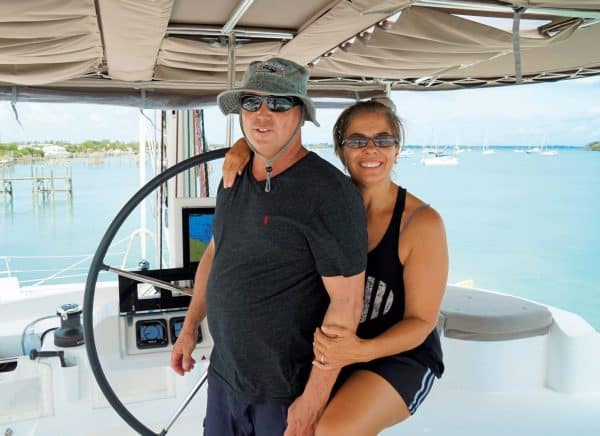 Our story seems quite similar to many charter/new boat owners that we meet; we all want more of the experience. Somewhere around age 55 we realized that although we may not feel like we have enough money to own a boat, we sure as heck knew that we will run out of time to physically handle a sailing lifestyle. Our new philosophy: any day on the water is better than a day in the office; no matter the weather there is always something good. Our path to ownership went through the Miami boat show in 2016 where The Catamaran Guru, Stephen Cockcroft, facilitated the purchase of our Lagoon 450 F. We choose a catamaran as I battle seasickness and the cat offers great stability. Robert flew over to France in November and was part of the three-person crew delivering Our Time from factory launch to her new home as part of the Dream Yacht Charter fleet in English Harbor, Antigua. [Toni and Robert are full-time liveaboards and run Our Time Yacht Charter.
– Toni & Robert Erdman, 2018 Lagoon 450 Fly, 'Our Time'
Testimonial from the Merediths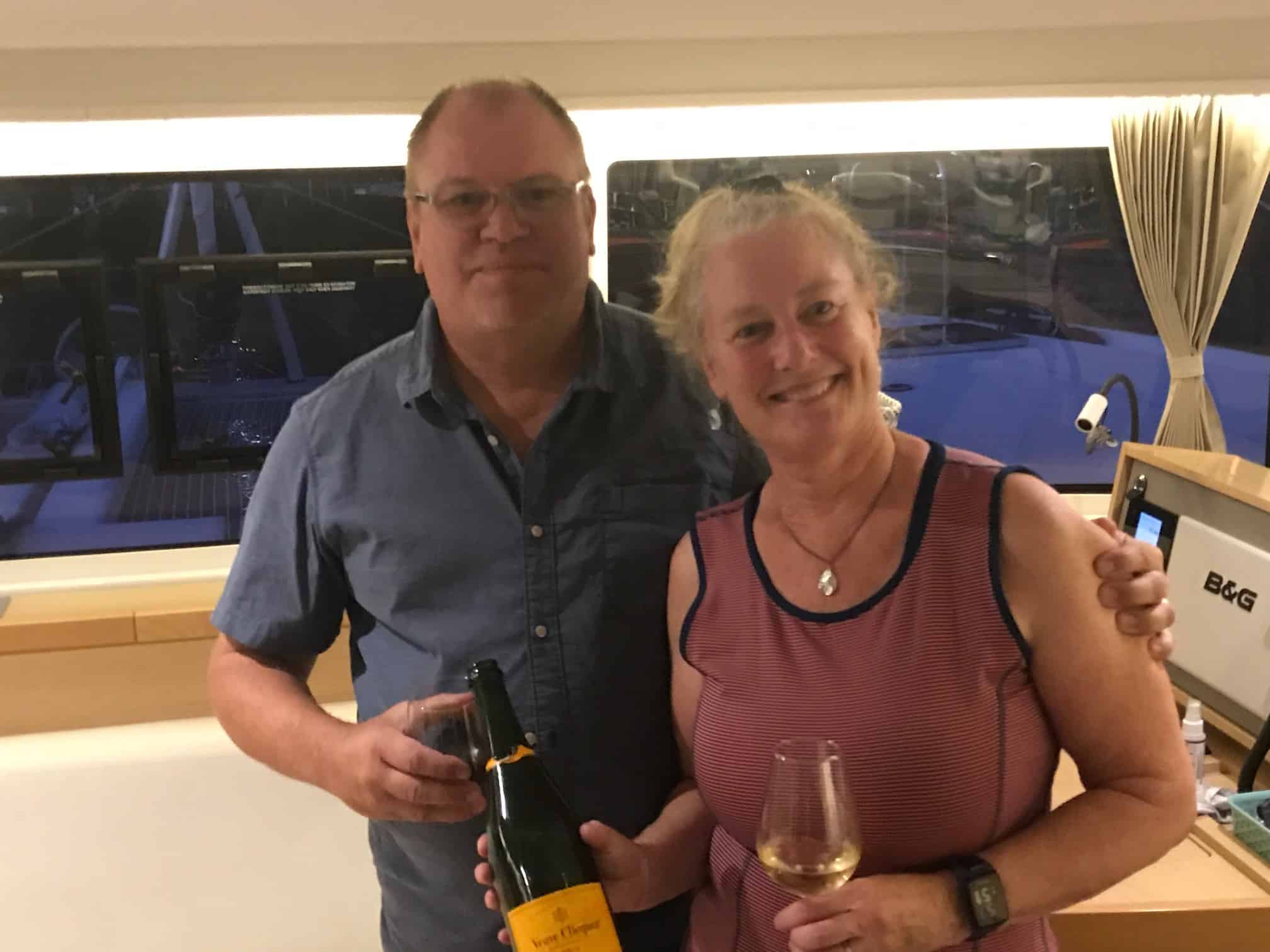 Stephen & Estelle Cockroft's expertise made the boat buying process secure and enjoyable. The Catamaran Guru's experience and principals gave us confidence in making good decisions throughout the process of purchasing of our Lagoon 42. They guided us not only throughout the negotiations, survey and purchase of our boat but were available after the purchase to mentor us regarding service, paperwork, vendors, upgrade options, suggestions on boat living and learning. We became part of their community of satisfied customers. We are grateful to have crossed paths with them and cherish them not only as our Boat Brokers and advisors but as friends, as well. Thank you, Catamaran Gurus, for starting us on our new journey in life on the water. Read more about the Merediths' life and transition from teaching music to living aboard.
– Kent and Kathy Meredith, 2018 Lagoon 42, 'WindEnsemble'
Testimonial from Brendan in Australia
Dear Estelle and Stephen, firstly, thank you for your excellent website and Youtube clips: your work is highly informative. Indeed, it was whilst researching both Yacht Charter ownership and catamaran choice that I came across your information and it certainly helped us in some big decisions. As a result, we signed a deal last year with Dream Yacht Charters (Australia) for a Lagoon 450S. Your personal experiences and advice on the Lagoon rung true with us and we are delighted with the boat – we visited her in production in November 2018 before she was shipped to The Seychelles early this year.
– Brendan – 2018 Lagoon 450S
Testimonial from a Monohull Guy Turned Catamaran Owner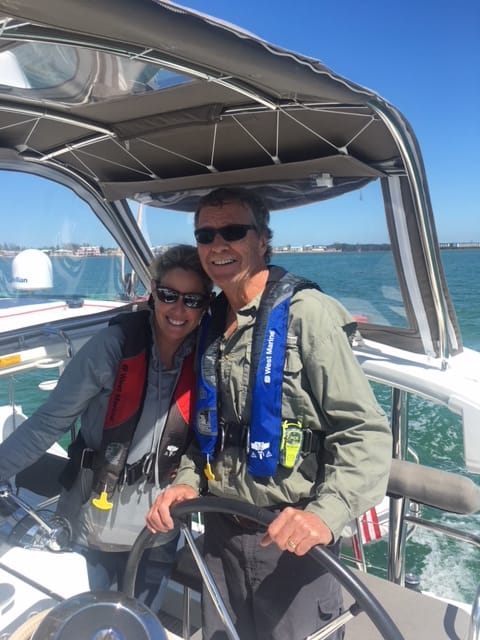 Catamaran or monohull? What are the pros and cons? We hear these questions so often! Well, we changed and there are so many reasons why, we wrote an article about why we changed to a catamaran and reading this, it might give you some insight into why a catamaran is, in our opinion the future of sailing. The Baileys also changed from a monohull and are now proud catamaran owners. Read what they have to say: "I discovered Catamaran Guru on the Web. I found the site to be very helpful and up-to-date with a lot of information on catamarans that helped an old monohull guy like me get comfortable with a cat and the differences to monohulls. I contacted Catamaran Guru to make inquiries on catamarans and was introduced to Captain Jeff Riecks who worked with me on selecting a boat. After getting educated on cats by Captain Jeff, he connected us with Stephen Cockcroft who steered me to a Lagoon 400. Steven's unequivocal direction to the Lagoon 400 was very helpful at a time when there weren't a lot of cats on the market as a result of hurricanes. I have no regrets on the boat I have purchased and am loving it. Once purchased, I needed a captain and crew to help me sail her back to Charleston, SC, from Houston. Captain Jeff said he could take on the delivery and also teach my wife the basics and getting comfortable on the boat once we got to south Florida. Captain Jeff's knowledge and experience have been indispensable in getting the boat fitted out and ready for the offshore passage. It has been a delight to have such a knowledgeable, experienced and teacher on this trip of a life time for me. Jeff has repeatably gone above and beyond the call of duty".
– The Baileys, 2015 Lagoon 400S
Not A Testimonial Exactly…Rather A Dream Realized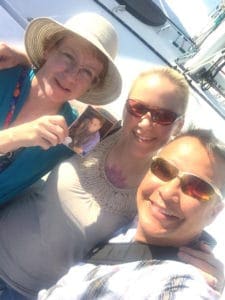 This is not an actual testimonial, but rather a true reflection of how seriously we take our responsibility as yacht brokers. This couple bought their boat with our help. We had been corresponding via email and phone. By the time we met them in person at the boat show, they had chosen their boat, the yacht management program, and the charter company they wanted to partner with.
All we had to do then, was put this on paper and make it official. While we all gathered on a Lagoon 42, they signed the contracts and wrote the deposit check, the emotion and excitement, clearly visible on their faces. Times like this is when we realize that we don't just sell a boat, we sell dreams. And that, as their representatives, our responsibility to help them make the right choices in this transaction is important. Read the rest of their heartwarming story
– 2018 Lagoon 42
Testimonial from Darin & Heather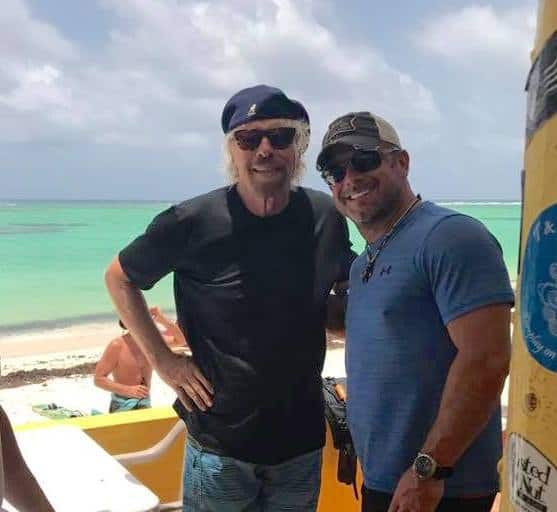 Stephen & Estelle Cockcroft are awesome! I researched catamarans for over a year and a half before I met them. Their knowledge, integrity and character caused me to go ahead and make the big purchase. Can't say enough good things about them!…" I appreciate you guys so much! You have definitely facilitated the reality of my dreams."
– Fountaine Pajot Soana 47 Black Tortuga (here with Richard Branson in the BVI)
Testimonial from Ed & Leigh
Stephen and Estelle, It has been a pleasure meeting and talking with both of you over the past few days. Your knowledge of the cruising lifestyle and business is impressive! We've enjoyed our discussions thus far. We appreciate your advice and mentorship. There's so much to navigate and on top of that, we feel we have been misguided in some of the information we have received elsewhere. Your advice has been spot on and instrumental in getting us where we want to be. We are definitely interested in dealing directly with you to get into the proper boat and the best charter arrangement for us. We've been drawn to the Lagoon 42 (preferably the owners version) and believe it is a better choice for us both short and long-term. We have learned so much during our time at the boat show. We wish we could have attended your seminar as we would not have felt nearly as lost in the process as we were/are. Thank you for your time and assistance. We truly value the opportunity to work with you!!
– Ed & Leigh, Lagoon 42
Testimonial from Amy & Vic W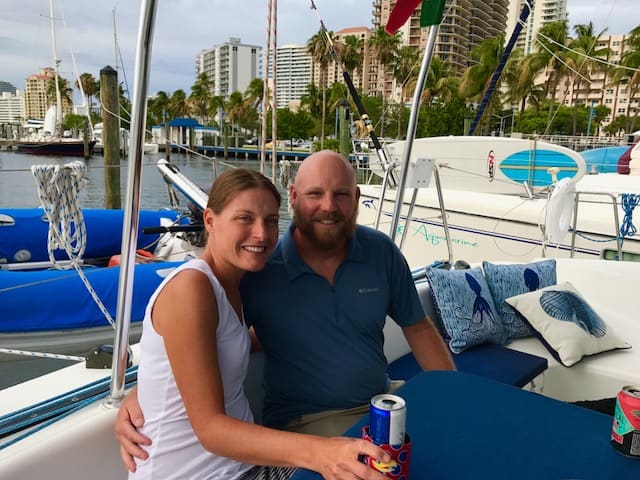 Stephen and Estelle have been amazing to work with! As first time boat buyers/owners their knowledge and experience before, during and after the purchase of our catamaran has been invaluable. Since the purchase of our boat, Estelle and Stephen have gone way beyond their role of yacht brokers. They personally invested their time, patience, help and guidance to insure the success of our dream to liveaboard our boat and travel. We will always consider them both trusted advisors and our friends."
– Amy & Vic, Lagoon 380 S/V Waterdog
Testimonial from Peggy & Dave W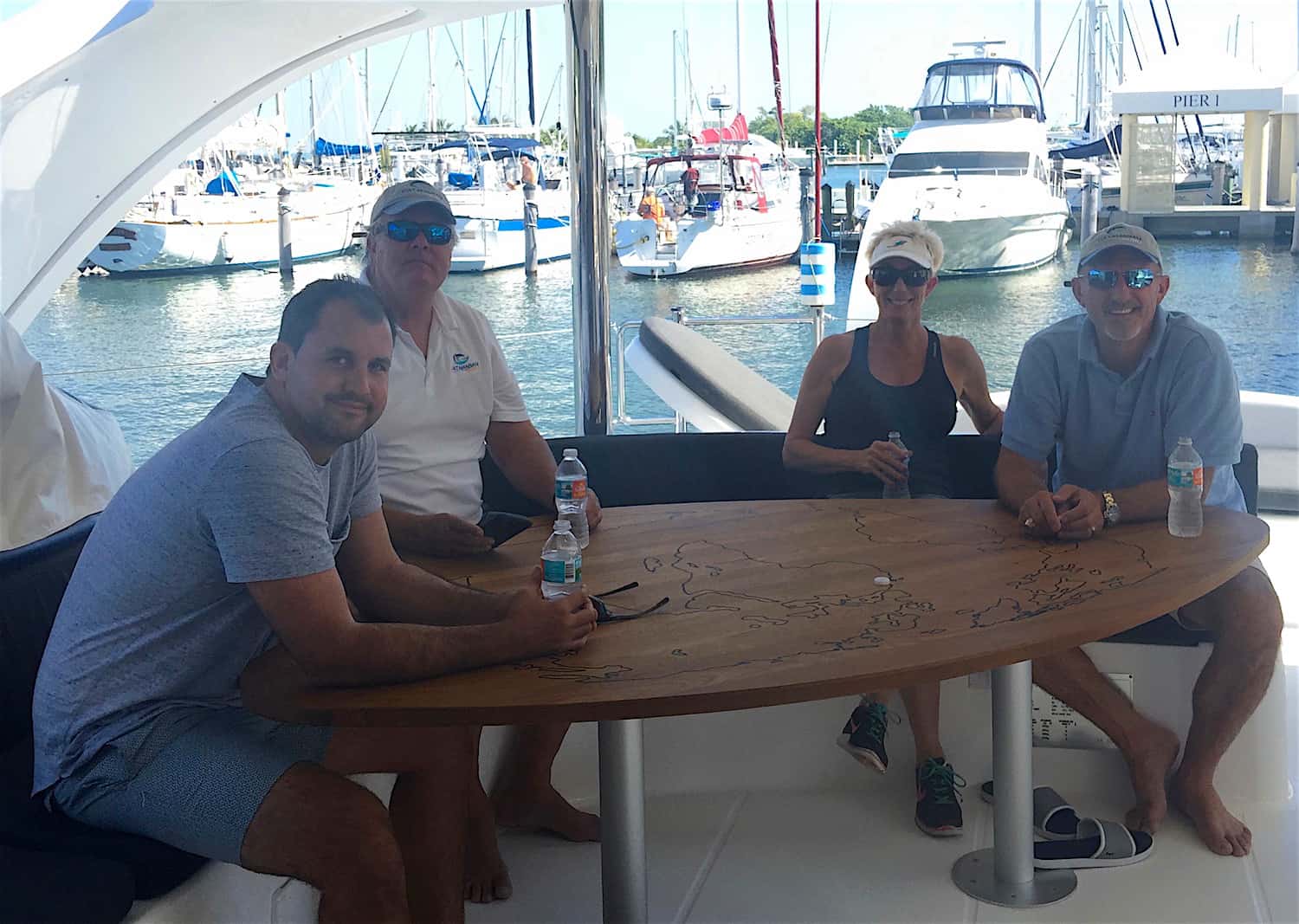 We met Estelle and Stephen at the Annapolis Boat Show. They were very knowledgeable in all facets of boat ownership and were extremely helpful to us in so many ways during the purchase of Cattitude and the formation of Blue Water Luxury Charters. We couldn't have done it without them and they have become great friends. Thanks guys!
-Xquisite Yacht 50, Cattitude
Testimonial from Christopher R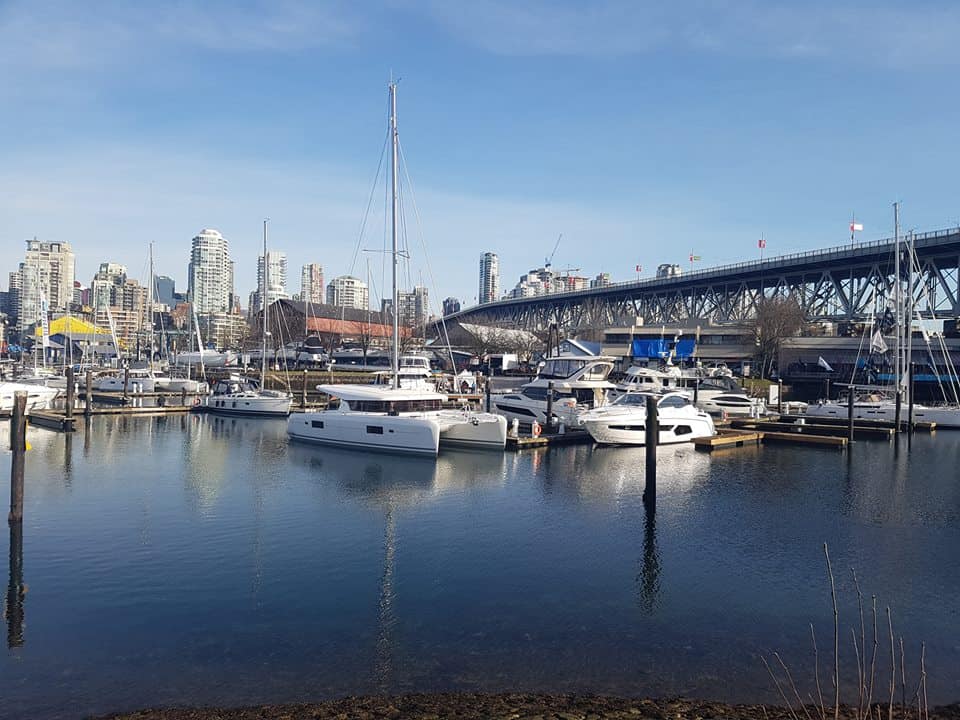 Christopher came to us for advice on buying a catamaran. The multihulls on his short list were all fine choices but, as far as we were concerned, there was only one catamaran suited for his specific needs. We referred him to his local dealer to buy his dreamboat and he could not be more happy. This is what Christopher has to say: "I spoke with Stephen at catamaranguru.com and emailed back and forth a few times while I was in the process of making my purchase decision for a new multihull. He was very helpful in letting me know the pros and cons of some of the options I was looking at. In the end, he steered me away from making a couple choices that I probably would have not been as happy with. After a few trips and an almost fully booked charter season, I am very happy with my new Lagoon 42."
– Lagoon 42 "Water Dragon", Nanaimo BC
Testimonial from Toni & Robert E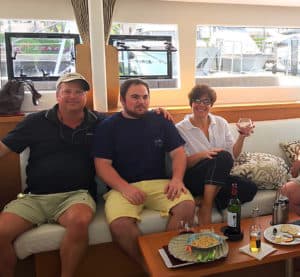 Toni and I went to the Miami boat show in February 2016. When we went there, we had a very strong desire to own a catamaran and sail off into the sunset, so to speak. We had a boat picked out in our head, but we had never seen it before in person. When we got there and we met Stephen, we felt it could happen. So we made sure we went and looked at all the boats and did the research on our own. We sat down and talked to Stephen because the boat we decided on was not the one we had picked out but chose a Lagoon 450 instead. My wife and I very much wanted the boat but were concerned about the cost and being able to afford it. After sitting down with Stephen we worked out a game plan that we absolutely could afford to get the boat and make it work. It was definitely a plan where we could be having our cake and eating it too! We were very happy with all the help and the pricing that Stephen gave us. After the delivery we had problems with the sail drives and Stephen was right on top of it, helping us with the repair under warranty. I think Stephen's contacts and his clout made all the difference. We are very happy with our Lagoon 450, with Stephen Cockcroft and placing it in a Dream Yacht Charter program.
– Lagoon 450 SporTop
Testimonial from Alina & Edward P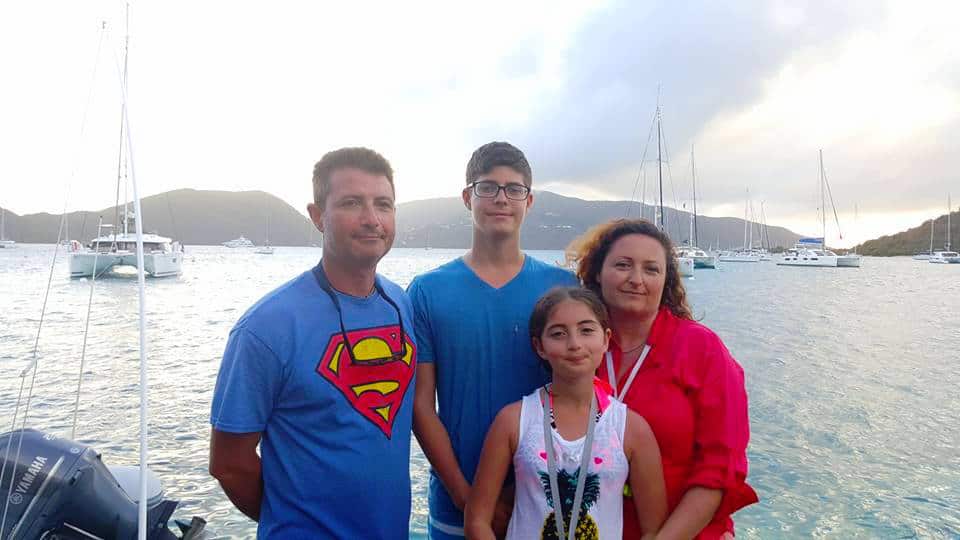 We purchased a 50ft Catamaran 1 year ago with Stephen's help through Dream Yacht, and they have very successfully managed it. We get a percentage of the booking which with all the extra money we get we can most likely pay it off in 5 years instead of 10 years as well as all the tax advantages we are getting meanwhile. We are also able to travel extensively during our owners' time to different locations. So, I suggest that if you are looking to purchase a boat and get it paid for by somebody else, charter is the way to go, just make sure you pick the right company and the right boat and it will pay itself off. I recommend to all to contact Stephen Cockcroft and he will be very happy to assist you. We are happy with our decision so far.
– Fountaine Pajot Saba 50 Alea
Testimonial from Kristiann & Graham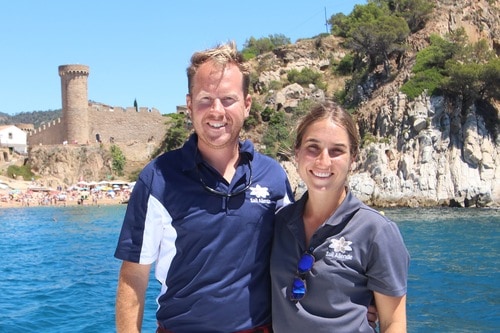 My husband and I engaged Catamaran Guru's help as we began shopping for a vessel on which to run luxury crewed charters. We had several unmovable requirements: one of which was that the boat have a raised helm station instead of a flybridge. Estelle and Stephen shone in their knowledge of the different catamarans on the market. They suggested some models to us that we were not familiar with and had not considered, and we found their guidance in the used boat market to be particularly valuable. Estelle and Stephen are very well connected. They know all the people that you will need to know to live your dream! Read their story here: Couple Quit Jobs To Start A Catamaran Charter Business
– Fountaine Pajot Helia 44 Allende, sailallende.com
Testimonial from David G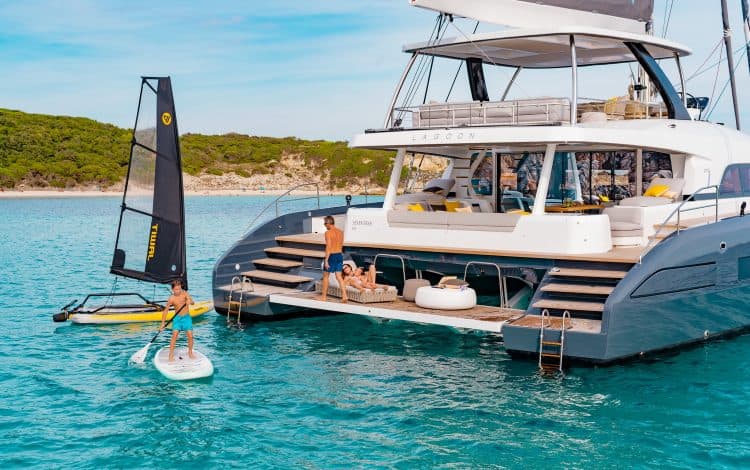 I was looking to buy a big sailing catamaran to live on with my family for a short stint before eventually chartering the catamaran. I inquired from the local dealers but was not comfortable with their level of service or the representative's knowledge of the product. That was when I found Stephen Cockcroft from Catamaran Guru. It turned out to be the best move I could have made! As an independent broker, Stephen is able to expertly advise the buyer and liaise with the manufacturer to satisfy both parties in some sticky negotiations. His knowledge of both the product and of sailing catamarans in general are extensive and he was therefor able to guide me through the buying process, from the selection of my new catamaran to the equipment and options. He traveled to the Lagoon factory in Bordeaux to help us oversee construction of our Lagoon 77 and to select options. I value his input and, in my experience, this level of service and dedication is above and beyond. From day one Stephen was extremely professional and helpful and answered all my questions along with providing excellent guidance and advice.
– 2017 Lagoon Seventy7
Testimonial from Frank & Cindia C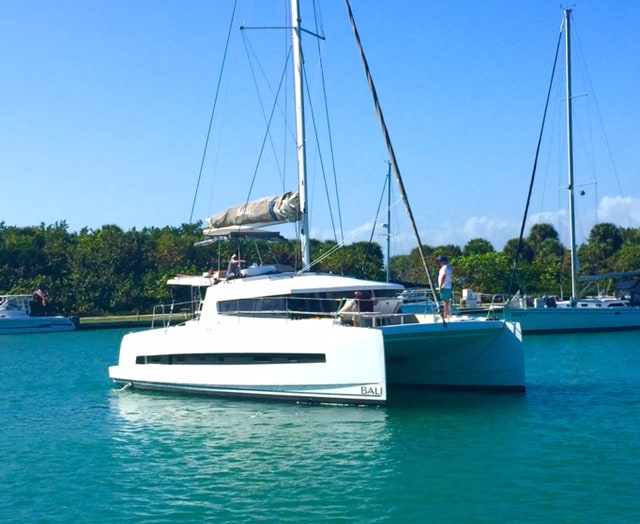 During my search for the dream boat I came across a catamaran listed on Yachtworld by Stephen and Estelle. After my first phone call with Stephen I knew I was going to be working with an extremely knowledgeable yacht broker who has your best interest in mind. Stephen and Estelle understood and listen to the exact requirements we were looking for and matched us with a Bali 4.0 by Catana. The process was made so easy and painless that we sailed off on our new Bali in less than 10 days. I've been boating for the last 20 years and owned many different vessels, the BALI 4.0 has blown our dreams out of the water! Stephen and Estelle really live up to their company name "Catamaran Guru". Many thanks for making this dream be a reality!
– 2016 BALI 4.0 "ALIVE" from Key Biscayne, Florida
Testimonial from Chris & Heidi
I want to say thanks for taking good care of our boat, Heliades. It has been an active winter and spring charter season for our boat in the boat as a business program and it still looks brand new and well cared after by your maintenance crew. Putting a boat into a charter program can have bad consequences for boat owners but I am pleased to be with DYC team in Grenada. I want to express my thanks and appreciation to your Grenada team; Chantel, Terrance, Dingo, Anthony, Jennell, Rochelle, Rodriga, and all of the rest of the DYC support team that are fully dedicated to supporting charter customers and owners in Port Louis. It was a busy weekend last weekend before we departed and I was able to observe how professional and courteous each and everyone one of your team was to my wife and I – along with the other charter customers getting ready to depart for their sailing adventures. Please pass along our appreciation for their work!!
2017 Fountaine Pajot, Helia 44 "Heliades"
Testimonial from Dave N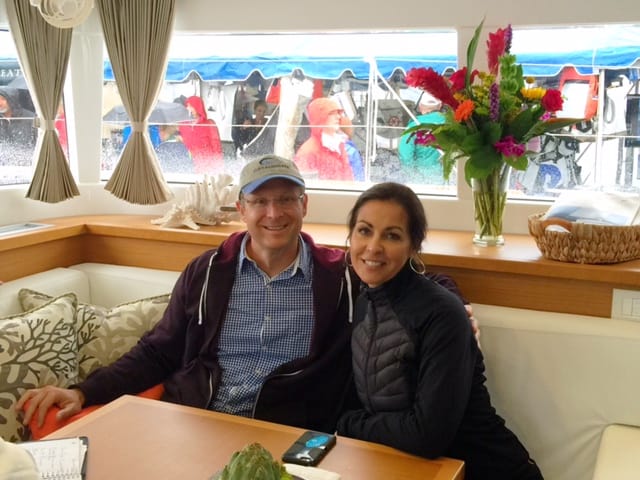 As an individual who is relatively new to sailing, purchasing a new boat to be placed into a charter fleet is very intimidating. Fortunately, I found Steve through his excellent site, Catamaran Guru, and began working him shortly thereafter. From that moment on, Steve demonstrated a level of knowledge, professionalism, and patience that is rare in any field, and that allowed me to successfully navigate the purchasing process. As an independent broker, Steve is able to expertly walk the line between the seller, purchaser, and manufacturer. At times the interests of these three groups are at odds, and Steve's involvement ensures that all negotiations remains civil and productive. Steve also knows his product very well and thus was able to guide me through the buying process, from the selection of a sailing vessel to the commissioning of all equipment and options. In addition to his knowledge of the product, Steve also demonstrated a thorough understanding of the charter industry, where he expertly guided me through the process of organizing a charter boat business. From the beginning, I was able to independently verify all of Steve's information with my own team of experts – not because I doubted Steve in any way, but because prudence requires it. It was through my verification efforts that I gained significant confidence in Steve's model and methods. Finally, after working together for over six months, my impression of Steve is one of a hard-working, competent, fair, highly intelligent individual. I would not hesitate to work with Steve again, and I recommend him without reservation.
– Lagoon 450F Solicitude
"Testimonials" from 30+ Couples at the Annapolis Boat Show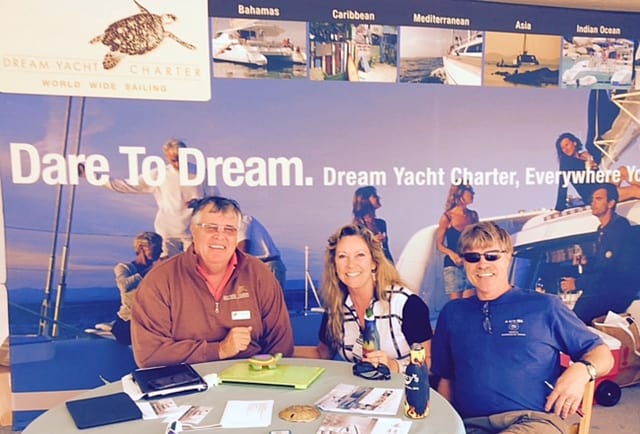 One of the highlights of the Annapolis Boat Show this year was hanging out with all the owners we have sold boats to in the last five years or so. The relationships established over the years working with these great clients (and now friends), was never more evident than when more than 30 couples gathered on our boat and talked to prospective buyers about working with us!
– The Hubers
Testimonial from Denny C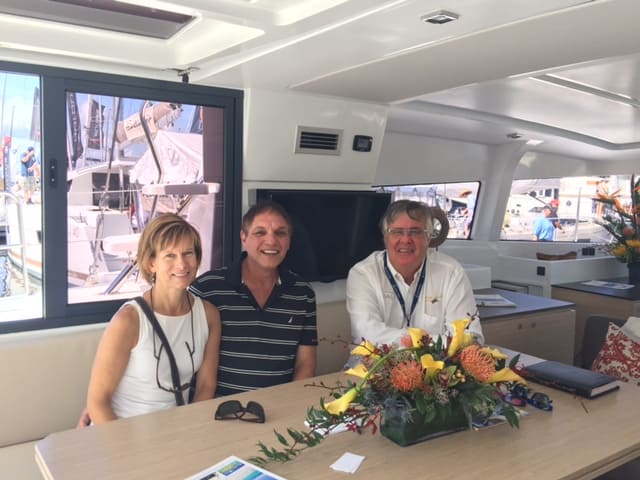 As a first time boat purchaser I did a lot of research via the web and Stephen and Estelle's names popped up time and time again always with glowing recommendations. Although I had already been talking with a couple of brokers, I decided to contact the Catamaran Guru and see what they could offer. It turned out to be the best move I could have made! From day one Stephen was extremely helpful and answered my never-ending stream of questions along with providing guidance and advice when I asked for it. When I decided to step away from one deal Stephen didn't go into sell mode but instead supported me saying "the decision is yours and only yours to make. I'll be there when you are ready". We did eventually find the right boat and Stephen was indeed with me every step of the way. After the deal closed and as I prepare the boat to go into the DYC fleet Stephen is still there, ready and willing to help. I suspect he will always be there for me. My advice to others, especially first time purchasers, is that the journey would have been easier on myself (and probably Stephen too) if I would have taken their Catamaran Ownership Seminar and gained a better understanding of the nuances around boat selection and the actual purchase process instead of me trying to figure it out on the fly.
-Lagoon 450F "Dali"
Testimonial from Jeremy S
Hi All. I received invaluable advice and the honesty I deserve of a catamaran dealer. I am in the same stage as Brian and will want to buy a very good used cat in 5 years. If Stephen and Estelle are still in the game I will purchase through them. Everything I have heard thus far and received from them, including last week has been professional and true. Thank you. Jeremy
Testimonial from Brian S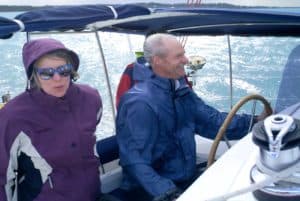 Stephen, thanks for responding. When we were at the boat show in Miami everyone was telling us we needed to buy now for tax purposes. I didn't agree with them as a portion of my pay is already tax exempt. We will wait two years, and if you are still in the business, we will work through you as you are the first person that has provided information applicable to us. Very respectfully, Brian.
We did NOT sell this client a boat! Read the story here why we did not make a sale and why you, the customer, should insist on being a valued client, NOT just a transaction!
Testimonial from Adam & Lee Y
"We are looking to buy a bluewater catamaran and really needed to get a hands on sense of managing and living aboard a cruising cat. While researching charters, we came across Catamaranguru.com and spoke with Stephen and Estelle. It was quickly apparent that their depth of knowledge and experience owning, cruising, and living aboard would offer better education and exposure than any standard charter could. We took their weekend catamaran intensive and felt it was an extremely valuable (and fun) experience that helped refine our plan and also established a long term relationship with open, friendly, trusted advisors."
– Live-Aboard Boat Buyer's Seminar
Testimonial from Glenn & Kate C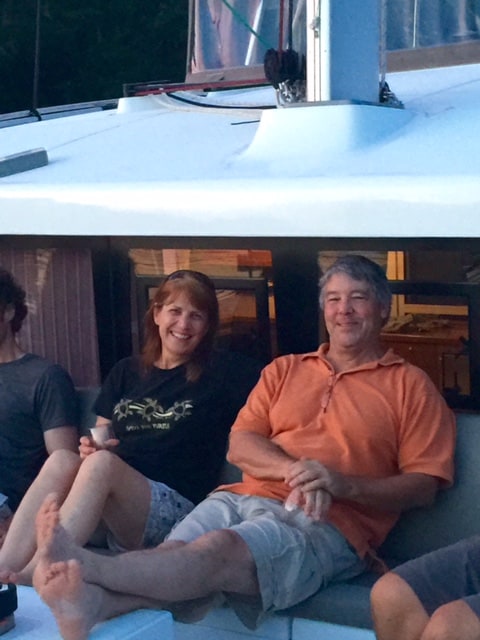 As a couple who have become interested in sailing later in life, we cannot recommend Stephen and Estelle Cockcroft's Catamaran Ownership Seminar more highly. If you have not been around large catamaran sailboats all your life, the business of yacht purchase and ownership is a virtual black box made even more so by the few numbers of units bought and sold in a given year. Stephen and Estelle graciously host workshop attendees on their beautiful Lagoon 450 and proceed to illuminate all aspects of the "business" while tailoring their lessons to the individual desires of the attendees. They cover the full gamut of topics including boat selection, ownership options, provisioning, financing and purchase while demonstrating the systems and capabilities on their own yacht and serving up non-stop gourmet meals and a healthy dose of the cruising lifestyle. The materials they provide during the course are quantitative, comprehensive and followed up with any requested information like the recent asking and selling prices of desired catamaran models. Estelle and Stephen are the consummate professionals, great story tellers, fantastic hosts, accomplished sailors and sincere about helping others obtain the catamaran of their dreams. Try them you'll like it.
-Liveaboard Boat Buyer's Seminar
Testimonial from Jack & Reenie H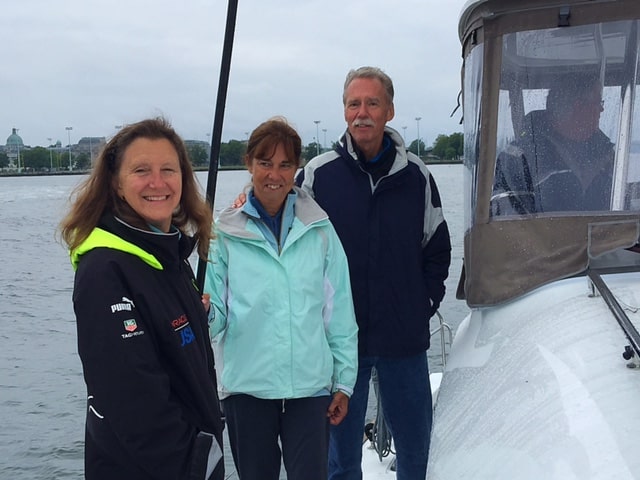 We just want to write a quick note to thank you for a fantastic weekend at your Catamaran Ownership Seminar. Your warm, friendly atmosphere on board allowed us to relax with the other couple and thoroughly enjoy ourselves. The wine and meals were delicious and the preparation together was fun. Most importantly, we now have the support we need to move forward with our plans. Stephen was very honest and helpful regarding his suggestions for our boat options and we look forward to working with him soon. The material presented was comprehensive and the books we took home with us offer a wealth of information. We left feeling we had made new friends and look forward to seeing them again. It's going to be great! Thanks, Jack and Reenie.
-Liveaboard Boat Buyer's Seminar
Testimonial from Bruce & Holly K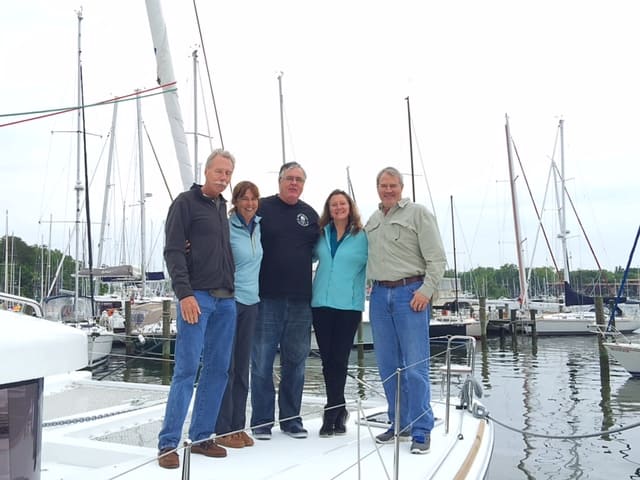 Thank you Estelle and Stephen for an outstanding weekend of education, delicious food and great company. Although we arrived skeptical but open minded about the program, the clear and realistic explanation about the pros and cons of performance charter yacht ownership persuades us of the feasibility of doing it. The quality of the construction and finish to your boat Zuri convinced us of the value in a Lagoon 450s even though you both went to great lengths to present an unbiased review of the currently new and used catamarans in the marketplace. The easy conversations with you both and our weekend shipmates, Jack and Reenie, made the evenings fly by even as most (but not all) of us agreed that the future is "going to be great". Thank you again for the extensive resources you included with the weekend.
Bruce & Holly (the democrat. LOL)
-Live-Aboard Boat Buyer's Seminar
Testimonial from Eduardo F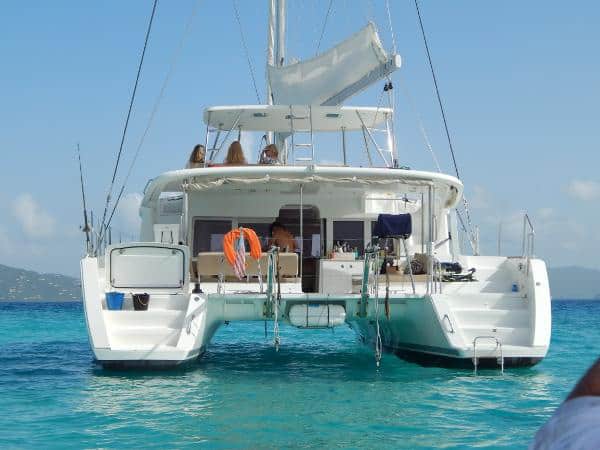 Hi Stephen, a couple of months ago I bought a Lagoon 450 that is in Guadalupe. I have been using the exchange program and it is working fine. I would like to talk with you to look into an additional program so that we can bring a new boat to La Paz.
– 2014 Lagoon 450
Testimonial from Mark & Sara G
We engaged Stephen in two possible boat purchases over the past 16 months and were very pleased with his support of our quest to secure a catamaran that fits our lifestyle. We first evaluated in detail the option to purchase a new catamaran and place it in charter. Stephen's counsel on the programs available to us was clear and unbiased. We were confident that his focus was making sure we made the right decision for us. He also introduced us to Dream Yacht Charters and through our various meetings with that team and chartering two of their yachts we found them to be, by far, the most professional and well-managed of the global charter companies. In the end we realized that a charter vessel was not right for our sailing plans so we turned our attention to finding a cat in the secondary market that would better meet our sailing schedule. Stephen's experience helped us wade through the myriad of makes and designs available and narrow the list to meet our goals for safety, comfort, performance and value. He guided us through the process of identifying, negotiating, surveying and closing on what we are confident is the right yacht for us and we are thrilled with the results. Through it all, Stephen was highly responsive and professional. We will look to the Catamaran Guru to help us with any future yacht transactions we might consider and recommend you do the same.
– 2005 Voyage 44, Due
Testimonial from Doug W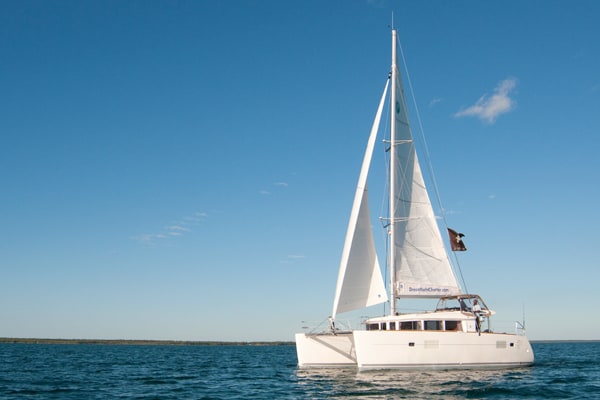 Here's my experience dealing with Stephen.
1) He responded quickly to my inquiry about buying 40′ catamaran and putting with Dream Yacht Charters.
2) He answered all my crazy questions quickly and completely.
3) Followed up with meeting at Annapolis Boat Show. Again, he answered all my questions quickly and completely.
4) Asked him for references. Got about a dozen the next day. Spoke to half of them and got positive feedback from all.
5) I decided to buy a Lagoon 400S. Stephen made the process simple. Always responded same day to my questions and almost always with the 'right' answers (at least from my point of view).
6) My partner and I lined up a couple weeks with DYC in the Caribbean over the Christmas holidays. Trips were great, just as we had hoped and similar to what Stephen had predicted.
7) Boat now launched (ahead of schedule) and ready to head to Annapolis where I expect things to continue to go as planned.
I don't know about other people, but, in my experience, this type of service and delivery is beyond the ordinary.
– Lagoon 400S2, Silk Pants
Testimonial from Patrick D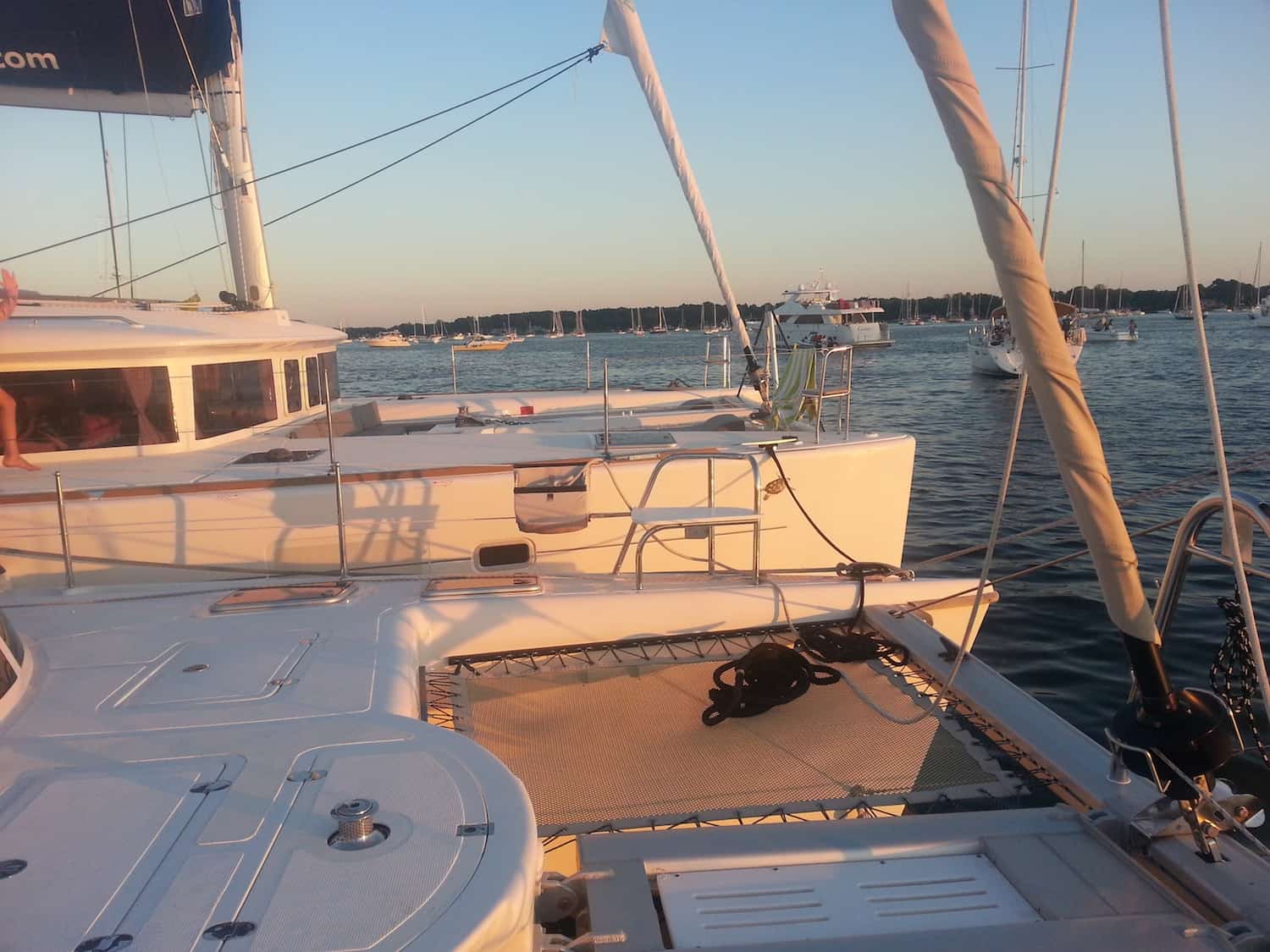 I know we were a handful last week, and you delivered. The experience you created for Jennifer and I, and all of our numerous short-term guests was just outstanding. From our arrival to the onboarding to the support during the trip, including multiple rides to the harbor to the check out, there wasn't a single person on my boat that interacted with one of you that didn't come away from the experienced impressed by your professionalism, and your dedication to service. And that Lagoon 450 is the nicest boat we have ever chartered – and this was our 15th charter trip! We are convinced we made the right decision working with you and DYC, and we look forward to many great years to come. Thank you!
– 2014 Lagoon 52 Full Deck
Testimonials from Leonard & Sue E
(Dec 10, 2013) Stephen, I briefly met you and your wife in Morro Bay, CA, last July. You got the last RV site and we moved down the road to another park. During our brief visit we talked about bareboat charters and you told me to contact you next time we chartered. So here I am, we were looking in the South Pacific preferably Tonga for the last week of Sept 2014 and first week of Oct. If this is something you can do, what kind of equipment do you charter and in what locations?
(March 4, 2014) Stephen, thanks for your help. Susan and Christine have been great to work with and we booked a charter in Tahiti for the end of Sept 2014. Everyone is excited as Tahiti will be our first cruise in the South Pacific.
(October 24, 2014) Stephen, we just returned from our Tahiti charter. Wanted to say thanks, it was trip of a lifetime. Dream Yacht Charters did an outstanding job. The boat was an upgrade, clean, and everything worked great. We're already planning our next trip, so get ready for a call.
Testimonial from Chris R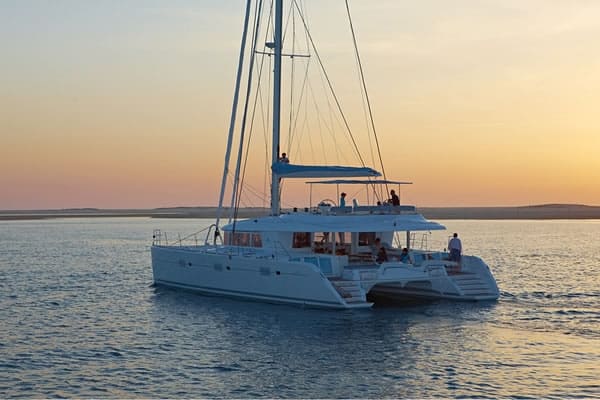 I highly recommend Stephen Cockcroft for a purchase of a catamaran and for placement in charter. Stephen was constantly available and always answered his phone and e-mails promptly. The knowledge that Stephen has regarding catamarans and the charter business is the best I have experienced. His contacts in the industry are deep and seasoned which allows him to makes things happen with least amount of bother for the buyer. Now that I own the vessel, Stephen is still readily available to assist and answer questions. He does not disappear after the deal is done like some other brokers. If you are considering a catamaran purchase, do yourself a big favor and contact Stephen.
– 2015 Lagoon 620, Aquatopia
Testimonial from Larry B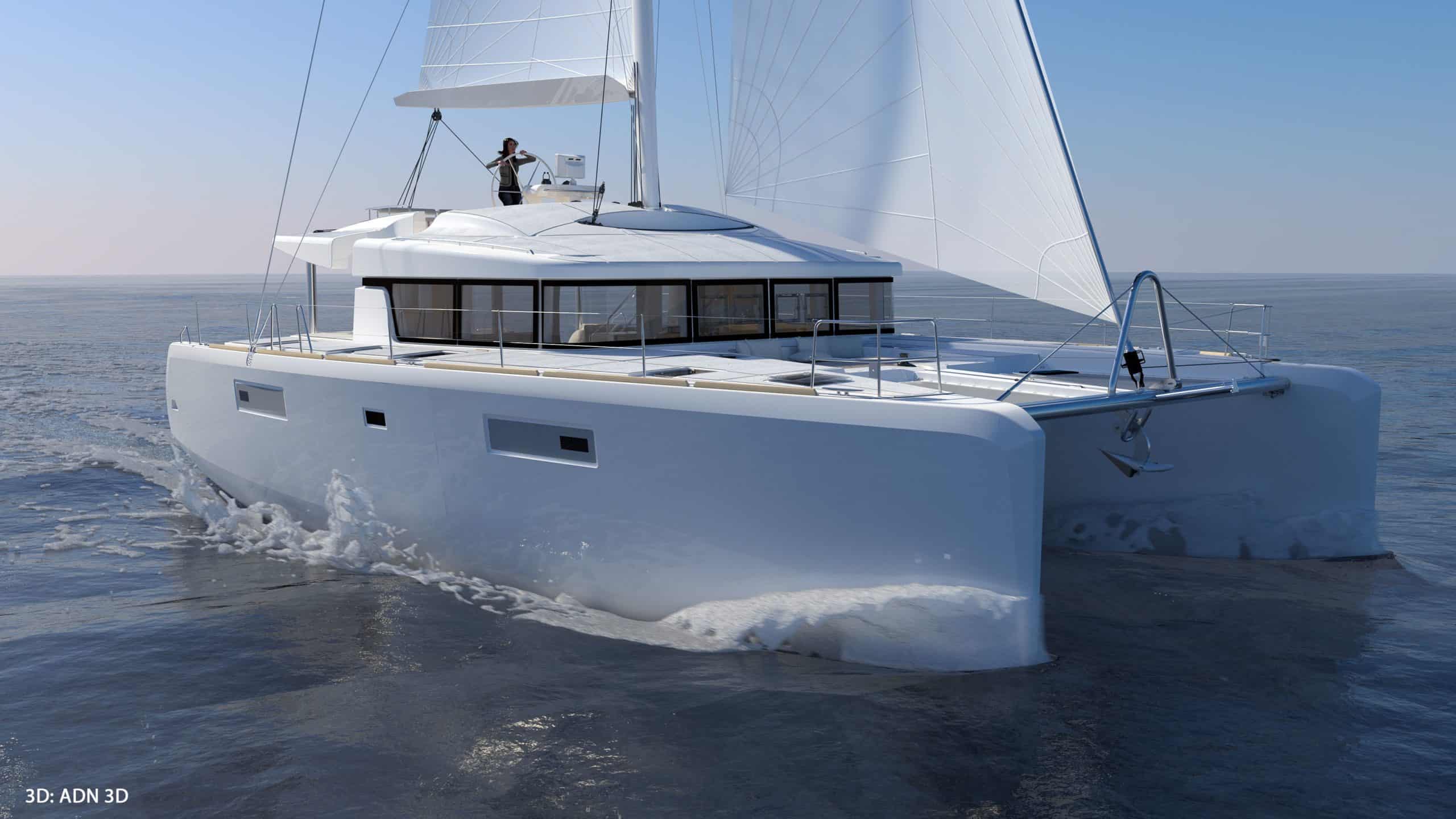 I would like to thank Stephen for all the help he gave us over several years of looking at Lagoons. To me, it was his patience and understanding that you may not buy a boat of this value the first time you look at one. Several friends and I started chartering catamarans many years ago. We discovered the Lagoons with a flybridge and never strayed. A few years later we meet Stephen at a boat show and spent an hour discussing Lagoons and Dream Yacht Charters. He was casual, knowledgeable, and, in fact, told us it usually takes a while to select a boat and a program. We got to know him and met him at a few more boat shows and traded emails on the pros and cons of the venture. In 2013 Lagoon introduced the 52, and we fell in love. It still took us over a year to put together a group of partners and realize that this was possible. Stephen was there to not only help but handle the purchase, ordering, contract options, finance and insurance of our new Lagoon 52. He was more than fare, made good recommendations, helped with all the problem issues and I can say he has truly become a good friend. He kept his word on every issue that had to be resolved and every promise that was made. I would highly recommend to anyone that is thinking of purchasing a boat to own and charter, to take some time to talk to Stephen. I feel you will find like we did, that he is as good as it gets.
Our new Lagoon 52, "AZZURRA", is 1,100 nautical miles away from the Tortola as of this afternoon. Come try her out in BVI's…
– Larry B, Lagoon 52, "Azzurra"
Testimonial from Mike & Magda S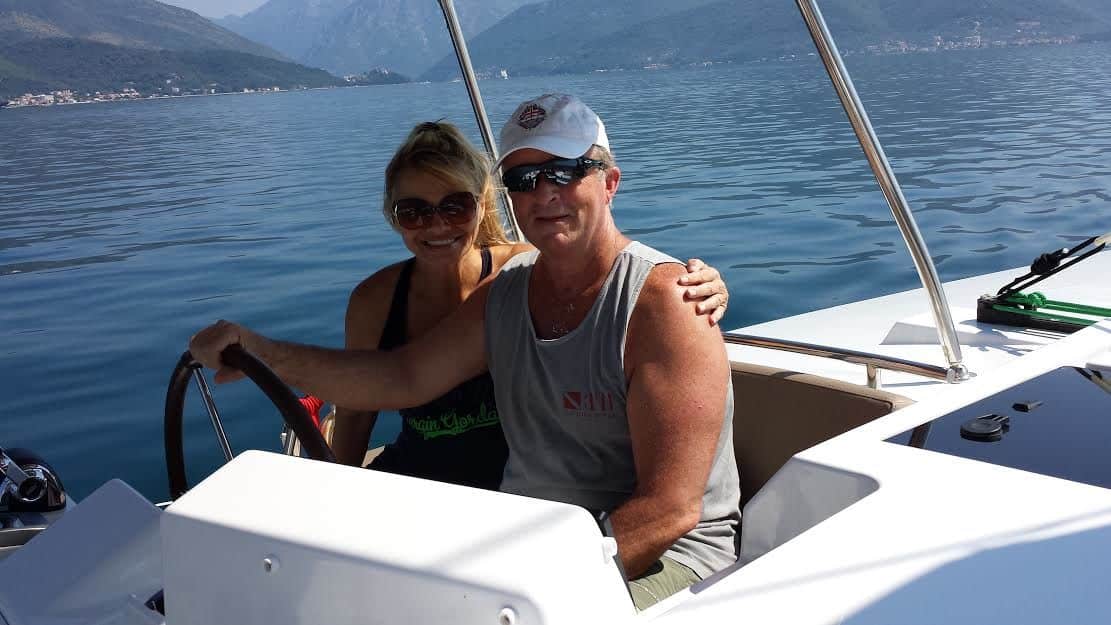 When we thought about moving from our Beneteau 523 to a catamaran, Stephen was the first person we contacted. His reputation as the catamaran expert preceded him. We found Steve to be both extremely knowledgeable and helpful in our research of what cat to buy, what company to buy from and what charter company to use. He went above and beyond by traveling with us to inspect boat models and to the FP factory to help us oversee construction of our Sanya 57 and select options. Even after we purchased our catamaran, Steve is always there to offer sound counsel and advice on all aspects of yacht operation and ownership. We can't imagine a better resource to assist catamaran owners in the purchase and charter operation of their boats.
– 2014 Fountaine Pajot Sanya 57, La Vandalay
Testimonial from Pat & Diana H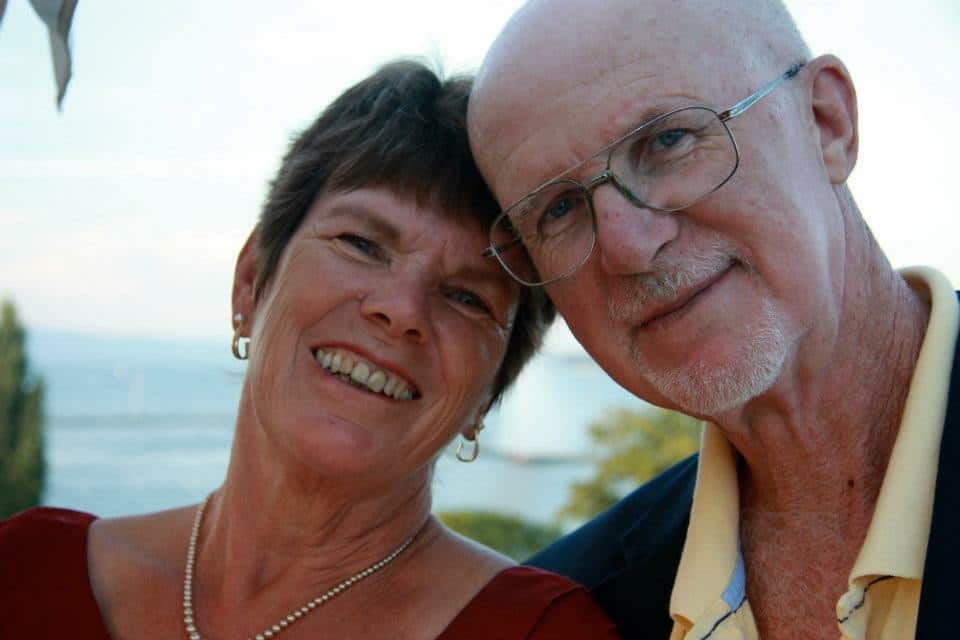 Got to know Stephen & Estelle when we became new owners of an Island Spirit 40 over 10 years ago. Most recently, I turned to him first when the time came to sell her. His advice and guidance was very helpful. Throughout the selling process he responded quickly and completely, a true professional. Buying or selling, you won't lose if you contact Stephen
-Island Spirit 40 Youwarkee
Testimonial from Craig & Hannah A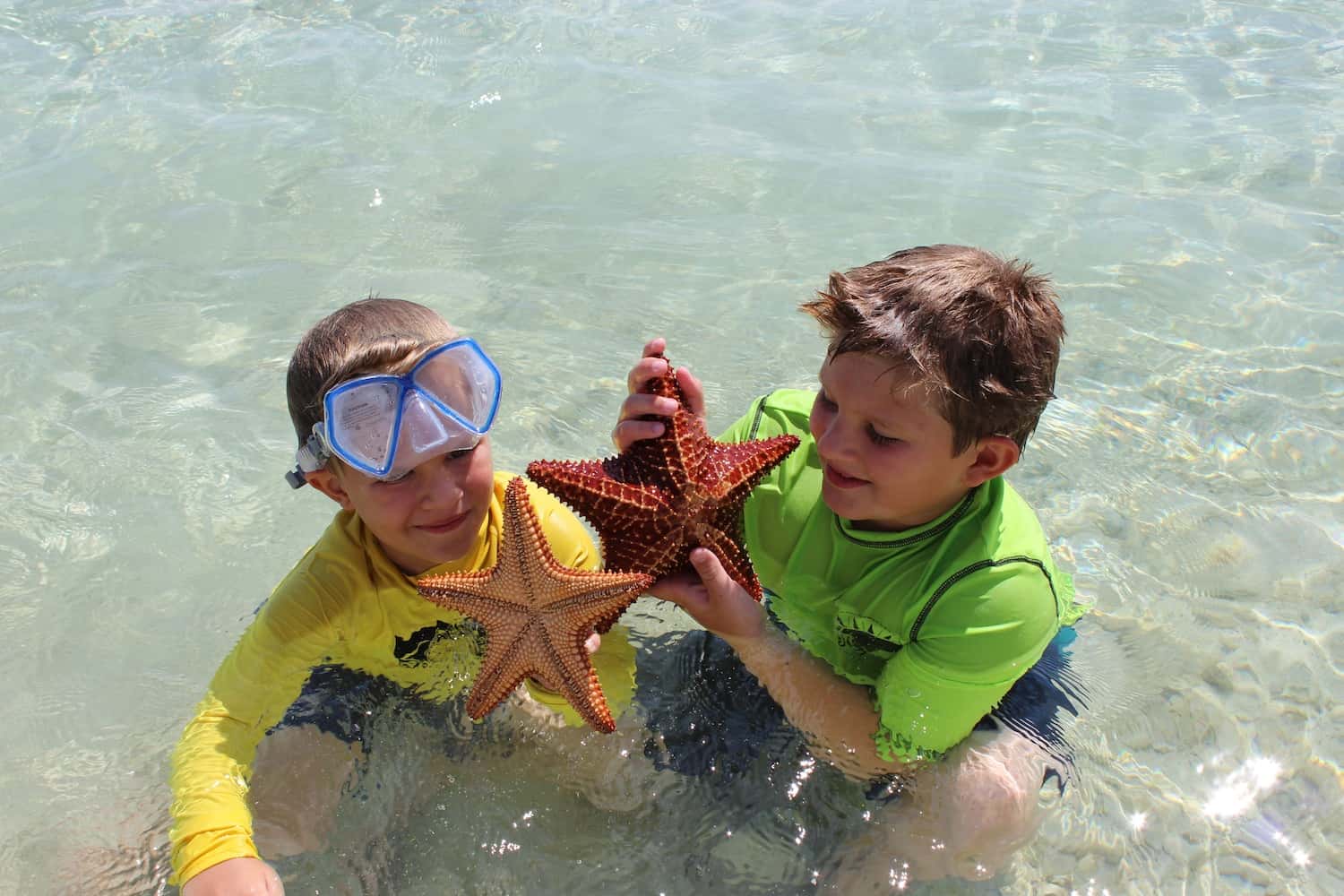 "We became friends with Stephen and Estelle long before we had ever dreamed we would own our own boat. They showed us that through chartering it is possible to have our own boat at minimal costs. They guided us through our purchase of a 2012 Jeanneau 37Ft and they are still always available to us with their knowledge and support. This summer we managed to take a 3 week vacation with our 2 boys, an 8 and 5 year old. We started in Dania Beach Florida and sailed to Westend Bahamas, Mangrove Cay, Grand Cay, Fox Town, Moraine Cay, Alan Pensicola, Spanish Cay, Green Turtle Cay, Marsh Harbour, Hope Town, Little Harbour, Spanish Wells, Harbour Island, Great Harbour Cay Berry Island, Bimini and back to Dania Beach Florida. Certainly, a vacation of a lifetime and we remind our children how lucky they are. Thank you Stephen and Estelle for helping us and for your constant support. Your Friends, Craig and Hannah".
– 2012 Jeanneau 37 ig Sky
Testimonial from Larry & Caroline L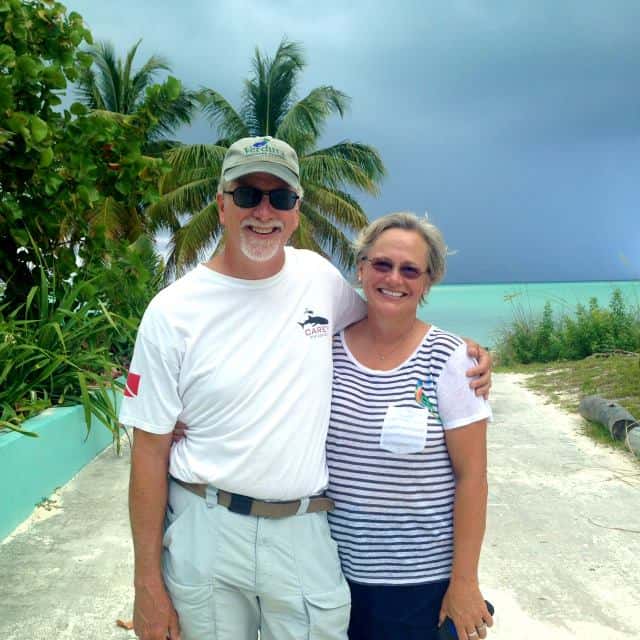 Stephen and Estelle were our first sailing instructors, some nine years ago. Years later, they helped us buy our first sailboat, a lovely Passport 40. After three years of living aboard full time – and over 10,000 miles of sailing – we decided to sell it and move back to land. Being first-time boat buyers and then sellers, it was a big comfort to us to know our brokers were highly experienced and competent. We had many questions and concerns, and Stephen and Estelle knew how to handle these. They were responsive at all hours. They gave us really good advice and even better perspective. Bottom line: we got a great deal when we bought the boat, thanks to Stephen's excellent negotiating skills. And we ended up selling it in just three months, which made us really happy. We can definitely recommend the Catamaran Guru team!
– S/V Thalia, Passport 40
Testimonial from Fritz L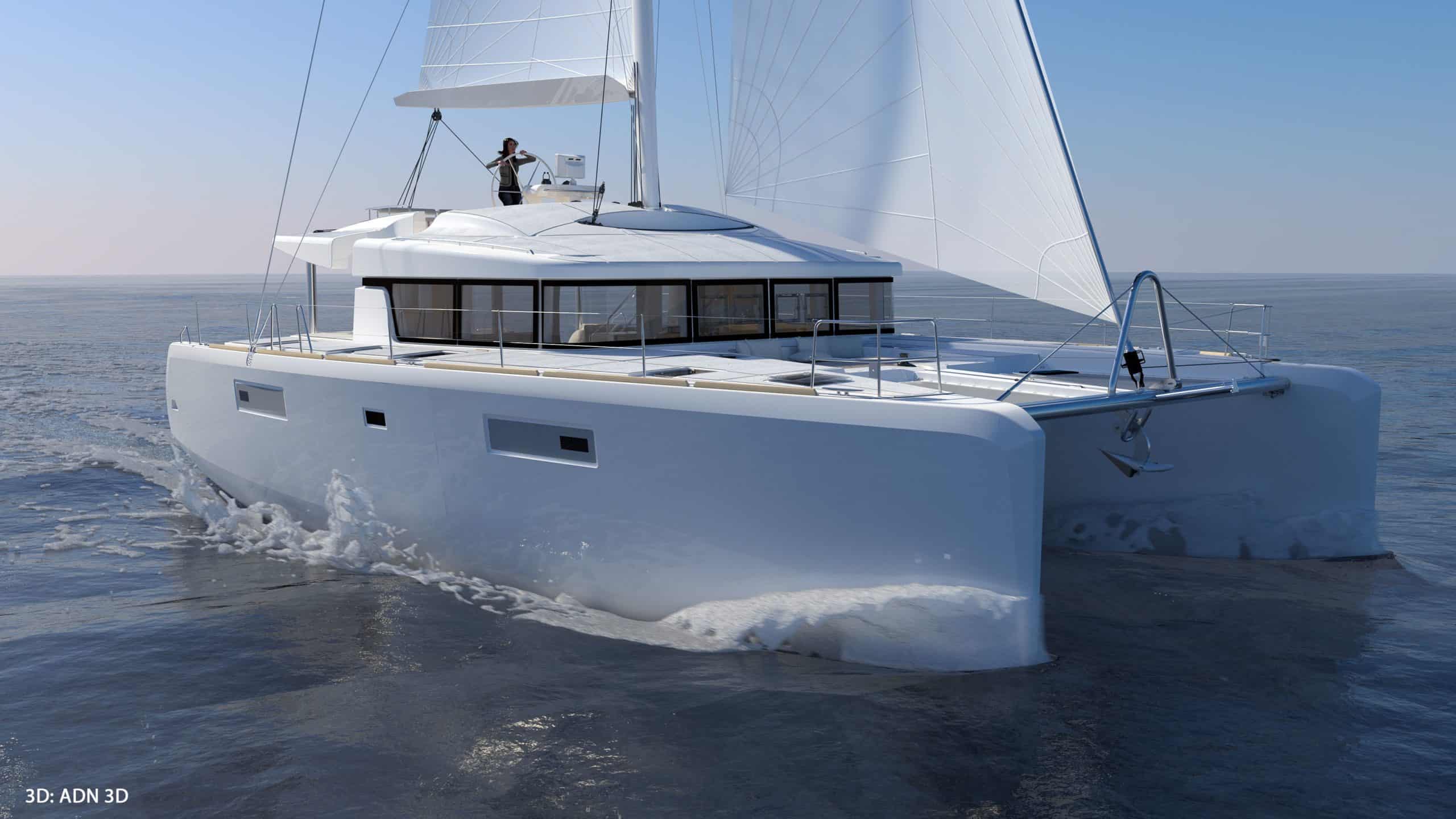 "Stephen- Thanks again for making this happen and ALL of your "after the sale" service. Larry checked in with me yesterday regarding bookings to date and we were pinching ourselves with the realization that we've essentially covered our first year's expenses with value of confirmed bookings already! It's just like you said, once people realize how profitable this boat is going to be, the last share will sell itself, and in fact I'm getting a little greedy about who we even offer it to, wishing I could justify the second share! Thanks again and looking forward to getting together in Annapolis." "…Stephen has been an absolute pleasure to work with! His enthusiasm for catamarans and the charter business is contagious, inspiring us to take the plunge in a big way. To usher a group of 8 "newbies", some with little to no previous experience, through the partnership, purchase, finance, and now delivery process required unbelievable amounts of patience, confidence in his product, and optimism, all of which he supplied in abundance and with good cheer. It's been a pleasure working with Stephen and he's truly the only reason why the eight of us are now proud owners of "Azzurra" a Lagoon 52!"
– Fritz L, 2014 Lagoon 52 Azzurra
Testimonial from Alan R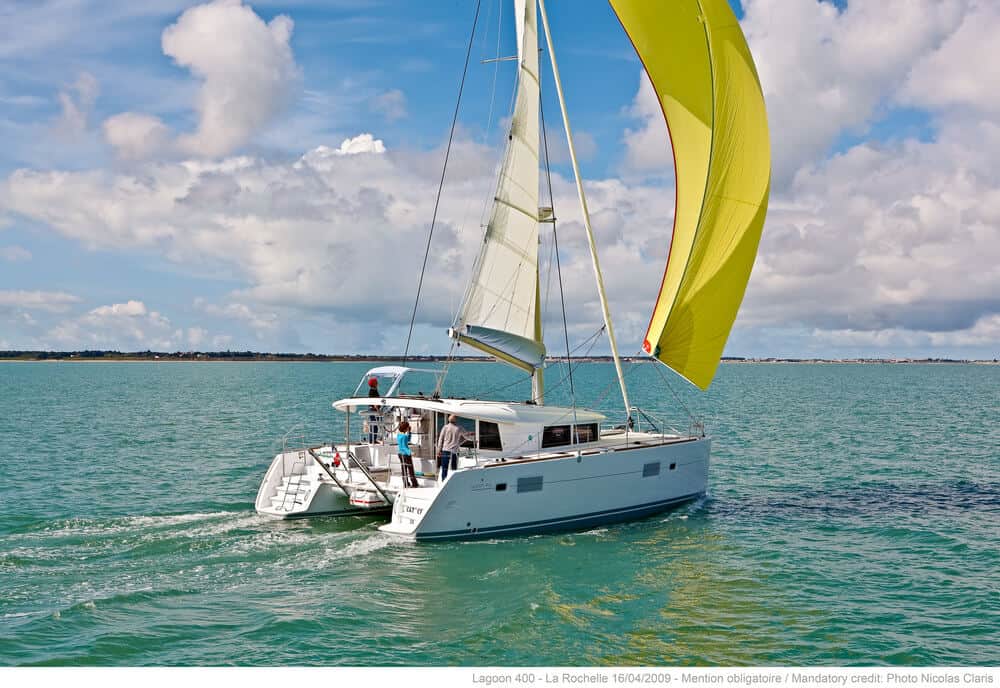 With Stephen's expert and patient assistance, I was able to move rapidly from just considering charter yacht purchase to now eagerly awaiting the imminent delivery to BVI of a new 2014 Lagoon 400 S2. His advice has been impeccable…from which boat to buy and how to outfit her, to help with advantageous financing, and tips on setting up my own charter LLC in affiliation with a management company. The boat is already booked for 11 weeks – and she is not even there yet! It's a good thing I reserved the first couple of weeks for myself and friends! LOL I can't recommend Stephen highly enough – he really, really knows all the ins and outs of catamarans and the charter business. Without his help, I would probably still be chartering someone else's boat this year – instead of using my own!
– 2013 Lagoon 400 Rendezvous
Alan R Buys His Second Boat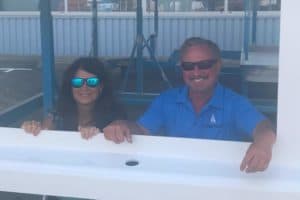 We recently got back from BVI and are delighted to report that all the options that I kept pestering you about are on the new boat! Sincere thanks for your help in making sure that the the Lagoon factory built the new "Rendezvous" properly with all of our many requested options. Our prior Lagoon 400 S2 was nice – but the Lagoon 42 is a lot nicer! Thanks for helping make it all happen!
– 2019 Lagoon 42 Rendezvous
Testimonial from Mackie and Kathy C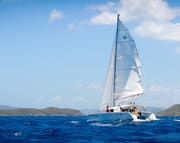 To Whom it may Concern:
Please let this email serve as a professional reference of the highest caliber for Stephen Cockcroft while functioning in the capacity of a yacht broker. My wife, Kathy, and I just recently purchased a new Lagoon 450 and were very impressed how Stephen managed the entire process. We never felt alone anywhere in the process and he was always there to answer any and all questions, big or small. Within the next 2 years we plan on buying a significantly larger yacht and we will be using Stephen for that transaction as well. If you would like to discuss any specifics, please do not hesitate to give me a call on my cell phone. Please contact us for Mackie's number.
– S/V Katlo, 2013 Lagoon 450 & Lagoon 62, Lady Katlo
Comments from Jose
We've been doing a lot of research and appreciate the information provided on your website. We're interested in purchasing a catamaran to run ourselves as a charter business…
– Jose
Testimonial from Ross H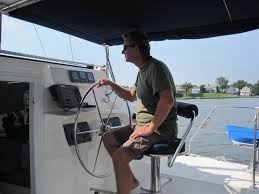 "Just so you know, One White Tree [Island Spirit 40] is in the Galapagos Islands. We sail for the Marquesas on the weekend. Thanks to Stephen and Estelle Cockcroft."
Ross H, S/V "One White Tree" – Island Spirit 40
Testimonial from Alex and Avi
This is a feedback regarding your services to us as our yacht brokers. It has been an overall pleasure to deal with the both of you, and here are the reasons why: – you were always available by email, phone or text any day any time. Conversations were never rushed, and you took particular care in appeasing our doubts and fears which come hand in hand with these sorts of transactions. They are definitely overwhelming for first timers like us – your technical and procedural knowledge – your overall professionalism in communicating with us and everyone involved in the transaction – your vast network of recommended marine industry professionals (loan, insurance, repairs, etc.). When we tried to pick people out of the blue, it really felt like shots in the dark. Having a couple or more references for each field was very useful and effective – and the extra mile you put in did not go unnoticed (i.e. bringing our boat to the LMC). Voila! We would recommend you both any day. And we are looking forward to a long relationship the way you both intend it. It's a nice philosophy.
– Alex and Avi, Leopard 47
Comments from Nick C
Dear Stephen and Estelle, I've spent many hours at your site over the past several months. It has really helped to focus my thoughts on purchasing a catamaran.
– Nick C
Testimonial from Scott and Shevaun K on "Leopard catanaran purchased by scott and shevaun using catamaran guru brokers" forum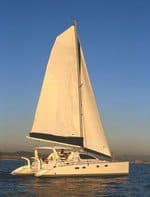 Hey Ken,
We just purchased a Leopard 43 (yesterday) but were originally looking at a L 40. Look at catamaranguru.com / Tel 1-804-815-5054.
We worked with Stephen and were extremely pleased. FYI, he's sold quite a few L 40's and works like a dog bringing quality buyers to sellers and vice versa. Don't know if it's okay to give out this sort of info on this forum but if not, I apologize. We're just so happy with our purchase yesterday and wanted to share how hard this guy worked for us…even flying to St. Martin with us for the survey. And I know that he KNOWS the L 40 inside and out as well as everyone in the cat biz. I'm sure he would help you net the most $ for your boat.
– S Kuhn/Fort Lauderdale (Leopard 43)
Testimonial from Bob R on "Cruisers Forum"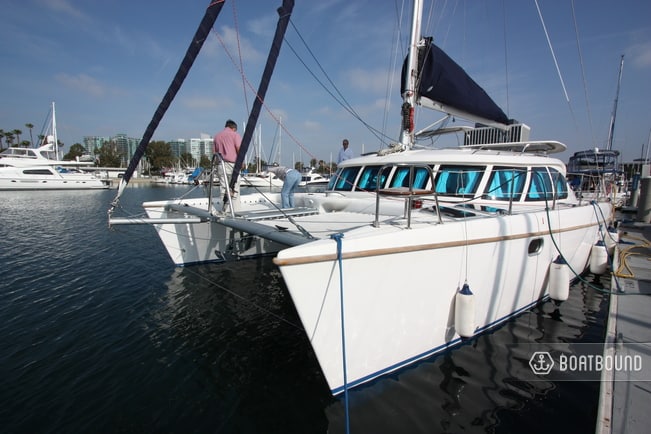 Stephen, I hope you won't mind, but I was on Cruisers Forum today and read a thread that was about you. I wrote the following and posted it. I hope you won't mind…my wife and I met Stephen Cockcroft in 2009 at the Annapolis Sailboat Show. We went to the boat show specifically not to buy anything, but to start our search for when we were ready to buy as our plan in a few years. With our kid's still in school, we didn't really have a boating lifestyle yet, but their graduations would be in a few years so we could certainly begin and enjoy the research phase now. We wanted to see what was new in terms of styles and boat systems…so you probably know the punch line already! Yup, we ended up seeing and falling in love with the perfect catamaran for us! A 45′ Prout Sailing Cat that would be the perfect size for the Chesapeake Bay (45′ is the maximum size allowed if you want to grab a mooring ball in Annapolis overnight), and still be a blue-water worthy vessel. And this purchase was only accomplished through the professional and incredibly diligent efforts of Stephen. There are a lot of brokers in this industry, and for the most part, the majority are probably pretty good, but we needed someone much better than "pretty good" to navigate us through our unique process. You see, we own several businesses and Stephen saw an opportunity to help us with a "boat as a business" scenario including the tax advantages allowed based on our circumstances. We formed an upscale charter and yacht membership company, ElizabethAustinYachts.com, and purchased our dream yacht and named her Persistence. We live in Northern Virginia, and enjoy sailing the Chesapeake as well as taking her down to Ft Lauderdale, FL, each season for her annual repairs, while also allowing us great sailing during the winter. So that is our back story, but what about the original question regarding Stephen Cockcroft: How many brokers do you know that would spend several hundred hours helping put a deal together, only to find out early in the process that the manufacturer (Prout International), would not pay the promised brokerage commission, so his time would be done almost for free? How many would guide you through the entire process, including finding the financing, flying out to the west coast on his own expense, meeting us there for a sail on our future vessel of choice, working with the manufacturer to fix all the warrantied items, help source a reputable delivery company to bring our vessel around from the west coast to Ft Lauderdale where she went under extensive manufacturer repairs, as well as owner upgrades and refit, and then sourced/recommended numerous quality vendors to work on our projects and then inspected their work and held each one accountable to doing a top notch job on each of their projects? Stephen did all that, and more for us. I asked him why he did all that. He replied that he felt personally responsible to and for every one of his clients, no matter what turn of circumstances may happen while a deal is being done. Stephen and his lovely wife, Estelle, are consummate professionals, and are now among our dearest sailing friends. So the question I have for anyone who asks is this: After the deal is done and your boat is finally in your hands, do you still stay connected to your broker on at least a quarterly basis, if not more often? We do, and we see them both for dinners, drinks, and the occasional educational sail several times each year!
Robert Rainford – S/V "Persistence" – Prout 45
Comments from Curt J
Happy New Year! I wish I would have found your website months ago. Nice work!
– Curt J
Testimonial from Mike H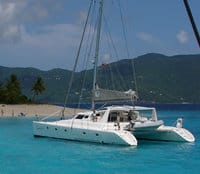 Dear Stephen, I just wanted to send a note of sincere appreciation of the job you did as my broker. You have exceeded all my expectations. There wasn't a time day or night that you didn't pick up your phone or answer email when I called with questions. I started to wonder if you ever sleep! I was so blown away how you flew out on such short notice to the BVI to be there with me as the Yacht was surveyed and through negotiations. Your knowledge and eye for detail saved me a bunch of money. Also, I have to say thank you for the hook up on the financing end. Once again, another seamless process that you helped to facilitate. You are not only my broker but have become a good friend and a resource in the charter world. If any potential clients have any questions please feel free to have them call me directly for a reference.
– Captain Mike "Hank" Hampton- Owner/Operator "Feel the Magic" Voyage 50
Testimonial from Pierre-Andre and Suzanne R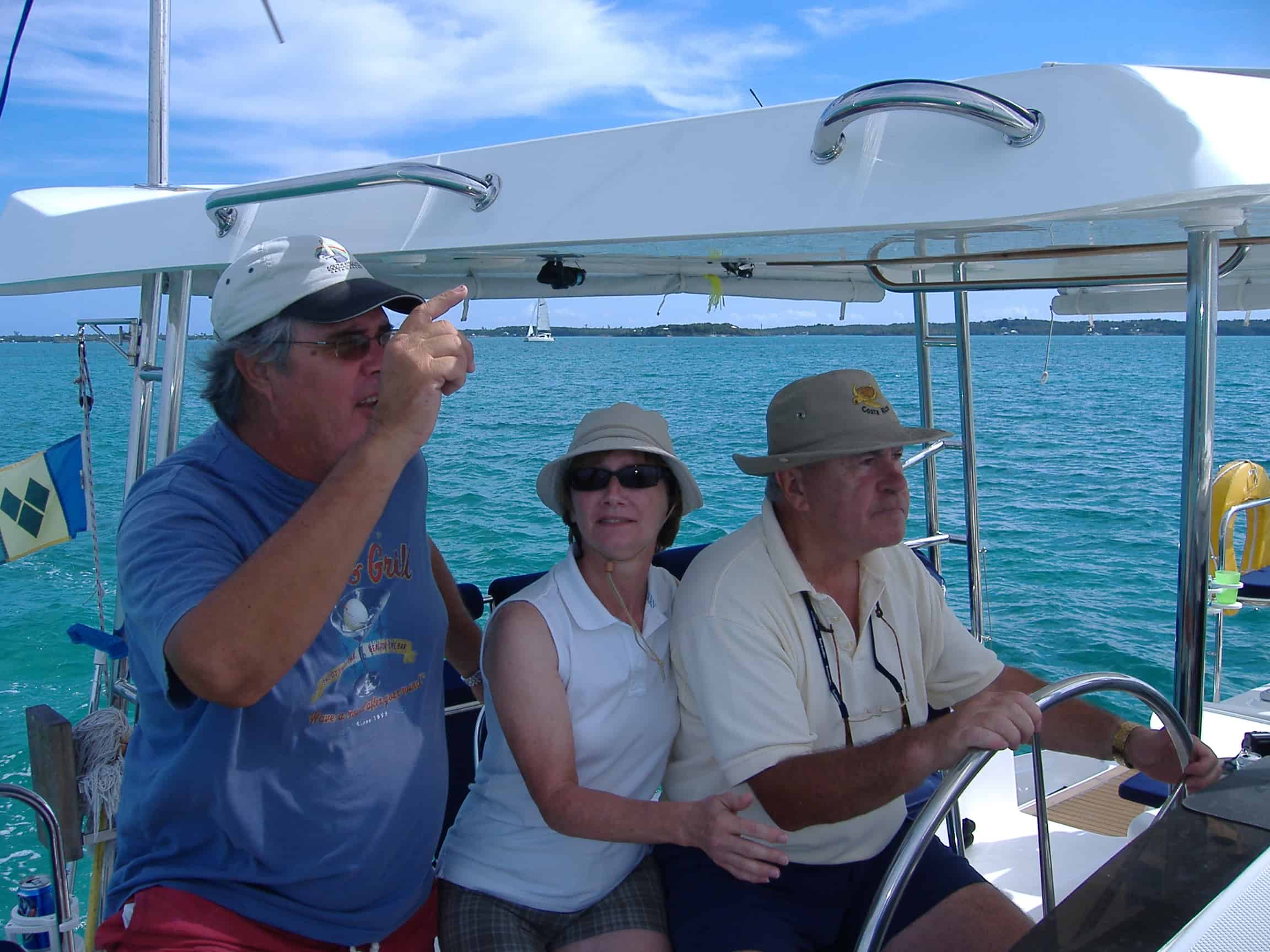 I have been dreaming forever that one day I would be leaving on my sailboat to go around the world. But every time I would think loud about it, my wife, Suzanne, would look at me and simply say, "We will talk about it later!" A few years after retiring, I decided to follow the courses of the Blue Water Sailing School and take them at Marsh Harbour in the Bahamas. Surprise, surprise, Suzanne agreed to come with me. We finally made it to Marsh Harbour and went straight to the Harbour View Marina to be told by Stephen that it was too early and had to come back later. That bizarre welcome allowed us however to discover a bit of the local cuisine. The following week made us forget that moment very rapidly. While Estelle's smile, cheerfulness, and creative cooking made us feel at home right away, Stephen's navigation courses, sails and boat handling, tests, etc. kept reminding us that we were not and had to work hard and learn fast. In short, it was a very intense week, with a lot of adventures, work, tests, discoveries and wonderful time and days passing, and more particularly during our discussions at sunset, Estelle and Stephen became our friends. The results of that week were spectacular. I decided to buy a catamaran and Suzanne accepted to risk it all with me! During the following months, with the help of Stephen, I found a St. Francis 48′ cat, Radical Innovation, located in Tortola in the Virgin Islands. Stephen acted as our representative and negotiated very skillfully the purchase of the cat and even accepted to be our Skipper for the 7 day trip back to St. Augustine, FL. That was a memorable trip but it will be part of my next book. In conclusion, Estelle and Stephen were not only our teachers, instructors, mentors and negotiators but they also became our friends.
– Suzanne et Pierre André, S/Y Radical Innovation St Francis 50
Comments from Travis W
I spoke with Stephen on the phone a couple of weeks back about an Island Spirit 40 that I have an offer on. First I want to thank him profusely for his time. It was a huge help.
– Travis W
Testimonial from David and Peggy K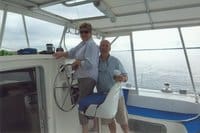 We decided we wanted a more simple lifestyle and we sold our house and all its contents to move onto our 42′ Fountaine Pajot catamaran. Neither of us had done any sailing so we were pretty anxious about taking such a huge step and knew we needed some real hands-on experience. After looking at the various sailing schools out there we decided on Blue Water Sailing out of Fort Lauderdale, Florida. Lucky for us, the Florida class was changed and we went to the class in Marsh Harbour, Bahamas on a 40′ Island Spirit with Stephen and Estelle Cockcroft. We were totally immersed in every aspect of sailing and living on board a catamaran, which is what we needed. The Cockcrofts went above and beyond "teaching" us. They provided us an understanding of catamarans that would have taken us a very long time to discover on our own – that experience is invaluable for novices. When we went home we knew we could handle whatever was thrown at us i.e., how to manage the sails, how to live comfortably on board, and what to expect with all the systems on board. We can't say enough about the incredible experience we had with them. We highly recommend sail school and if you're lucky enough to get a couple like Stephen and Estelle you won't regret it.
– Dave and Peggy King from S/Y "Simplicity" (Read their blog)
Testimonial from Deon and Janine R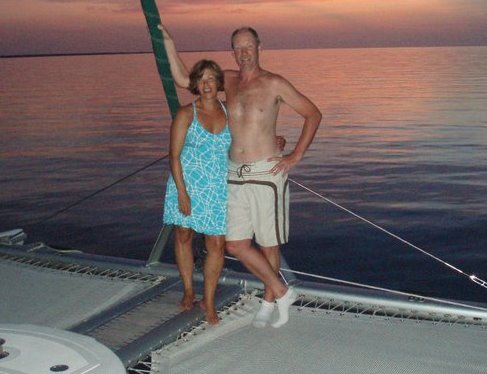 Stephen and Estelle's ongoing willingness to provide us with practical guidance has been phenomenal. Their 20+ years of cruising experience and being in the yachting business is a great source for novices like us. Through their Active Yacht Ownership Program, they helped us set up our Sea School Business in the Bahamas three years ago which is still going strong. If you are in the market for a boat these Yacht Gurus can make it a pleasant long term experience.
– Deon & Janine Rae, S/Y Kanina Prout 45
Testimonial from Mark and Brandi M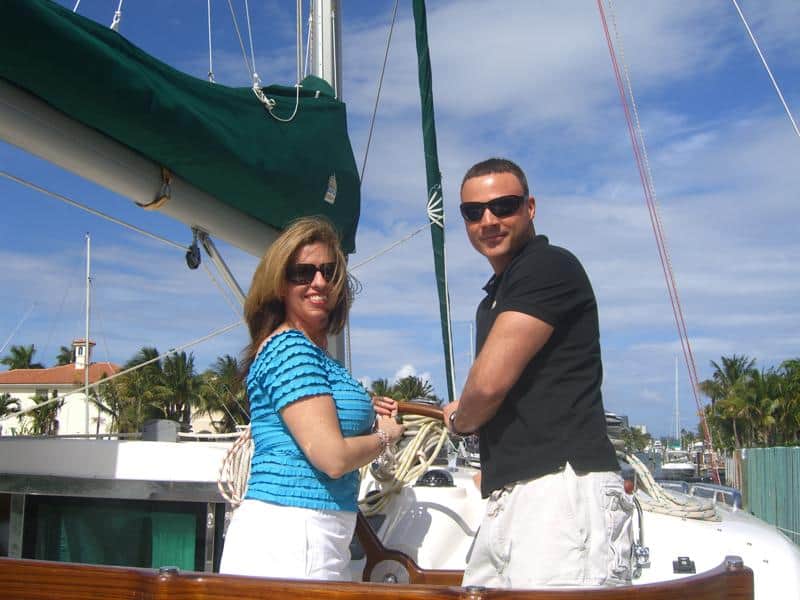 We first met Stephen and Estelle when we enrolled in the Blue Water Sailing "Sea School" (BWSS), Marsh Harbor, Bahamas in 2007. We had planned on attending another sailing school, but thankfully decided on BWSS at the last minute. We made our decision based on the amount of time BWSS courses spend on the water versus other programs that have you cooped up in a classroom for hours a day and require you to spend your evenings in a hotel. We were happy to learn that the entire BWSS "Sea School" would be spent aboard a beautiful 43'catamaran and that the class size was perfect: two couples and Stephen and Estelle traveling through the Abacos. From the start of the class, we knew we had made the right decision. Both Stephen and Estelle introduced us to life as live aboard cruisers. Estelle took us through provisioning for the trip and establishing a level of "comfort" while aboard and Stephen introduced us to the "single sheet" per person use of the head. Each day we would work, learn, and sail the boat as if it we were ours and we were making our own passage. Having a destination for each day made the learning fun and challenging. Each of the four students received hours of hands on experience at each sailing position and the learning and confidence gained was invaluable. During the course, we all were given ample time to earn our "Plonker" status and the constructive reinforcement from Stephen and Estelle served to further our confidence that we could handle ourselves safely on the water. Anyone who has the opportunity to spend time with the Cockcrofts knows that their experiences as blue water cruisers are worth the price of the course. We have stayed in close contact with the Cockcrofts since attending our first BWSS course and today, we value the Gurus as some of our closest friends. We have learned so much from them and are looking forward to working with Stephen and Estelle as we prepare to purchase our own yacht and begin our life with our family on the water.
<p">- Marc & Brandi Murphy
Testimonial from Reg and Rita N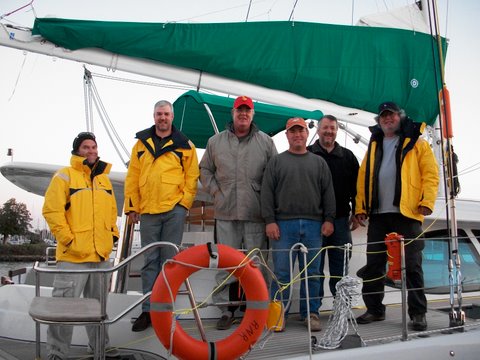 A number of years ago my wife and I decided that retirement in the Caribbean may be an option and living on a catamaran was also a possibility. So first things first, take a catamaran school. After much discussion about which school to take we ended up in the Abacos with our instructors Stephen and Estelle. This was a great experience. We not only got a sailing school, but the complete package of how to live aboard and the introduction to the cruising lifestyle. We bought our yacht through them and we have shared many good times together on board. We won the Caribbean 1500 Rally on 'R & R', skippered by Stephen, another great learning experience! More helpful and knowledgeable people you would be hard pressed to find.
– Reg and Rita of 'R & R'
Testimonial from Bob and Debbie R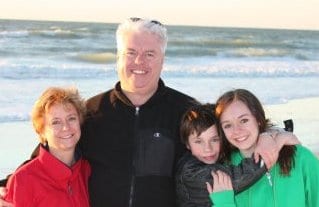 My wife, Deb, and I attended the 2009 Annapolis Boat Show, where we fell in love with the style and design of Stephen and Estelle's 45ft sailing catamaran, ZURI, displayed at the show. Looking ZURI over, we met Stephen Cockcroft, (and his lovely wife, Estelle), who sat down and reviewed our needs with us. Based on our financial situation, Stephen introduced us to the Active Yacht Ownership concept, and explored ways to make that happen. He was the consummate knowledgeable professional, and introduced us to many other experts in finance, charter, and even Boat technical services and repair. We worked together for 8 months to bring our dream into reality. We will always be grateful to Stephen for making that happen for us. But that is not where the story ends. The real test of a Broker and his commitment to the customer comes after the sale, particularly if there are problems with the vessel, and after all, don't all boats have a few problems? Ours turned out to be much more significant than what was detected during the survey. And yet, Stephen engaged with the manufacturer on our behalf and had them resolve a number of costly repairs. Further, as we wanted to enhance and modify our boat to our needs, Stephen consulted with us on the best ways to do the work and recommended numerous contractors to select from. He also periodically dropped by to visit the vessel and inspect the work in progress. And yes, he even kicked some ass from time to time to keep the work moving and up to the quality he demanded on our behalf. Through all of this, we worked together, and Deb and I found something even more important to us along the way…two great new friends. How many people can actually say that after their deals are completed? We highly recommend Stephen as one of the most knowledgeable brokers that you could ever work with. If you are considering Stephen, give me a call anytime to discuss our own experience in detail.
Sincerely, Bob and Debra Rainford from S/Y Persistence
Testimonial from Mark C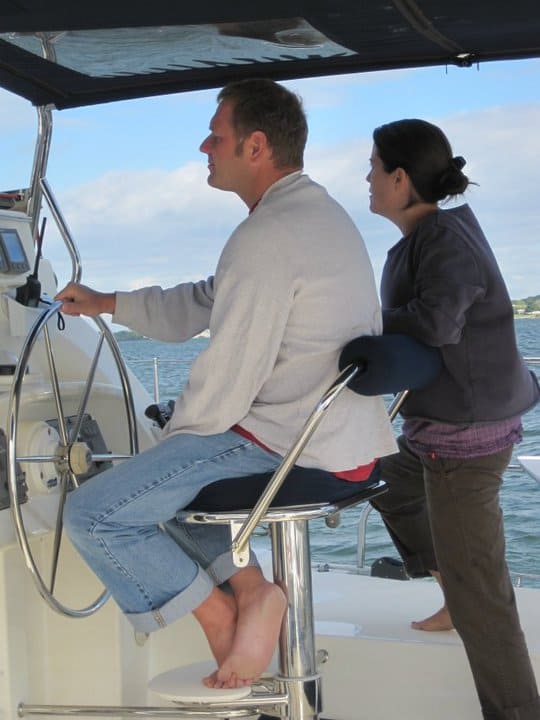 When I decided to purchase my first sailing catamaran in 2008 I knew very little about the boat purchasing process but luckily I did know the "Yacht Guru", Stephen Cockcroft. The decision to work with Stephen as my broker was an easy one. Stephen's vast knowledge about boats, the boat industry and the cruising lifestyle was made very apparent to me when I attended a sailing school he instructed a year earlier. I knew that the purchase process would go smooth working with him and I was very impressed with his dedication and helpfulness. Starting with locating and inspecting the boat, establishing whether it was worth pursuing (before I ever bought an airline ticket to see it myself), to spending a day sailing on the boat with m-e after the purchase to ensure I understood all the systems and that it were all working properly. After the purchase Stephen helped me locate and vet a company to do some restoration work to the boat before I picked it up. Stephen even stopped in to check on progress few times when I could not. The final results were amazing. To this day I still rely on Stephen to answer questions about my boat and sailing in general. Typically I find that he has "been there and done that". So thank you both, Stephen and Estelle, for your guidance that helped me achieve my dream of open water adventure!
– Mark Callender from S/Y "Stray Cat" Island Spirit 37
Testimonial from Sarah and George H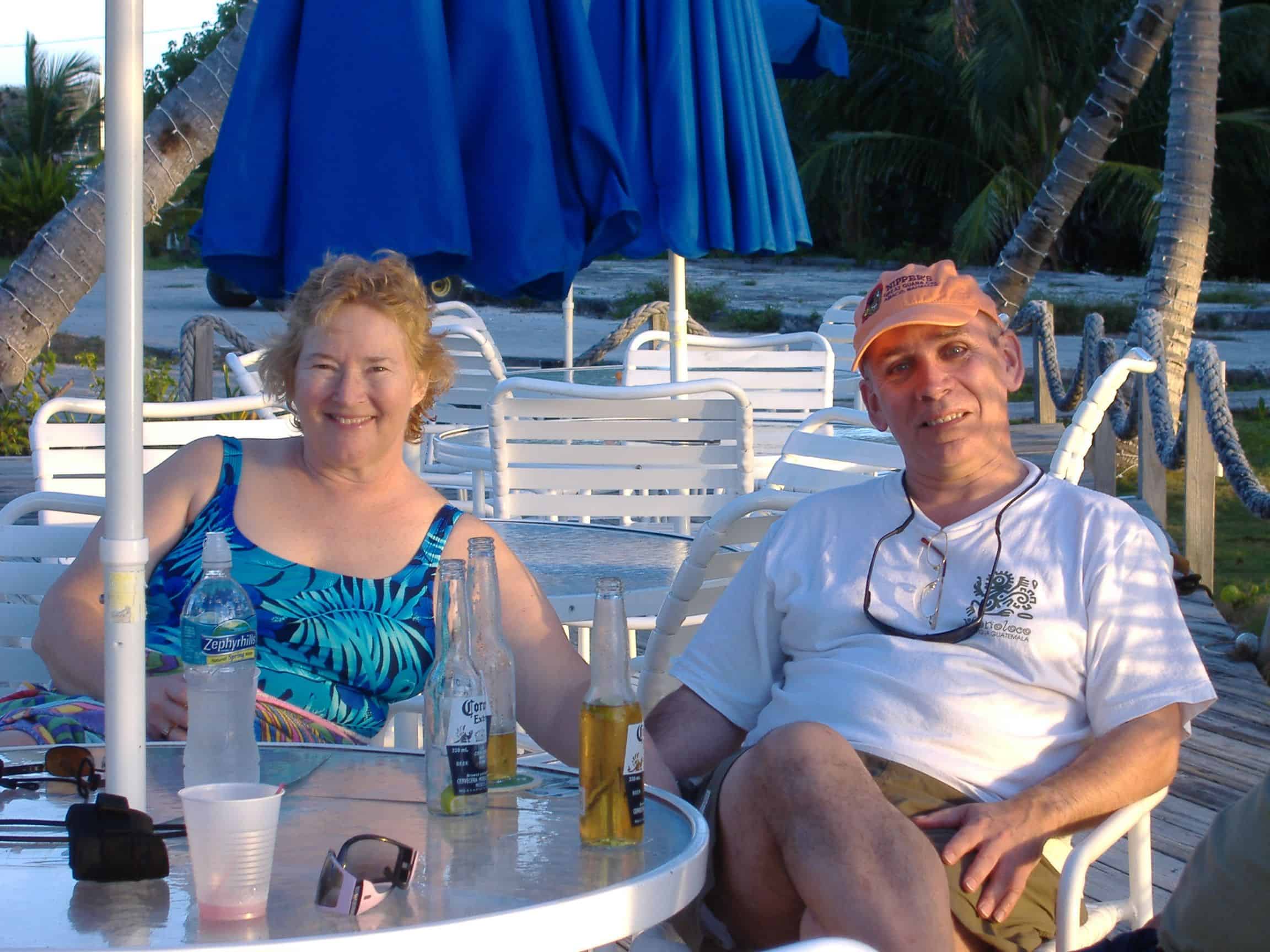 …Through all of this, we'd been looking at the three cabin version of the Lagoon 380. We'd always thought the galley was too small (we are foodies and both love to cook!). But with Stephen and Estelle's wise advice that "every boat is a compromise" ringing true to us, and with positive input from him about the quality of these boats, plus lots of talk and pictures from Lagoon owners concerning galley improvements, we began to see that this was the boat for us. We found a suitable Lagoon 380 for sale in our area in the fall of 2009. In February 2010, Stephen acted as our broker for the purchase of our 2003 cat, now named Mirador. She's waiting impatiently for our house to sell so we can slip the lines and begin our adventures. Thank you, Stephen and Estelle, for helping us nurture our cruising dreams. See ya out there! Read their story here.
– Sarah & George S/Y Mirador
UPDATE ON SARAH & GEORGE: Their Lagoon burned and they have had to look for a new boat quickly after becoming liveaboards just a few weeks before the tragic incident. We found them a great boat, a Leopard 40, and they are "back on the horse"! This is a reply from George to a blog post on cruisers forum: A word from George: I have known Stephen since meeting him at an Annapolis show a number of years back. He was selling the Island Spirit catamaran at the time. My wife and I were interested in purchasing one, but wanted the chance to sail it first. We then joined him and his lovely wife for a sea school on his Island Spirit in the Bahamas. He is a very good sailor, by the way. We were convinced that the Island Spirit would be a great boat after sailing it for a week. We gave Stephen a deposit check for a new Island Spirit. Unfortunately, the factory in South Africa went belly up prior to our getting the boat. Stephen worked diligently to get our deposit back successfully. He even flew to South Africa at his own expense to help another client whose boat had been started but not finished. I was so impressed with his integrity as a broker and as a human being that when the time came for me to find another catamaran, I enlisted his help as a buyer's broker. He was an immense help at that time (saved me a LOT of money). Unfortunately, after owning that boat for a year, we lost it at the dock due to a fire. I didn't let this upset my wife's and my cruising plans, though. We purchased another boat two months ago, again with Stephen's help. He was instrumental in finding the right boat for us, finding an honest and thorough surveyor, and helping us get the boat at a good price. I have met several other clients of his while interacting with him these past years. All respect his integrity and honesty. If anyone would like to know the names of some individuals in the catamaran business who are less than honest I could name a few that I have met along the way. Stephen knows catamarans and the charter markets very well. His advice has been extremely valuable to me on multiple occasions. I would definitely say he is an expert at boat purchasing and at evaluation of a vessel in a charter fleet or for that matter of purchasing a vessel and putting it into charter. He is very familiar with all the legal nuances involved as well. So, if you choose to work with him, I really don't think you could do any better.
– George Hanson, 2007 Leopard 40, Mirador
Testimonial from Dennis and Cindy F
I have known Stephen and Estelle Cockcroft since 2004. I contacted them the first time looking for advice on buying a catamaran. At the time, the choices for cats were limited. Most were slow and would not perform and I wanted something that would tack through less than 100 degrees and had some get up and go. I called Stephen as well as many other brokers and had a long chat with each one. It was clear that Stephen knew cats and cruising. I found the ones who spend the most advertising multihulls – simply want to take your money – they are not interested in what I need – only about what they can fleece from my pocket. We made arrangements to meet the Cockcrofts at the Annapolis Boat Show in 2005. From the moment we meet Stephen and Estelle we were comfortable and able to communicate clearly. They made it their business to understand what our needs were and helped us to make the right selection. As it turned out the cat we picked was built by a company that had financial trouble – which no could have known about. In the end, the builder went into foreclosure. I had paid for most of the boat and had title, but that meant I needed to go to South Africa and rescue the boat from the clutches of some very greedy folk. It was Stephen who flew to South Africa with me – at his expense – and helped me rescue the boat, helped get it ready for transit and helped get it to Houston. Without his help I would have probably lost the boat and all my money. I do not know another broker who would have done what they did for us. So, yes I can tell you without reservation that Stephen and Estelle are honest and forthright folk – who standby you through thick and thin – no matter what is going on. They have my complete trust. When I buy another cat, my first call will be to Stephen and Estelle Cockcroft. 'nuff said.
– Dennis & Cindy Frakes from S/V Kewl Breeze
Testimonial from Arlene H
I want to voice my appreciation for all the time you've put in on this over the past two months and your patience in helping me to get my husband to feel comfortable with the sail drives. You sending the email about DYC [Dream Yacht Charter] to the MOG was a godsend. I wanted the boat but wasn't happy with the other charter companies in the BVI because they didn't have the reciprocal privileges with so many bases and they didn't have the guaranteed income. DYC's guaranteed income may be less overall, but I don't have to worry about that, or the maintenance…knowing your name and history with the MOG gave me the confidence to make this deal. It would have been difficult to do so with a stranger. I have read your posts over the years and even downloaded some of your tips on boat handling from Sail Online. I appreciated your integrity to fully disclose on the MOG that you were a yacht broker and I wish you continued success with DYC. I hope we get to share a cocktail sometime in BVI.
– Arlene Huber, Lagoon 400
Testimonial Mark & Nancy J
I wanted to thank you for all the time and energy you gave Nancy and me as we searched for boats. You remained loyal and objective to us the entire time and we appreciate that. More importantly, it was good to get to know you personally as you are an interesting fellow and a smart businessman. Anyway, thanks again for all your help. We hope to see you at the boat show.
– Mark J
Testimonial from Fred L
Michel worked with us for nearly 2 years. He was knowledgeable, professional, compassionate, and intuitive. Michel found us the perfect boat. We were delighted. The boat was exactly what we wanted. However, the purchase proved to be a complex transaction. Michel was incredible. He worked so hard and so long to get us that boat. We contribute the success in getting the boat to Michel's negotiation skills, knowledge of the industry, international sophistication and bilingual abilities. Ultimately, our most important discovery was Michel's intense loyalty to his clients. If you have the insight to choose Michel as your broker and if Michel chooses you as his client, we believe you will be blessed with the boat of your dreams.
– Fred L, Sacramento, California
Testimonial from David & Lynda Z
We used Michel, former MOG Commodore, to sell the boat. Michel knows the boat brokerage process very well and did a fabulous job for us. In addition, given my travel schedule at work, we "hired" Michel to attend the phase out survey and sea trial and appointed Michel as our "hand over" representative with the Moorings. This worked extremely well for us as owners.
– David & Lynda
Testimonial from Cameron & Anneliza
Would like to thank you for your perseverance and determination to get the deal through. It was a long process. Thank you very much.
– Cameron & Anneliza
Testimonial from Sam G & Eileen C
All along Michel displayed phenomenal understanding of the market, conducted himself as a super professional, displaying knowledge combined with integrity, while protecting our interest as his customers was always paramount. The last six months were exciting, turbulent and rewarding. Our comfort level at all times while working with Mr. Benarrosh was tantamount. To conclude, I value my experience with Mr. Benarrosh highly. I shall always recommend him as a fine professional broker and there is no doubt that he is a great asset to your organization.
– Sam & Eileen

Peter & Wendi – Lagoon 400S: "I contacted Catamaran Guru to make inquiries on catamarans and was introduced to Captain Jeff Riecks who worked with me on selecting a boat. I also connected with Stephen Cockcroft who helped me select a Lagoon 400, which turned out to be a great choice and suited exactly what we had in mind for our family. Once purchased, Jeff helped me deliver the boat to Charleston, SC from Houston. While underway he helped my wife get comfortable with the boat and did some sail training during the passage. Jeff's knowledge and experience have been indispensable in getting the boat fitted out and ready for the offshore passage. It has been a delight to have such a knowledgeable and experienced teacher on this trip of a life time for me. Jeff has repeatably gone above and beyond the call of duty."
Andy W – Fountaine Pajot 43: "…so Mark, in a word, the week was AWESOME!!! Two words BLOODY AWESOME!! Who knew you could learn so much AND have fun in the process!! Your passion for sailing is infectious, and your patience eternal. We will always think very fondly of this experience and will tick away the time until we return. THANKS!"