What is a crewed yacht charter?
A crewed yacht charter is a boat that is offered to the public for use as usually all-inclusive sailing vacations where all meals, beverages, and boat-based activities are at no additional charge. A crewed yacht charter includes a captain and chef who often provide other services such as concierge, storyteller, bartender, and whatever it takes to make your vacation amazing. On larger boats, you will have more crewmembers. Partially crewed yacht charters are available in the industry such as a skippered or captained yacht charter where you do the cooking and often provisioning yourself, but you have a captain to steer and maintain the boat.
Each stateroom usually has its own complete bathroom (head), usually with shower, no tub. Water toys are available, but which ones will depend on the boat you charter so ask in advance if you are interested in a particular activity such as wind board, kayak, snorkeling, SCUBA, fishing, tubing, etc. Usual amenities include A/C, generator, watermaker, and often TV/DVDs, cellular communication, and internet. Check with your yacht charter broker for features that interest you.
For veteran sailors, the captain is responsible for the boat. So, she or he will have the last word on any decisions about the boat.
Who sets the itinerary?
Charter guests select the ports and details of what activities are planned aboard, in the water, and on land. The crew helps you to make the best choices to ensure the best vacation possible. The crew will arrange any land-based excursions or additional water activities such as a SCUBA diving rendezvous. However, the captain can change to the planned itinerary when weather threatens the safety of charter guests and the boat. And, charter guests can decide to leave early or stay longer at any particular mooring or anchorage.
How does the chef know our food preferences?
The yacht charter broker will send a preference sheet to you before you leave for your vacation. Each member of your party may specify likes, dislikes, allergies, and dietary requirements. You will also be able to inform the chef special events such as birthdays or anniversaries.
I am a competent sailor, why do we need a crew?
It depends on the sailing vacation you want to experience. By all means, grab a bareboat charter and sail away with family and friends especially if you will have other veteran sailors and crew aboard who can take turns with the duties. But, if you want a relaxing vacation in which someone else keeps watch over the anchor at night, takes care of provisioning and cooking, and cleaning, and takes care of the constant stream of little things that need attending to on a boat, then you can enjoy a crew. Plus, your captain will be happy to show landlubbers in your group a few things about sailing and give you a go at the helm. A crewed yacht charter makes for a relaxing vacation in which everyone gets to do what they want to do when they want to do it. No one has to work if they don't want to.  Plus, the captain and chef are there to ensure that you have a remarkable time and often share insight about an area, a great story…especially if you have kids to be entertained, and  refreshments are always at the ready.
Plus, when sailing with another captain, you can always learn something new. Even salty old dogs can learn new tricks! And a professional captain will often take you farther afield out of the close geographic area that most bareboaters are comfortable with.
Crewed yacht charters are for the wealthy!
No, you don't have to be a tycoon, mogul, or Hollywood starlet to afford and enjoy a crewed yacht charter. While some big boats can set you back $250,000+ per week, they are a rare exception to the affordable charters in the "real world". For sailboats, especially comfortable catamarans, from 45ft to 65ft., a budget starting at $7,500 per week for 2 couples to $9,000 / 12,000 per week for 3 couples to $15,000/18,000 for 4 couples is possible depending on season and location.
When you break down those costs, you are talking about costs from $3,200 per week per couple up to $4,500 per week per couple…for an all-inclusive, fully customized sailing vacation. Compare that to a cruise ship where all bar purchases and excursions are extra and you share it with thousands of people and only visit specific ports for very short and specific periods of time. Or compare that to a luxury resort where again you share it with hundreds or thousands of people plus the beaches and scenery are the same every day. Perhaps you are beginning to see what a value a crewed yacht charter is?.
Crewed yacht charters are boring.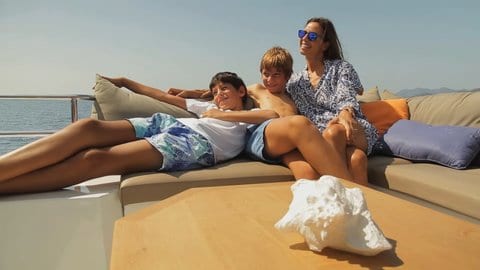 You decide. Here is a sampling of a day's activities that you can choose (or not) to do.
Morning
Get up when you want and your breakfast is ready with all your favorites. Leisurely discuss the day's plans with your captain. Sail over to the island where you want to enjoy a deserted white beach. After a brief sail in which you help raise the sails and take a turn at the helm while the kids get crank the sails for each tack, you arrive at pristine snorkeling site. Everyone interested enjoys a visit with the fish and coral returning to the boat for a scruptious lunch. Everyone is talking over each other to share what fish they saw and how the octopus or eel behaved in their natural habitat.
Afternoon
Set sail again to arrive at your overnight anchorage in a postcard-like protected cove. You go ashore in the dinghy to explore the trails. Swim or sunbathe. Enjoy cocktails and other refreshments. The kids spot a few sea turtles and command everyone's attention with their excitement.
Evening
Shower then enjoy cocktails and horsd'oeuvres, then your gourmet dinner as you watch the Caribbean sunset while chatting with your family and friends. After dinner, play games, enjoy stories by crew and guests, or some of the more energetic guests can go ashore to check out the beach bar scene or a Full Moon party, if the timing is right. Or just find a quiet spot to star gaze.
Boring? I challenge you to make it boring!