We had the wonderful pleasure of sailing a luxurious fully crewed (captain, chef, and first mate or sometimes called the steward) Lagoon 62 in Sint Maarten this summer. Stephen and I were invited by the prospective new owners to test the sailing ability of the boat as well as grading the total experience. (Ask us about the amazing 8% guaranteed income program on crewed yachts in the DYC fleet).
As you know, we like to sail our own boat so we went into this "luxury experience" somewhat skeptically. We wondered if we would enjoy sitting back, sunning ourselves and letting someone else sail the boat while being handed cocktails and served meals by an elegant stewardess, white gloves and all! At the end of the trip the answer was a resounding YES! We loved it!
When we arrived in St Martin, we were itching to hop on board the Lagoon 62 and go cruising. Without going into too much detail about the itinerary, St. Barths, and Anguilla were high on the priority list and we stopped in both places for some shore time, beach bars, and fabulous French cooking.
We were treated like royalty by the very professional crew, but unlike some of their usual charter guests, we wanted to really sail the boat and put her through her paces in all weather conditions. Basically we planned a seatrial for the duration of the charter. The captain very graciously accommodated us and sailed us every day from island to island in sloppy seas and winds in the high twenties. The Lagoon 62 sailed very easily in the double digits on all points of sail and pointed well to weather. The rig was nice and stiff with very little slack in the leeward shrouds while close reaching. Slamming under the bridge deck was minimal even in the notoriously lumpy seas between Sint Maarten and St Barths and the flybridge is well layed out with good access for winch handling. The double helm station is an added bonus and we were suitably impressed by her performance.
Every afternoon at cocktail hour, after a hard day of sailing we were served some wonderful treats from the chef's galley and our white gloved stewardess served cocktails on a silver tray at possibly too regular intervals. We enjoyed beautifull sunsets on the aft deck while endlessly discussing the boat and the pros and cons of the crewed charter. It was a wonderful time and I highly recommend it.
Click on the link to learn more about how you can benefit from our Crewed Yacht Charter Program and Tax Advantages as an owner of a luxury crewed yacht.
The Top Ten Things I Learned About Crewed Charter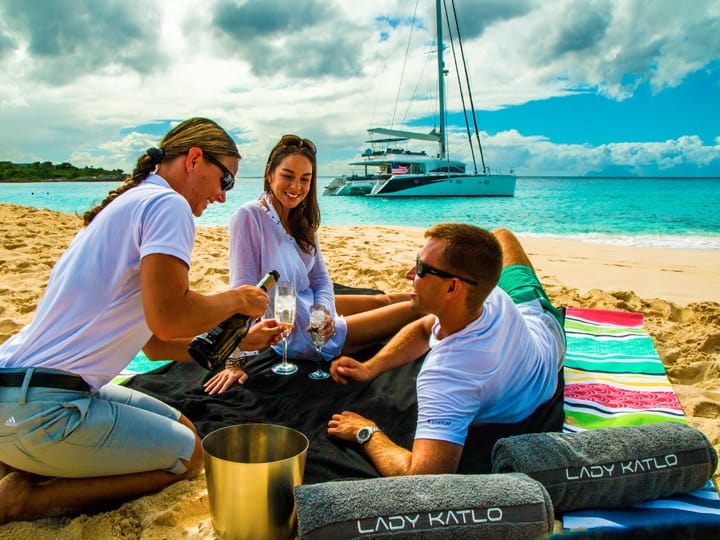 Crewed catamarans may not be as costly as one might expect, especially for a family or a group of friends sharing the cost. It is generally all inclusive (crew services, meals, open bar, etc.). Prices start at $4,000 per couple per week (not including tip), and rise from there depending on the level of luxury you desire, the size of the yacht, and the charter location.
Some people worry about not having enough privacy on a crewed yacht. Generally the crew quarters are totally separate, and if requested, the crew will "disappear" if you really just want to be alone. We received 5-star attentive service from our crew without ever feeling like they were being an invasive presence.
Try not to squeeze too much into the itinerary. Sailing full days rob you of the chance to play. There is usually lots of water toys available on board like stand-up paddleboards (SUPs), diving gear, fishing gear, etc. so allow yourself some down time to play, explore the land and generally enjoy the ambience of laying at anchor at a beautiful beach, watching the sunset, sipping cocktails.
We sailed quite a bit and put the boat through her paces to judge her performance in heavy weather. She handled the weather just great and we were all suitably impressed however, in most cases the captain will gauge the mood of the guests, discuss the conditions and which destination will best suit their needs for that day and adjust so as not to have seasick, miserable guests on board. That could ruin a vacation. So, communicate with your captain. If you and your guests like sailing, by all means do it. Sailing one of these bigger cats is exhilirating but don't hesitate to slow down the pace. Captains are generally extremely knowledgeable, and can provide excellent suggestions about the itinerary.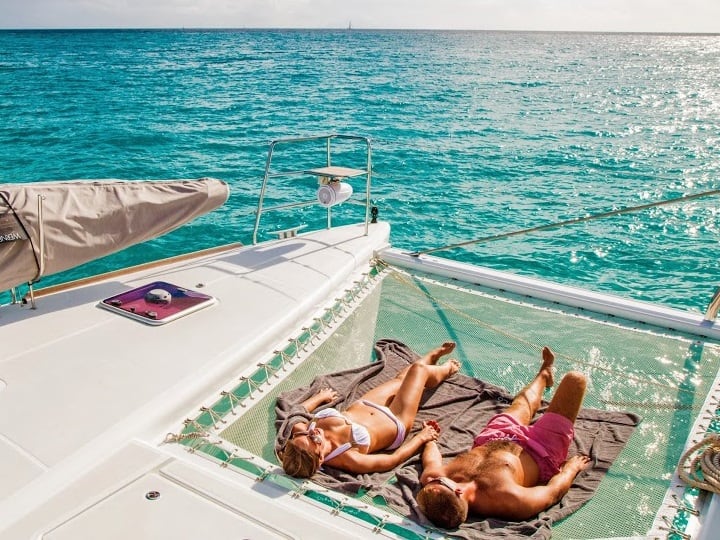 Communicate With The Crew
Be as clear as possible about your desires and requests when filling out your "preference sheet". The more the crew know about your likes and dislikes, the easier the job for them and the better your vacation will be. We neglected to let our chef know that we prefer lighter "meze / tapas" style meals, so for the first 2 days they went to all the trouble of cooking 5 course meals which, by all accounts was wonderful but way more than we wanted. They did adjust and we loved everything they served us but I'm sure it took some scrambling by the chef, preparing a totally new menu.
Be Courteous And Leave The Heels At The Entrance
The "barefoot" rule applies even on luxury yachts. One wouldn't think so, if the movies are anything to go by, where bikini clad ladies in stilettos prance around the yacht but really, that is the courteous thing to do. Teak decks are expensive and fragile, and for that reason most yachts require that you go barefoot when walking on the decks. High heels and dark soled shoes have no place on a luxury yacht or any boat for that matter.
Most crews love taking care of kids, and have many great ways to entertain them. But it is not in their job to be babysitters and most contracts will be clear on this point. However, one complaint we heard all too often is that the kids are often left with the crew while the parents go ashore. They have a lot of responsibilities and jobs that you may not even know about or see and adding babysitting to the list is not good. If they genuinely offer to watch the kids while you go shopping or exploring for a few hours, that's fine, but it is inappropriate to bring children on a luxury cruise, ignore them, and expect the crew to take care of them.
Treat the crew with respect
Yacht charter crews are generally excellent at taking care of your needs, and put great enthusiasm into their jobs. They are not servants, however, and a bit of courtesy goes a long way. A few compliments and thank you's do as well. It is important to remember that they have multiple responsibilities (many that you may not see), and need their time off like any employee.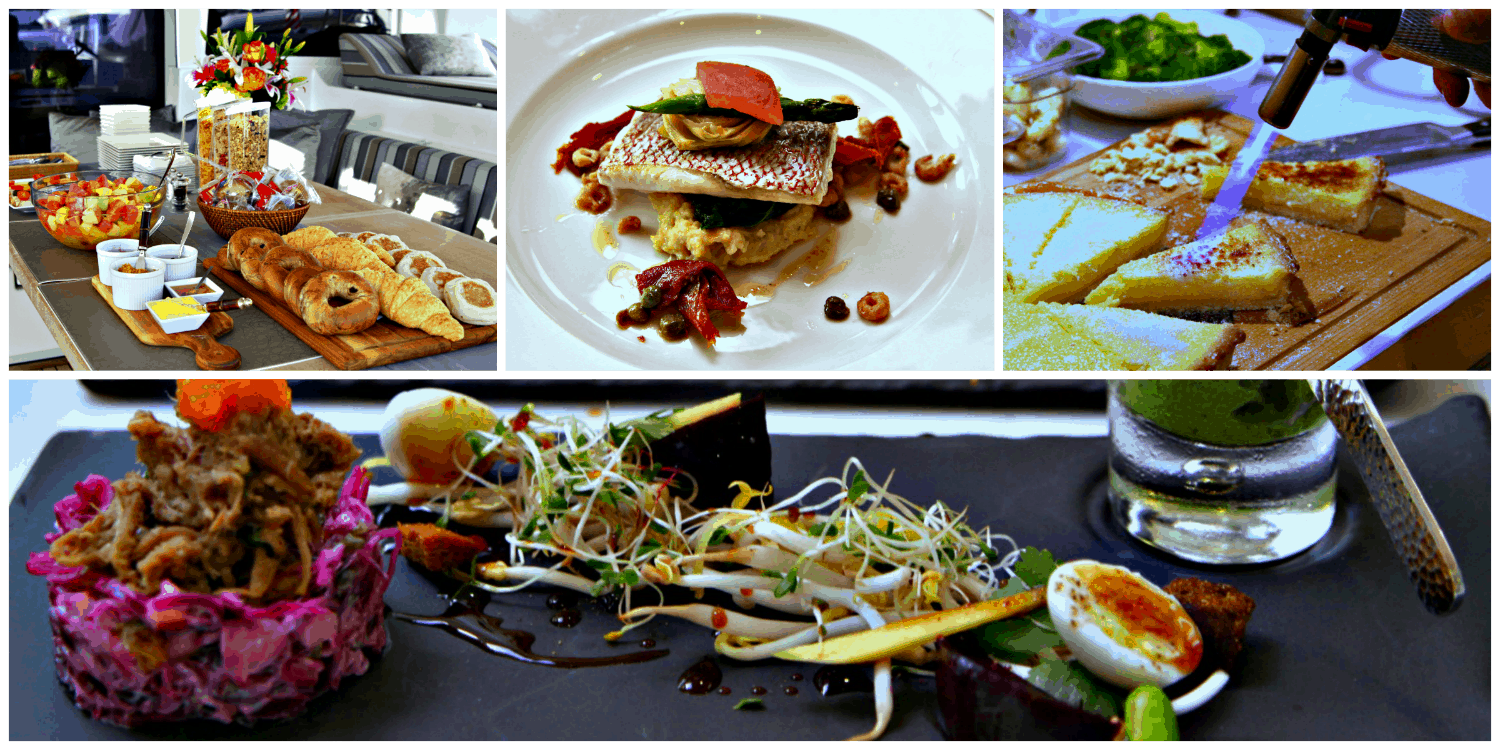 Be flexible on your itinerary
There are many factors, especially weather, that can make your ideal itinerary either risky or not feasible. If your captain recommends against a destination, it's probably because he has assessed the risks and believes it is a bad idea. Generally, they will have alternative recommendations, that, while maybe not in the tour books, are just as fun and memorable. A bit of flexibility on your part can reduce the tension significantly.
You are on vacation after all. Allow the crew to make some decisions for you. You don't have to micromanage every minute of the day. Some guests tend to get too embroiled in the exact times to eat every meal, the exact ingredients in a meal or an exact location to be at an exact time. Maybe the most important decision is to decide not to stress yourself out with decisions, and let the water, sun, and beautiful landscape draw you in and relax you!