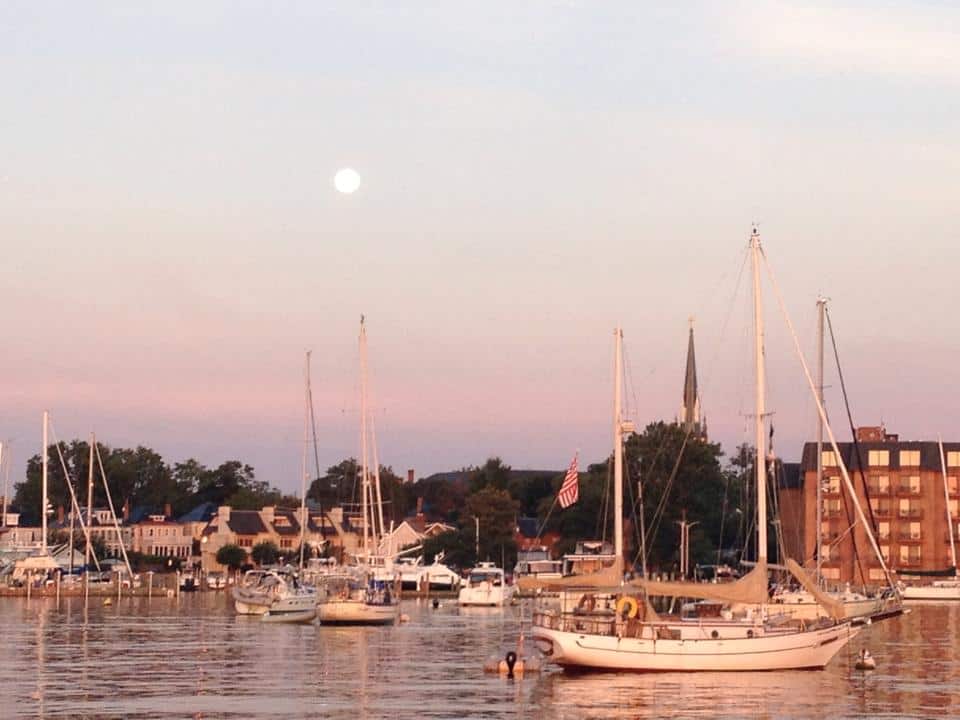 Sitting in the lounge of the Charthouse, overlooking Annapolis Harbor in Spa Creek, we were admiring yet another dreamy sunset descending upon this lovely historic town. Glimpse for yourself on the webcam.
Spring has finally arrived in the Northeast after a long, cold winter. A light breeze gently sways the few sailboats in the harbor back and forth on their anchors, inviting yet another sailing season in on the Chesapeake Bay.
The local sailors are restless, busily de-winterizing and preparing their craft to get out on the bay at the first opportunity. This scene conjures up memories of the incredible summer we spent cruising on the Chesapeake Bay last year.
Team Zuri Discovers the Chesapeake Bay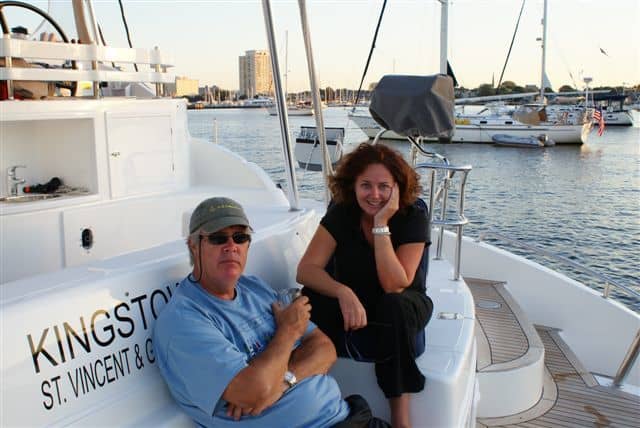 In early summer, Zuri, one of a growing number of catamarans in the bay, had pride of place on a bulkhead in Port Annapolis Marina. Situated on Back Creek, the marina is conveniently close to downtown Annapolis. Scott and his team are hospitality personified and we loved being moored in this tranquil and picturesque haven, but we were determined to get out on the water as often as we could and really get to know the bay. After all, Annapolis is touted as the sailing capital of America. Yes, as the home of the majestic Naval Academy and of famous people like Bruce Farr, the yacht designer, and Gary Jobson, author, world-class sailor, and television commentator, the Chesapeake has a rich maritime history and sailing is what they do here. Year-round, the harbor is filled with vessels of all shapes and sizes. Whether there's a regatta or not, you always see boats on the water here.
The Chesapeake Bay is the largest estuary with the most coastline of any other bay and in fact, its 11,600 miles of shoreline is longer than the entire coastline of the US. With more than 150 rivers feeding the estuary, the shoreline offers a varied landscape from the urbanized cities of Baltimore and Washington DC to the quaint colonial coastal towns of St Michael's and Cambridge. Its farming and fishing communities on the historic Eastern Shore are tranquil and seem rather untouched by time. There's an element of timelessness here. These areas are quaint and a little insular, however these people know how to enjoy the watermen's way of life, including sailing, crabbing or just chillin' in a boat with a cooler stocked with worms and beer.
Raft-Ups: Bay Cruising at its Best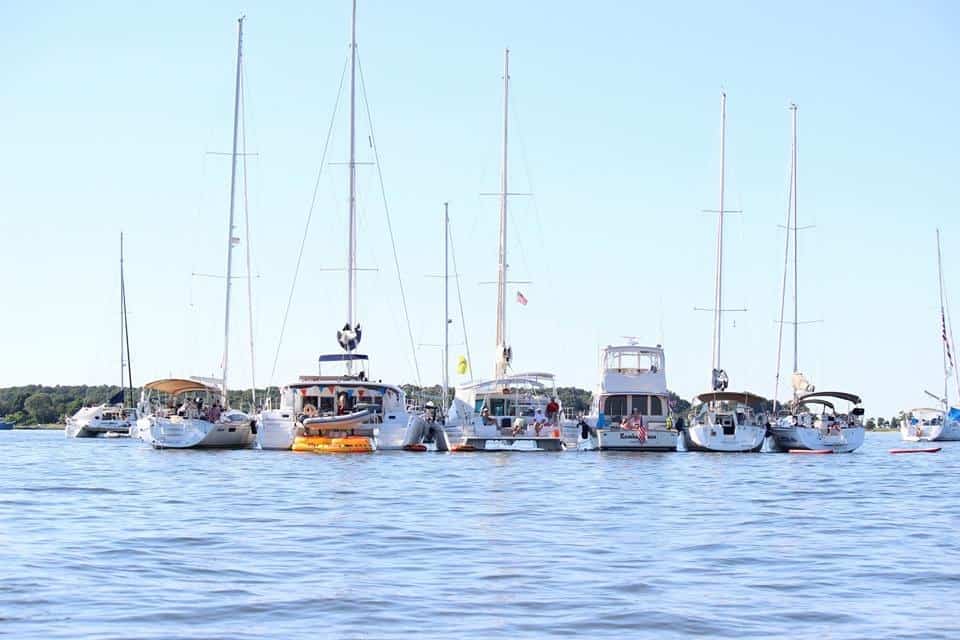 During our stay, we befriended some locals and were graciously invited along for their weekend "raft-ups" or floating parties in picturesque coves and anchorages on the bay. Raft-up's in the Chesapeake are social gatherings on water of two or more boats of all shapes and sizes, somewhat haphazardly but expertly tethered together. We saw as many as 14 boats rafted together at one time and what a good time this communal type living at anchor is! Cooking, fishing, children, dogs and the general well being of the rafters are community responsibilities, reminiscent of the hippies of the Sixties. It's sometimes loud, bursting with the energy of people having fun and other times the tranquil atmosphere has the lazy romantic ambience that only being at anchor on a boat can bring.
Our "raft-up" get-togethers started in early May in Spa Creek, Annapolis. With the regal Naval Academy as the backdrop, the beloved "Blue Angels" wowed the crowds with a spectacular air show, officially marking the opening of the summer season on the Bay. The entire harbor was filled to capacity with anything that floats, from homemade rafts to mega yachts. Estimates are anything from 500 to 1000 vessels, further cementing Annapolis' reputation as the sailing capital of the US. Next up was our 4th of July fireworks raft-up and it was as spectacular and the crowd was as dense. These Marylanders know how to celebrate! Annapolis is infamously known as a "drinking town with a sailing problem" and as Dick Franyo of the Boatyard Bar and Grill in Eastport says, "We know how to throw a party!"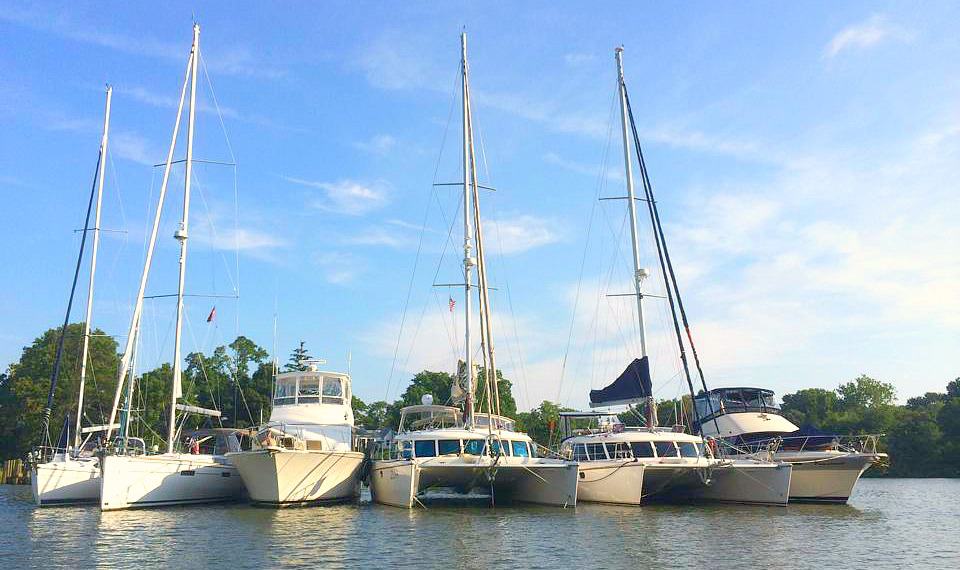 Our local "ringleader" and raft-up organizer was Chris on his Rambunctious, a Post 38 Sportfish. Chris is a local boy who grew up on the bay and he knows every crevice and nook in the bay. He led the way to St. Michaels for another round of 4th fireworks the next day where several of our boat owners and Dream Yacht charter guests joined us. Pretty soon we had a raft of about 10 to 12 boats of different sizes, shapes, and propulsion, with Zuri, our Prout 45 catamaran, acting as the anchor boat. More fireworks followed that night, lighting up the sky amid very excited ooh's and aah's from the packed anchorage. The daytime heat forced us into the lukewarm water, drifting leisurely around on floats, cocktails in hand, only coming out for some mega indulgences on local fare. Briny oysters on the half shell, rockfish, spicy Maryland blue crab dip and some juicy steaks to top it off. Yes, we enjoyed every juicy, fresh, and succulent bit of seafood straight from the bay.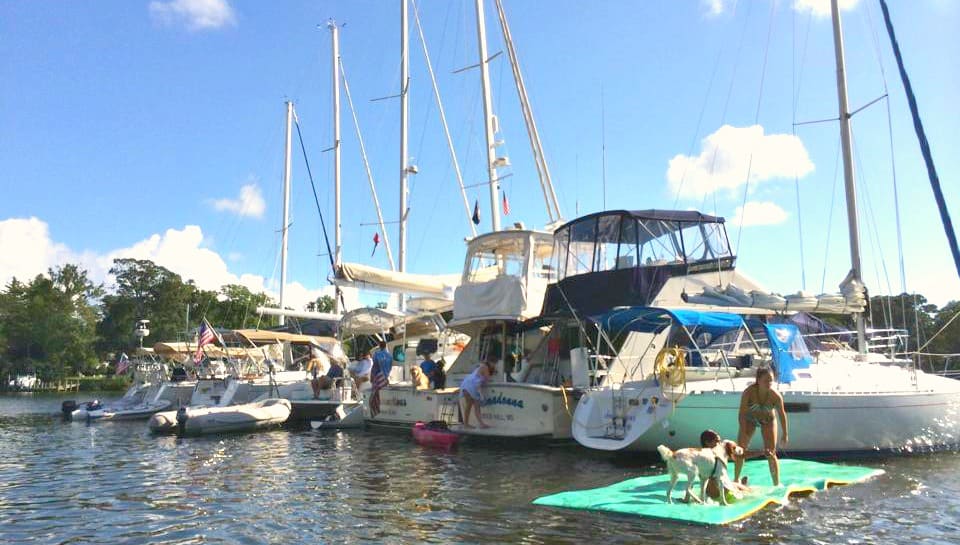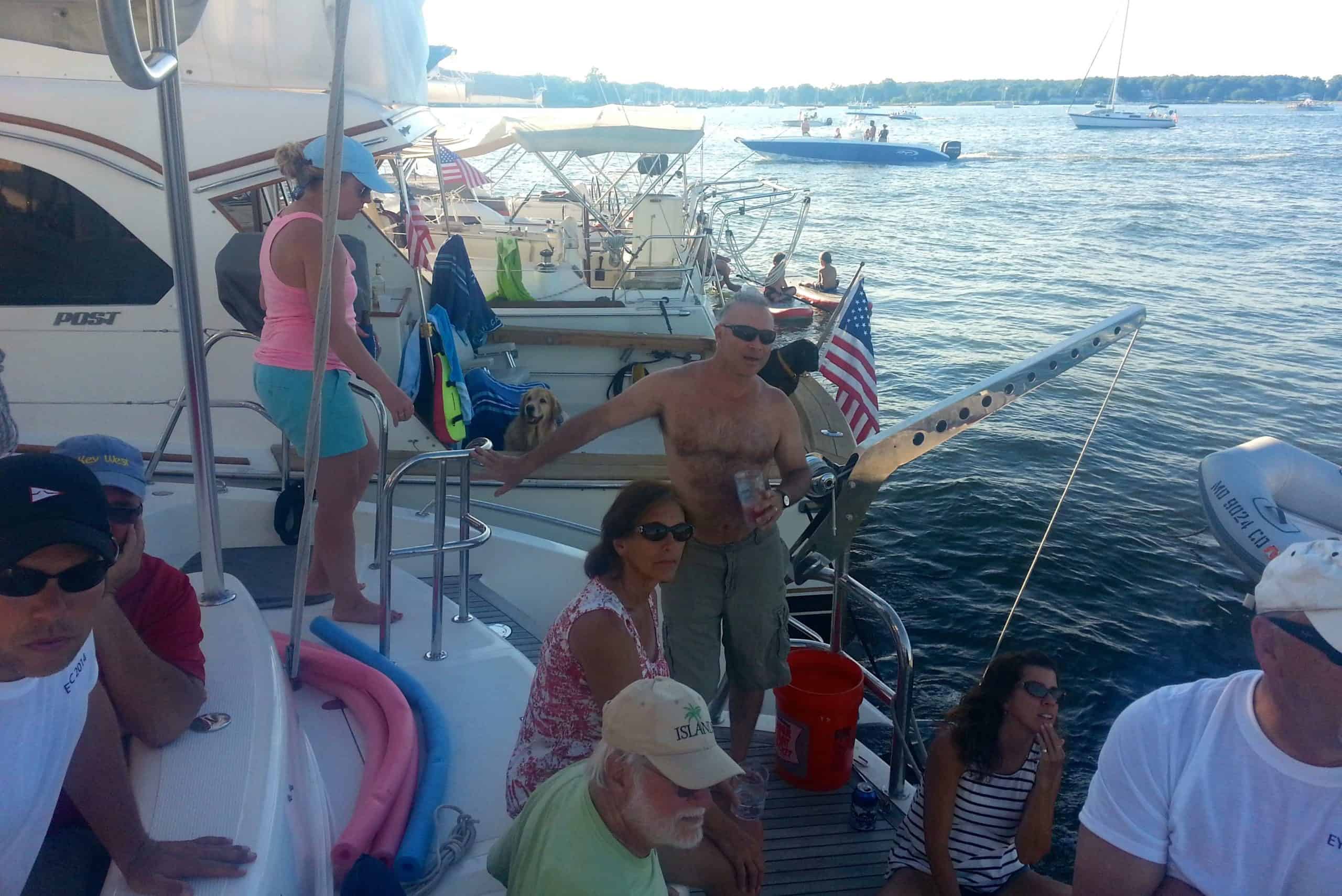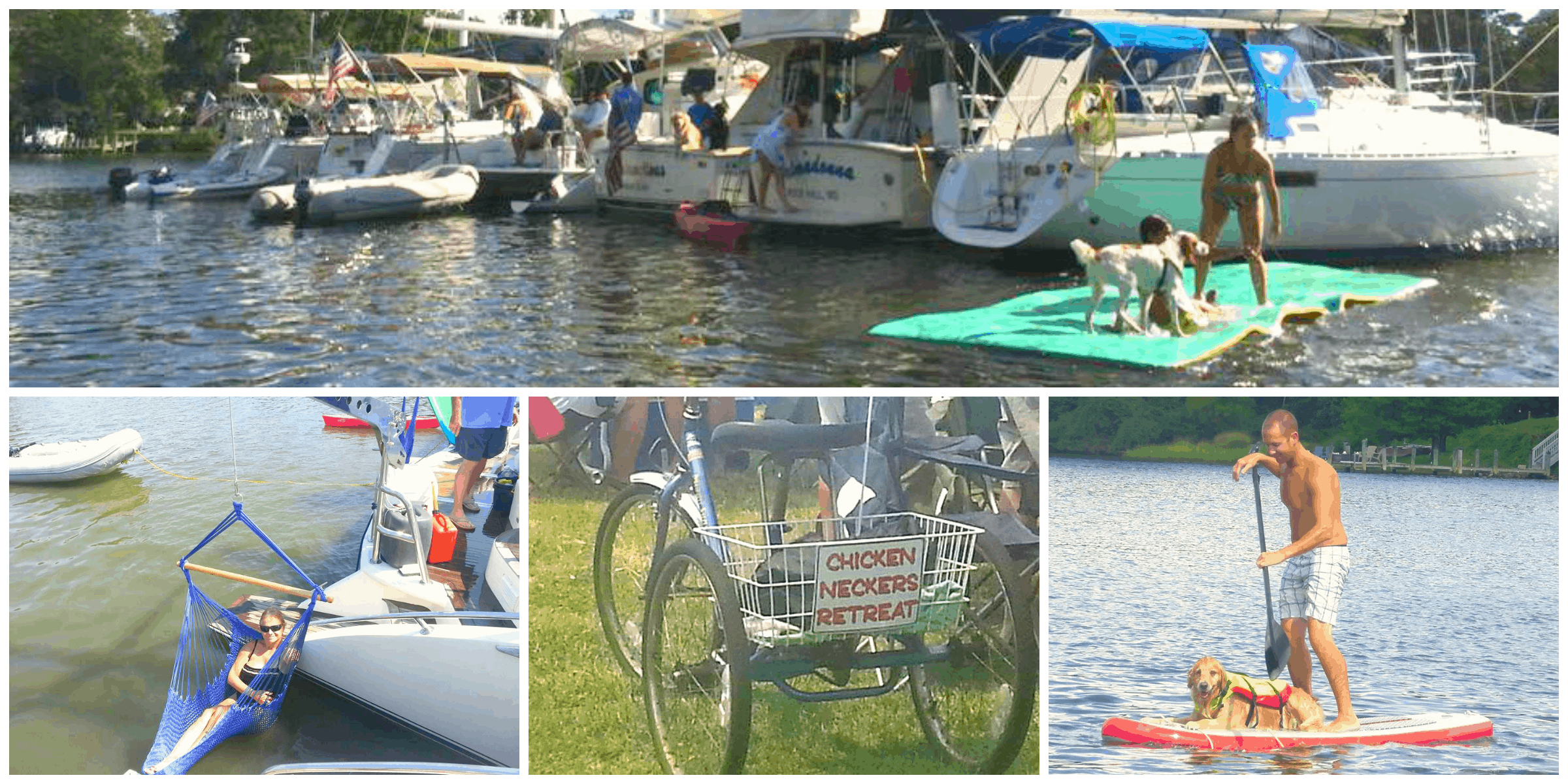 The raft-up commune
Sunsets and Pickin' Crabs
Sun-soaked weekends were the norm throughout the summer. Each weekend was as colorful and interesting as the sunsets on the bay and the lighthouses that dot the Chesapeake. New friends and raft-up buddies joined us at Gibson Island, Dobbins Island, West River, St. Helena Island, South River, Herrington Harbor, and eventually, Rock Hall for the annual "Pirates and Wenches" Party, an epic event! Rum tastings, local seafood, pirate boats and outfits were the order of the day in Rock Hall during the weekend. Known as the "Pearl of the Chesapeake", Rock Hall is a picturesque fishing town with a rich history dated as far back as 1707.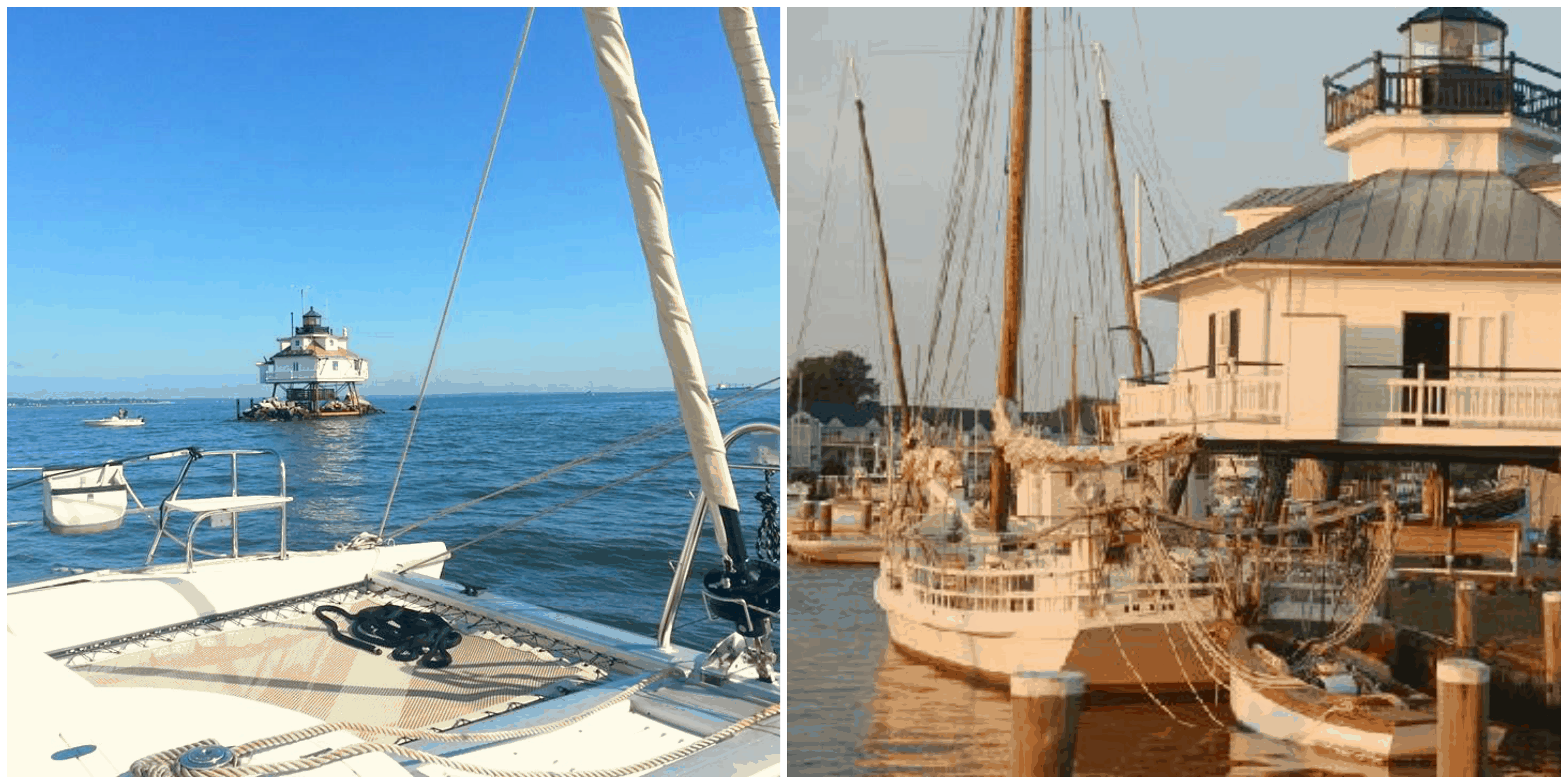 The lighthouses of the Chesapeake
The fish is served fresh off the decks of the local fisherman and, here outsiders are called "chicken-neckers" but more precisely, it refers to people from the western shore. Their comical attempts at catching crabs with a chicken neck tied to a long piece of string, is looked upon by the locals with amused disdain but to be sure, it provided hours of entertainment for the kids on our raft-ups!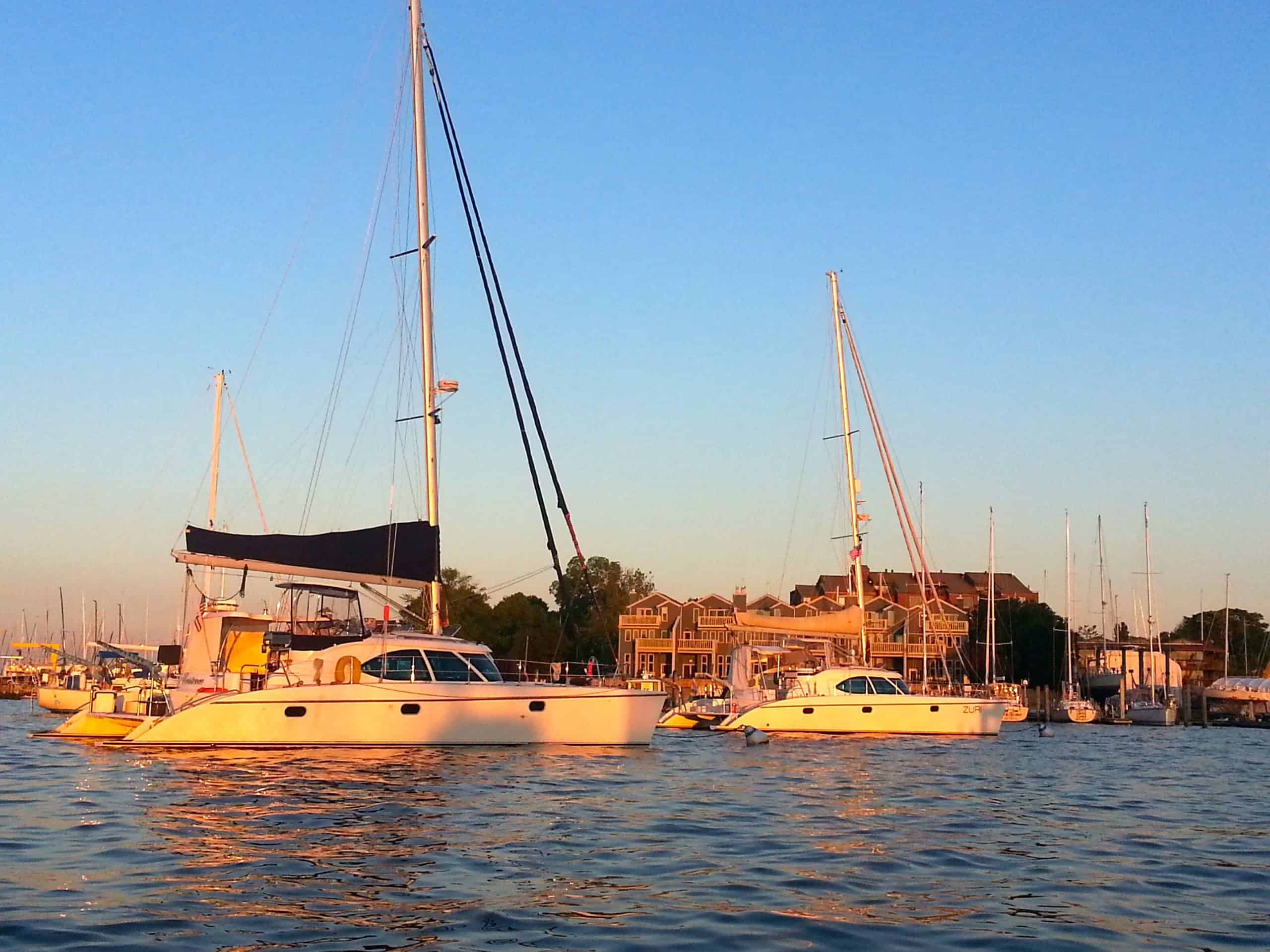 Zuri and sister ship Persistence in Annapolis Harbor
During the summer, we indulged several times in one of the most famous "events" in the Chesapeake: "Pickin'" crabs. Blue crabs are as synonymous with Maryland as lobster is to Maine and serving a crab feast is a matter of local pride in the Chesapeake region. But make no mistake, "pickin' crabs" is not a meal, it's a social event. It's a messy, loud affair and a proper feast takes several hours when done properly. Nowhere is the crab experience more completely local than it is at an old school crab house like "Cantler's" in Whitehall Bay. This was where we anchored on one of the raft-up weekends and one sultry evening 15 of us dinghied into Cantler's, excited to attack this local delicacy. We were promptly put on a waiting list. Apparently, this, too, is part of the experience. These crab houses are always chock full and no amount of complaining will speed things up. Like I said, this is an event and people take their time pickin' these crabs.
We were finally seated, at least an hour or more later at long picnic-style tables and benches. Sitting elbow to elbow with strangers and friends alike, waitresses rushed along, covering the tables with brown butcher paper, placing pitchers of water, rolls of paper rowels, lemon wedges, wooden mallets and small forks around the table, while quickly taking orders for dozens of crabs and beer, and that's it. The steamed blue crabs, now reddish in color, are unceremoniously dumped on your table, covered in the very spicy, zesty local Baltimorean seasoning called Old Bay. The crabs come by the dozen, and these male-only crabs are steamed, never boiled, in sizes medium, large, jumbo or colossal. Little bowls of vinegar and melted butter for dipping rounds off the meal. We opted for large but by the end of the evening, I wished that we had gone with colossal size, no matter the price. It seemed like a lot of work for very little food even on the large crabs!

Crab pickin': It starts out fairly civilized but ends up in a heap of messy crab carcasses
There's a special learning curve in finding that sweet tender meat and the locals are quick to teach the rookies. It takes a loooong time to learn how to dissect the crab just right to get but one mouthful of crab meat and I realized that I probably should have had an appetizer before the "meal". This affair gets very messy and noisy as the hammers crack away, the shells and crab juice fly and everyone's fingers get covered in the very hot red seasoning. Pitchers of Budweiser or Yeungling are served with the crabs, not wine as is usual with seafood, but trust me, you need the beer to put out the flames of the Old Bay seasoning. The menu usually is extensive, but few locals ever eat anything but steamed crabs, corn on the cob and sweet fluffy cornbread or hush puppies. It is an event to behold! Check out this great article: 10 Photos Show Maryland's Blue Crab Industry Like You've Never Seen It Before.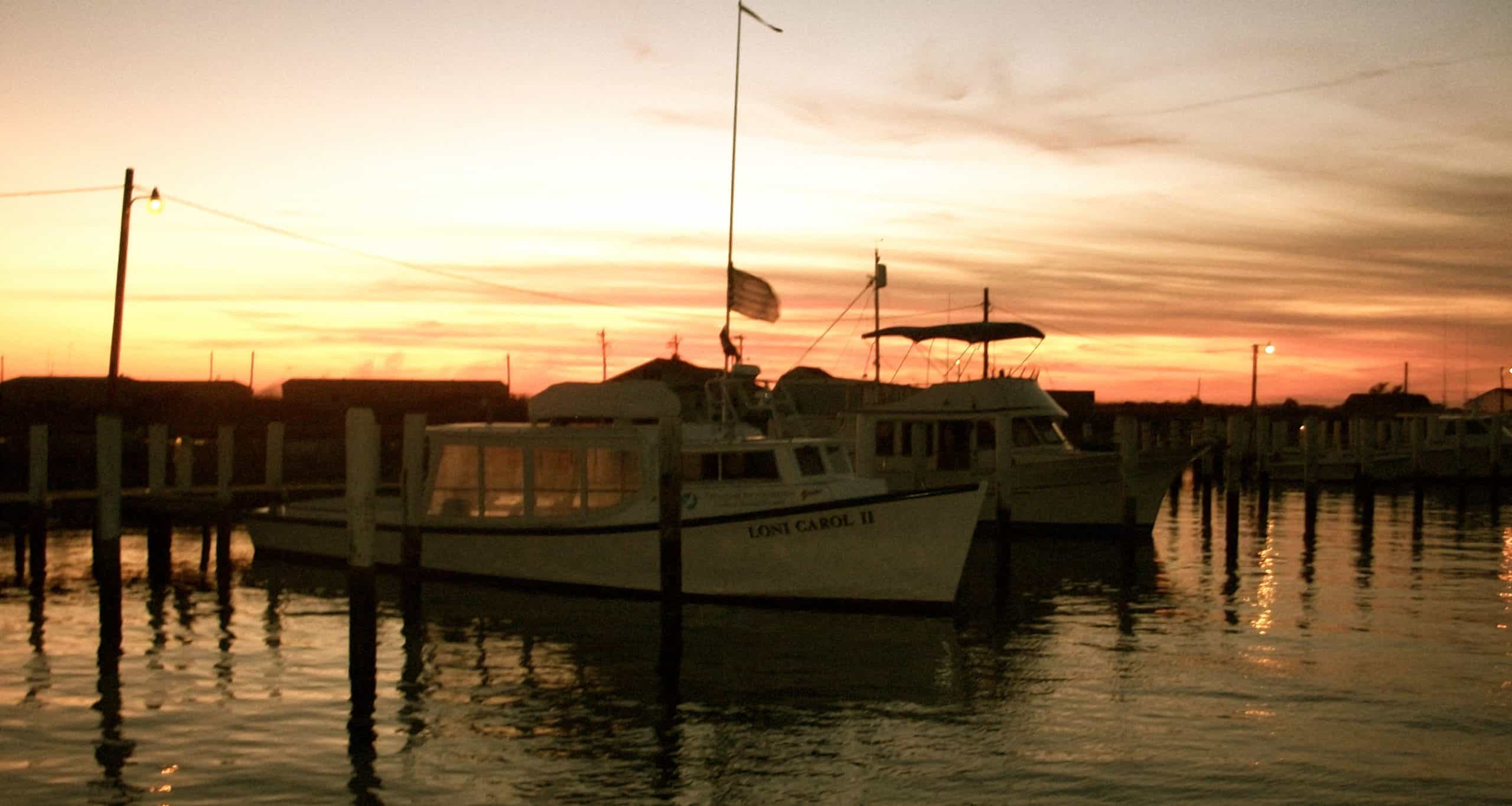 Crab boats in Tangier Island
Remote Chesapeake Bay Cruising Destinations
Two of the highlights further down the bay are Solomon's Island on the Patuxent River and Tangier Island in the middle of the bay, closer to the Virginian border. Solomon's Island is a safe and friendly haven, where cruisers and submarines coexist. This tiny settlement was historically significant as a center for shipbuilding, oyster harvesting and canning and three navy bases. Today this is more of a tourist destination with several marinas, seafood restaurants, including a heralded spot, Stoney's Seafood House and the famous Tiki Bar where, on opening day in the spring, literally thousand of tourists show up to toss back several of their famous Mai Tai's. The waterfront is charming and the surrounding cliffs are are spectacular. There is a lot to do and see including one of the last remaining screwpile lighthouses, the Drum Point lighthouse.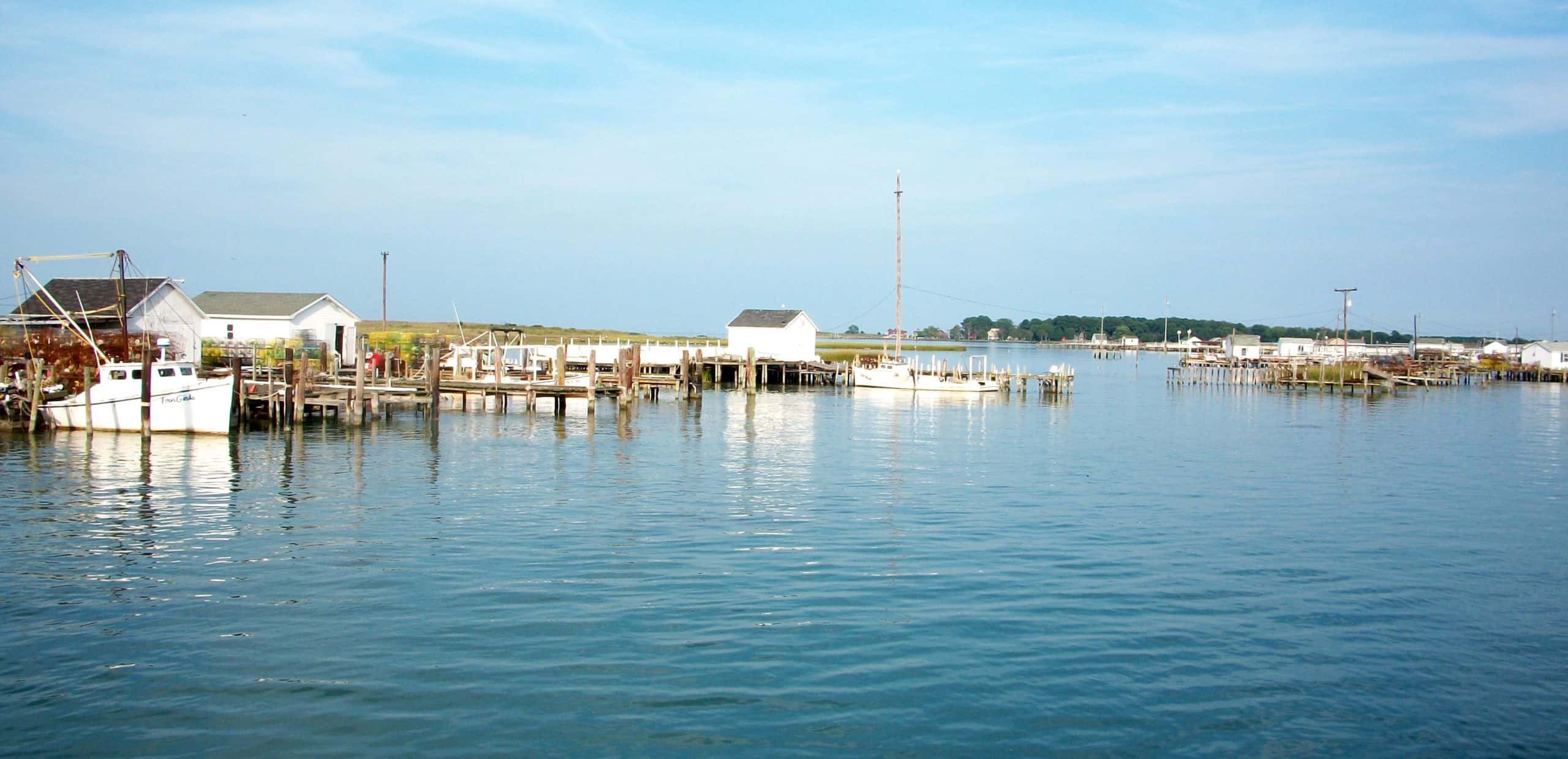 Tangier Island
Tangier Island is a delightfully unique little community which is slowly disappearing due to erosion and along with it, the Elizabethan English speaking locals. But for right now, it's one of the friendliest places on earth. The island, with a population of about 700 consisting mainly of the Crockett family or their descendants, is a step back in time. It's rich in history, blessed with abundant oyster and crab and known as the soft-shell crab capital of the nation. The island can only be reached by boat or plane, which helped preserve this piece of living history.
Summers End, But Annapolis Sailing Cruises On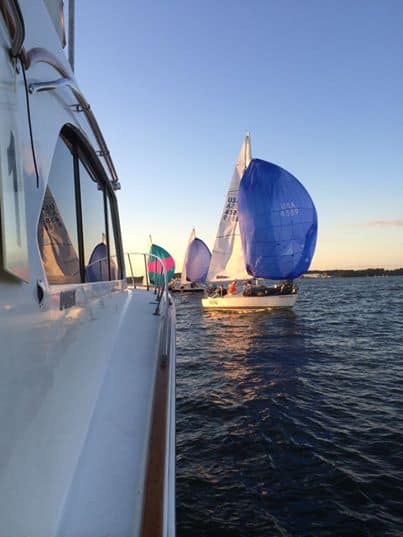 We discovered to our delight that cruising is hard to beat on the Chesapeake. We spent endlessly long summer days sailing in this unique and magical water world. The sunsets over the Annapolis skyline are breathtaking and their golden glow was best enjoyed at anchor while sipping a cocktail and grilling our catch of the day.
We declare without a doubt, this body of water one of our favorite cruising grounds in the world. Captain John Smith once said of the Chesapeake Bay, that "Heaven and Earth never agreed to frame a better place for man's habitation."
Helpful Resources
Favorite Restauarants
There are so many good and fun restaurants in downtown Annapolis. Be sure to check out several bars and restaurants while you are in town.
Pusser's Landing for the "painkillers"
Dock Street Bar & Grill for the best crab cakes
Mc Garveys Saloon & Raw Bar to meet local sailors
Middleton's Tavern & Raw Bar is a great late night piano bar
Chick & Ruth's Delly for some patriotism and a fun dining experience
Rambunctious serving as committee boat for Wednesday night races