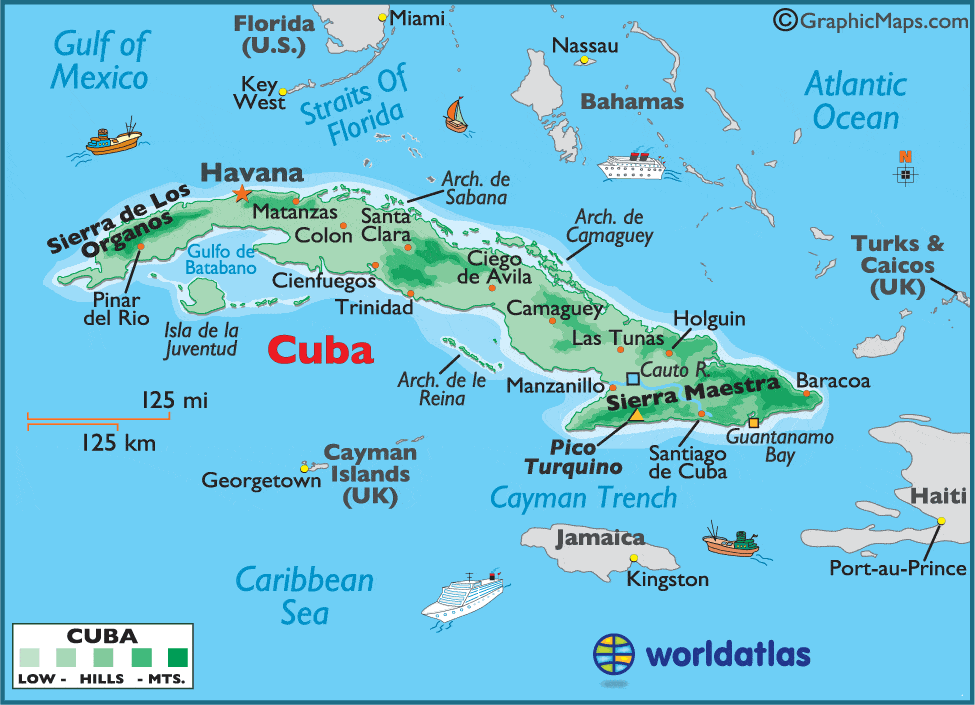 Travel to Cuba as an American tourist is still deeply restricted for US citizens despite the handshake between President Obama and Cuban President, Raul Castro, to restore full diplomatic relations between Cuba and the US. (UPDATE: Restrictions are more closely enforced after President Trump took office.) Technically, it's never been illegal to travel to Cuba, it's just been illegal to spend US money in Cuba per 6 different pieces of federal legislation including the Trading with the Enemy Act of 1917 and 5 other laws implemented to amend the economic and financial embargo between 1961 and 2000. US citizens must qualify in one of 12 categories to be licensed for Cuban travel including family visits, religious or educational activities, clinics, workshops, journalistic activity, and humanitarian projects.
Map courtesy worldatlas.com
Sailing Regattas Portend Relationship Building Ahead
The Havana Challenge was the first officially sanctioned sailing race for over 50 years. From May 16-21, this year (2015), a group of American Hobie Cat sailors with support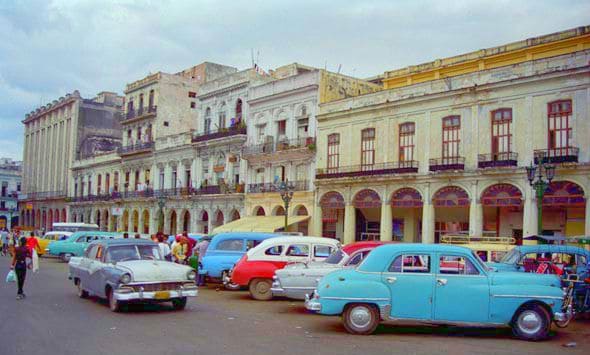 boats, raced the 90-mile distance from Key West, FL, to Cuba to participate in a regatta between the U.S. and Cuban sailors off the shores of Havana. The Key West sailors also staged a youth sailing seminar at the famed Marina Hemingway. As these sailors made history, the event was hailed a great success for the sport and the people of these neighboring nations.
Sailing race organizers from the St. Pete Yacht Club have attempted several times over the years to re-establish one of the region's historic yachting events, the St. Petersburg to Havana Race regatta. From 1930 to 1958 this regatta was considered to be a very prestigious event and part of the Southern Ocean Racing Circuit. But the fall of Cuba to Castro and his revolutionary forces in 1958 put an end to it. Many have tried to skirt the rules to sail to Cuba since, without much success.
However, the lure of sailing to Cuba is still strong. Since December 2014 when President Obama announced the start of a process to restore relations, the St. Pete Yacht Club organizers have had renewed enthusiasm for reviving this 284-mile long regatta. So keep your calendars open for January 2016 for the opportunity to participate in the rebirth of the historic regatta. Check out these two great articles for more in-depth history: Troy Gilbert's "In the Line of Fire" and All at Sea's "St. Petersburg to Havana Race".  Picture courtesy Rokus Groenewald
UPDATE 2017: The sailing rally to Cuba was finally organized for 2017 and we participate.
Our Personal Experiences In Cuba
Stephen and I made a trip to Cuba in 1999. It is one of the most memorable trips in our 25 years of worldwide travel. Cuba is a fascinating place full of contradictions, not only because it's still one of the few stalwart communist vestiges, but also, for its rich culture and elegant, but fast decaying beauty. We experienced Communism for the first time and as charming and romantic as Cuba appears on the surface, you don't have to go far to realize how restrictive the reality of Castro's regime is.
Havana
More than 50 years after American-backed Batista was ousted, the city of Havana ironically remains the image of '50s Americana, freeze-framed in a very glamorous but distant past. Vintage Chevrolets, Buicks, and Plymouths, known as Yank Tanks, literally roar with great gusto through the streets of Havana. The aged vehicles are beautifully and lovingly held together by the sheer will of the owners and their ingenious repairs. These vintage cars have become a proud symbol for Cuba and is every photographer's favorite subject.
Famous Places, Infamous Poverty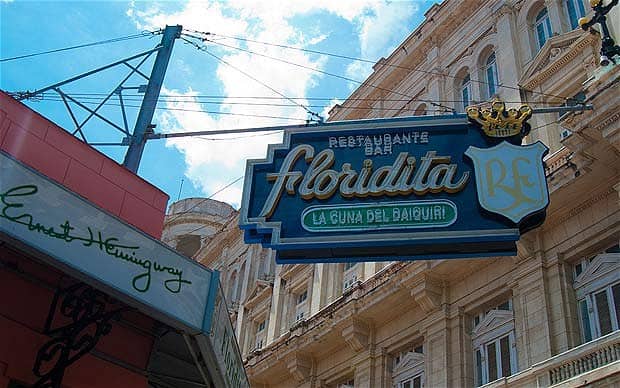 El Floridita, one of Hemingway's favorite bars, remains one of Havana's most popular and famed bars. Here, like in Hemingway's heyday in Cuba, daiquiris and mojitos are still served up with sensuous salsa music and Cuban cigars. Pictures of the rich and famous of the time cover the walls, reminding today's patrons of the swinging good times. But this bar and the city as a whole is a very different place to the Cuba that Hemingway knew. Until a few years ago, ordinary Cubans weren't allowed even to set foot inside hotels, bars or restaurants unless they worked there. While locals can now technically frequent these places, one drink could cost as much as they make in a week, so it is not commonplace.
The wide boulevards in Havana are lined with grand colonial mansions in shades of washed-out blues, yellows, and pinks. These old-style buildings with their lush gardens are charmingly elegant despite flaky paint and neglect. In Old Havana there are several beautiful squares or plazas with narrow cobbled streets and decaying Spanish architecture. One such street is the street of Obispo that leads to Plaza des Armas with its souvenir shops, hotels, performers, and musicians. In stark contrast, just beyond the small tourist sector are the decrepit Soviet-style apartment blocks that house most of the citizens of Havana. Roofs are collapsing. Walls are crumbling. Windows are broken. This part of the city looks like it survived a major calamity which, I guess in a way, it did. Still, somehow it's a charming city, and welcoming which is a testament to the Cuban people and their uplifting spirit of hope.
Along the arcing waterfront of The Malecón, an 8 km paved road along the sea, is the Hotel Nacional. We had the privilege to stay a few nights in this beautiful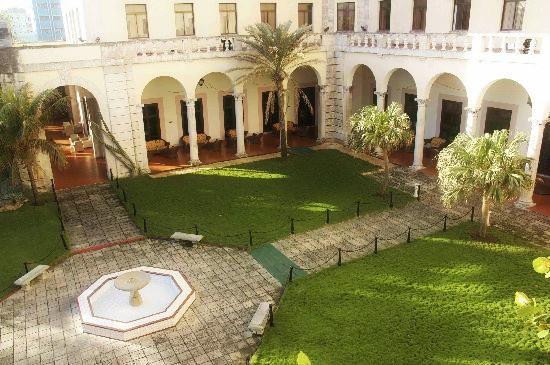 building featuring an eclectic variety of architectural styles including Art Deco, neo-classical, and neo-colonial with references to Arabic and Moorish elements. Just one event that makes this historic hotel infamous is the private 1946 Frank Sinatra concert where a major mafia convention of the Cosa Nostra families was held.
For us, the hotel conjured up images of a swanky past, a glamorous throwback to the days before Castro took over. We were treated like royalty by attentive white-gloved wait staff, but the efforts of the well-trained staff did not hide the lack of upkeep and modern facilities. Only a few floors were open to tourists. The rest were strictly forbidden to enter. The elevator threatened to give up the ghost. The food in its restaurant was basic and, in some cases, unappetizing even though it was billed as one of the best in Cuba.
Havana's Museum of the Revolution, now housed in what was once the Presidential Palace, tells the story of the revolution. It portrays how Che Guevara, whose face is painted on walls everywhere in Cuba, played his part in the revolution as an ally to Castro. Interestingly, there are no statues, murals, street names, or other accolades to Castro. He is fiercely private and very little is known of his personal life and that of his close family. This private persona is mainly because of security concerns but also, Castro wants to portray that he and his elite are just like the masses. Everyone under the regime is equal…perhaps some more so than others?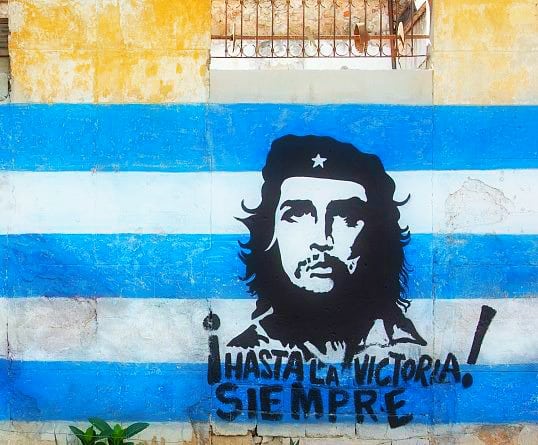 During our visit we were hosted by Charles Romero who claimed to have been one of Che Guevara's cohorts and was married to one of the Castro's sisters, who was considered to be a hero at The Bay of Pigs. We visited with Charles at their home in Havana but because she was very ill at the time, we did not meet her. Both her and Charles were actively involved in the revolution. He proudly recounted the struggle of the revolution to us while paging through old albums full of pictures of these young idealists and explained their promise of liberal democracy, the abolition of money and a totally equal society.
In Cuba, everything is owned by the state. Cubans earn around $20-30 per month whether a doctor or a hotel cleaner. According to Charles, this salary is sufficient. "It's not for luxuries, it's for living," he says. But from our point of view, he was one of the "privileged" class and a "good salary" to him is quite different than it would be for the masses. The Cuban people face rationing of basic necessities like toilet paper, soap, sugar, and cooking oil. Food was scarce and other consumer goods almost nonexistent. They can buy a house, but they cannot sell it and they cannot move to another part of Cuba.
Capitalism In Cuba…For The Few
The desire for change was evident, but capitalism is a dirty word in Cuba. Speaking out against the regime can land you in jail for anti-revolutionary activity, so nobody does, at least not to foreigners. Cuba runs on a dual economy, the national Communist economy for the majority who uses the Peso and a quasi-capitalist one for foreigners and the elite that uses the convertible peso (CUC).
When Russia cut off its aid to Cuba after the fall of the Soviet Union, the country was devastated. By 1999 when we arrived there, Cuba sorely needed money. The Cuban government replaced the Russian subsidies with revenues generated by vacationers from Canada and Europe. With tourism, the island needed some restaurants and Castro allowed paladars- restaurants in private homes. Rules included that no one from outside the family could work in the restaurant and only a few tables were allowed per house. We were treated to some good but simple local fare, wonderful music and conversation with the local Cubans.
Non-citizens and the Cuban elite were able to buy imported and relatively 'luxurious' goods (soap, rice, milk, and frozen chicken) in government-run "dollar stores". Some of these goods found their way onto the tables of the restaurants and tourists were eager to pay. So the quasi-capitalist bubble in Cuba worked for some.
Trinidad, Cuba
Cuba was once a very rich and prosperous island and nowhere is it more evident than in the central city of Trinidad. Centered on Plaza Mayor, Trinidad is a UNESCO World Heritage Site and an extremely well-preserved example of a colonial city. Some of the buildings even have original furnishings. Time stopped here in the 19th century. Only donkeys and carts are allowed in the city center with its cobbled streets and stately old villas with colorful bougainvillea adorning the balconies. The city offers a beautiful view of the tropical landscape that was once the heart of Cuba's thriving sugar plantations.
At night the city comes alive with salsa music played on the steps of the Casa de la Musica and in every other bar or restaurant with a place for a live band. Trinidad is now thriving again as tourists visit to soak up the ambience, the culture, and the music.
From Havana, the city is a five-hour drive across the island on a deserted highway. This road used to be very important when the Soviets were involved in Cuba. The road did dual duty as a runway for warplanes with stretches of center medians wide enough for a plane to land on. Along the road, rusting Soviet-era tractors and farm implements are scattered next to the pineapple and other plantations. Today farmers are drying beans on this road and share the highway with horses and carts and the occasional car or bus. There is not much traffic. Even though Cubans are allowed to travel between towns, very few can afford the fare or fuel to do so.
Cruising Cuba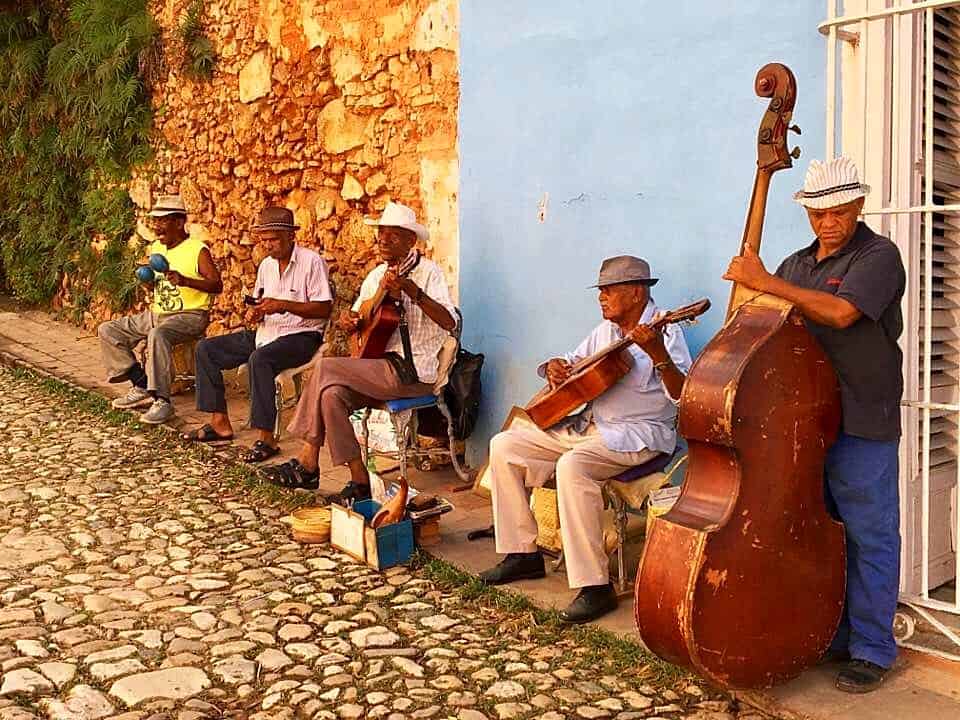 We rented a motor yacht with a local crew who took us around the island to check out Cuba's cruising grounds. We happily met up with some local fishermen on one of the cayos with a long, white, sandy beach. They pointed out the best snorkeling spots on the coral reef and we exchanged some rum for a big garbage bag full of lobster. We were elated but after 3 days of eating breakfasts of lobster omelets, lobster sandwich lunches, and barbecued lobster dinners, we were ready for a change. However, we were ever cognizant of the fact that most locals did not have even chicken to eat, let alone fish or lobster. We were invited to the island to see if a yacht charter business would be a viable option in Cuba but even though the cruising ground is beautiful, travel restrictions on Americans would have made it difficult if not impossible.
We are Eager to Return to Cuba
Since becoming US citizens, Stephen and I have not been able to go back to Cuba. So when the announcement was made to "normalize" relations between the US and Cuba, we have eagerly followed the news about Cuban travel regulations. Cuba's culture is rich with contributions from its African and European ancestry. This mix of people are the country's best asset. They are resourceful, welcoming and full of life. They are hopeful and still believe that life will become better for them. It is easy to be taken in by this dreamy tropical island and its ambience of old-style elegance. We are eager to go back, but more so, we are eager for the local people of Cuba to have a shot at a normal less restrictive life.
General Information: Ports of Entry, Sailing Guides and Safety In Cuba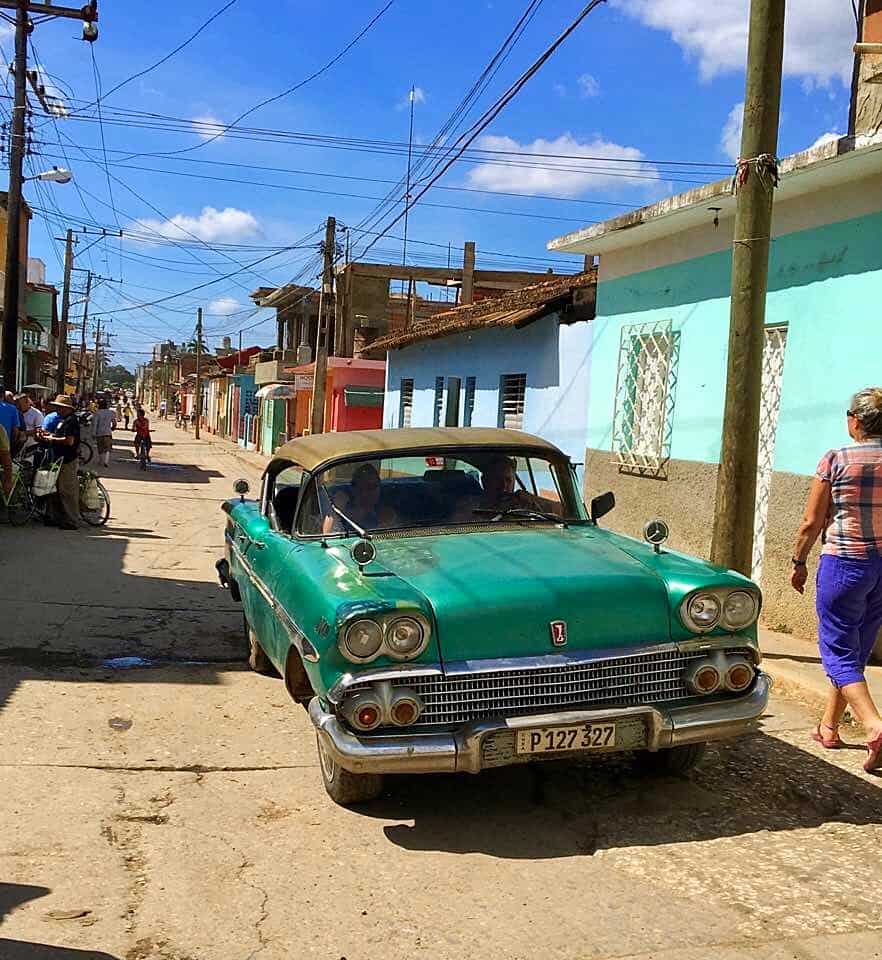 Cruising the pristine, unspoilt waters of the Cuban archipelego of islands is magical. It is a huge cruising area. Cuba, the largest island in the Caribbean, is 780 miles long and offers many anchorages and several ports. While the cruising area is very big, there are restrictions on where cruising yachts can go. Cruising yachts are required to go to certain designated ports with marinas. The few designated ports are: Puerto Vita, Cayo Coco, Marina Darsena in Varadero, Marina Hemingway, Cayo Levisa, Marina Cabo San Antonio, Cayo Largo, Cienfuegos, and Santiago.
The northern coast is off limits to yachts but some do anchor in more remote bays away from any towns. This situation and the restrictions may change fast though, so check out this website www.noonsite.com for up-to-date information. Repair facilities and resources for visiting yachts are limited so be as prepared and independent as possible. However the cuban people are very resourseful even with limited resources and will at least try to help but don't expect miracles. It is fairly safe in Cuba however incidents of theft have been reported.
Read our "Interesting Facts About The Republic Of Cuba
Cuba Alerts, Resources, Safety
INSURANCE Update June 2016: The US arm of German insurer Pantaenius will provide coverage for "American boats traveling in Cuban waters. US-based insurers, including AIG and Gowrie, have also "demonstrated" an interest in participating in the Cuban market. Read more
UPDATE 2017: Read our account of sailing from Key West to Cuba, 20 years after this first visit>> 
Have you visited Cuba? What are your experiences? If you could go to Cuba, what would be your top destinations?