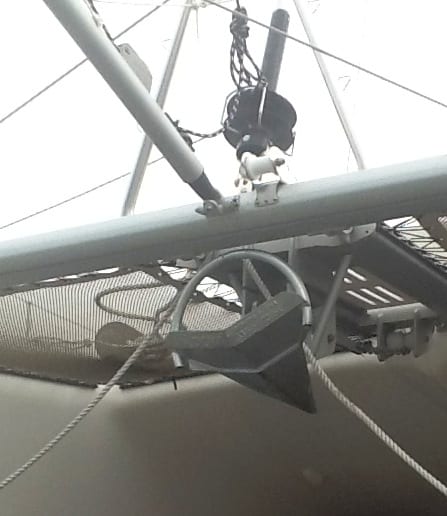 Catamaran owners have lots of choices of
different types of anchors
as we have discussed before. But Stephen and I frequently recommend the
Rocna anchor
. We have used this anchor for the last 2 years on our own catamaran in different weather, current conditions, and seabeds. Its holding power is incredible. We cannot say enough good things about this anchor. It is pricey for an anchor, but worth every cent. As they say, a good anchor is cheap insurance.
Rocna Anchor History
The Rocna anchor was developed by Peter Smith (New Zealand), was commercially available in 2004 and has fast become very popular among cruisers. The Rocna uses a roll-bar like the Bügel anchor and both the high tensile steel shank and concave flukes are optimized to maximize efficiency, strength and durability. The Rocna will set reliably in almost any surface. The weight is concentrated on the digging part of the fluke and the a sharp chisel-like point helps fast setting of the anchor. For more on the development of new generation anchors, and particularly the Rocna, read Peter Smith's article on
New Generation Anchors
. Though he, of course, is biased as he is the creator of the Rocna, the article is free from overt advertising and chock full of good information. Another great read to better understand why Rocna has such a strong reputation in the boat anchor industry is
Technology of the Rocna Anchor
. Reliability of our anchors is something most boat owners take for granted, but should we? After reading this article and better understanding the detailed quality process, I no longer take it for granted and have a greater appreciation for how Rocna rose to be many sailors' favorite. It's no wonder Rocna's tagline is "Rock Solid"…they are!
Why Use a Rocna Anchor?
If you've detoured to read the articles mentioned above, you probably are already convinced as we are that a Rocna is a must for cruisers. Here are top reasons to purchase and train yourself on the use of a Rocna:
Engineered to be fast-setting and to stay put
High strength construction (be sure to read the "Technology of the Rocna Anchor" article mentioned above
Wind and sea changes are no match for the Rocna which will reset on the rare occasion that it is jerked out of its position
Effective in a variety of seabed types
Excellent ability to penetrate even the most challenging seabeds such as kelp or grasses
If you are not yet convinced, give the video at right a look. It demonstrates a variety of anchors and their shortcomings which are overcome by the Rocna. Again, this is information presented by its creator, Peter Smith, but it is a factual documentary of Rocna performance and how it works.
Rocna Anchor Resources
What are your experiences with Rocna anchors? Have a harrowing tale of the Rocna being your savior? Comment below!