Save Money at West Marine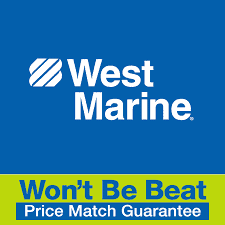 As most boaters (in the US) know, West Marine carries the variety and quality products that make it a top go-to place for all things boating. From parts to recreational equipment to clothing, if you love being on or near the water, West Marine can help you make the most of your time and money.
If you have not used it, give West Marine's price match guarantee a try. It takes less time and will save you more money than you think. We've done it and west Marine did not hesitate to stand behind the price match guarantee.
How the Price Match Guarantee Works
If you find a lower price on a product at a local retail store, in a local retail store's circular, or on Amazon, West Marine will match that price within 30 days of purchase. This means that:
You don't have to drive around to visit other stores…all you need is a copy of their advertisement, online or on paper.
You can search online using the brand and model of what you plan to buy before buying it.
Even if you already bought the product and later find a lower price, you can still get a price matching refund if it is within 30 days. (Tip: no need to return to the store if you bought it in the store, you can chat with West Marine online from their website or call 1-800-BOATING (262-8464) to let them know you are requesting a price match.
There are some details to pay attention to:
If you are requesting a price match with another local retail store, the store must be within 50 miles of the West Marine retail location where you want to receive the lower price.
For price matching on Amazon, the product must be have the designation "Ships from and sold by Amazon.com." usually found below the price, underneath the inventory statement of how many items are left in stock. See our tips on searching for Amazon-sold products.
Matching applies to sale and regular prices before shipping, handling and/or sales tax.
West Marine will not price match coupons, refurbished products, open box items, damaged goods, auctions including eBay, Amazon Marketplace, financing offers or deferred interest programs, freight, delivery and installation, in-store services, warranties and PLUS plans, tax-related promotions, expired advertisements, ad errors, West Marine Pro prices for retail customers, competitors outside the USA, buy-one-get-one-free (BOGO), flash sales, or cyber week promotions, clearance products, going-out-of-business sales, loyalty promotions, rebates, or gift with purchase.
How to Get Your Price Match
Once you have check the product you want to buy is eligible for price matching or even a product you have already purchased but found cheaper within 30 days, you can request a price match when you can:
Visit your local West Marine store
Chat with West Marine online by visiting their website
Be prepared to provide the name of the competitor store and its location (either address on online URL), the brand and model of the item, the item price, and the advertisement where you saw the lower price. If the advertisement is online and you are in the store, showing your phone with the advertisement works.
West Marine will confirm the price of the item and that it meets all requirements for our price match guarantee, and match it either ringing you up at the cash register at the lower price or giving you a refund if you already bought the item less than 30 days before.
Tips for Finding Amazon-Sold Products

With all the options, Amazon can be confusing, so here are our tips for finding products on Amazon that qualify for the West Marine price match guarantee. Note that to qualify, products must be sold direct by Amazon. This does not include Amazon Marketplace. See the video or follow the steps below.
Visit amazon.com.
Search for the product you are interested in (use brand and model if applicable).
After products display, look for "Departments" in left-hand menu, then select the department that best applies. Note that you may need to return here to select another department if you do not find the lower price you are looking for.
After the "Department" filter is applied, scroll down in the left-hand menu to "Sellers" and select "Amazon.com". If you do not see Amazon.com in the list, click "See more". Click on "Amazon.com" to filter the products to show only those shipped and sold by Amazon.
Once you find the list, click on the product with the best price to ensure that "Ships and sold by Amazon" is on the product page.