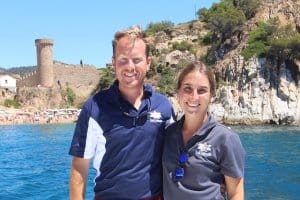 Several of our yacht buyers in the past five years have bought catamarans to use in a crewed charter business. Establishing and running your own yacht charter business is one of the most cost-effective ways to own a big luxury catamaran. Since the boat is operated as a business, the owners can reduce the costs of ownership by using available tax advantages as well as charter income. This makes it a very attractive proposition for couples who love sailing and adventure and is ready for a change in lifestyle.
Kristiann and Graham, a couple from Texas, came to us just over a year ago with their dream of buying a catamaran. Their ultimate goal was to buy a catamaran and place it in a crewed charter program with them as owner operators. They had already done their research, but engaged us to help facilitate the purchase of their catamaran from Fountaine Pajot in France and to help them navigate the catamaran buying process. To ensure their path to success, we also guided them through the process of setting up their crewed charter business in the Caribbean with Dream Yacht Charter, one of the biggest and most flexible charter companies in the world.
After taking delivery of their Fountaine Pajot Helia 44 in France and delivering the boat across the Atlantic, they have now completed a very successful first charter season in the Caribbean. This dynamic team is living their dream while creating a strong business and paying off their future cruising boat. The crewed charter business allows them to enjoy a lifestyle rich in sailing and travel experience and they get to do what they love. We caught up with them to find out how the business has worked out for them.
Starting A Crewed Catamaran Charter Business In The Virgin Islands
CG: Give Us A Little Background On Yourselves
We are 34-year old native Texans who learned to sail while on a corporate assignment overseas. The sailing skills we learned in weekly races and regattas inspired us to start chartering and learning about cruising yachts. After coordinating bareboat vacations with friends for several years, we knew that we had found something special that brought us a lot of joy. The progression to becoming charter crew, while being an unexpected career change, has been a natural one. Graham and I now both hold a Master's 100-ton license from the United States Coast Guard.
CG: Why Did You Decide To Buy A Catamaran And Do Crewed Charter?
We were looking for a career change. We had already considered a cruising retirement; purchasing a boat now and operating a crewed charter was one way to move aboard immediately.
We felt that running a crewed charter yacht would be a great use of our personal gifts. We have always loved entertaining. Graham's engineering mind keeps us afloat and my experience running a catering company allows us to provide a comfortable, relaxed atmosphere for our guests.
CG: Was Choosing A Catamaran Hard?
Since the majority of our chartering experience was aboard Lagoon catamarans, we were leaning towards purchasing one. But from the moment we walked aboard a Fountaine Pajot Helia 44 Evolution at the boat show in Annapolis, MD, in October 2015, we knew this was the boat for us. Managing the timeline of trying to establish the business while shopping for a used boat was challenging, and one of the many reasons we ended up purchasing a new boat.
CG: A Year Down The Road…How Well Did This Work Out For You?

I think our guests can tell from our smiles–this is the happiest we've ever been. We love what we do and our bookings have exceeded our expectations!
CG: Would You Recommend Being An Owner Operator?
This lifestyle suits our talents as a couple. We're having a great time–but I think people considering chartering their yacht should remember that this is a service industry. You do not have the chance to pick and choose your guests!
CG: What Are The Challenges And Rewards Of Your Lifestyle?
There are several challenges to this lifestyle. Operating a charter yacht is demanding, physical work in a hot climate. To be successful, you must keep a smile on your face even when confronted with challenging guests. You need to be prepared to sacrifice your own rest to keep the boat operating when equipment fails. And it takes time to make connections with the people who can support your operation. I'm sure your readers can already imagine the rewards; a life aboard in a stunningly beautiful neighborhood! We also enjoy hearing our guests' stories and getting to know new people from around the globe.

CG: What Is Your Future Plan?
We have confirmed bookings in the British Virgin Islands through June 2018. However, we're beginning to look at operating from Dream Yacht Charter's bases outside of the BVI in future seasons. That is what is so great about partnering with a global company like DYC. We have choices to operate from any of their charter bases in the world!
CG: How Did Catamaran Guru Help You In Your Quest To Make Your Dream A Reality?
My husband and I engaged Catamaran Guru's help as we began shopping for a vessel on which to run luxury crewed charters. We had several unmovable requirements: one of which was that the boat have a raised helm station instead of a flybridge. Estelle and Stephen shone in their knowledge of the different catamarans on the market. They suggested some models to us that we were not familiar with and had not considered, and we found their guidance to be particularly valuable.
Ultimately, they convinced us to buy a new FP Helia 44, which turned out to be a great decision. Estelle and Stephen are very well connected in the industry and they facilitated our relationship with Dream Yacht Charter as our exclusive broker and clearinghouse. Without their help we would have operated independently and we believe that it would have taken a year+ to establish and grow our business. With DYC's help we were able to enter our first season with confirmed bookings.
CG: Why Did You Choose To Work With A Yacht Charter Operation Like Dream Yacht?
Dream Yacht Charter provides onshore business support, initially with trade licenses and work permits in the BVI and now with charter contracting and payments. It was invaluable to us to get started with the support of their local operation in the BVI to navigate the bureaucracy and local laws. They manage many administrative details for us. We're pleased to have the backing of DYC, which has a global reach for bookings and a big marketing budget. As we said before, we were able to enter our first season with confirmed bookings (and many more future bookings), which is unheard of in the first season of a brand new and unknown crewed charter boat in the BVI.
Another Yacht Charter Business Success Story!
We all love a success story like this one of Sail Allende and this couple has it going on! Not only are Kristiann and Graham happy live-aboard crew living their dream, but their clients are even happier and love the sailing experience! Says Kristiann: "Allende is an intimate luxury hotel on the water… while Graham steers our course and keeps the boat in tip-top shape, I delight in creating healthy, refreshing meals from gourmet ingredients and local delicacies". Here is what their clients have to say:
"This private sailing charter experience far exceeds that of a company charter! "…Sailing with Graham and Kristiann was the perfect remedy to our hunger for adventure and first-class relaxation. Graham's passion and proficiency for sailing and Kristiann's culinary skills go hand-in-hand with their fun, easy-going personalities".

What Are Recommended Essentials On A Crewed Catamaran
• Configure the boat for the best occupancy to ensure that you can optimize the boats layout with paying clients
• Install generator and air conditioning with control in each cabin
• Water maker that has a large capacity to ensure the comfort of the customer
• Buy a large comfortable dingy – the biggest you can reasonably fir – this is your transport so do not cut corners here
• Spec the boat with all available cushions, shades and Bimini's for guest comfort
• Purchase good quality water toys such as kayak's and SUP as well as inflatable lounging floaties and noodles snorkeling gear etc.
• Partner with a good source of bookings
• Attend the brokers shows if you are going to be a privateer
• Buy the biggest boat you can afford
• Ensure that you have a professional looking web site with lots of information about you personally and the boat. This is where a lot of customers will make the decision to go with you or not.
• Fit a large BBQ to relieve your partner from cooking inside and free up the galley for other tasks
• Figure out how to offer internet on the boat even if you have to charge – this is mainly for communication and not surfing the web
• Have adequate refrigeration, minimum inside fridge and freezer, cockpit fridge and ice maker.
• Install electric heads with fresh water flush to avoid smells
• Install a washer dryer
How To Own And Operate Your Own Crewed Catamaran Charter Business
Dreaming of sailing and living in paradise? All our owners in these crewed charter programs have successfully created small businesses and achieved their ultimate goals of yacht ownership. We also operate our own yacht as a business and have done so successfully for many years. Today we specialize in sailing and selling catamarans and guiding our buyers on how to offset the cost of ownership. Crewed yacht ownership is but one of the ways to do this.
If you are interested in in dinding out if this is for you, contact us for a personal consultation for expert advice on how to create your own crewed charter business on a luxury catamaran. We will assist you in choosing everything from your ultimate dream sailing vessel to components such as layouts, models, equipment choices and charter business and tax advantages.
More Examples of Our Owner Operator Crewed Yachts
cruisenautic.com: Lagoon 42 "Luna" operated by the owners in the BVI. Starting with just a dream, these guys sprinted out of the blocks and has made quite a splash. From delivering their boat from France across the atlantic to building an enormous following. We predict great things for this couple from Minnesota.
ftmcharters.com: Voyage 50 "Feel The Magic" operated by the owners in USVI. We are enormously proud of these guys. They have won various awards such as "Best Crewed Boat" and several Culinary awards.