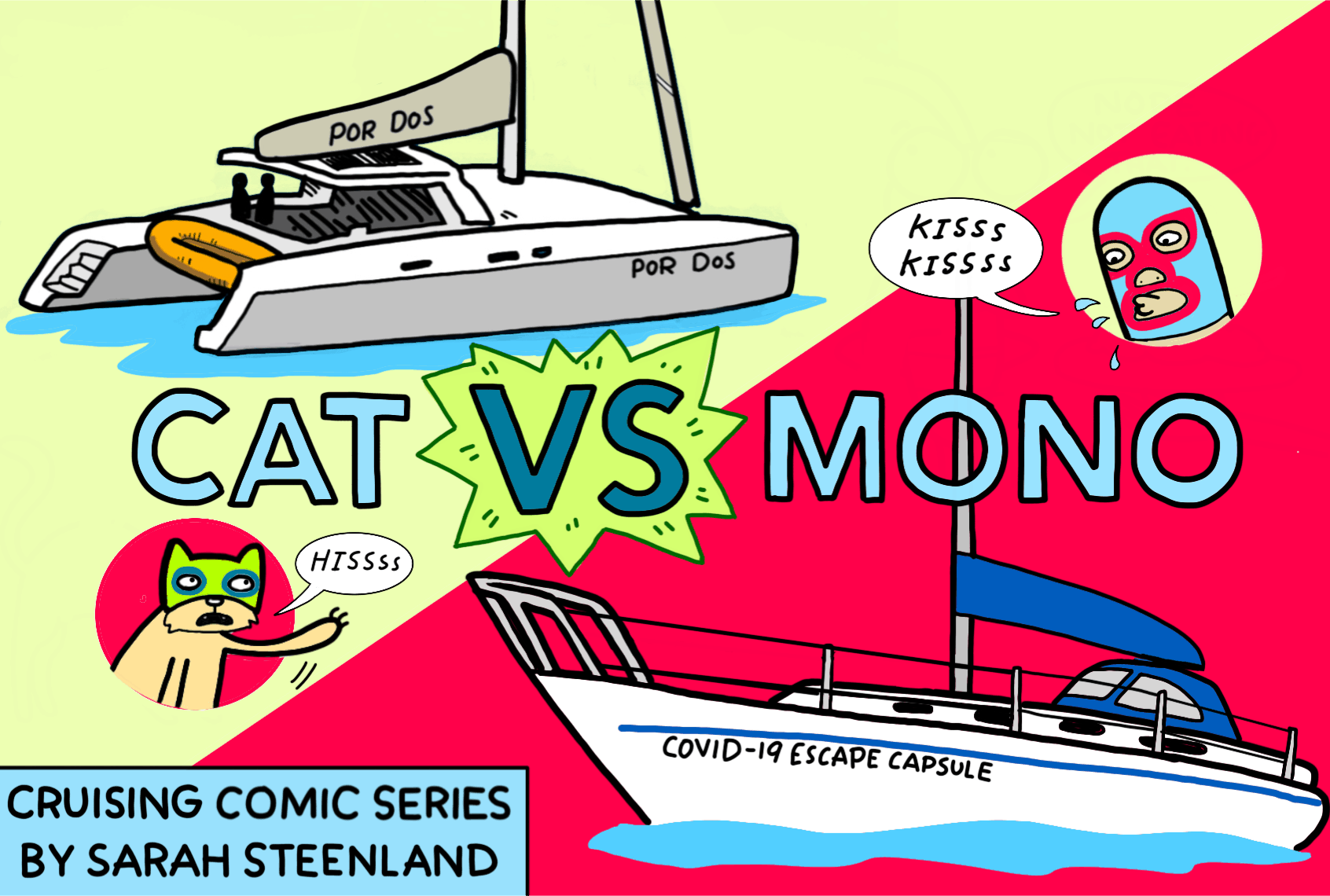 There are two schools of thought when it comes to monohull versus catamaran. We have done extensive cruising and lived aboard two monohulls and four catamarans over the past 25+ years. We experienced the good and the bad for both single hull and multihulls first hand. Quite honestly, the pluses for catamarans far outweigh the minuses. There are multiple benefits of catamarans. They are faster, more stable and spacious, and have shallower drafts allowing safer anchorage closer to shore. Being on a stable platform with no heeling cuts down on crew fatigue and seasickness leaving the crew more alert and in control of the vessel. Even novice sailors feel more confident on catamarans.
When we built our monohull Royal Salute in the early 90s, catamarans were not established and were looked upon with extreme suspicion by most cruisers, including ourselves. "Safety and the capsize" issue were always the first things to come up against sailing catamarans. It is a fact that monohulls can get rolled in heavy seas but will right themselves because of the heavy lead keel, and while crew and vessel will be battered, the roll is survivable.
However a catamaran once capsized, will remain upside down (jokingly referring to this state of the catamaran as "reaching its most stable position when upside down"). The inability of a catamaran to self-right was and still is a major bone of contention. However, what is not often discussed is that a monohull has about a 5,000 pound keel of lead that is constantly trying to drag the boat to the bottom of the ocean versus a catamaran that has no ballast and is in most cases with modern catamarans, unsinkable.
So the options are to either sail the world on a boat that, if it springs a leak, will sink like a stone or a vessel that cannot self-right in the event of a capsize but will not sink no matter what. So from a practical point of view, here are our observations over the last 25+ years of living aboard, on the advantages and disadvantages of a catamaran.
ADVANTAGES OF A CATAMARAN
1. Speed Equals Safety
The speed of a catamaran makes it possible to outrun bad weather. While catamarans do not point as high into the wind as a monohull (or if it does, it makes more leeway or slides sideways), it is about 20% faster than a monohull. This means that even if you sail upwind at a slightly wider angle to the wind than a monohull and have to cover more distance, you will still arrive at your destination long before a monohull.
A modern performance catamaran with daggerboards and good quality sails will point as high as a similar sized monohull. It will point the same as a comparable monohull and sail much faster and therefore arrive at an upwind position much sooner than a the monohull. It is important to note that most of the production catamarans on the market are under-powered and are equipped with standard smaller sails. In lighter breezes many of these designs perform poorly unless fitted with bigger headsails, a Code Zero and a square-top mainsail.
While we believe that more comfortable and safer in rough weather, we have to concede that when the weather gets really bad (60 knots of wind or more) we would personally prefer to be on a monohull from the standpoint of surviving. I would say that a monohull is preferable for serious offshore single-handed sailing because you can more easily hove-to in a monohull. We have been in some extreme weather on a number of catamarans and never really felt that we were in danger, although it takes some nifty seamanship.
A monohull could capsize in extreme weather or even roll in a storm, but they generally come back upright. A catamaran on the other hand, will not right itself. But the cat will generally stay afloat, offering a good place to survive while you wait out the storm or until help comes along. Well-designed modern catamarans are very hard to capsize though.
Having said all that, most catamarans can do 200 to 250 miles a day and with modern technology allowing one to pull down weather at will, there is no good reason why you should get caught in extreme weather. A faster boat is a safer boat as it will in many cases be able to outrun bad weather. With good weather routing information a catamaran can avoid most serious weather and, at worst, place itself in the most favorable position to avoid the brunt of a storm.
2. A Catamaran is a Stable, Safe Platform Underway
Catamarans have no ballast in the keels like monohulls do and therefor it relies on beam and buoyancy for stability. Typically cruising catamarans will have a beam to length ratio of roughly 50%, although many designs nowadays exceed the 50% rule of thumb. So, a 45-ft long catamaran will be about 22-ft wide, providing a very stable platform when sailing. Unlike catamarans, monohulls cannot overcome the rolling and pitching with their narrow beam and the lead ballast for stability.
This rolling and pitching makes the deck on a monohull very unsafe whereas on walking around on the deck of a catamaran while underway is far easier since the boat is much more stable, and it doesn't heel. This makes sail changes and reefing much easier and a lot safer for the crew. Without the rolling and pitching motion, the danger of falling overboard on a catamaran is considerably less than on a monohull.
3. Crew Fatigue Reduces on a Catamaran
Because a catamaran does not heel over like a monohull, it offers far more comfort underway because the motion is mostly fore and aft pitching and very little beam-to-beam rolling. On all points of sail, a catamaran tracks upright and significantly reduces crew fatigue and seasickness. Seasickness is usually caused by things like anxiety, fatigue, hunger and cold, which all add to a sense of disorientation. This leads the crew to making bad decisions and seamanship errors that could be fatal to the crew and vessel. The more stable platform of the catamaran will hugely keep those issues at bay, making the crew more alert and energized.
Every action and chore including cooking is much easier on a catamaran when underway. It is much more pleasant to be on the deck level looking out rather than being stuck "down below." It is also much nicer to sleep on a boat that doesn't heel. I remember nights at sea in our monohull when I was rolling around in my bunk unless I was properly wedge in a little corner. That is simply not the case on catamarans.
All these factors ensure that your crew will not expend unnecessary energy to simply try and stay upright, onboard and safe on a long passage. Your crew on a catamaran will be well rested and alert and will be able to function well if a stressful situation arises.
4. Comfort at Anchor
Catamarans provide a wide platform and therefore offer lovely spaces to relax at anchor without the rolling motion that monohulls have a tendency to do in a swell. During our 15 years of cruising on a monohull, we have often had to leave anchorages that we really were not finished exploring because of a rolly, uncomfortable anchorage. Big rollers or swells coming into an anchorage can make conditions in an anchorage very uncomfortable and unsafe.
We were anchored off Funchal on the island of Madeira in our monohull Royal Salute once, when we were forced to leave our anchorage. The rolling became so bad, we were rolling from gunnel to gunnel. The anchorage became untenable to remain anchored, forcing us to go out to sea in foul weather in the middle of the night. This is an extreme case but believe me, we have left many an idyllic anchorage because of a rolling swell into the anchorage. Catamarans, on the other hand, do not roll from like monohulls have a tendency to do and are far more comfortable at anchor.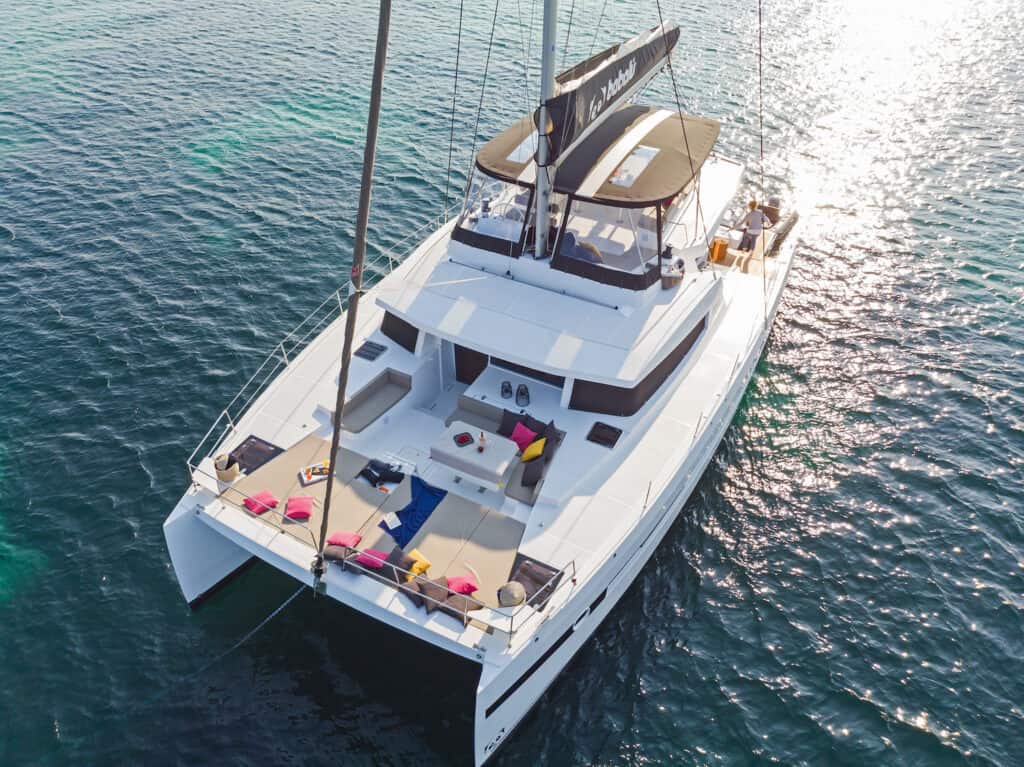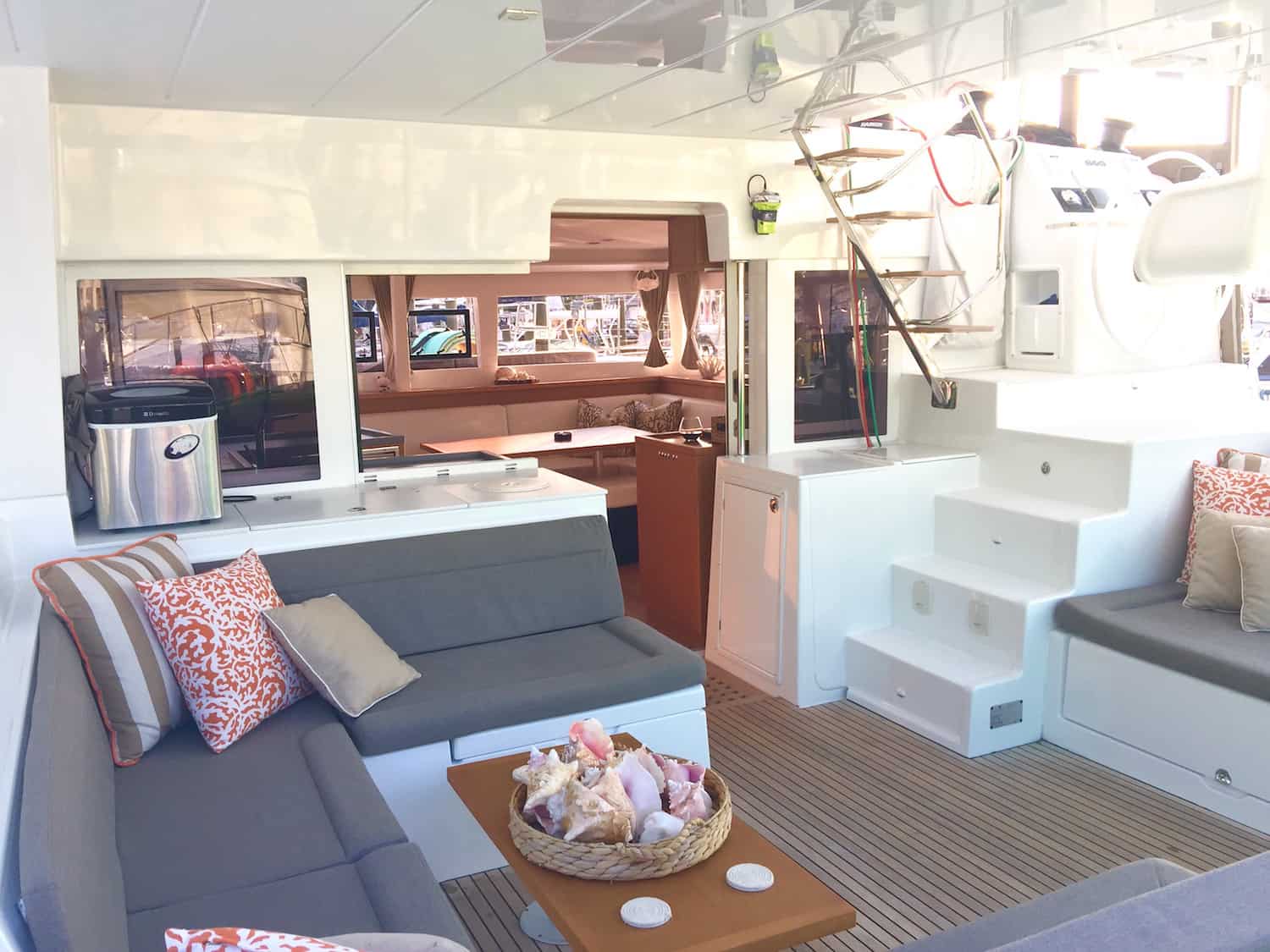 5. Anchor Bridal Setup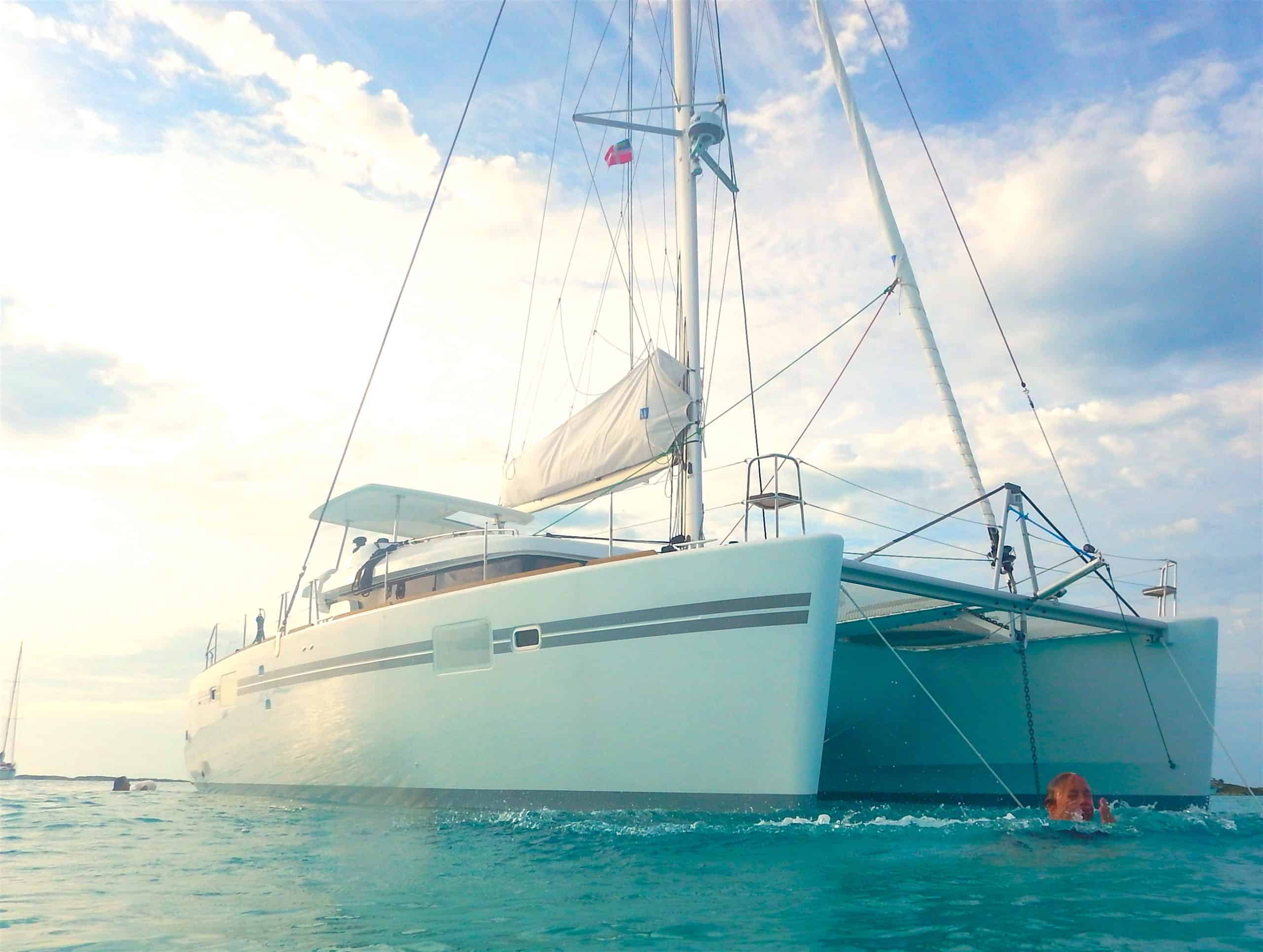 Catamarans are fitted with a bridle, attached to both bows and down to the anchor chain, resulting in a very stable position at anchor. What we found with our monohull was that
because the bow acts as a sail (because of the high freeboard), the boat tended to sail at anchor in high winds. It sailed in one direction until the chain snatched and tacked over and sailed in the other direction, feeling like it might dislodge the anchor altogether. The catamaran on the other hand sits at anchor a lot more stable and doesn't sail around as much.
6. Ease of Boarding on a Catamaran
Thank goodness we were much younger and more agile during our monohull days. Royal Salute and most monohulls of her generation or older, have high free-boards, making it quite a feat to get onto the boat from the dinghy. It was one of the most challenging things to do because unlike the more modern monohulls that have a scoop at the back, we had to climb up on the side of the boat to get on and off. We, of course rigged steps, etc. but it was always a hassle compared to the ease of getting on and off a catamaran from a dingy or from the water.
7. Shallow Draft Equals Better Anchorages
Catamarans have significantly shallower drafts than monohulls, allowing for safer anchorages closer to shore. Most catamarans in the 40-ft to 50-ft range draw between 3-ft to 4.5-ft, so they can anchor in places that a monohulls can not even consider. In the shallow waters of the Bahamas for example, the catamarans have a big advantage. We often anchor our own catamaran just a few feet away from a beach. It definitely allows one to be able to explore areas where the water is shallow without the fear of running aground.
The shallow draft also allows for emergency repairs in shallow water and even doing the bottom job when the tide goes out as we have done in places like Mtwapa Creek in Kenya, East Africa. The catamaran easily rests on her keels on the sand without help making it a breeze to do the "annual haul out" even in remote locations.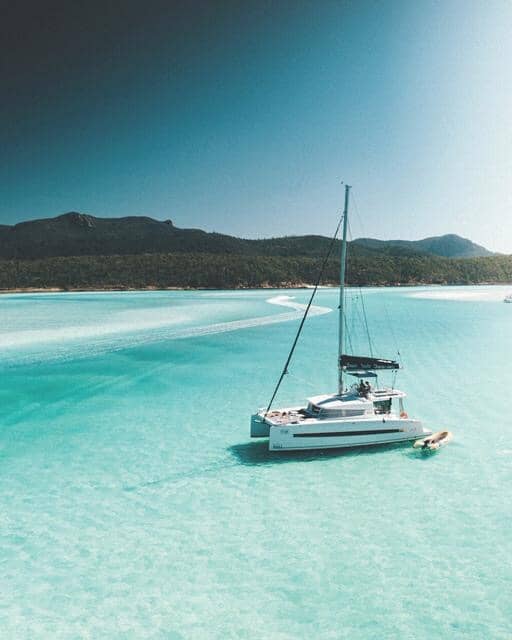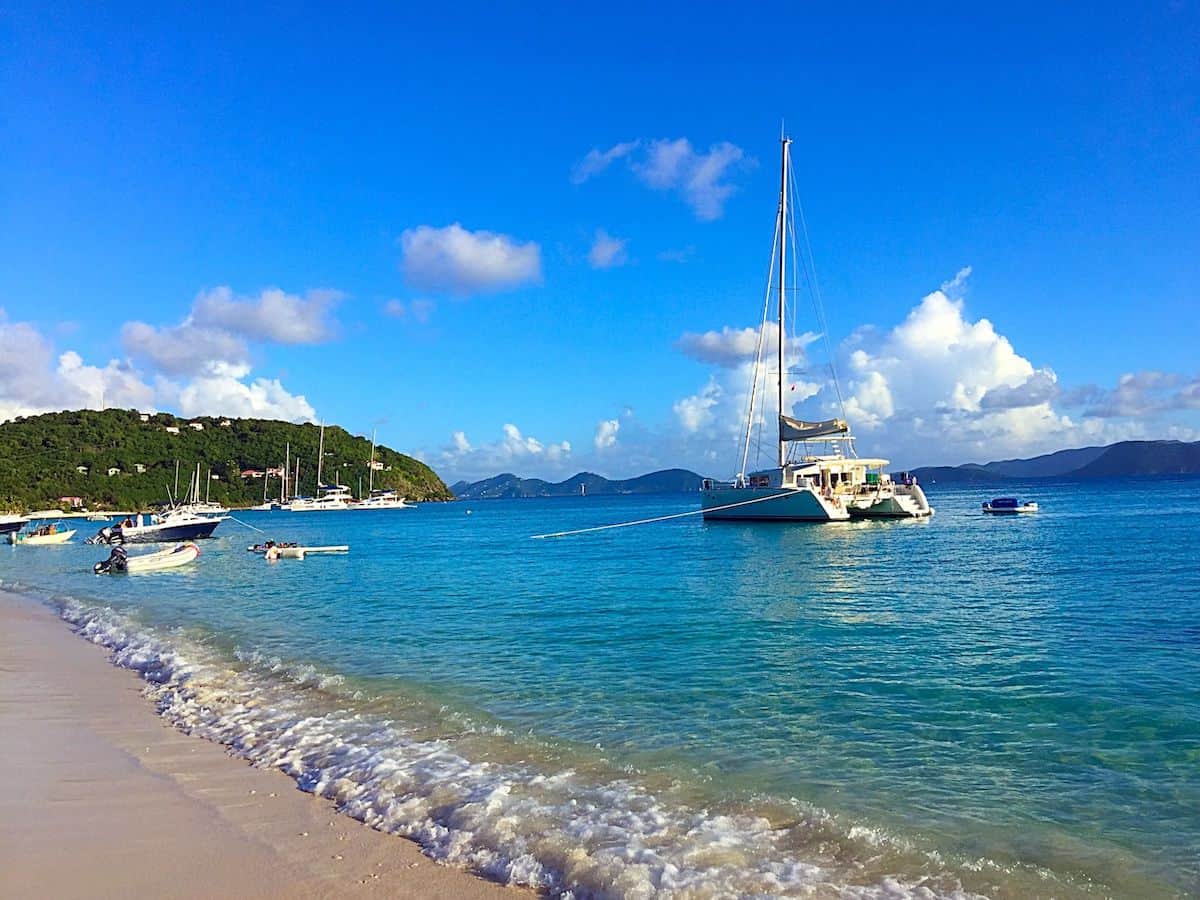 8. Dinghy Davits & Dinghy Size
All catamarans have a set of davits that make it very easy to raise and lower the dingy. Our monohull and most cruising monohulls do not have an efficient or easily accessible set of davits. This makes raising and lowering the dingy an elaborate production. Catamarans on the other hand, has davits systems easily accessible and some even have platforms to rest the dinghy on.
The lack of beam and difficulty of lifting the dinghy also limits the size and type of dingy that one can reasonably carry on a monohull. As we all know, the dingy is your transport to and from shore and diving or fishing spots, so the bigger and faster the dingy, the better off you are. A catamaran can carry both a heavier and bigger dinghy which makes the popular center consul dinghy so much more possible.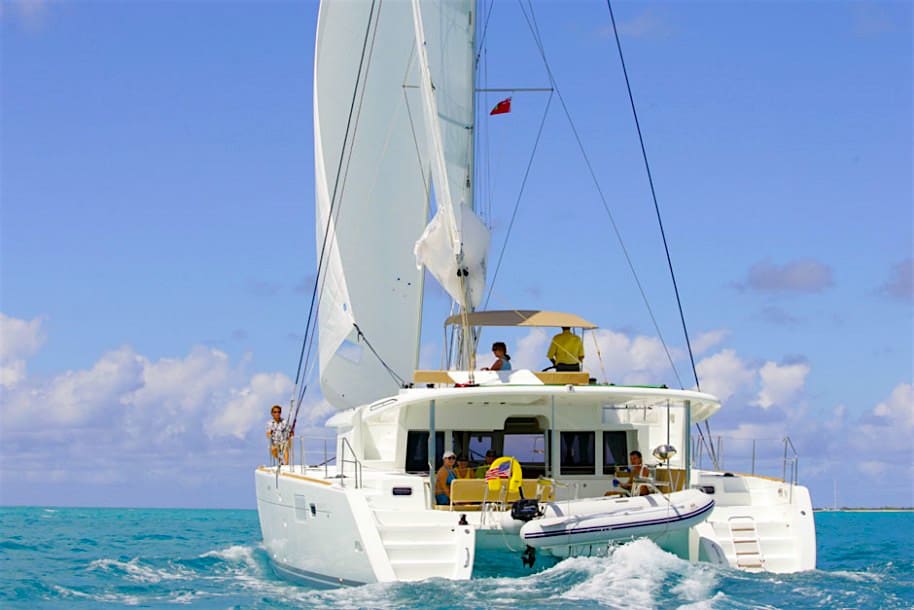 9. Interior Space and Comfort on a Catamaran
We sailed 32,000 NM on our 45-ft monohull, happy as clams, not realizing that sailing does not have to be done lying on your ear 24/7 while on passage or sitting knee-to-knee in the cockpit at anchor with your two other guests at the dinner table! One can liken sitting in a monohull cockpit to sitting in an empty Jacuzzi, you are always nice and close to the other folks.
Now that we are on our fourth catamaran, there are a few things that have become more evident to us than the incredible space and comfort of a catamaran, not only at anchor but also underway. The cockpit and living space in general are huge compared to a monohull, making for very comfortable and spacious living conditions. It feels more like you are at home, rather than just on a camping trip.
Knowing that one spends at least 90% of one's cruising life at anchor, it's important to have good open living space, which most modern cats nowadays offer. A lot of cats have walk around beds, lots of storage, every modern appliance including washer/dryer, etc. However, one has to fight the urge to fill the space if you want to keep the cat light and fast.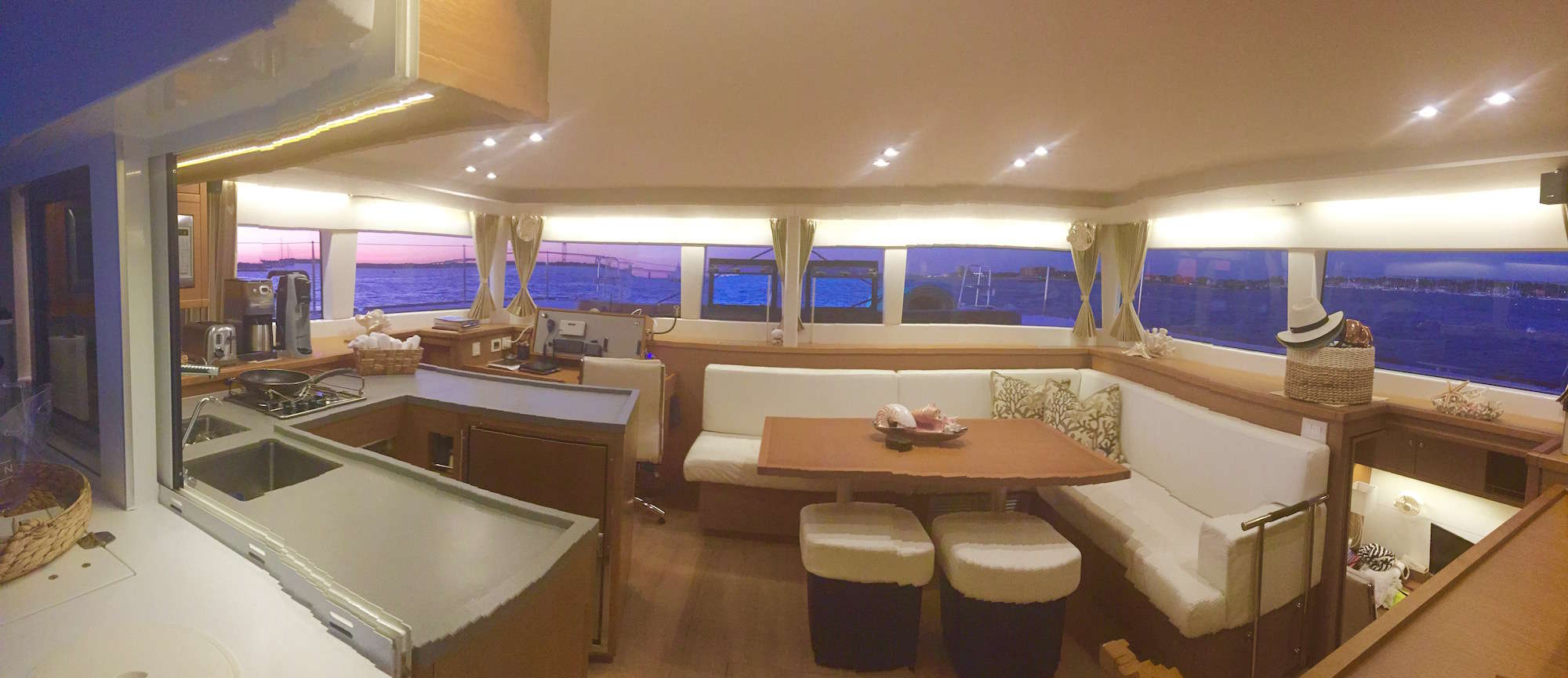 Sailing with guests onboard for extended periods of time, in close quarters can become claustrophobic but on a catamaran people are spread out and separated. With guests sleeping in one hull and the owners in another, catamarans offer much more privacy and separation. Some cats even have privacy doors that will close off the entire hull and has a separate entrance onto the deck, which really separates you from the guests completely.
There is very little heeling on a catamaran, so there is no need for hand grips and safety harnesses inside the boat. There is nothing better (and safer) than being able to walk from the cockpit into the living room (saloon) on one level or one step down at most. In a monohull, when heeling at a severe angle, you would have to claw your way from the companionway steps down to the living area, while fighting to stay upright, significantly tapping your energy.
Unless you hit extreme conditions, everything stays put on a catamaran reducing the anxiety before doing passages of having to stow and secure everything. This very issue makes a lot of cruisers reluctant to weigh anchor and explore more often. It is just too much effort to pack away all your stuff once comfortable in an anchorage!
One thing you will notice is that the stove on catamarans are not gimbaled like it is on monohulls and this should tell the story in itself. The stability and comfort on a catamaran is far superior. Cooking is easy and safer. I often open a nice cold beer, put it down to do something and forget about it only to find a warm beer later in the same place I left it. This is not something that happens on a monohull.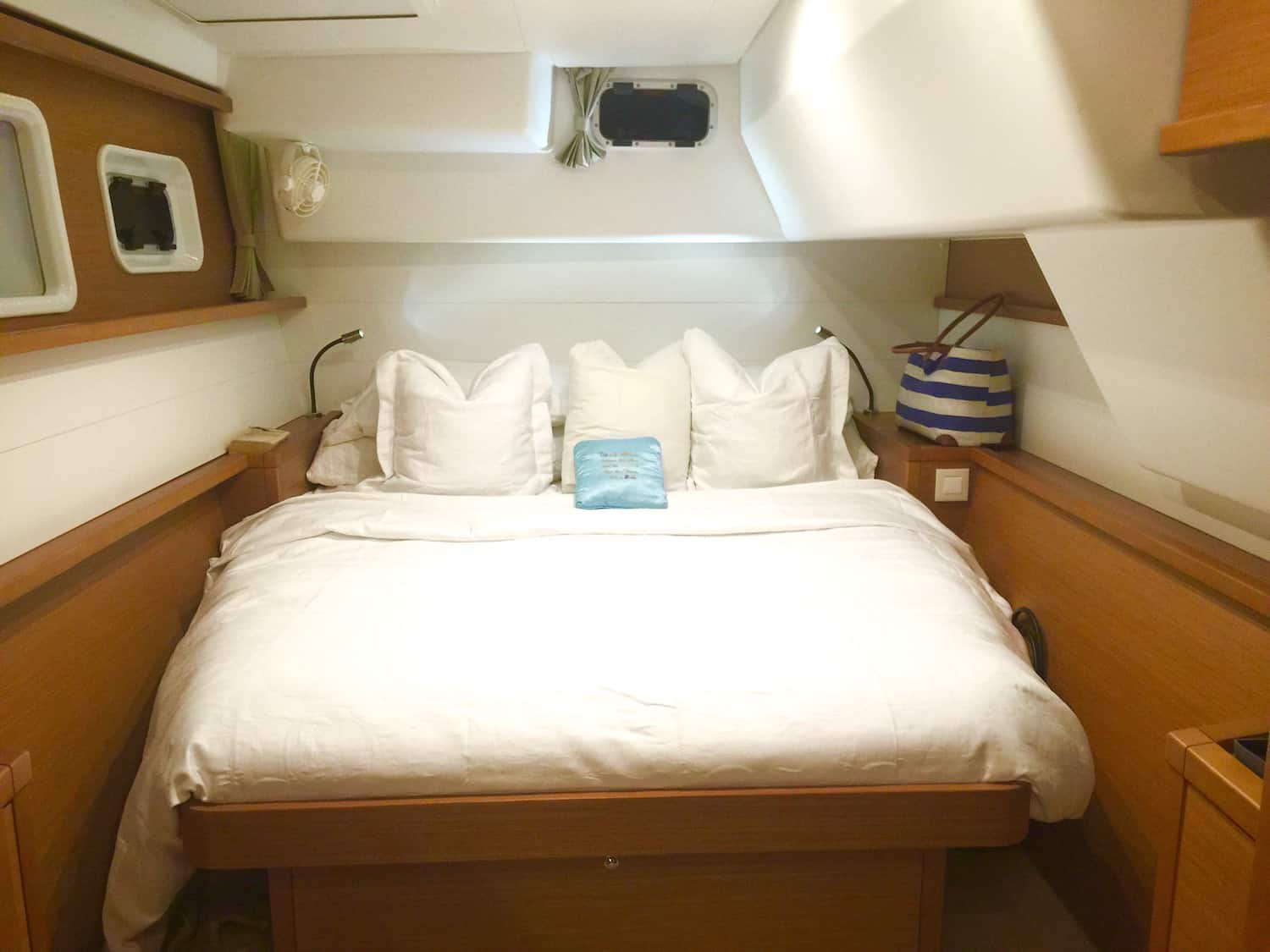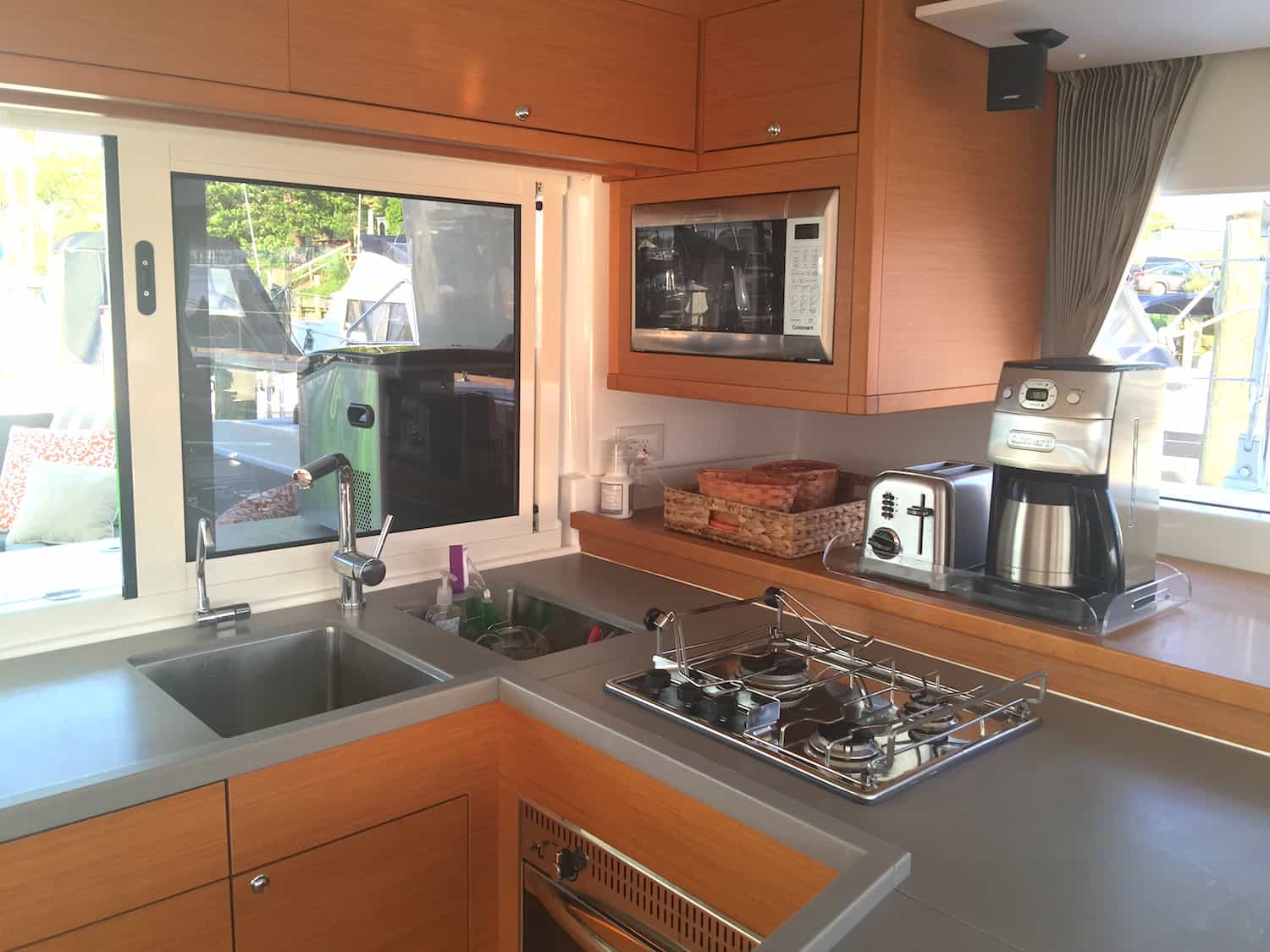 10. Redundancy on a Catamaran
Unlike monohulls, catamarans have a lot of critical redundancies. That of course means two hulls to clean and anti-foul, double the engine maintenance, etc. but having two of the critical equipment like engines for instance, outweighs the downside.
With two engines, if one fails you still have adequate propulsion to go anywhere. If by some fluke the second engine also fails, you have a full set of spares to fix at least one of them. Our friends once hit a sleeping whale off Tanzania, and when it dove, it hit the prop, bending it. They limped into the narrow channel on the one engine but at least they could make it to a safe harbor where we surveyed and repaired their damage.
We often only use one engine when motoring while making passage in order to conserve our fuel. The one engine is totally capable of moving the boat along at a good speed unless you are in heavy seas and you may need more power. Other than that we only use two engines to dock or maneuver the boat in close quarters.
Because there are two engines there are also two independent charging systems via the alternator on each engine. If one alternator goes out, there is still another complete charging system. There are two rudders and if one fails or falls off (as has happened to our friends on a monohull off Columbia, where they almost lost their boat) you have a second rudder that is completely capable of steering the boat by itself indefinitely. That holds true for several things on a catamaran!
11. Maneuverability
The engines are spaced far apart on a catamaran and it makes maneuvering much easier and more precise than monohulls, unless the monohull has a bow thruster. We did not have a bow thruster (not many monohulls do) and had to rely on prop-walk and using prop wash on the rudder. A modern catamaran can do a 360 turn on her own axis. A monohull cannot do this and have a bigger turning circle. However, a monohull under sail is much more maneuverable and certainly will tack a lot faster than a catamaran. The ease in maneuverability under engine on a catamaran in close quarters specifically, is vastly superior comparatively.
12. Rigging
Because of the beam on a catamaran the spinnaker pole has become unnecessary equipment. Hallelujah, I say. That pole on our monohull was a pain the behind and I always hated having to use it. On a catamaran, one can fly an asymmetrical cruising chute or spinnaker, using the bows to tack the clew or run a guy through a block so it is very much simplified, easier and safer.We also sail wing-on-wing with twin headsails when we sail downwind. We use our furling jib and furling Code Zero. It is as easy as one, two, three.
DISADVANTAGES OF A CATAMARAN
1. Bridgedeck Slamming
One advantage most monohulls do have when underway is that they don't slam. Catamarans with a low bridgedeck clearance can experience significant slamming in confused seas sailing upwind. This slamming can be quite disconcerting when you first experience it as we did on a Shuttleworth 44 design, our first ever catamaran experience, 20+ years ago. At times, it felt as though the boat was falling apart. Of course the boat was fine but nevertheless, the stress on the crew from the constant noise and discomfort was significant.
Monohulls don't have a bridgedeck which means no slamming and are therefore a bit more comfortable than low bridgedeck catamarans when beating into severe confused conditions or "washing machine" conditions as we call it. Modern catamarans mostly have better bridgedeck clearance and the slamming is significantly less. However, not all cats have a good clear tunnel under the bridgedeck. Some manufacturers build beds into the bridge deck in order to make more space in the chest of the catamaran where the slamming occurs. These protuberances into the bridgedeck tunnel will likely increase slamming. So be mindful of that when selecting a catamaran. We currently own a Bali 5.4 and the bridgedeck clearance on this boat is more than adequate and the tunnel is clear. We therefor experience very little slamming compared to our Prout 45 that we previously owned (picture of sister ship below) with a much lower bridgedeck.
We Explain Bridgedeck Clearance
In the pictures below the Bali 5.4 has very good clearance from the water to the bridgedeck and has a nice clean tunnel versus the very low bridgedeck of the Sunreef 50.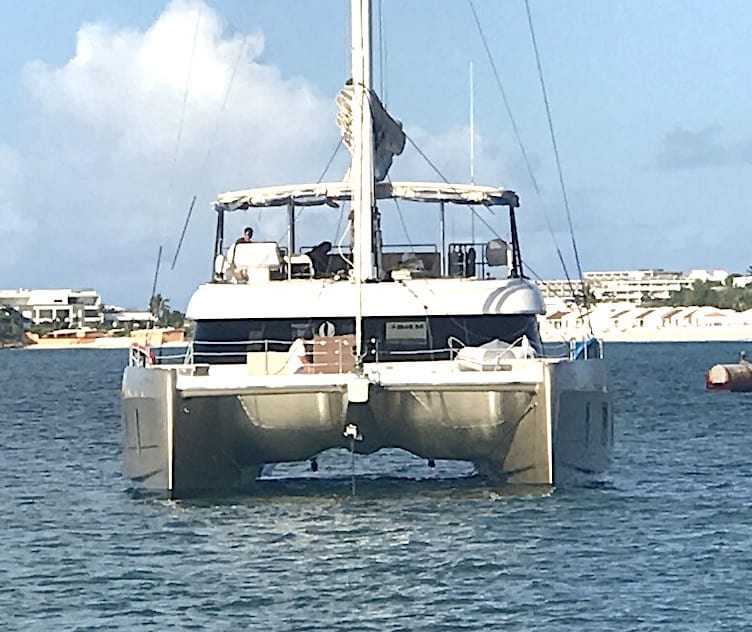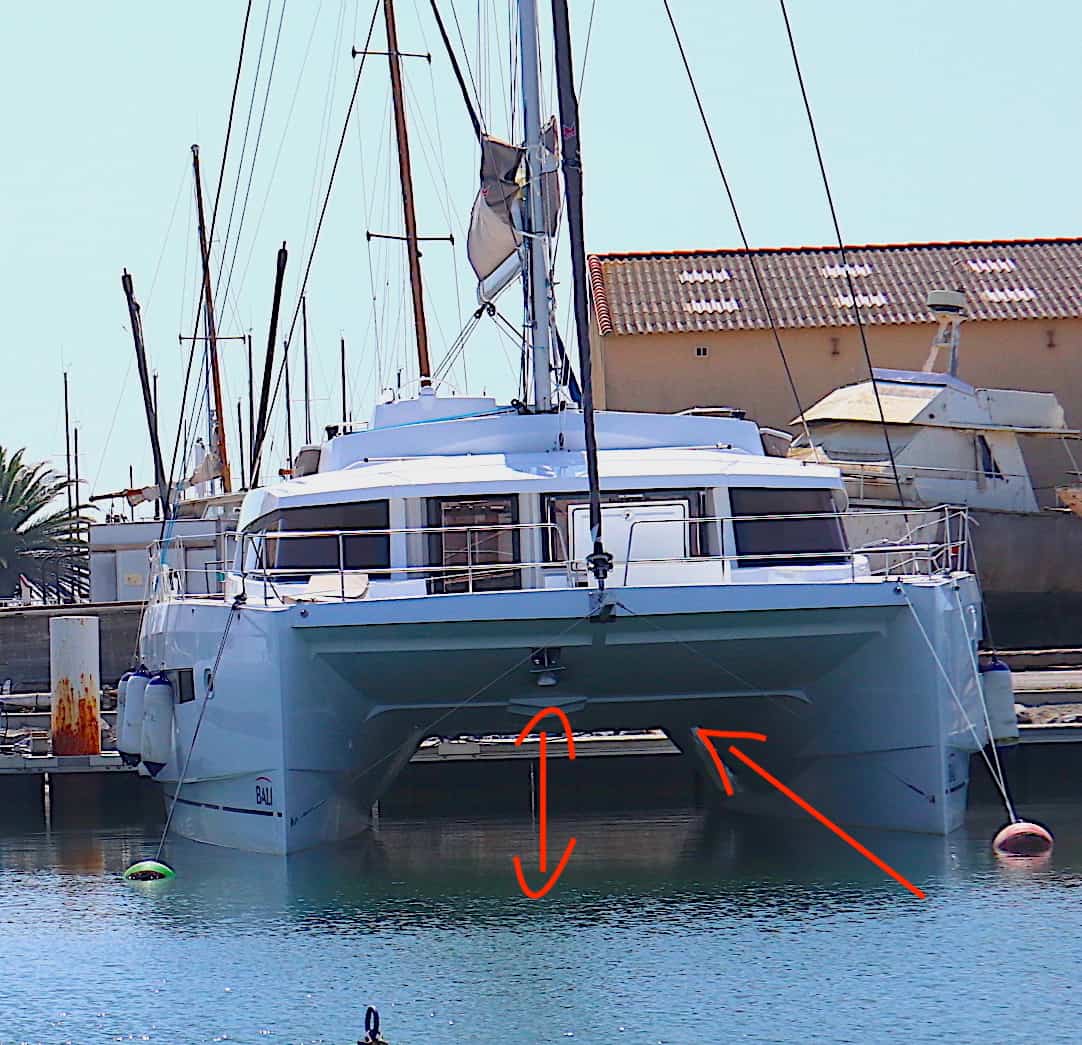 2. Sailing Downwind
Monohull spreaders are set at 90 degrees to the mast whereas a catamaran has to have backswept spreaders. The reason is that, on a monohull, there is a backstay and using this, plus the intermediates you can get a nice pre-bend in the mast (the pre-bend is to flatten out the main sail and allow for better performance).
On a catamaran with no back stay, you need to use the back swept spreaders and the diamonds to pre-bend the mast. The reason I point this out is because on a catamaran, if you want to broad reach or run, the mainsail cannot be let out all the way because the backswept spreader tips could punch holes in the fabric.
On a monohull, the spreaders are at 90 degrees so you can let the main and the boom out much further which is, of course, much more effective. This is one of the reasons it is better to broad reach and tack downwind on a catamaran.
Whether a monohull or multihull, sailing dead downwind doesn't usually make great VMG. Therefor a regular cruising cat, much like a monohull, needs a lot of sail area and has to sail deep downwind if it is to achieve a decent speed made good (VMG). This video demonstrates how we achieve this by sailing wing-on-wing downwind.
3. Dockage
It is more difficult to find a dock either as a transient or a permanent slip for a catamaran in general because of the wide beam. But this is changing fast and will soon not be too much of an issue. In the USA dockage is charged by the length of the boat in feet, so there is no disadvantage there but, in some places, (the Mediterranean for example), dockage is charged at length times one and a half because of the additional beam.
Since the catamaran is stable at anchor, we mostly anchor out. We have more privacy, a better breeze and usually a stunning view.We have a nice dinghy with a good outboard engine and is big and comfortable enough to get to shore fast and together with the modern conveniences like the generator, watermaker and washer/dryer, docking becomes a non-issue.
4. Haulout
It is definitely more difficult to find a travel lift with enough beam for a catamaran for a haulout, while, for a monohull, there are absolutely no problems anywhere. The wide beam of cats also greatly limits the number of shipyards that can haul them out. Most catamarans over 40-ft must be hauled out with a 50-ton travel lift. This not only increases the cost of the haulout, but greatly limits the choice of the shipyards for repairs and maintenance. With limited choice, prices are high for shipyard services.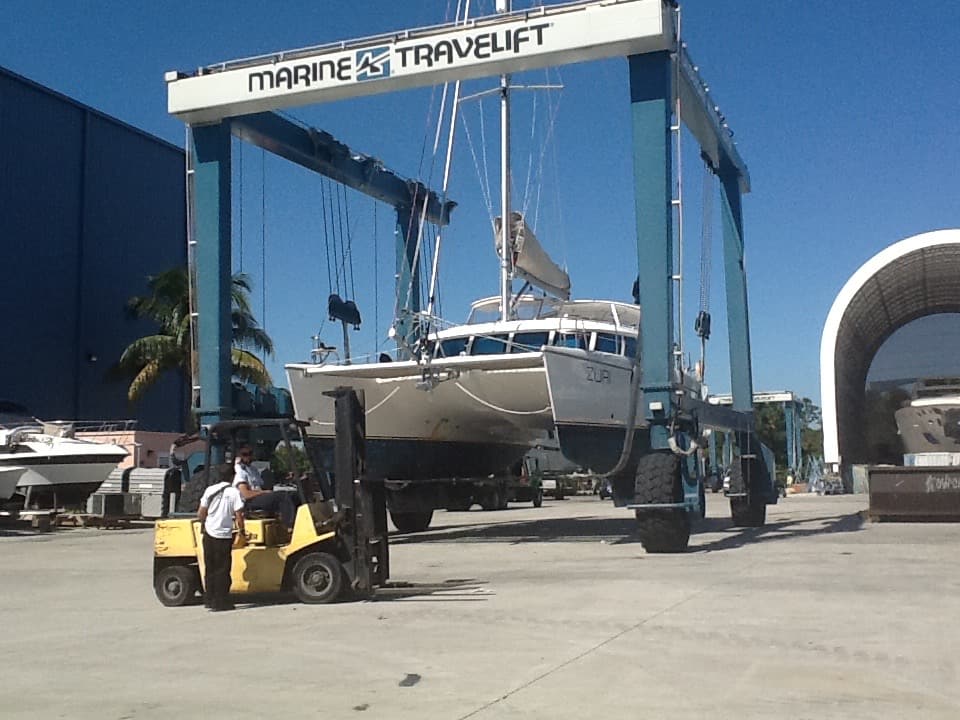 5. Windage
Catamarans do tend to have a lot more windage than monohulls. This can be an issue especially when maneuvering in close quarters with a strong wind. But I have found that, provided the engines are powerful enough for the size of catamaran, that twin engines negate this problem. Also, many modern large catamarans now have a bow thruster fitted. It is super easy to dock.
6. Cost
The cost of getting into a catamaran is much higher than that of monohulls. That could put a serious dent in your cruising kitty or require you to put your dream on hold a little longer. Pre-owned monohulls on the other hand are very cheap to buy comparatively, because the supply presently far outweighs the demand.
Catamarans are in high demand and they typically hold their value much better and longer and the trend is now heavily in favor of the catamaran market. When prospective buyers contact us for catamarans under $250,000 the choices are very limited and catamarans under $100,000 is near impossible to buy. In this case, your best bet is to go with a monohull unless you go with much older boats like the Prouts or the less expensive Geminis.
Our Own Catamarans & Monohulls
FYI: Royal Salute, a Bruce Roberts 45 monohull, was the first boat we owned and sailed approx. 30,000NM on. Mythral, a Seafarer 30, was our "toy boat" while we were waiting for our catamaran to be built. Even though this classic little monohull sailed around the world, it didn't have much in modern conveniences like running water. Siyaya was an Island Spirit 40 catamaran that we sailed from Cape Town to Florida on and then taught live-aboard sailing classes for several years. Zuri I was a Prout 45, a beautifully crafted catamaran but by today's standards is considered old technology. Our Lagoon 450 SporTop (Zuri II) is a fantastic live-aboard catamaran. We lived and taught abord her for three years but sold her last year and we currently own a Bali 5.4 (Zuri III or Z3 as we call her now). Read about our various boats here>>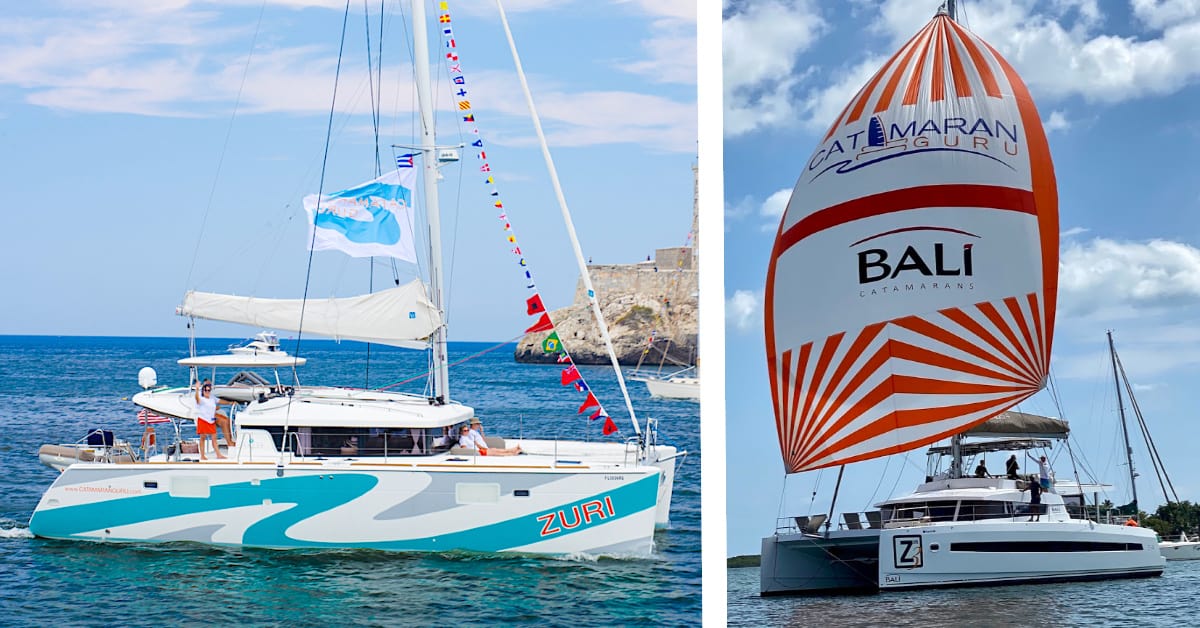 CONCLUSION: CATAMARAN vs MONOHULL
We were dyed in the wool monohull sailors for 15+ years. We loved the pretty lines of monohulls, the sailing ability and what we believed at the time to be much safer vessels. However, now that we have been avid catamaran enthusiasts, we simply can never go back to monohulls. Catamarans have come of age and with modern technology have overcome most objections that sailors of old had against them. They are well designed and built, are safe, and we simply love that they sail fast and upright. There is not a whole lot to dislike about a catamaran when you live aboard. We have weighed all the pros and cons of catamarans and found that the pros far exceed the cons. We made the change to a catamaran and do not regret it one bit!
We hope that this article will clear things up for all the prospective catamaran owners out there.
Contact us if you have any questions regarding catamarans.