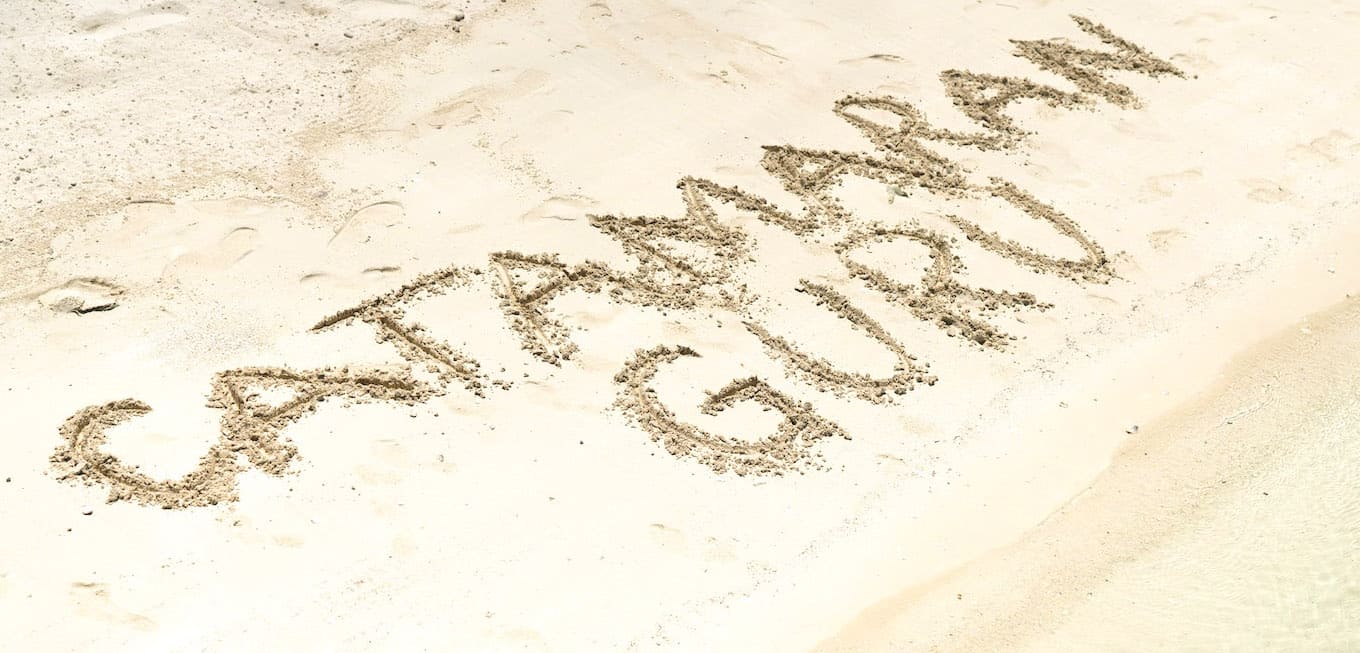 The second annual Catamaran Guru Rendezvous was a smashing success with more than 30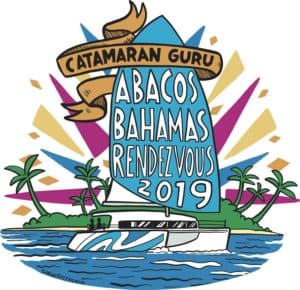 catamarans of varying makes and models (Lagoon, Leopard, Bali, Prout, FP, Nautitech, etc.) and 100+ sailors in attendance! Every rendezvous participant enjoyed 4 days of workshops, parties, sailing, and camaraderie. Enjoy the videos and pictures below to see all the fun, sun & sailing!
One of our objectives was to host a non-commercial rendezvous for strengthening the catamaran sailing community and for everybody to enjoy their boats and fellow sailors, no matter the brand, size or age of the cat. We definitely did that and made friends far and wide! Our second objective was for boat owners to be able to swap ideas and tips about their particular catamaran brands and models and get the opportunity to tour each other's catamarans in a relaxed atmosphere. After all, this is the biggest showroom for catamarans on the water, anywhere!
We heard many comments that not only was a lot of fun had, but sailors and crew (many of them were newbies) learned a lot. There were opportunities to sharpen confidence and skills before, during, and after the Rendezvous. Here's a video of some highlights.
Before we share more about Catamaran Guru Rendezvous 2019, let me invite you to join us next year. During the 2020 All-Catamaran Rendezvous, we will have a blast and make new sailing friends while leading a rebuilding project to be a part of the Abacos recovery from Hurricane Dorian. Read about being a part of the Abacos' recovery from Hurricane Dorian now.
UPDATE March 2020: Due to the lack of facilities in The Abacos following Hurricane Dorian followed by COVID-19 isolation, regrettably, no 2020 Catamaran Guru Rendezvous was held. 
JOIN US FOR THE NEXT ALL-CATAMARAN RENDEZVOUS!
2019 Catamaran Guru Rendezvous Highlights
A great big thank you to the Rendezvous Sponsors, catamaran owners, their families and friends, all our "helpers" and we hope to see everyone again next year!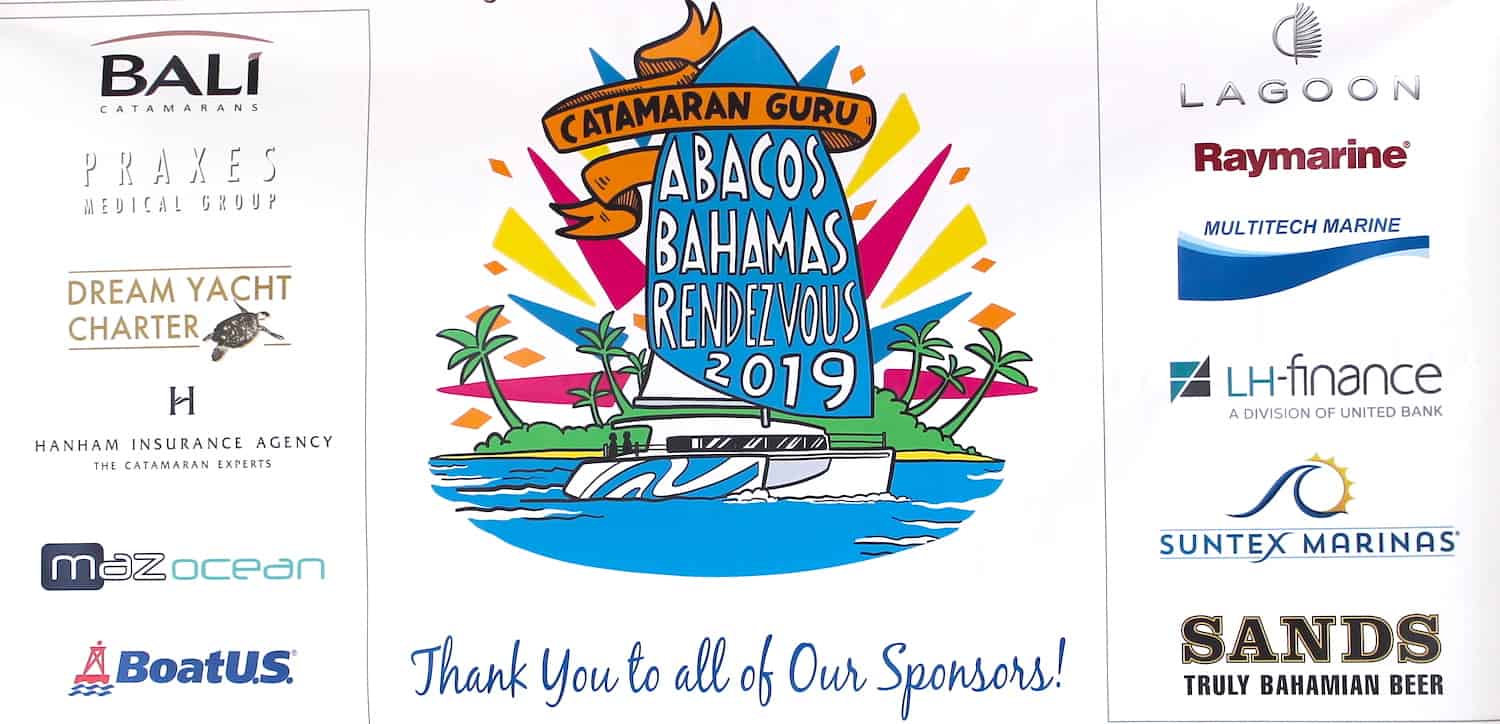 Pre-Rendezvous Flotilla from Suntex Marina, Hollywood
We set off from Suntex Marina in Hollywood on May 17th with a fun send-off party sponsored by Manager Tim Westfahl and his crew along with our awesome canvas swag bag! The bag was stuffed to the hilt with goodies from all our sponsors! Many of the 12 catamaran owners who followed our Zuri across the Gulf-stream had never done anything like that. So our veteran sailors in our group offered "training wheels". For some of them it was a first crossing, a first night sail, a first time night anchoring, and just a lot of firsts. All of them did great with a little nudge to convince them to trust themselves.
Newbies no more, they now feel empowered and some of them, along with another batch of newbies from the Dream Yacht Charter fleet left the Rendezvous to cross the Atlantic and back to the US to get out of the hurricane insurance-restricted areas after the Rendezvous. We provided weather routing for them but really, they were pretty much self sufficient and several of them buddy boated and helped each other along the way. This final phase of the Rendezvous was also a success with all reaching Annapolis safely.
Several of the boats had some issues (as boats do) before and during the event. They relied on Catamaran Guru and other veterans to help source parts from the US for them. Having the connections and network to do so, we organized for it to be sourced quickly with Catamaran Guru friend, Craig Alison from Maz Ocean, being a key player as well as one of our boat owners Miriam & Robert, agreeing to bring the parts over in their private plane as they joined the Rendezvous. Without all their help, many boat owners would have been in dire straights, so we are so pleased with this community effort! But then, the entire Rendezvous was about community and everyone played a part.
Click an image to enlarge.
---
At-Sea Medical Workshop & Knowledge Sharing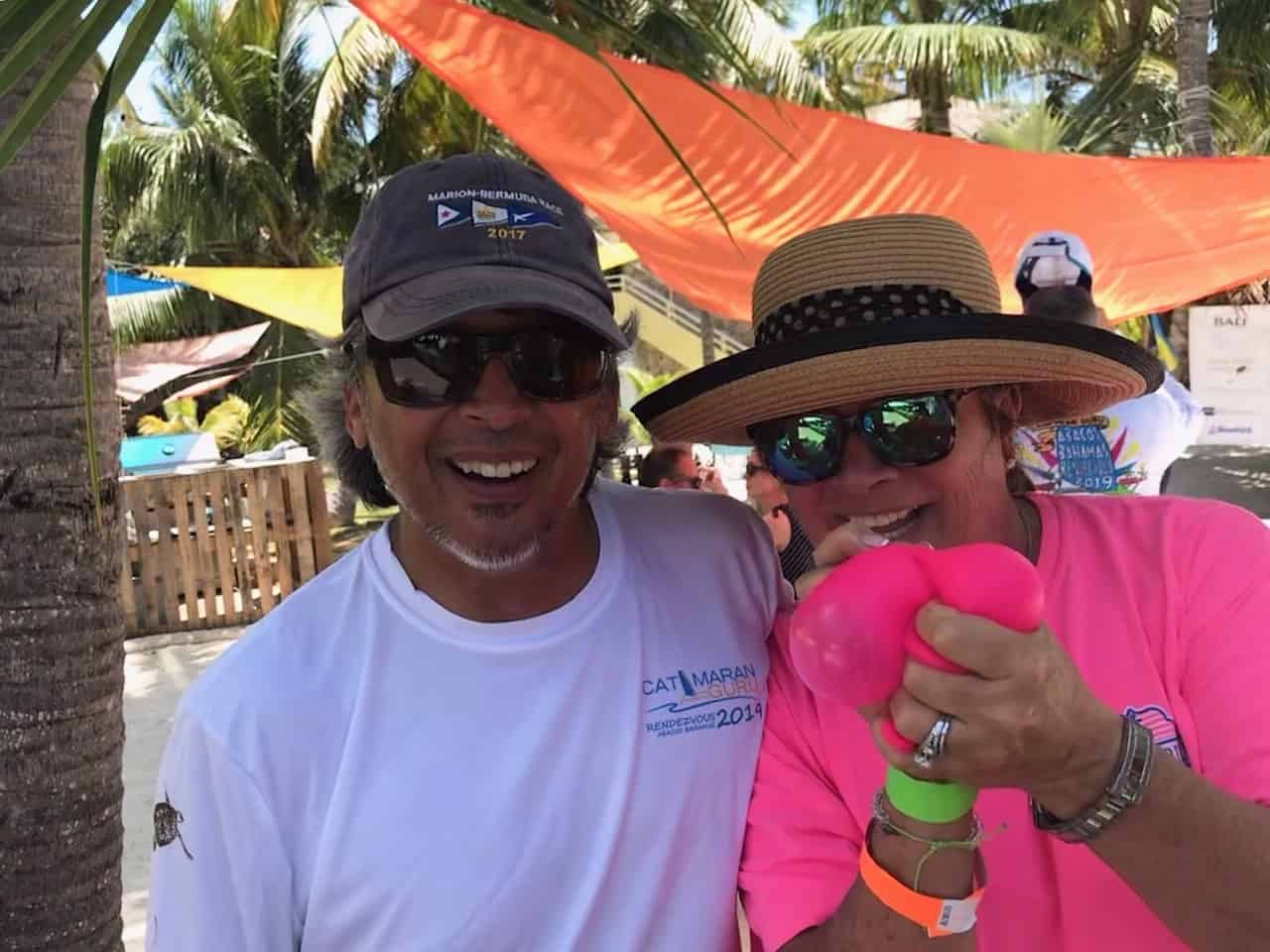 Henry Mah (on the left in the picture) shared very valuable information for catamaran owners in a workshop on what to carry in your medical pack when offshore. It was a huge hit with everyone. Henry has very generously agreed to help anyone who would like more info. He also helped with several medical issues during the event and we are most grateful for his expert care! He also helped us secure an amazing medical bag packed with goodies, a Praxes tele-medical package, and DanBoaters first aid kits for the participants in the Rendezvous! We cannot thank him enough for being such an incredible volunteer for our community of sailors. Bob and Debbie Rainford from s/v Persistence won the Praxes subscription but have donated it to the Catamaran Guru crew to use while crossing the Atlantic during the ARC Rally. Praxes is one of the sponsors for the ARC Rally.
Wally's Welcome Party & Sponsorship with a cause by Dream Yacht
It would not be a sailing event in the Bahamas without parties…and party we did! Hooligan juice flowed freely as sailors and first-time sailing "stowaways" made new friends. We weighed our party anchor at Wally's the first night! What a fantastic job Anna and her crew did for us!
Since Dream Yacht's mascot is the sea turtle, Dream Yacht and Catamaran Guru jointly co-sponsored the 4Ocean sea turtle bracelets that each boatowner received and with that, as a group, helped remove 30+ pounds of plastic from the oceans to help save the turtles! #4SeaTurtles. Dream Yacht generously made their infrastructure and resources available to us for staging the event the first few days and we are most grateful!
Click an image to enlarge.
---
Beach Games at Grabbers Beach Bar Sponsored by Bali Catamarans!
Have no experience? Please apply to join in the fun on the beach at Grabber's. Participants have a lot of fun, but the crowd has more as they laugh WITH the participants. This day was sponsored by Bali Catamarans and it could not have been more fun! The coconut toss with safety helmets in particular was a great hit!
In fact, the Bali director of sales, Boris Compagnon enjoyed it so much that the Bali team awarded us the trophy for "BEST BALI CATAMARAN EVENT IN THE WORLD"! We were so proud and of course we dedicate this award to the entire catamaran community and specifically the sailors who was able to attend this year!
Click an image to enlarge.
Catamarans in Action!
Well, action might be too strong a word, but 22+ catamarans made a race in the light breezes of the Abaco Sea on regatta day. We made quite the spectacle coming and going from our various Rendezvous destinations in the Abacos. Our All-Catamaran Rendezvous Regatta was near-windless this year, but it did not take the wind out of the sails of our spirits…so "racing" we went. The straight-line course was easy, fun, and a great time was had by all…captains and crew. Sponsored by Hanham Insurance Agency.
Click an image to enlarge.
Catamaran Guru Group Supports Hope Town Youth Sailing Programs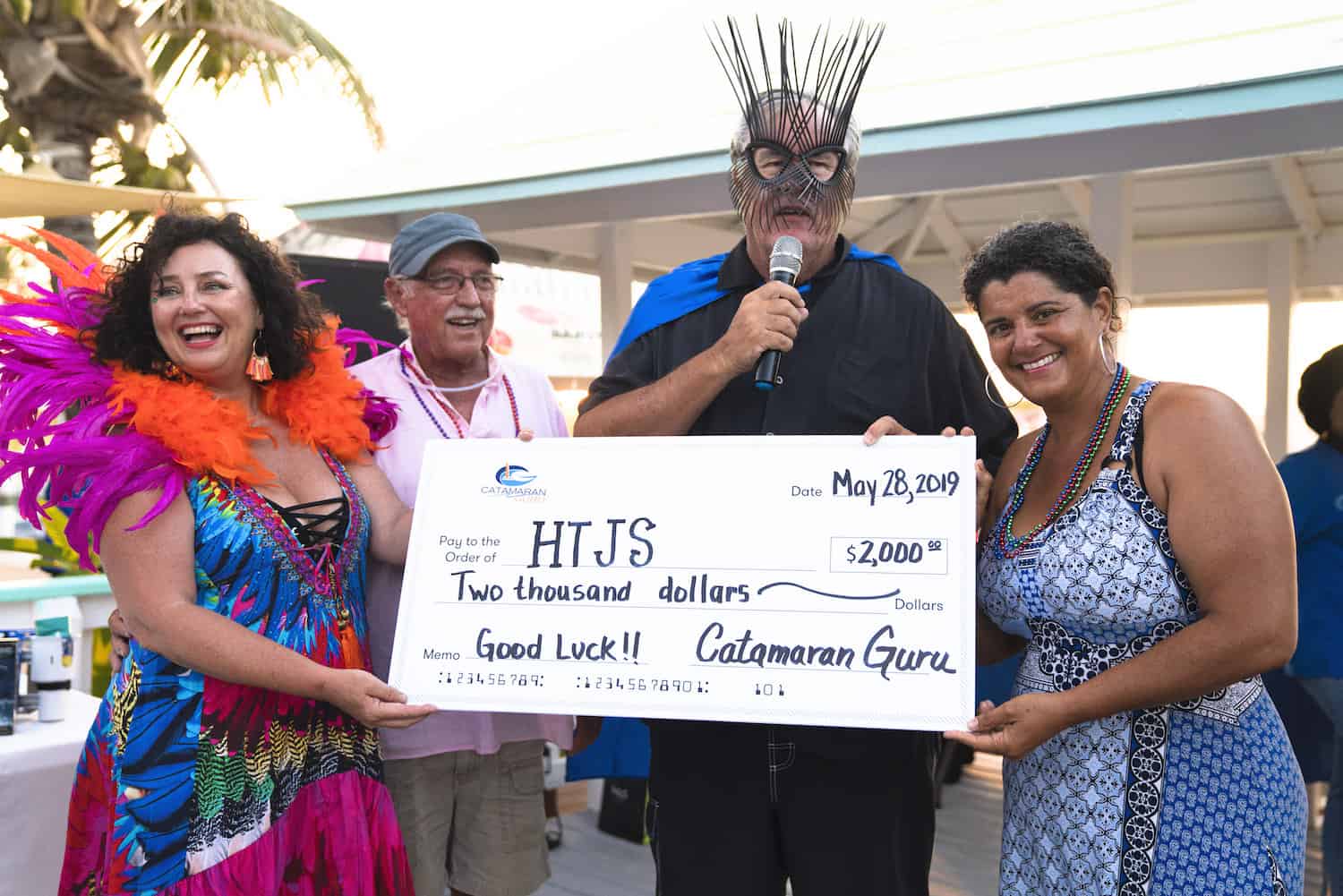 Thanks to our generous sponsors our raffle and additional donation by Catamaran Guru netted $2,000. This donation will go a long way towards their exciting and well-earned trip to the Opti Nationals Championship regatta.
Lagoon Catamarans donated a super deluxe tandem paddleboard while Raymarine donated an Axiom chartplotter. The Boat US's 1-year unlimited towing membership and the Praxes 6-month telemedicine membership rounded out these great gifts for the raffle.
This from Hope Town Yacht Club Commodore, Paul Gooding: "I have just heard from Rhiannon that you had a wonderful, fun evening at Sea Spray last night, but more important, I wanted to hasten to thank you and your group for such a generous donation to Hope Town Junior Sailing. This is so appreciated, and makes a significant difference to our efforts to continue to run this program. Thank you, indeed!"
And this from Sue Holloway, HYC treasurer: "Again this year the Catamaran Guru rendezvous made a significant donation to our Hope Town Junior Sailing program, and (especially) as Treasurer, I want to thank you for your interest and your generosity. Our program benefits so much from adult sailing programs and organizations, and it is obvious that sailors want their sport to continue to the next generation.".
Lagoon "Rumbrella" Race!
Especially this year with the unusually light wind, there was more rum than race, but a good time was had by all as competing teams took their progress seriously. The rules were simple. Race anything that floats – dinghy, paddle board, pool floaty. Use Lagoon Catamarans umbrellas as your sail. Drink as much Hooligan Juice Rum Punch as you like. Go! This Rumbrella race is one of the highlights of the event!
Click an image to enlarge.