Over the last several years we have represented a number of buyers who have purchased large catamarans for personal use and who have placed their yachts into different charter programs.
It seems the current trend in catamaran ownership is to go bigger! Most of our owners of catamarans over 50ft, place these large catamarans into one of several crewed charter programs. The basic idea is that the boat is operated as a business, which enables the owner to reduce the cost of ownership through the use of available tax advantages and income from charter to pay for the boat.
We have sold large catamarans of different brands, of which the more popular ones are Bali 5.4, Catana 70, Lagoon 52, Lagoon 620, Lagoon 77, Lagoon 78, Fountaine Pajot Saba 50, FP 59, FP Alegria 67, Sunreef 50, Sunreef 60, Sunreef Supreme 68, Sunreef 70, Sunreef 80, Sunreef 80 Power, Tan 66, Xquisite X5 Sail, and Voyage 500. All our owners in these programs have successfully created small businesses and achieved their ultimate goals.
Examples Of Crewed Charter Programs
By-the-Cabin Charter Yacht Program
Charter companies like Dream Yacht and The Moorings offer by-the-cabin charters on their bigger catamarans that allow charter guests to enjoy an all-inclusive luxury crewed charter for the price of a stateroom. The boat can also be reserved as a private charter for one party by booking all the cabins. It is very affordable and very popular with charterers.
The boat owner places the boat into service with a crew, with one of these companies. The charter company is responsible for bookings and management and the owners get to use the boat for up to eight weeks a year, fully crewed and catered. These programs normally run for 72 months and the owner is paid 8.5% guaranteed income per annum by the charter company and has no out of pocket expenses to operate the boat except to pay the mortgage. We have several owners in this program, operating very successfully in the Caribbean.
Fully Crewed Luxury Charter Yacht – Owner Operator
In this case, the owners live aboard, are personally the crew, and operate their catamaran as a business. Owners make their "home" their business and enjoy the idyllic sailing lifestyle. There are two options available to the owner operator. The first is being associated with a charter company that has the benefit of a robust booking system and good support through the charter company's base and infrastructure. The second option is to operate independently and rely on independent charter booking agents to bring business.
Both options have their advantages and disadvantages and it is something the owner calculates and decides which would be best for them. We have helped several couples put this together. Hank & Michaele of catamaran "Feel the Magic" and Kristiann & Graham of catamaran "Allende" are two such couples. According to Hank and Michaele, "…this experience has far exceeded anything we could ever have imagined." Both these couples live-aboard on their beautiful catamarans. Chartering their boats allows them to enjoy a lifestyle rich in experience and they get to do what they love!
Fully Crewed Luxury Charter – Independent Operator
Lady Katlo, a Lagoon 620, falls into this category. As busy professionals, the owners, Kathy and Mackie's time to run a yacht charter is limited, so they hired a professional crew to operate the boat. It gives them peace of mind and they have the boat moved to the location of their choosing whenever they want to use it. "We like to fly to our yacht, get on board, relax, and enjoy the lifestyle immediately," explains Mackie. Best of all, not only do they get to enjoy the yacht, but the costs of owning Lady Katlo are significantly reduced through tax advantages and charter income. Check out this stunning 62-foot catamaran in the video.
Lady Katlo is currently in a crewed charter business in the BVI [update, Lady Katlo, sold to another charter business]. Stephen and I have some history with Lady Katlo. We were the brokers in 2013 when Kathy and Mackie bought the catamaran. They have become good friends and we have spent some relaxation time on Lady Katlo in the BVI. Having never been on a crewed boat, we were skeptical whether we would enjoy the experience since we are avid sailors ourselves. But at the end of the trip, the answer was a resounding, "YES!". We loved it and we highly recommend it! Read our review on the Lagoon 620 and tips for crewed charters.
Crewed Boat Business Program With Income and Tax Advantages
The combination of tax advantages and operating income provide opportunities to not only offset the costs of ownership, but also to create positive net worth through yacht ownership. To learn more about tax advantages and special financing for crewed yacht charters, call us at 804-815-5054 or email us for a consultation.
Crewed Yacht Business Models
Crewed yachts have a full-time live-aboard crew (Captain and 1st Mate/Cook). The owners can be the crew and run their own boats or can appoint a professional crew
Crewed boats are flexible as far as location is concerned and can migrate seasonally from Caribbean to New England in the U.S. or to the Mediterranean and back.
As discussed before, bookings go through the clearing house and they maintain the booking schedule, handle all client needs and funds and liaise with owners and crew.
Hosts the boat in crewed charter boat shows and do special marketing and advertising
Catamarans Available In These Programs
Virtually any catamaran can operate in these programs but generally we recommend:
Catamarans larger than 42ft for owner operators which generally will be a little more informal
Catamarans 50ft and up for luxury crewed charter with a professional crew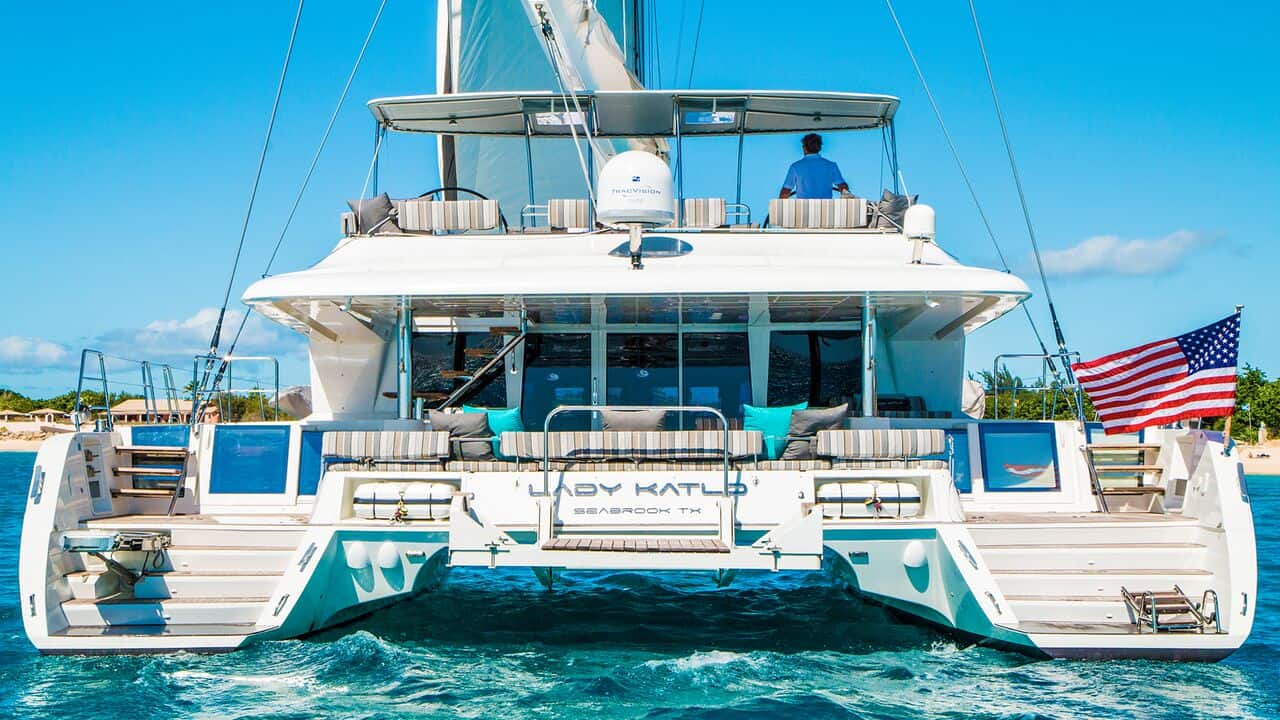 Large Catamarans Suitable For Crewed Charter
A wide variety of large catamarans are available for charter programs. This means you can find your dream boat and a charter program can help you make your dream more affordable.
We help you with the financing, purchasing, and setting up of the business entity with the management company / booking agents. You get access to our resources that have helped thousands realize their boat-buying dreams.
Contact Us For A Personal Consultation
Our complimentary personal consultation is structured to provide expert advice on how to create your own crewed charter yacht business on a catamaran. At no cost to you, we provide you with current information like:
Production catamarans like Bali, Lagoon, Fountaine Pajot, or Sunreef that are available immediately
How we can help navigate a customized project working with a designer, architect, and shipyard for new build project
How we assist you in choosing everything from your ultimate dream sailing vessel to components such as layouts, models, equipment choices and charter ownership advice
The best ways to structure a crewed charter yacht business and a business plan, including tax advantages
Your choice of yacht charter management companies
Special crewed charter yacht finance options.