Dimensions and Specifications
Length Overall 66′ / 20.12m
Waterline Length 66′ / 20.12m
Beam Overall 30.9′ / 9.4m
Draft Board Down 11.8′ / 3.6m
Draft Board Up 4.3′ / 1.3m
Wetdeck Clearance 3.6′ / 1.1m
Est. Displacement 19t
Engines 2 x 75 hp
Fuel Capacity 264 US Gal / 1000 L
Fresh Water Capacity 211 US Gal / 800 L
Mast Height 86.2′ / 26.25 m
When founder Xavier Bouin teamed up with naval architect Marc Van Peteghem, they envisioned an elegantly designed, luxuriously crafted yacht with amazing performance and easy maneuverability … and the Tan 66 was born. Built at the Marsaudon Composite shipyard based in France, this innovative catamaran is constructed entirely of carbon fiber, giving it exhilarating speed and superior strength. More than just a high-performing vessel, the Tan 66 sets a new benchmark for style and design.
Sailing Performance
Elegantly and luxuriously crafted, the Tan 66 was designed for speed. Its amazing performance and easy maneuverability are the result of innovative design and its lightweight, nearly indestructible carbon fiber construction. What's speed without strength, after all?
The helm stations, main mast and front sails work in concert to achieve top speeds effortlessly. The sleek, sumptuous saloon on the main deck offers limitless views of boundless horizons, the perfect accompaniment to fine dining and relaxing. Available in 3- to 5-cabin configurations (4 with en suite bathrooms), each cabin provides a private retreat for owners and guests alike. Interior finishes and equipment are custom-designed to meet the buyer's exact requirements. Tan 66 Performance Data
Infrastructure: Comfort Coupled With Performance
With the Tan 66, founder Xavier Bouin and renowned naval architect Marc Van Peteghem realized their dream of creating a high-performance, easy-to-sail cruising catamaran with all the comforts of home. Entirely composed of cutting-edge carbon fiber with a Lorima carbon mast, the new Tan 66 is being built at the Marsaudon Composite shipyard based in France.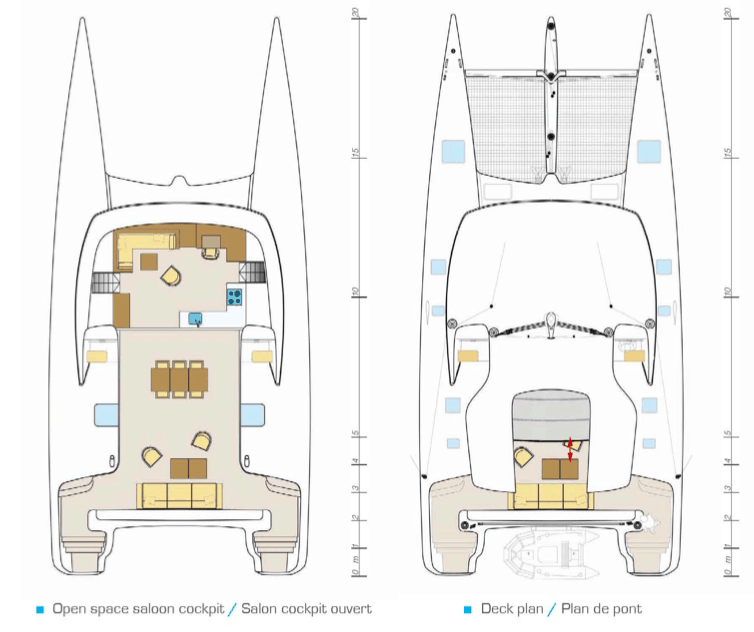 Production: Carbon Fiber Construction
Carbon fiber, a unique and extraordinarily lightweight material, is five times as strong as steel. Craftsmen at the Marsaudon Composite yard leverage their unique expertise and skilled workmanship to transform the carbon composite into one of the world's fastest and most luxurious cruising yachts.
The Marsaudon yard, based in Lorient, France, is located next door to Lorima (the mast maker). Marsaudon's huge 27-meter (89-foot) oven offers a tremendous production advantage. The Tan 66—the entire boat—will fit inside the oven, which is crucial when building a composite luxury yacht.
Innovation: Race Mold Hull
Bouin and Van Peteghem's passion for racing yachts led them to make the Tan 66's hull from race molds similar to those of the Paradox—a racing yacht that has earned numerous awards. Thus, the Tan features excellent bones designed for slicing through the water. And with more space down below, the Tan 66 offers even greater luxury and comfort. Though it was created with speed in mind, its innovative design permits easy handling and is "capable of being helmed short-handed."
Equipment: First-Class Fittings And Equipment
Nothing has been left to chance. Tan chose North Sails, the world-renowned sailmaker, for its unique, patented 3Di sailmaking technology. Lorima, the French company that fabricates the mast, specializes in carbon masts. Lighter than a conventional aluminum mast (approximately 30% to 50% lighter), the Lorima carbon mast is highly resistant to stress. Lorima masts are typically found on high-performance cruising and racing yachts. Interior finishes, furnishings and equipment are selected by the buyer. Each Tan 66 is custom-tailored to the buyer's unique requirements.
Tan 66 Catamaran Pictures