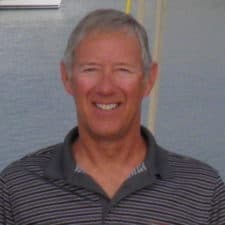 Martin Cooper / Yacht Broker​
Martin has been boating for 50+ years starting in a 9 ft sailing dink then Enterprise yachts followed by a Pearson 424, Lagoon 410, and now a Lagoon 450F. Born in England, Martin's passion for flying turned into a career with British Airways. He moved to the US in 1987 as a pilot.
Experience includes flying a Global Express (high-end corporate jet) worldwide with all the expected excitement having flown celebrities and even ex-presidents as he travelled the world.
Email: martin@catamaranguru.com | PH: 1-561-310-7489
Sailing Career Highlights
Sailed on the NZL14 Americas Cup boat for 2 days
Sailed the Atlantic
Sailed the Mediterranean and Caribbean in a Prout Quasar Espace 50
Spent 25 years sailing the Bahamas
Certifications
USCG 100T Masters License with aux sail
HAM radio Extra license
US and EU Airline transport pilot license
Drone UAS license.
Working with Martin
Martin is a catamaran owner himself. He is very experienced with operations and maintenance of all types of boats, particularly catamarans. In fact, when asked, he lists his hobbies as sailing and maintaining his boat as well as helping others with technical issues on their boats. Says Martin, "I especially like to develop user practical solutions to common issues."
He believes fervently that the yacht buyer is the only one who can decide what is the correct boat, system, or feature that is right for them. Martin insists, "We are all different and have different needs, likes and dislikes. A good broker provides guidance, knowledge, and suggestions, but always allows the client to filter and decide their own preferences."
On a Personal Note
My wife, Lynn, was an ER nurse for 28 years and now does multi-level marketing. Son, Zach, graduated from University of Florida with a Masters in Nuclear Engineering and works with NextEra, an electrical services company.
Our favorite sailing destination is the Bahamas where we met Stephen and Estelle in 2017. I arranged the racing handcapping for their 2018 Catamaran Guru Rendezvous.