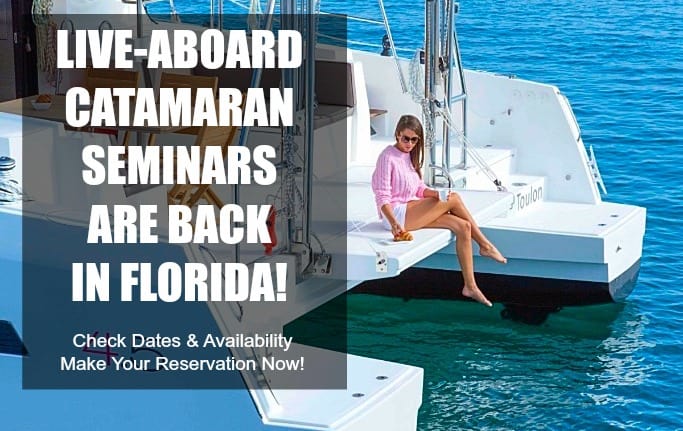 Buying a catamaran is a big decision. Whether you choose to live aboard, place your boat in charter management, or operate your boat up as a business, knowing your options can prevent you from making rash decisions when the image of the "dream" boat sometimes overwhelms good reason.
Be The Most Educated Catamaran Buyer!
That's why we present you with this opportunity to get an in-depth look at the pros and cons of catamarans and boat ownership options. During your 2-day, 2-night live-aboard seminar, you will not only enjoy the lifestyle, but also, learn one-on-one everything you need to know about catamarans, as well as the entire buying process.
This will help you make an informed decision, avoid costly mistakes, plan your exit strategy, and get the most enjoyment from owning your yacht. We take the drama out of ownership and help make you an educated and infromed consumer!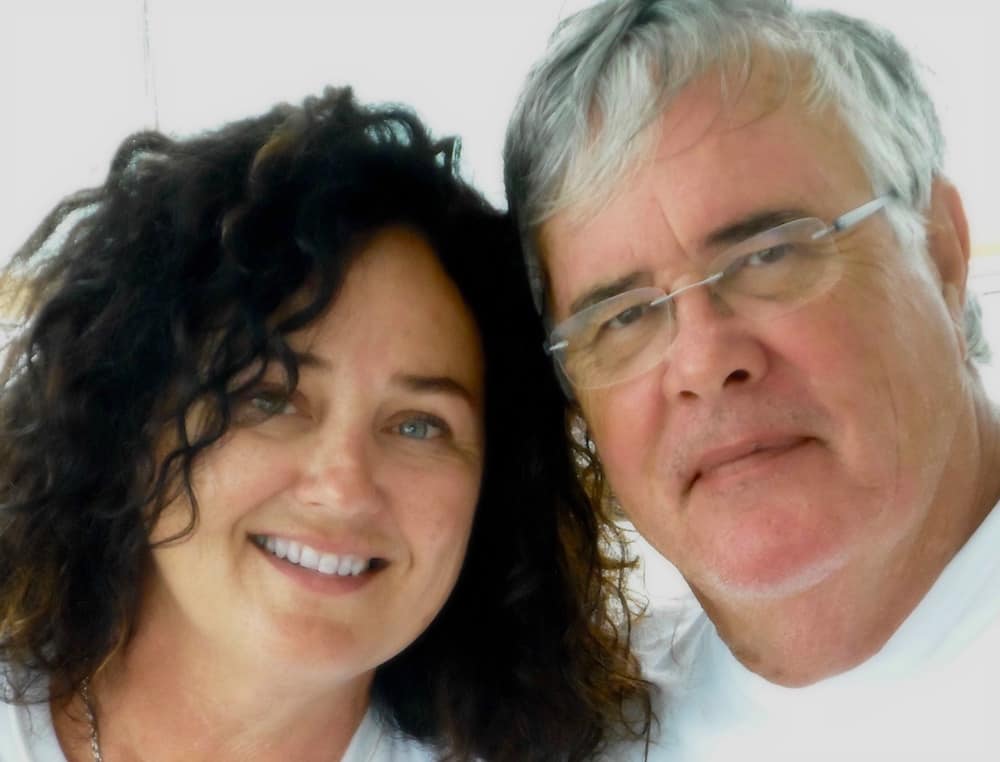 Why take the word of yacht sales people? You know your life and goals best. You should take control of your own boat-buying process and become an informed and educated yacht buyer! This course is designed to help you navigate this often complicated and convoluted process to help you make an intelligent choice!
Your Guides to Yacht Ownership
The seminar gives you access to us, Stephen & Estelle from Catamaran Guru, as well as other experts in the yacht ownership industry. We are ASA-certified instructor examiners and the recipient of the prestigious "Outstanding Instructor" award for the ASA. We have recently added the International Certificate of Competency (ICC) from the Royal Yachting Association (RYA) to our résumé.
Hundreds of clients have relied on our guidance and experience during key transactions such as boat surveys to purchase their yachts. Beyond sailing instructors and boat buyer representatives, we are sailors and yacht owners ourselves:
Live-aboard for the best part of 25+ years
Sailed over 60,000 NM
Navigated many ocean crossings
Built our own boats
Owned and operated our own charter company
Consulted in designing and building catamarans with world-renowned builders.
During our years in the industry as professionals and cruisers, we have built strong yacht industry relationships to help you get the best deal and to eliminate surprises, from building, cruising, racing, to selling, refitting and chartering catamarans.
Live-Aboard Catamaran Ownership Seminars
During our 2-day, 2-night seminars, you will get in-depth discussions and hands-on experience on a variety of topics that give you insight about what it is really like to own a catamaran and to live-aboard or do extended cruising.
BONUS CLASSES: As an added bonus you will also learn liveaboard and cruising essentials from industry experts like Maz Ocean and others about internet setup, security systems, and solar panels on boats, and even diesel engine classes. Check below to see which seminars will have specific bonus classes.
In-Depth Look At The Following Subjects
Quick Look At The Schedule & Costs
The following catamaran live-aboard seminar dates are available, but booking up fast:
July 28-29, 2018

Fully Booked!

September 1-2, 2018

BONUS CLASS: Internet Setup on Your Boat

September 29-30, 2018

Fully Booked!

October 31-Nov 4, 2018

BONUS EVENT: Mini-Boat Show / Fort Lauderdale International Boat Show
Note this event will cost more based on number of days aboard. Please inquire in person or via email for more details
BONUS CLASS: Lithium Ion Batteries
Cost: $1400/Couple
The seminars are offered at an all-inclusive price of $1,400/couple (based on double occupancy). The seminar includes not only educational opportunities but also onboard accommodations, meals, and a Catamaran Guru swag bag. During your full, action-packed weekend, you will gain the knowledge to buy the right catamaran to suit you and your family.
Live-aboard seminars include:
2 nights accommodation in your own private en-suite cabin onboard a new catamaran (Lagoon 450, Saona 47, Lagoon 42, or similar)
2 breakfasts, 2 lunches, and 1 dinner
2 days of insight-filled discussion with accompanying seminar materials including extra bonus classes
Catamaran Guru hats and shirts
Access to community events including our annual Catamaran Guru Rendezvous in Bahamas in May
Seminar Venue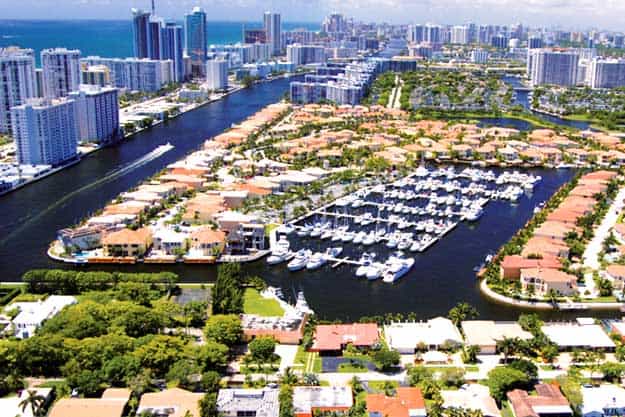 The live-aboard yacht ownership seminars will be held out of the Suntex Marina Hollywood just a few minutes from Fort Lauderdale. Fort Lauderdale is famous for its beaches, arts, culture, and events. From shopping and dining on Las Olas Boulevard to gondola rides on the canals to a historic riverfront and famous white beaches, it is a fun city to visit. Plus, the area is a great place to see and sail boats from little dinghies all the way up to multi-million dollar yachts of the rich and famous.
Cancellation Policy
To receive a refund when cancelling, we must receive written notification of cancellation more than 30 days prior to the seminar start date and we must be able to re-book your cabin. If these criteria are met, you will receive a refund of your seminar fee minus a $250 cancellation fee per cabin booked.
Alternatively, you may elect to carry the credit over to the next available seminar.
How to Register
Reserve your cabin with an initial deposit of US $500. Note reservations are accepted on a first-paid, first-reserved basis.
Final payment is due ONE WEEK prior to boarding.
What Our Clients Say About Our Seminars…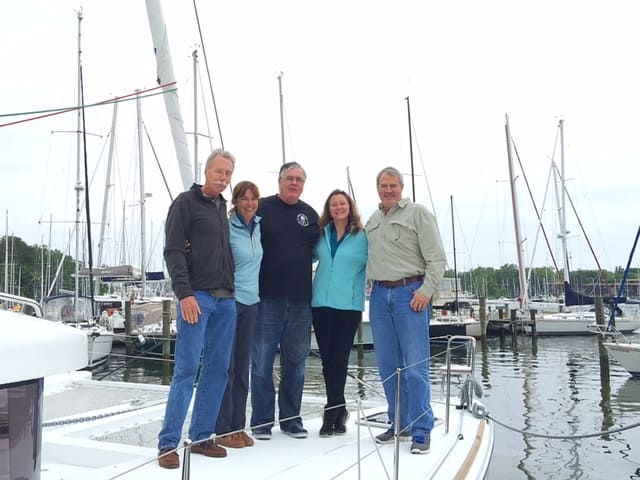 Bruce & Holly from Connecticut: "Thank you, Estelle and Stephen, for an outstanding weekend of education, delicious food and great company. Although we arrived skeptical but open minded about the program, the clear and realistic explanation about the pros and cons of performance charter yacht ownership persuades us of the feasibility of doing it. The quality of the construction and finish to your boat Zuri convinced us of the value in a Lagoon 450s even though you both went to great lengths to present an unbiased review of the currently new and used catamarans in the marketplace. The easy conversations with you both and our weekend shipmates, made the evenings fly by even as most (but not all) of us agreed that the future is "going to be great". Thank you again for the extensive resources you included with the weekend. Bruce & Holly

Jack & Reenie from Florida: We just want to write a quick note to thank you for a fantastic weekend at your Catamaran Ownership Seminar. Your warm, friendly atmosphere on board allowed us to relax with the other couple and thoroughly enjoy ourselves. The wine and meals were delicious and the preparation together was fun. Most importantly, we now have the support we need to move forward with our plans. Stephen was very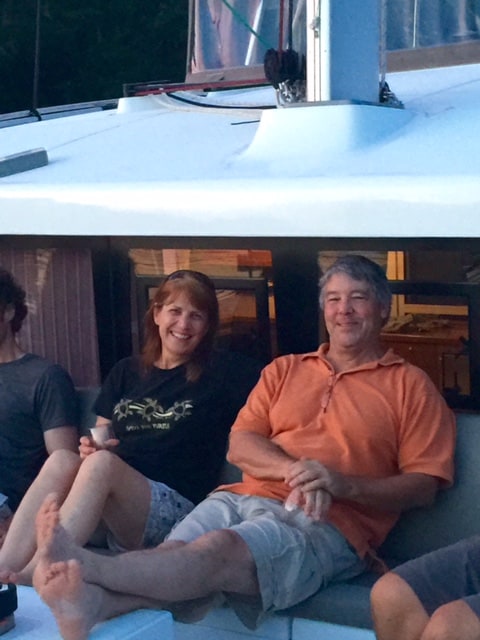 honest and helpful regarding his suggestions for our boat options and we look forward to working with him soon. The material presented was comprehensive and the books we took home with usoffer a wealth of information. We left feeling we had made new friends and look forward to seeing them again. It's going to be great! Thanks, Jack and Reenie
Glenn & Kat from North Carolina: As a couple who have become interested in sailing later in life, we cannot recommend Stephen and Estelle Cockcroft's Catamaran Ownership Seminar more highly. If you have not been around large catamaran sailboats all your life, the business of yacht purchase and ownership is a virtual black box made even more so by the few numbers of units bought and sold in a given year.
Stephen and Estelle graciously host workshop attendees on their beautiful Lagoon 450 and proceed to illuminate all aspects of the "business" while tailoring their lessons to the individual desires of the attendees. They cover the full gamut of topics including boat selection, ownership options, provisioning, financing and purchase while demonstrating the systems and capabilities on their own yacht and serving up non-stop gourmet meals and a healthy dose of the cruising lifestyle.
The materials they provide during the course are quantitative, comprehensive and followed up with any requested information like the recent asking and selling prices of desired catamaran models. Estelle and Stephen are the consummate professionals, great story tellers, fantastic hosts, accomplished sailors and sincere about helping others obtain the catamaran of their dreams. Try them you'll like it.
Adam and Lee, Santa Monica CA: "We are looking to buy a bluewater catamaran and really needed to get a hands on sense of managing and living aboard a cruising cat. While researching charters, we came across Catamaranguru.com and spoke with Stephen and Estelle. It was quickly apparent that their depth of knowledge and experience owning, cruising, and living aboard would offer better education and exposure than any standard charter could. We took their weekend catamaran intensive and felt it was an extremely valuable (and fun) experience that helped refine our plan and also established a long term relationship with open, friendly, trusted advisors."