UPDATE: Check out our Top Five Cruising Catamaran Picks for 2016
Our five top catamaran picks are not necessarily new models for 2014, but rather catamarans or multihulls that we like and that our readers like for various reasons. We are more and more into performance catamarans as these cats are becoming easier to sail, offer better accommodations than previous models and are becoming more affordable. So its not surprising that three of the picks are performance type catamarans. We believe that speed equals safety and, with these catamarans becoming easier to handle and looking less utilitarian, we will be looking out for more new and improved performance catamarans to come on the scene in the future. However, we recognise that many cruisers, specifically those new to catamarans, still prefer a more traditional cruising cat with bigger interior volume, not to mention that they are a lot more affordable than the performance cats. Ask us about YOUR favorite catamaran pick!

Catana 59: Best Design Update Of A Performance Catamaran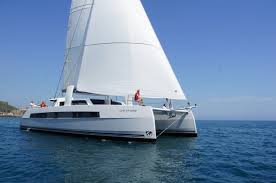 Catana, the French yacht builder, has always been known as the ultimate performance catamaran manufacturer and has, since their inception in 1984, been at the forefront of innovation. They have some stiff competition nowadays but with this new updated Catana 59 design, they are again setting standards. Styling and décor is modern but comfortable, unlike their earlier designs that were more functional than good looking. The open design of the Catana 59 interior-exterior space is unique. The huge salon sliding doors open up the living areas so that the salon and cockpit flows to become one big open entertainment / living space on one level. The unique extendable and modular furniture allow for an easy convertible choice of layout so that the space can reflect the personal taste of the owner.
The boat has good buoyancy forward with reverse bows and good bridge deck clearance. The curved daggerboards look like foils, not designed to foil but rather lift the boat slightly when it reaches higher speeds, thus making it feel lighter and faster. The boat has a shorter mainsail to make handling easier with bigger front sails for more power. We still reserve opinion on this sail plan but by all accounts, the cat performs well enough. They still have the steering on the aft hulls which most performance sailors like but is not necessarily a "cruiser" preference. It's the only recreational catamaran that uses carbon fiber and other high–tech materials in the construction process but going high-tech is expensive. The Catana 59 starts around $2.3 million but it's a really great looking catamaran and a thrill to sail although you will need at least two very competent crew to sail this catamaran.
Catana 59 Virtual Tour & Specifications
TECHNICAL SPECIFICATIONS
Builder: Catana, France / Length: 17.90m / Beam: 9.49 m / Draft: 1.56/3.75m / Weight: 18.9t / Mainsail area: 121 m2 / Genoa area: 82 m2 / Engines: 2 x 110hp
Saba 50: Best New Luxury Cruising Catamaran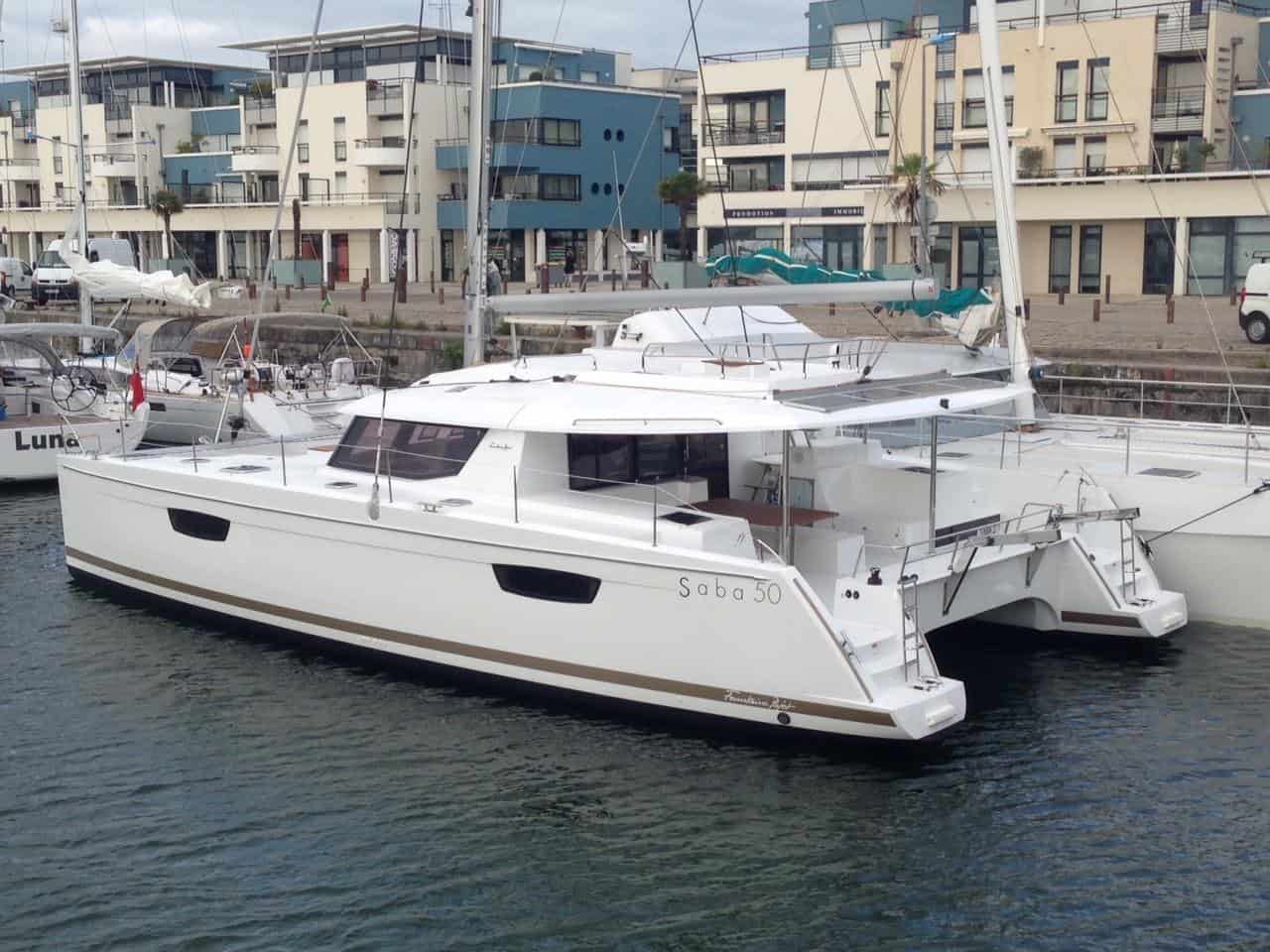 The new Saba 50 from Fountaine Pajot (French) was certainly the star of the boat show circuit this year. This catamaran displays really well. It is a huge, elegant luxury cruiser, yet very user friendly. It's extremely spacious inside; the well appointed and laid out interior has a one level living area from the salon to the cockpit, great for safety. With lots of headroom and panoramic views, it's very comfortable.
On board we find several well-separated living areas. The aft cockpit offers an area sheltered by the immense hard-top bimini with a 12-seater table and bench seat aft. Up forward, the Saba offers a genuine lounge-sunbathing area and a huge "sky lounge" situated on top of the bimini with 360 degree views. These "entertainment" areas are absolutely spectacular.
The helm station design is unique, with a 3-seater bench and a separate area for handling sheets and halyards, in our opinion, one of the best setups in a catamaran. This boat has deceptively good performance for a fixed keel cruiser. She weighs in at less than 16 tonnes, so is relatively light with a good sail plan. The square-topped mainsail is easy to handle, thanks to an integrated hook system. She could do better in light wind but overall the performance is good under sail and motor. The boat has good buoyancy forward, preventing the boat from burying its bows and ample bridge deck clearance. It is easy and simple to sail for a couple, further making it a very desirable cruising catamaran. Best of all is how well priced this catamaran is at about $1,100,000. It is a lot of boat for the price.
Saba 50 Video and Specifications also read our Comparisons of the most popular catamarans in the 50ft range.
TECHNICAL SPECIFICATIONS
Builder: Fountaine Pajot, France / Length: 14.98m / Beam: 7.99m / Draft: 1.25m / Weight: 15.7t / Mainsail area: 83.5m2 / Genoa area: 57.5m2 / Water: 700 l / Diesel: 940 l / Engines: 2 x 55hp
Outremer 51: Most Improved Performance Catamaran Design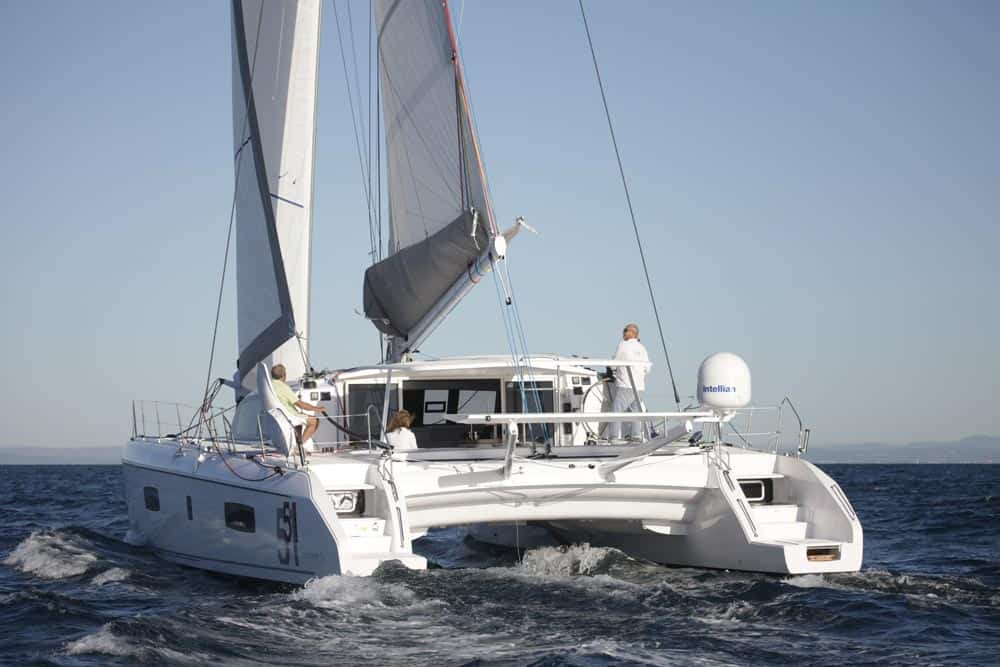 The Outremer 51 (French) is a genuine performance cruiser and is considered the standard for owners looking for speed. The new Outremer 51 is a bigger, stretched version of the 49, allowing for more space, payload and speed. The Outremer 51 has quite a few improvements over the 49. Interior volume on the bridgedeck is notably bigger with the galley given a nice make-over. Previously the galley looked more like an after thought and was quite cramped. The interior now looks much more like a luxury cruising catamaran than its predecessor. As with all the boats traditionally in the performance category, the hulls are a bit tight, but it is well appointed and has nice bathrooms/heads.
The bimini has been enlarged to cover the cockpit, which is generous and an upgrade from the 49. The bulkhead helm works very well, giving all-round visibility with all control lines run back to this location. As with it's predecessors, the Outremer 51 performs exceptionally well, is fairly light and equipped with daggerboards for better windward ability. The very shallow draft is great for getting close to the beach. Generally Outremer has done a really good job of increasing the lenght, increasing the interior volume and improving the interior design without compromising performance. For a performance boat of this size, it is well priced at around $1,000,000. Because of its speed, to sail this catamaran, you will have to be an experienced sailor.
Outremer 51 Specifications & Virtual Tour
TECHNICAL SPECIFICATIONS
Builder: Outremer Yachting, France / Length: 15.27m / Beam: 7.45 m / Draft: 0.95/2.35m / Weight: 10t /  Mainsail area: 85 m2 / Jib area: 40m2 / Engines: 2 x 40hp
PDQ Antares 441: Best All-Round Cruising Catamaran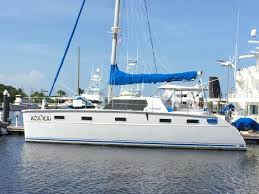 The PDQ Antares 44i is a blue-water cruising boat, designed for live-aboard couples that want to circumnavigate. Even though not my personal favorite because of the galley-down design, we cannot ignore the great following this catamaran commands. It is well designed and has unique and practical features important to live-aboards.
The designer, Ted Clements, considers this size catamaran the ideal size for a couple to handle. It has a well protected helm and is set up for short-handed sailing with all the lines run back to the helm, making a static control area. Because they have managed to keep the weight down with high-tech construction and design, they are able to equip the boat with a smaller rig for more manageable sail handling. Even so, with lighter weight, good bridgedeck clearance and narrower hulls, it performs reasonably well.
It is a very well appointed and comfortable cruiser for couples. With the galley down in the hull, it frees up a lot of the space on the bridgedeck, which makes the salon and living area very comfortable and spacious with lots of storage. While cruising catamarans are getting bigger, this is a good option for a couple who are looking for a safe, well built boat with reasonable blue water performance. At around $850,000 it is more expensive compared to other catamarans in this size range but their followers believe it to be well worth the price.
PDQ Antares 441 also see our discussion on galley design and How Similar Sailing Catamaran Models Compare in the 45ft range.
TECHNICAL SPECIFICATIONS
Builder: Antares Yachts, Argentina / Length: 13.60m / 
Beam: 6.60m / Draft: 1.20m / Displacement: 10.2 t / Mainsail area: 56m2 / Genoa area: 44m2 / Engines: 2 x 40hp
Neel 45 Trimaran: Most Exciting Cruising Multihull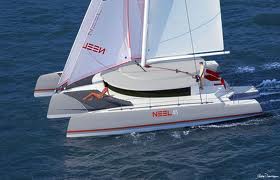 The Neel 45 is a unique design, unlike any other trimaran and is an exciting and fun cruising boat. It immediately caught my attention when I first saw it at the boat show. It is the only trimaran that can rival the catamarans in terms of accommodations; there are three cabins on the main deck and the two lateral cabins are quite simply amazing with huge windows. The two outer hulls have bunks or it can be used for storage. The living area/ salon/galley is not huge but is airy and open and totally adequate, especially since it has huge storage (a 6ft basement) below the floor in the salon with the generator, watermaker and storage nicely tucked away.
As one can imagine, the Neel 45 performs like a dream even at the whisper of a breeze because it is so light. With some good wind, this trimaran literally flies. It sails upright with minimal healing, while the windward float rises slightly to steady the vessel. It has great windward ability without the need for dagger boards. it's a very simple boat to sail with a self-tacking jib and all lines lead back to the helm. Good for a couple who likes cruising and performance. The trimaran is expensive at around $600,000 but I found people to be very enthusiastic about the boat so I suspect that there will be a number of them on the water soon, particularly now that you can charter them with Dream Yacht Charters in the Chesapeake and Bahamas.
Read our reviews on the Neel 45 Trimaran
TECHNICAL SPECIFICATIONS
Builder: Neel Trimarans, France / Length: 13.50m / Beam: 8.50m Draft: 1.20m / Weight: 6.5t / Mainsail area: 60m2 / Self-tacking jib area: 20m2 / Genoa area: 46m2 / Engines: 55hp
Special Mentions
Lagoon 620: The Lagoon 62 deserves a special mention because it is quite simply a stunning mega yacht and an exceptional crewed yacht. This catamaran does not only look good, has wonderful accommodations and is luxury personified but also sails extremely well. We had the pleasure of sailing Lady Katlo, a crewed Lagoon 62 in the BVI and we, along with the other guests on board, were very impressed with every aspect of the yacht, including the liveability, comfort and sailing ability of the catamaran. Check out our crewed charter program and tax advantages and find out how you can benefit as an owner of one of these mega yachts.
Discovery 50 MK 11: Discovery Yachts (English) build only a handful of these highly custom catamarans per year. Even though it lacks the volume and the flybridge of the more modern cats, it is spacious enough and we really like the clever use of space and some of the interior design characteristics, especially the forward master cabin. It is a really strikingly beautiful catamaran but pricey at around $1,500,000.
Lagoon 450: This model is currently one of Lagoon's most popular designs. It is a very attractive yacht with a fly-bridge and luxury accommodations. It is comfortable, sails well enough and certainly should be on the short list for cruisers. At around $750,000 it is a good buy.
Gemini Legacy 35: This catamaran at around $250,000, is immensely popular with coastal cruisers on a tight budget but it really is better known for its use in charter fleets. For a yacht of its size, the space and liveability is great. The price makes it a very affrodable catamaran.
*The prices quoted in this article are estimates only, as prices can greatly differ from region to region.