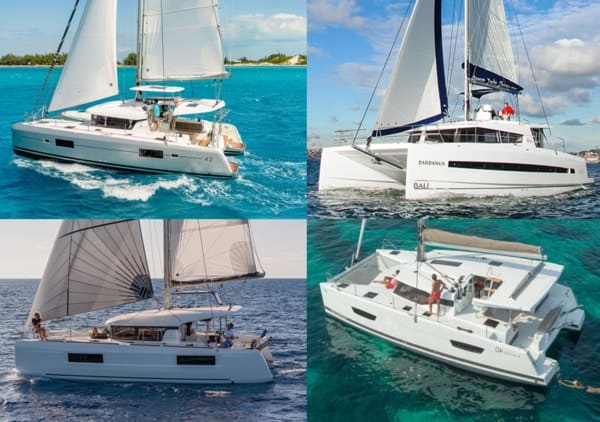 So many boat buyers have in the last few months come to us looking for a deal. Smart right? Of course! Nobody wants to pay more than they should. Trouble is, we have NO bargain boats for sale! Why? We have NO inventory! How can that possibly be?
According to NMMA, first-time boat buyers are increasing as Americans are recognizing that boating is one of the safest ways to enjoy time with their loved ones and improve their quality of life and mental health during the COVID-19 pandemic. Money not being spent on vacations and overseas travel is now being spent on a recreational vessel to be enjoyed by their families and friends, be it a small powerboat or an ocean-going sailing yacht.
This time of year is typically a quieter cycle for yacht sales. But that has not been the case this year at all. We have had more inquiries for both new and used boats in the last four months since the COVID-19 pandemic hit, than we have had in a long time. Yacht brokerage houses and FSBO owners are inundated with inquiries. It is a total buying frenzy! Not only have we had a lot of inquiries, but we have actually sold a record number of catamarans. Any good listing that comes on the market, almost immediately gets snapped up. Currently we are getting an offer on a listing with several more backup offers. With demand like that and frenzied buying, used catamarans in particular, hold their value very well. In some cases, for the more popular owner version models like Lagoon 42 and Lagoon 450 Sportop, the seller can fetch full asking price almost without fail.

---
New Catamarans are also in super high demand. New production catamarans like Leopard, Lagoon etc. are sold out through 2021 and some into 2022! Prospective buyers have contacted us expecting to find some deals, since many owners were expected to default on closing during these difficult times but that has not happened. In fact, buyers waiting for their boats to be delivered from the factories are more anxious than ever to get their boats delivered asap.

So, if you are in the market for a catamaran, don't expect to find a "cheap" boat. There are very few if any "deals" available on the market right now. This will inevitably change, but for right now yacht sales are robust! Having said that, you can definitely get a boat at fair market value. However, don't fall into a trap and overpay for your desired boat unless you have a time constraint, and even then, really think this through!
If it sounds too good to be true…!
Often buyers come to us to represent them in a "cheap", almost new hurricane repaired boat. These are dangerous waters to navigate unless you know what you are doing and understand what it entails to refurbish a boat. Our first instinct is: "Walk away"! If the deal is too good to be true, it usually is. The "unseen" damage can be catastrophic. If a boat has been submerged, even partially, it is likely that water migrated throughout the hull. The repair will not show that, and you will have not only mold issues but electrical issues and more.

However, there are exceptions. One of our clients put an offer in on a boat that was presented as "in perfect condition". During survey we discovered that it had hurricane damage and was badly repaired. Neither the seller nor the broker disclosed that. We called in experts to give us an estimate for repairs, added 20%, for eventualities to the estimate and argued for a discount of that amount. It was accepted, the boat was properly repaired and the current owners have a fantastic boat. Other buyers might have walked away. But together with the surveyor and the repair facility's expertise, we determined that since the boat was never submerged, and had no structural damage, the boat could be repaired satisfactorily and with the appropriate discount, it was a great deal. The owners are extremely happy and the boat is in great shape. • Tip: Sellers are not obligated to disclose problems. Other than a known defect, there is no obligation for the seller to volunteer information the buyer does not ask for. The buyer or representative must ask the seller or their representative if there has been any major damage repaired from collisions or sinking and make sure that it is noted. • Tip: Don't be scared off by a vessel that was previously rejected after survey. A rejection of vessel by a buyer after survey could be for a variety of reasons from totally ridiculous to extremely serious. Because the boat has a "defect" not acceptable to the previous buyer doesn't necessarily mean that it should be a deal breaker for all buyers. It may have been rejected because
• The buyer might just simply not like the boat anymore, even after spending the time and money for the survey. • Buyers are sometimes unrealistic and try to negotiate the price down by huge sums after survey for nebulous issues. Many surveys will often have 30+ "defects" noted at survey. It is just standard for a surveyor to note every possible item that needs fixing or may need fixing in future. Unless they are big issues like delamination, osmosis or engine issues, most things can be fixed easily at a reasonable cost.
Improve Your Chances To Buy Your Desired Catamaran
To improve your chances with a seller, get your finance sorted out. Make sure that you will qualify for a yacht loan BEFORE you make an offer. If the buyer knows that there will be no contingencies for finance, you have a better chance of getting your offer accepted. In our experience around 15-20% of the deals fall apart because of financing. Make sure that you are pre-qualified for the boat loan (your broker can help you with that) and that you have at least 20% deposit. This post have some great tips to get an affordable yacht loan.
What banks are looking for as a "good risk" to be able to fund your loan is:
• a maximum 40% debt-to-income ratio…learn to calculate your debt-to-income ratio • a personal balance sheet that shows a net worth capable of covering the loan • liquidity of at least one year of mortgage payments (these can be in the form of a restricted qualified retirement fund such as an IRA, 401K, or SEP) • a credit score above 700 • a loan history for a similar amount • copies of last two years' tax returns
Boat loan calculator: https://www.essexcredit.com/home/calculator/ | https://www.boattrader.com/research/tools/loan-calculator/
Broker Representation
When you go into a transaction, make sure that you have a good team of experts on your side when you decide to make an offer on a boat. So many things can go unnoticed by a novice, not only with the boat itself but also with documentation. You need a good surveyor as well as a good broker that can negotiate on your behalf and will put you in touch with the right experts for repairs and improvements. This post gives you a good idea of what the process is and some handy tips for buying a boat.
If you are in the market for a used or new catamaran, contact us!