And How Well do They Sail?
We are often asked if production catamarans like Fountaine Pajot, Lagoon, and Leopard Catamarans can actually cross oceans and perform well. The answer is a resounding YES! The safety factor for production catamarans may have been an issue about 10 or 15 years ago when these vessels were still very new in production but that has completely changed with all the advances in modern technology.
ARC Rally Multihull Class Results 2014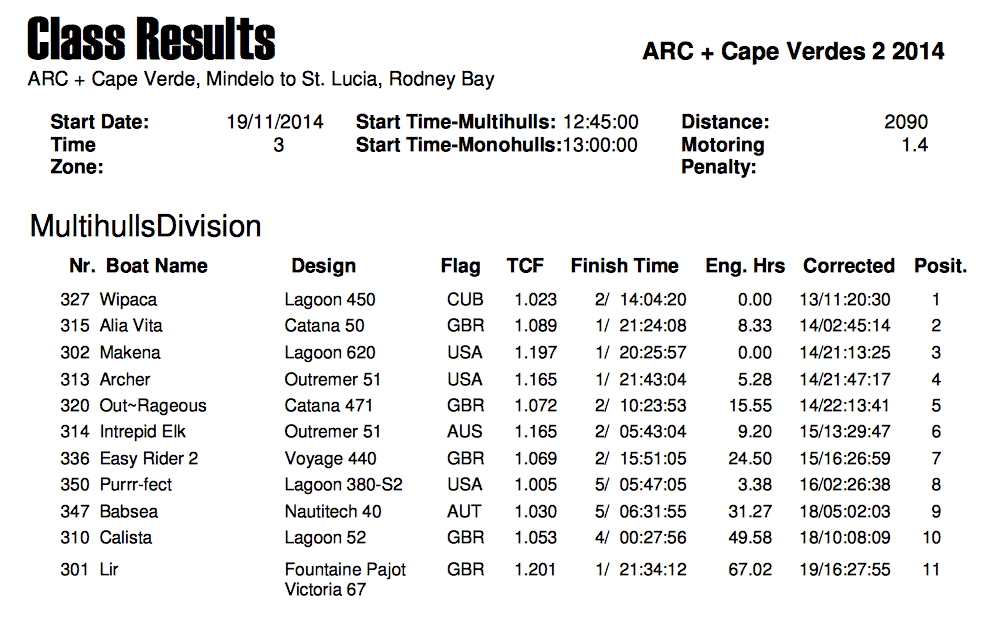 Because weight is a real issue for catamarans (think the heavy, slow, overbuilt old Prouts), production catamaran manufacturers have tried to build them as light as possible with traditional materials and building methods. Understanding the stresses and handling of catamarans in general were limited and builders made many mistakes in the process of shedding weight. This led to some real problems and rendered these catamarans unsafe in some cases. We have all heard the terrifying stories of furniture moving inside the catamaran while in bad sea conditions, stress cracks on the bridgedeck, chainplate issues and more. This was enough to put most sailors off the prospect of taking on blue water conditions in one of these "killing machines".
However, most production catamarans today are extremely well engineered and built. With proven modern technology and design, performance vs weight and design, is no longer a guessing game. We have come a long way in multihull design and manufacture. Modern catamarans have excellent sailing characteristics, including good windward ability. Better hull and keel designs, less weight and generally a better understanding of how to sail catamarans efficiently have made these vessels a pleasure to sail and. Multihulls are no longer merely an experiment. Catamarans in general are taking over the sailing scene as is evident in charter fleets and sailing race courses. Production catamarans sail better and are safer than they have ever been as the results of this rally bears out.
Some of our Top Five Catamarans for 2014 made this list. Congratulations to all!