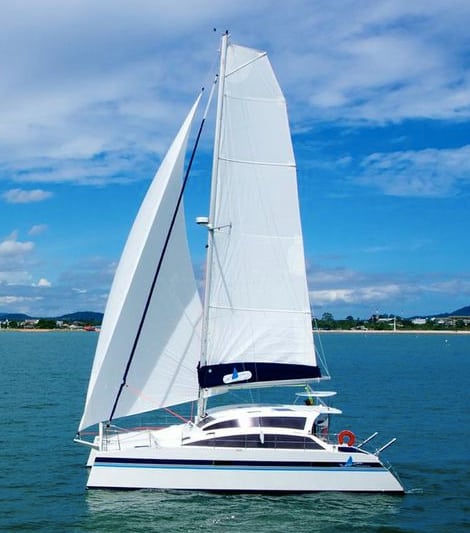 Just like a house, a catamaran needs some "sprucing up" before putting her on the market to get the best possible price. As we all know, first impressions are crucial and you should make every effort to make sure that the catamaran looks and smells clean, make sure that all electronics and engines are working well for seatrial and it should be easily accessible and all paperwork should be in order.
Don't do unnecessary "upgrades" before selling because not all upgrades will be a good return on investment. Find yourself a qualified and vetted broker and most importantly, price your boat realisticly if you are looking for a quick sale. Also go to our Boat Buying Guide & Tips for more tips like pre- survey checklist for yachts, sales and use tax, and reasons to list your boat with us.
Most Cost-Effective Fixes For Selling Your Catamaran
Repair exterior elements that are seen first. Varnish or clean bright work as needed. Paint the boat's bottom; black paint shows best. Keep it clean with a professional bottom cleaning service. In Florida, once a month is adequate. "First impressions are everything".
Tidy up dock lines, sheets, halyards and all deck gear whether a power cat or sailing catamaran.
Give the catamaran a thorough cleaning from stem to stern. Clean up the bilges. They should be dry, clean and odor-free. Make sure the heads are spotless with no mildew or mold. Check for leaks and consider repairing.
Remove or hide personal items that make it difficult for potential buyers to imagine theirs in your catamaran. "Kill the clutter." Clean out cluttered lockers and any inventory not intended to be sold with the boat. Repair any holes in the bulkheads left behind by pictures that were removed.
Check and repair inoperative equipment. There is no greater disappointment to a buyer or a seller than to find that a piece of onboard equipment is not in working order. If it is an expensive repair related to mechanical issues (rebuild engines or generator) then consider reducing price and fully disclosing the defect in advance. It's best to fully disclose all defects in advance and explain that the asking price has been lowered to cover remedy of the defects.
If dinghy is stored onboard the cat, position it so it drains properly and does not inhibit looking into lockers and seeing other areas buyers will want to inspect.
The likelihood of receiving favorable offers increases when your yacht is exposed to more of the marketplace. The following items are essential to quickly selling your catamaran for the best price.
Dock your catmaran as close as possible to your listing broker's office. This will net you more showings and, statistically, a better chance to find a buyer. 70% of the time, the typical buyer does NOT buy the catamaran he initially called the broker about. Many buyers are indecisive and are open to be influenced by an experienced broker they trust. If you have made the boat easy-to-show then brokers will show it more often. So, make sure it is near an active yacht marketplace (like Fort Lauderdale).
Put a combination lock on your boat instead of a keyed lock. Keys are a nightmare for brokers. When an outside broker is determining which cats to show, if he can avoid driving in heavy traffic to the listing brokers office to stand in a line to sign out a key (that has to be returned after a long day), he will always avoid the boat with the keyed lock. Boats that are easy-to-show get shown 4 times as much. So, make it easy!
Make sure your broker has the combination to the lock…of if you must, the keys…and easy access any time to show your catamaran. Many showings are "last-minute" affairs and it's not under his or her total control because of "prima donna" buyers.
Ask your broker for a report showing what comparable catamaran prices in the market and price it accordingly. If your cat is not priced competitively in the market it will sell last. Only work with a broker whose firm is a specialist in the type of yacht you have for sale.