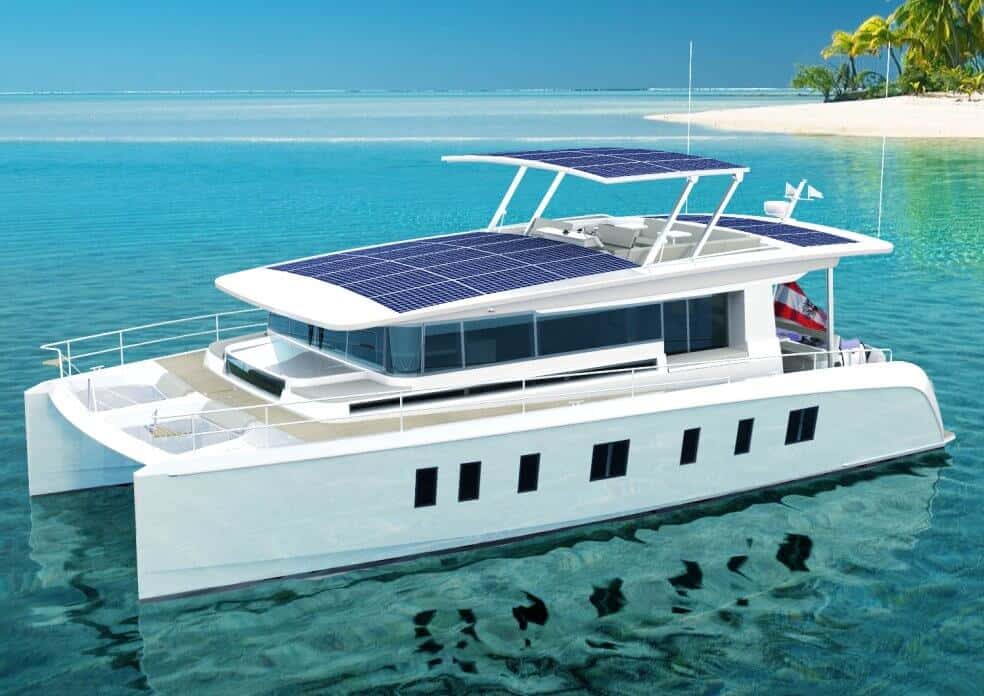 UPDATE:  These solar catamaran concept boats are now in production as Silent-Yachts. See our updated solar catamarans article.
Skeptics continue to question whether solar-powered sailing is really viable, but after a successful, award-winning concept turned catamaran in 2009, the answer is, "yes".
The Sunwave 54 solar catamaran is more than a concept but since the idea of a completely solar-powered auxiliary propulsion and battery power for living day-to-day aboard sailboat is still quite new, we include it in our concepts as food for thought for your next catamaran purchase.
Not convinced? Read more to see a video in which the Sunwave 54's electric propulsion takes on high waves and hard winds with a lowered flybridge to reduce wind drag and increase solar absorption. We've also got lots of interior and exterior pictures of this unique catamaran concept.
We think you will be surprised at just how powerful, functional, and practical this solar sailboat is.
Unique Features of Sunwave 54 Solar Sailboat
Silent and emission-free luxury.
Virtually unlimited sailing range as there is no need to refuel.
Backup battery power and Range-Extender that automatically starts up during extended bad weather conditions.
Batteries recharge while sailing. When the props are turned by the waterflow, the electric motors produce energy to charge the batteries.
Powerful lithium batteries are lightweight and powerful enough to energize the propulsion system and household appliances and systems
When insects or foul weather require windows be closed, the unique aeration system provides fresh air to the cabins, bathrooms and the saloon. The system may be used with the air-conditioning. In cooler weather, reverse mode can be used to invoke the heat-pump to provides a cozy interior.
Electric-motors emit significantly less heat that combustion engines and induction-cooktops do not have an open flame like gas-burners that puts off heat. So heat build-up on this catamaran is not an issue and the inside of the yacht stays cool.
Liveaboard more comfortably with comforts of home. With energy always available, like at home, all types of appliances and gadgets can run. You can watch TV, have a cold drink in the air-conditioning with a brightly interior for as long as needed.
Maintenance is not expensive like you might think and in fact is lower than on diesel-fueled catamarans. The range-extender requires much less attention than 2 large diesel engines, a generator, or sails in a conventional catamaran. The electric motors are completely free of maintenance. Solar panels have a guaranteed life-span of more than 25 years and by then should be inexpensive to replace them. Only a few cells of the lithium-batteries need to be replaced after 10 years.
Performance and efficiency are maximized because the boats are ultra low-weight, have a streamlined shape, and towing-tank optimized underwater-lines. All these features enable the Sunwave 54 to have less wave drag and friction than other sailing or motor yachts. When powered only by electric motors, has a cruising-speed of 6-8 knots and reaches a maximum speed of more than 10 knots. With diesel-engines, has a cruising-speed of 15-20 knots and a maximum speed of more than 25 knots – depending on the chosen engine-configuration.
Price for this high technology yacht is surprisingly affordable and is within the same price-range as conventionally powered and constructed sailing or motor yachts ot the same range.
Other hybrid boats on the market today have ranges of 10 or 20 miles while the Sunwave 54 can go up to 100 miles a day, every day.
Sunwave 54 Catamaran Photos
Want to Build A Concept Catamaran?
Whether your dream is to build a solar-powered catamaran or a custom version of a conventional catamaran model, work with us. As buyers' brokers, we have your interests in mind and our experience as catamarn builders gives us the upper hand in negotiations. And our services do not cost you anything extra on the purchase price of your dream yacht.
* Photos courtesy of Solar Wave