Large Luxury Catamarans In Crewed Charter Business
Imagine anchoring your very own large luxury catamaran in an idyllic lagoon of a tropical island. Even better, turn this daydream into a reality with less financial prowess than you think possible.
For those of us who long for the lifestyle sailing brings, optimizing the ownership of a large catamaran with a few key components can truly make your dreams come true faster and with less risk and worry. It is reasonable and prudent to expect a valuable asset such as a large luxury catamaran to contribute to its upkeep as well as generate tax advantages to justify its existence, while also enjoying leisure and family time aboard yourself.
All the above can be achieved through properly structuring the yacht purchase and related business plan to ensure maximum benefit from luxury charter operations as a business activity. Carefully planning and executing the business plan qualifies yacht owners for existing government programs and incentives as a small business.
But to be sure, a well-thought-out plan, created with an experienced trusted advisor is essential. Work with an expert to ensure that lifestyle benefits are realized, the financial and tax benefits are planned, and related rules are complied with.
Planning Purchase of a Large Catamaran
There are several important things to consider when contemplating the purchase of a large catamaran for either private use or charter operation, such as:
Brand & Size of Catamaran: How to choose the brand of catamaran with the best design and layout for intended use
Manufacturer Credentials: What manufacturer support is offered and where are warranty facilities for after-sales service and warranty issues
Legal Contracts: How to negotiate the "Purchase and Sale" agreement with the dealer / factory and how to negotiate the "Charter Management Agreement" with your future charter company. 
Charter Partners: How to decide what charter broker, clearinghouse, or charter company will be the best fit for you and how will the relationship be structured?
Charter Business Plan: How will the business be structured to optimize charter bookings?
Planning Tax Strategy: How best to structure the business to optimize tax advantages
Compliance: What details are key for administration and management for a successful charter operation and continued qualification for tax advantages
Yacht Equipment: What equipment specifications and associated gear should be ordered from the manufacturer or alternately supplied aftermarket to have a desirable and successful charter yacht?
Mortgage: How to negotiate and obtain a favorable marine mortgage?
Payment Plan & Currency: What will the payment structure be and how to deal with currency fluctuations 
Exit Strategy: What is the exit strategy when the time comes to sell the yacht?
Ownership structure: What type of corporation is best for your personal financial situation?
Vessel Flagging: Where to flag the vessel – offshore company? 
Marine Insurance: How to insure and protect the asset as well as limit personal liability
Crew Contracts: How to find suitable crew and how to structure the employment contract
Large Luxury Catamaran & Boat Business Experts
Catamarans have become so popular in the last fifteen years that the demand far outweighs the supply. This is both good and bad. Catamarans retain their value far better and for far longer than monohulls because we just don't have enough of them. The bad thing is that new catamarans are becoming more and more expensive.
We, therefore, are constantly trying to find ways to reduce the cost of ownership for our clients i.e. through various boat business and charter programs and tax advantages.
Every large yacht purchase is unique but having sold many different brands of large catamarans into various crewed charter environments over the years, we are uniquely able to give you sound advice and act as your concierge yacht buyer's representative.
We are not tied to any one specific brand or charter company, which allows us to work with you exclusively and evaluate all the options or opportunities available to purchase the right boat and adopt the best business plan and charter agreement for your goals, lifestyle, and finances.
Consult With The Catamaran & Boat Business Experts
Catamaran Guru is considered to be the top consultant in the industry for large catamarans. Let us help you reduce risks and start sailing sooner!
Learn about our large catamaran programs, various crewed yacht management programs and  boat as a business programs.
Large Sailing & Power Catamarans Currently Available 
Lagoon Seventy7 Sailing Catamaran & Seventy8 Power Catamaran – The Biggest Lagoon Catamarans Ever Built!
The Lagoon 77 catamaran is truly in a league of its own. The Lagoon SEVENTY7 dominated every boat show since her launch in 2017. Her sheer size and stand-out features like the hydraulic platform that creates a private beach platform on the outboard side of the hull, commands attention and spectators line up in droves to gawk at this incredible vessel and we sold two of the first Lagoon 77's. Other clients are now on a waiting list! Similarly, the Lagoon Seventy8 and 630MY Powercats, have captured the attention of boat owners and are hugely succesful in the charter industry.
Lagoon Seventy7 Sailing Catamaran
---
Lagoon Seventy8 Power Catamaran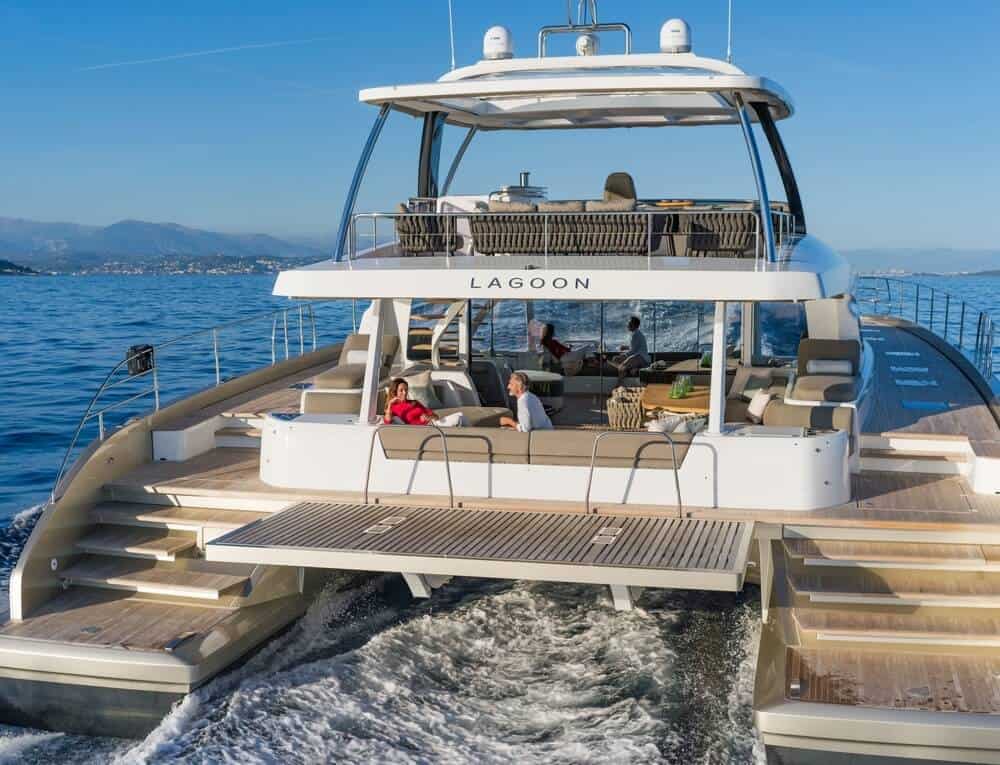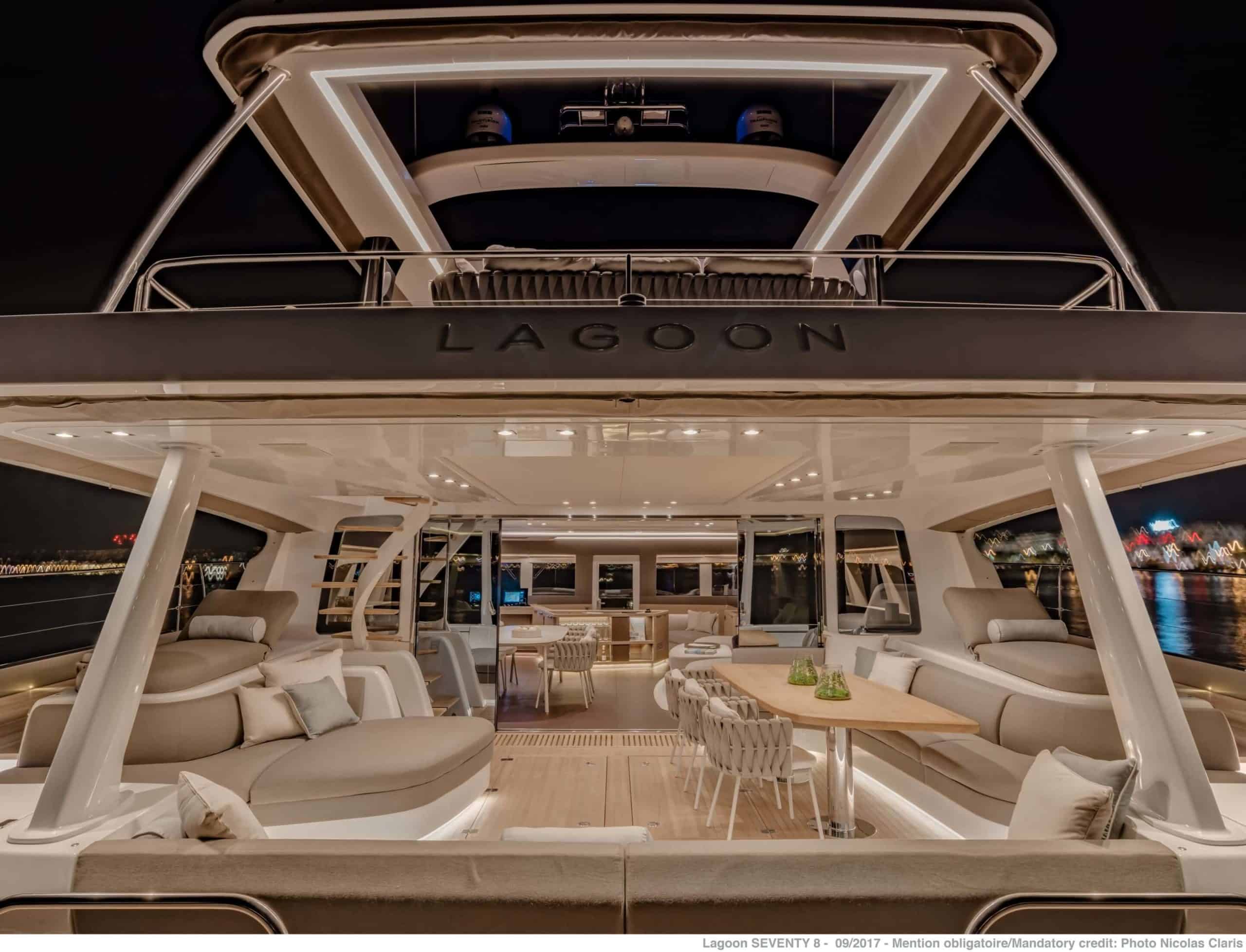 ---
Lagoon 630MY Power Catamaran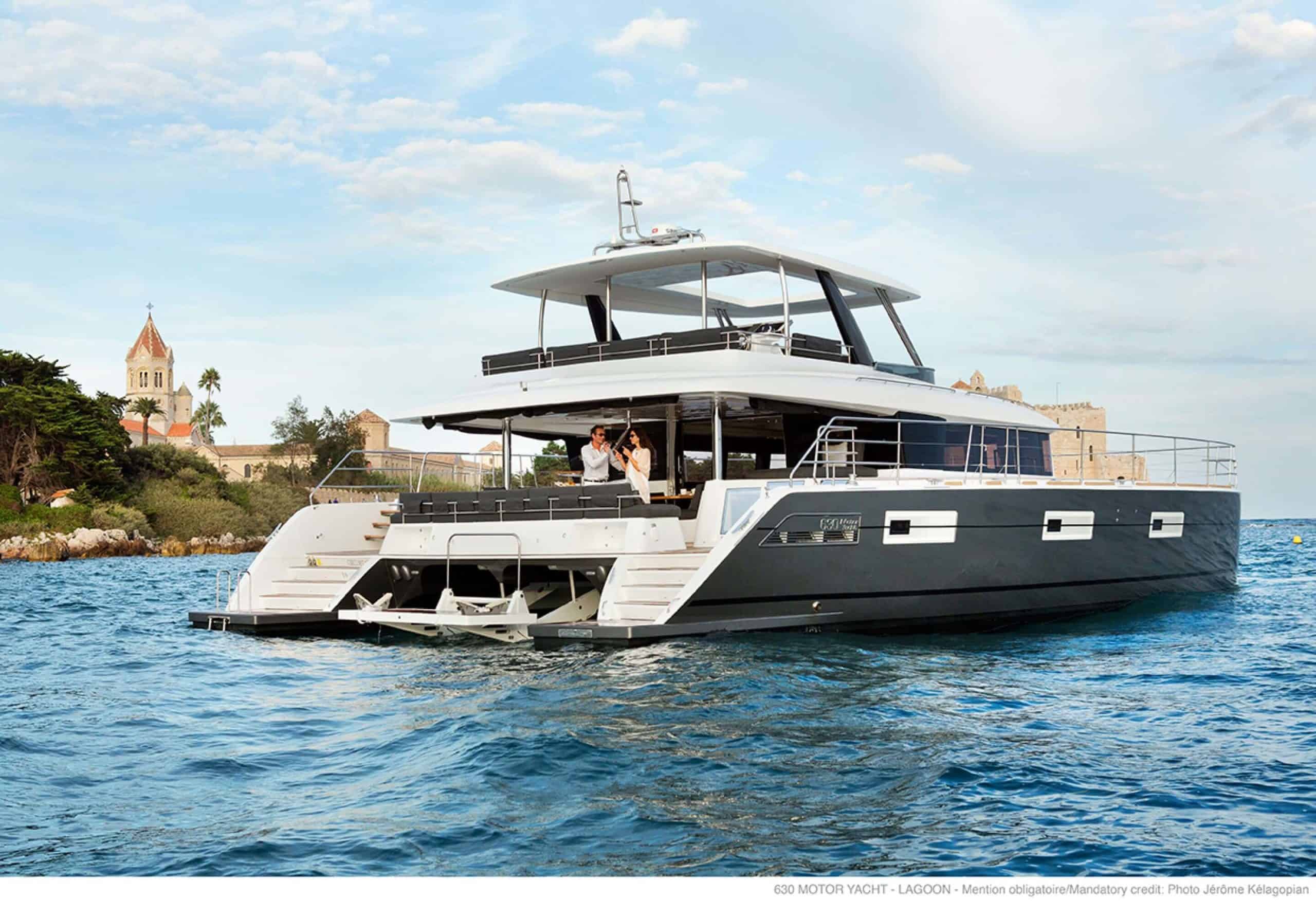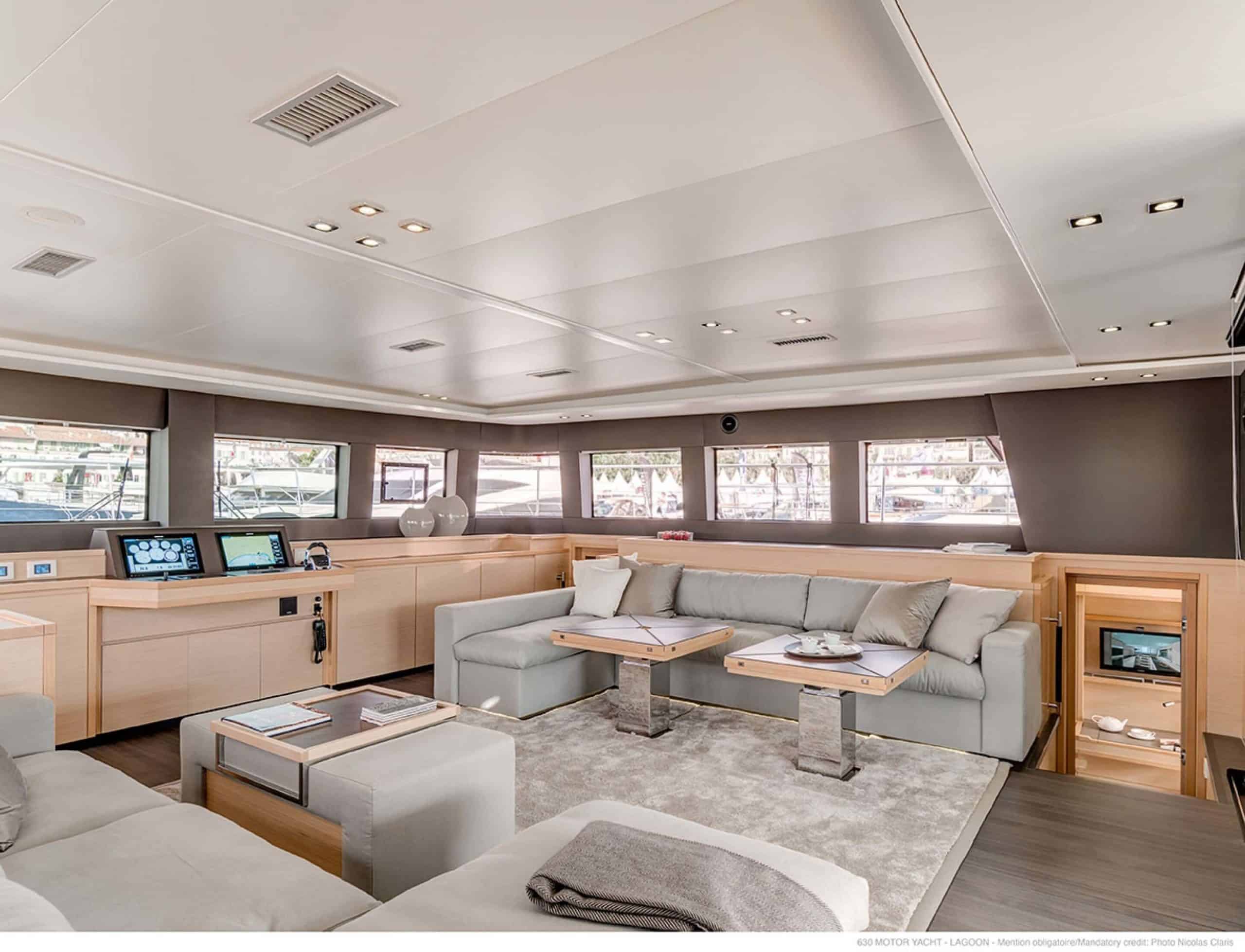 ---
Fountaine Pajot Alegria 67 Sailing Catamaran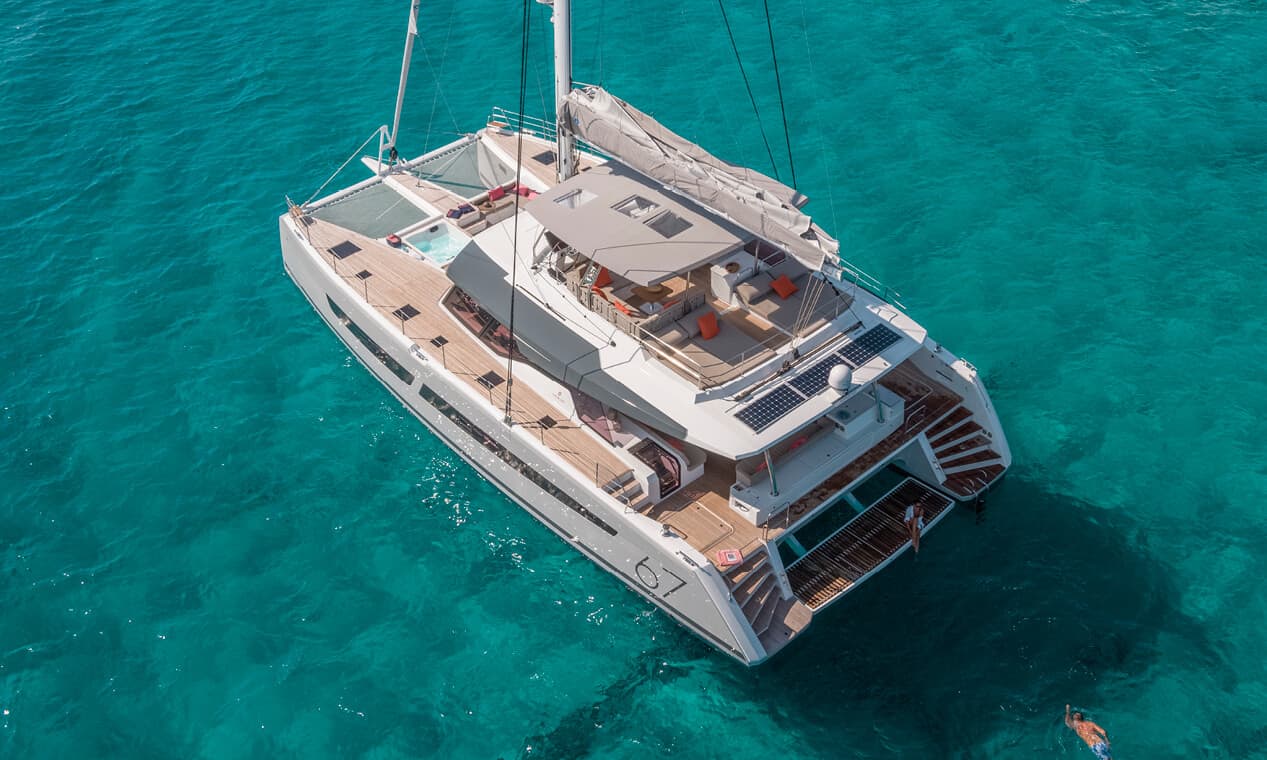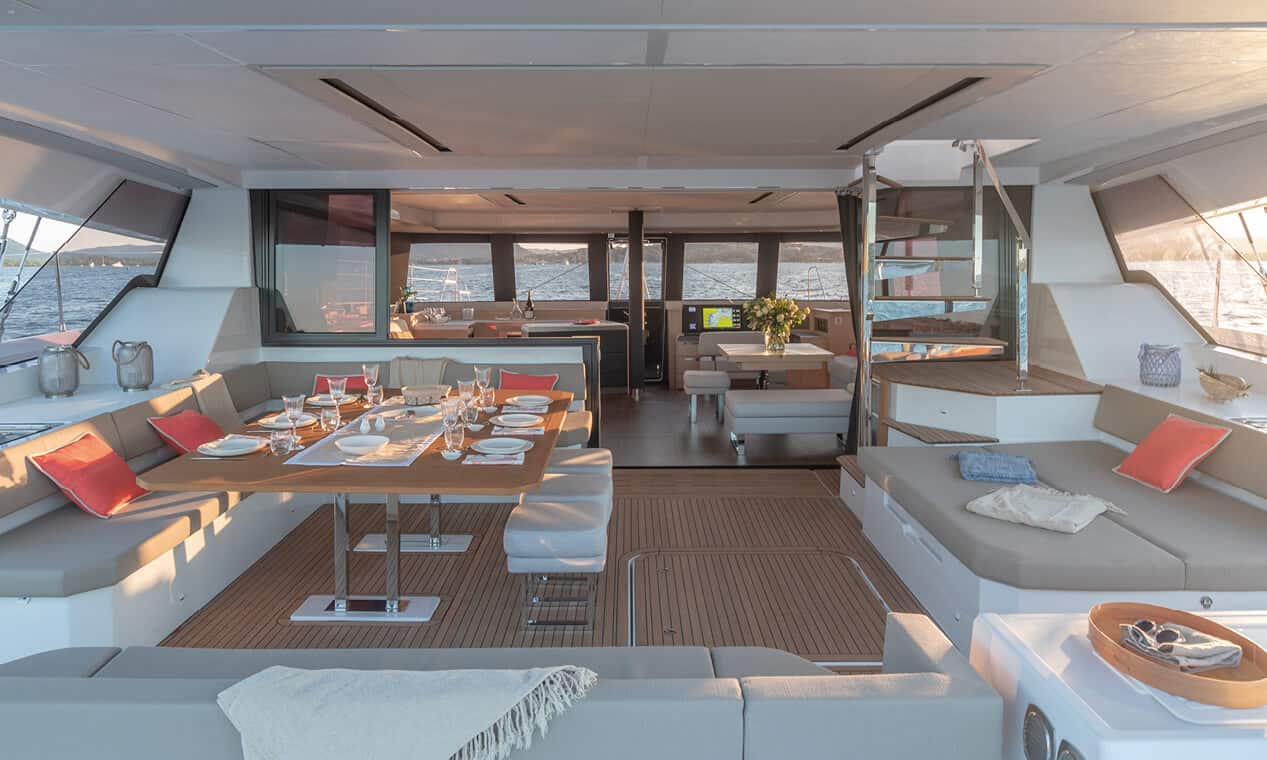 More about the Fountaine Pajot Alegria 67
---
Sunreef Supreme 68 Power Catamaran 
More about the Sunreef Supreme 68 Power
Bali 5.4 Sailing Catamaran 
Catamaran Guru's Top Pick!
If you can experience it yourself, we highly recommend it. If not, see the Bali 5.4 video and her specifications.