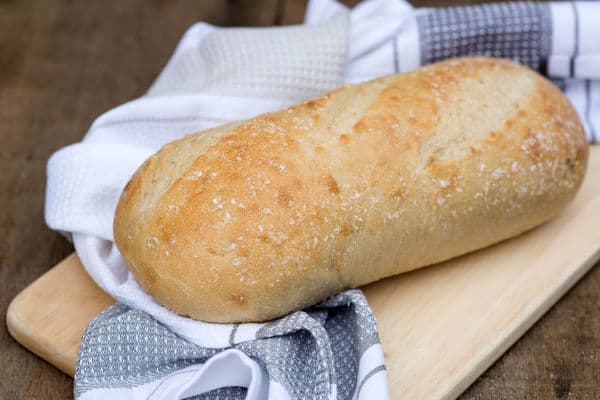 When cruising especially out in the ocean, it is not possible to pop into the provisioning store for a loaf of bread. So the alternative and yummier choice is to bake your own bread in the galley. And, although it takes a little time, in the end it is so yummy. We love sourdough and on our recent crossing to bring our new Lagoon 450S from France to our home port in Florida, this was our bread of choice! You can use this bread in many ways for sandwiches, topped slices for hors douerves, or even a delicious soup bowl as its hard shell holds up well. You can
make your own sourdough starter from scratch
, just be sure to plan ahead for that!
Sourdough Beer Bread Recipe
(makes 1 small loaf)
Ingredients
6 oz. beer, at room temperature  (try all your favorites!)
1/2 cup sourdough starter
1 tablespoon sugar
1/2 tablespoon brown sugar
3/4 teaspoons salt
2 cups bread flour
1/2 cup rye flour
Directions
In a large mixing bowl, blend the beer and sourdough starter together. The beer will foam.
Add all the dry ingredients then mix into a dough ball.
Knead the dough in the bowl for about 3 minutes.
Cover loosely to let rise until the dough ball doubles in size (about 2-1/2 – 3 hours)
After the first rise, gently knead the dough for a few minutes.
Then form into a rough loaf shape placing it on on a floured flat weave kitchen towel folding the towel over to cover the loaf.
Leave it to rise again for 2 – 2 -1/2 hours.
Set a cast iron pot that has a matching lid in the middle rack then preheat the oven to 450F.
Bake the loaf in the covered for 20 minutes.
Then remove the lid to bake until the crust is a deep, golden brown (about 10-15 minutes).
Let cool before slicing….if it lasts that long!