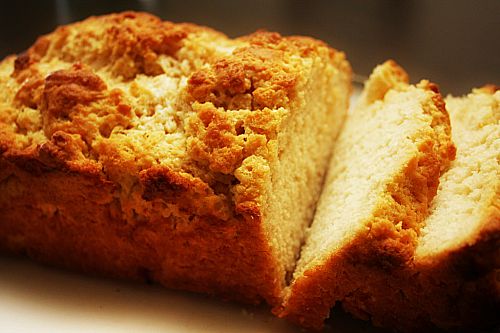 I always have some self-rising flour on board and certainly Stephen always has a good stock of beer, so this recipe is an easy go-to for quick, freshly baked bread.
This recipe is a no-brainer and you can easily change the flavor of beer bread by using different beer or adding ingredients:
Using a stout or dark beer will make the bread darker with a slightly more yeasty flavor.
Pumpkin ale beer with a little extra sugar and pumpkin seeds adds a fun fall taste.
Adding 1 cup of grated cheddar cheese with celery, sweet corn, parsley, italian herbs, sun-dried tomato, chives, or a combination of those tasty bits will give a more savory taste.
You can literally add anything you fancy. It is hard to mess up. The bread has a crisp crust and is chewy inside. It makes a delicious side for pasta or BBQ. Beer bread is so, so easy to make with flour, beer, and sugar, but I found that self-rising flour tends to deliver a better result. I sometimes just serve the plain fresh warm bread with a mixture of marmite and butter or honey and butter.
Give it a try and let me know what you think!
Ingredients
3 cups self-rising flour
2 tbsp granulated sugar
12 ounces beer (whatever kind you prefer)
2 tablespoons melted butter
Instructions
Preheat oven to 350F degrees.
In a large bowl, add flour, sugar, and beer. Stir together until just blended. Don't over-mix. The mixture will be lumpy.
Pour into a greased bread loaf pan and bake for 50 minutes.
Remove from oven and pour melted butter evenly on top of bread. Put back in oven and bake for another 10 minutes.