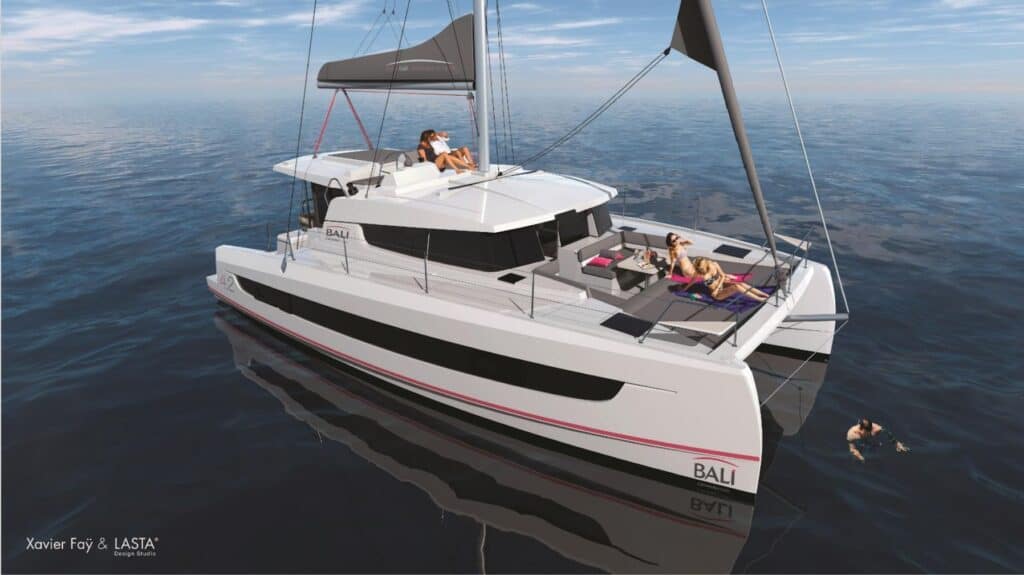 The brand new Bali 4.2 catamaran is available for delivery from February 2021 at only €365,000 base price!
This announcement was made at the Bali Rendez-Vous 2020, which took place at their headquarters in Canet en Roussillon, France, along with the world premieres of the Bali 4.8 and Bali 4.6.
In just a few short years, Bali has grown to be the third biggest manufacturer in the world and has secured its position as one of the premier French catamaran brands.
The 42ft catamaran models from every manufacturer seems to be a sweet spot for cruising couples. Read our 42ft cruising catamaran comparisons.
Bali 4.2 catamaran at just €365,000 base price is expected to make a big impact on this market segment. Like its flagship Bali 5.4, the little sister includes popular features such as front door connecting the salon to the forward cockpit and improving ventilation and the convertible open spaces with the tilting button-operated "garage door". The Bali 4.2 has several updated features like the new salon layout with two club chairs to starboard The 4.2 is offered in 3- and 4-cabin versions.
Bali 4.2 Announcement Video
Hear it for yourself from Boris Compagnon, sales director for Bali Catamarans.
We love this new model and will keep you updated on delivery dates!
We are buyers' brokers for Bali Catamarans. If you are interested in one of the models, including the 40ft Bali Catspace, Bali 4.2, Bali 4.3 Sail and 4.3 Motor, 4.6, 4.8 or the Flagship Bali 5.4, give us a call or email us with your questions. This range of catamarans are all available for a variety of charter management programs that we offer. Let us help you choose and set up your dream yacht as a business.

E-mail Us for Specifications & Price