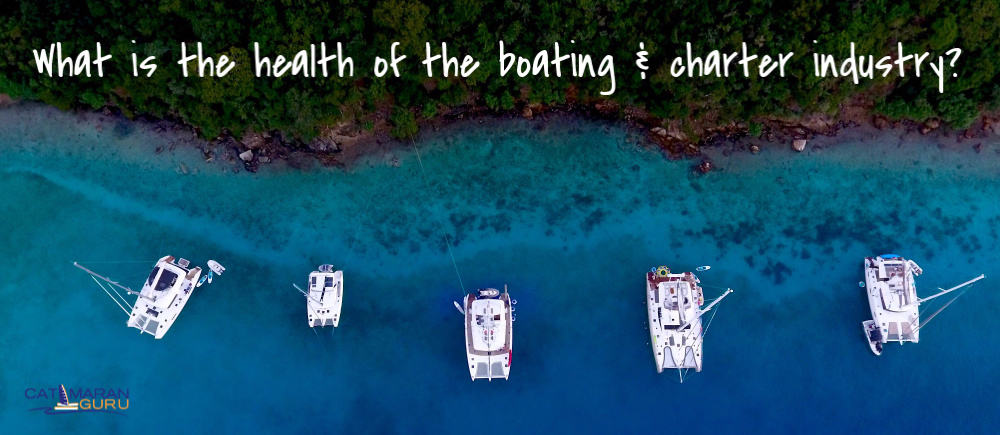 As many of you know, we sailed off to Key Largo when the COVID-19 issue became real just over 30+ days ago. Two of our brokers, Terry Singh and Thea Koshman decided to take off with us along with a group of seven of our clients in tow, each couple in their own catamarans. The plan was to stay anchored off the island of Key Largo for the next month or so while we figured out how this lock-down will affect all of us.
Like so many people, we had planned to catch up on projects on our boat as well as in business during this lock down period. While we did do that, we also realized very quickly a few weeks into this, that when the lock-down was extended beyond the initial two weeks, and more countries shut down for all travel, that things were about to get difficult for many of our boat owners, especially our owners in the charter fleets.
After all charter was suspended across the globe, we knew that our owners may have some problems with little or no revenue in the charter fleets for months to come. We immediately got to work to help them. We mobilized every contact we have in the industry to help our owners with various issues and so far, we have had great responses from everyone. Boat owners received mortgage deferments from the various lenders that we had contacts for, and we have managed to help sort out some insurance issues for them with the help of Hugo from Hanham Gross Insurance Agency.
While most of them are okay for now at least, the biggest issue still is that we have some owners' boats stuck in parts of the Bahamas and the Caribbean in the charter fleets without a way to retrieve them. It is worrying for owners in the performance programs particularly since, while the bills keep on coming, there is no income for the foreseeable future. But with the travel bans and restrictions in place, it is impossible to move any boats. We hope that the situation will soon improve, and we are keeping a close eye on it.
While most of us have averted immediate problems for now, we still are unsure about what we can expect in the future from yacht sales, yacht charter and yacht management. Catamaran Guru services two distinct sections of boat owners:
Charter Boat Owners with a Charter Business in fleets like The Moorings, Dream Yacht, TMM etc. – We always look for ways to offset the cost of boat ownership and charter management if done right,  is a great way to have your boat pay for at least some of its costs – something we also do with our own boat. These owners are locked into the charter companies and depend on them to generate business. It is therefore critical that the charter companies survive and thrive. Right now this sector depends in large part when people will start traveling again. It is our job to figure out how to best position our owners for when the industry starts back up.
Live-Aboard or Private Boat Owners – Since we are live-aboard boat owners ourselves, we are an active member of the boating community and we sell a lot of pre-owned brokerage boats. Most of these owners become our personal friends and contribute to the Catamaran Guru community in various ways. For this group, this crisis will deliver opportunities for potential buyers of used catamarans and, as trusted advisors we will obviously ensure, is shared with our existing and prospective catamaran buyers.
So, with this in mind, we have to wonder how these two sectors will fare in the months to come? What is the health of the boating industry? Will the manufacturers, dealerships and charter companies survive? While yacht manufacturing and charter companies are working hard to keep their businesses afloat and planning a return to operations, the global yachting industry face the additional challenges of a varied regulatory environment between countries and the uncertainty of when this will all come to an end. 
We have to see how the manufacturers will deal with the sudden change in manufacturing restrictions and how that will impact delivery dates and the prices of boats. None of us have a crystal ball and cannot possibly predict exactly what will happen but we can make a few educated guesses.
Boat Manufacturing Companies & Yacht Dealerships
The Industry was on Fire: For at least the past five+ years, the boating industry worldwide expanded and have been working at full capacity showing enormous growth. Their production was all sold out through 2021 and some even into 2022! Demand was insane in the last 2-3 years, buoyed up by dealerships and charter companies buying up stock boats worldwide to meet demand. They all bought huge inventories, particularly after so many boats were destroyed during the past two hurricane seasons in the Caribbean.
Boat Dealerships: Unfortunately, news reached us recently that some smaller boat dealers have already defaulted on their existing orders from the manufacturers. Several other dealers and charter companies have simply cancelled future orders since this Covid-19 lock-down started and will only try to sell their current inventory until things stabilize again. Some of them are teetering on the brink and their survival depends on how quickly this situation can return to some form of normalcy.
Boat Manufacturers: New regulations for operations, defaults and cancellations from the dealerships affect the manufacturers and they will no doubt scale down production which in turn will delay current deliveries and possibly drive the price of boats up. But if the dollar remains strong, that may not impact buyers in the US too much. The French government will likely prop up the boat building industry as much as possible since it is a big and important part of their economy and the chance of survival for Lagoon, Bali & FP is good. Leopard Catamarans is backed by KKR as part of The Moorings, so they are likely to survive and will deliver their boats.
As for the survival of smaller manufacturers in South Africa, China, Vietnam, Poland etc., only time will tell. The norm usually with smaller manufacturers is that the buyer makes progress payments on different stages of completion of the boat which, if the manufacturer fails, the buyer stands to lose everything. Having said that, since this is not a financial failure of the system, the manufacturers will likely ride this out and will be able to deliver the boats on order.
The French manufacturers have started opening the factories and the South African factories will apparently open soon. While all the factories will reopen in due time, new rules put in place to protect their work force will dictate their production capacity. By all indications it looks like the factories will have to scale down production by up to 40% at least for the rest of this year. The question is, will this crisis cause a glut of new product because fewer people will buy new boats for a while at least, or will it just make the new product that much more expensive as the production demand may fall. Only time will tell.
Charter Companies
Charter Bookings: The charter companies are in a position right now where all their charter bases worldwide are closed and will not earn a single cent of revenue at least through June or even through September in places like the BVI. In the five decades since the first charter companies started operating, that has never happened before. They have seen tough times in the past, but they never have had to cease all operations worldwide for a prolonged period of time. We know this:
The season in the Mediterranean is for all intents and purposes over with closures of countries looking very likely through May or June
The Caribbean season is done now, and hurricane season is looming large. Places like the BVI have announced that their borders will be closed for pleasure boating until September.
*This changes almost daily, so keep checking in with the different forums and charter companies for updates
This from one of the travel operators: "COVID-19 has impacted the yacht charter industry the hardest. This is directly due to the uncertain ability to travel and duration of time the world will be dealing with the awful virus. Worth has had 90% of the booked/optioned charters scheduled through April cancelled or an agreed reschedule at a future date. Both owners and charterers have been understanding not to enforce contract penalties but to come to an amicable agreement. We are hopeful that as soon as this situation passes, clients will be ready to get back on the water and go yachting."
As we mentioned, because the charter seasons in the largest charter markets are pretty much over, we don't expect much or any charter revenues until September 2020. So, they will rely heavily on robust future charter bookings. Fortunately, most of the cancelled charter bookings due to COVID-19 were moved forward to the end of the year and into next year, so the charter companies can rely on that revenues later in the year. However people are still unsure about travel restrictions to these exotic locations and few feel confident that they can realistically plan future travel yet.
But despite the grim short-term outlook, indicators are nevertheless better for future bookings. From what we have heard from the booking agencies, NEW inquiries for bareboat charter are trickling in and crewed charter inquiries are up, which is very encouraging. Assuming that the charter companies can survive the next few months, the charter companies will be able to generate revenue again from August / September when charter payments are due for upcoming charters and they will be able to continue operations.
Guaranteed Income Payments from Charter Companies to Boat Owners
Some of the charter companies have pledged to continue to make monthly guaranteed payments during this lock-down. It remains to be seen how long they can keep this up with almost no income at all for the rest of the year but since these bigger companies are backed by venture capital, and will likely ride this out.
Other charter companies have put a 3 to 6 month freeze on guaranteed income payments to owners – a tough call but without which they may not survive. At least all the boats remain fully insured and dockage is paid by the charter companies for this period. With these costs covered and the mortgage deferments, most boat owners will come out of this okay if the situation improves.
Other smaller companies are just not financially strong enough to ride this out and there may be some casualties
Boat Owner Mortgage Defaults-What to do next: Like in previous crises situations, some mortgage defaults on bareboat charter boats already in service may be inevitable. BEFORE getting into a default situation, boat owners may want to figure out what their options are now. It is unlikely that another charter company will take on another bareboat into their fleet right now from another company and if they do, they certainly will not guarantee any payments. So your options are limited.
It May be Time to Sell Your Yacht! Boat owners who feel vulnerable will have to get their boats sold asap. We recommend that these owners get a valuation for their catamaran asap and figure out what their options are. Your broker or charter company may be able to give you some guidance but if you are adrift, shoot us an email! We have to hope that these boats will retain their value somewhat. But let's not kid ourselves; if we have a flood of boats coming on the used market, it will drive prices down and will no doubt become a buyer's market from an inventory perspective. While this may be a really sad situation for some, it certainly is an opportunity for others.
Used / Brokerage Catamarans are Selling!
Used Catamaran Inventory: Despite all the doom and gloom, sales are strong in our brokerage section! We have picked up a few good buys for our clients lately and we believe there will be more to come. Judging by the last few weeks' activity on Catamaran Guru Brokerage, we think that there will likely be a good number of used boats coming on to the market. There also seem to be a good number of buyers looking for catamarans at good prices. READ MORE >>
Crewed Charter Sector is Strong & Growing!
The majority of the new boats that we sold last year are bigger cats, 48 ft and bigger. They will all be going into our crewed charter program in different parts of the Bahamas and Caribbean. Some of these catamarans are owner operated cats and others have employed professional crew to operate their boats. We have had phenomenal success in this niche area of the industry and our owners in this program are extremely happy. We NEED MORE crewed catamarans! READ MORE >>
Want to discuss OWNING A CREWED CHARTER boat? Let's set up a meeting on Zoom, Whatsapp, Skype or Phone.