Exciting Start!
It's been a whirlwind of activity since we took possession of Z3, our new Bali 5.4, in Canet, France, only a few weeks ago.
This past week, our crew (pictured at left) attended seminars and training, gave talks about cruising, passed inspections, and enjoyed the camaraderie that only the sailing community can provide. As I write this, we have just set sail from the starting line.
At noon, Sunday, November 24, 2019, off Las Palmas, Gran Canarias, we and the legion of our multihull competitors and the open class division set out to cross the Atlantic.
With all the buildup to the moment, our crew of 8 was beyond ready to get underway…and so, we are off! This will be Stephen's and my third time crossing the Atlantic Ocean, but it's a first for some of our crew.
Read on for pictures of the start!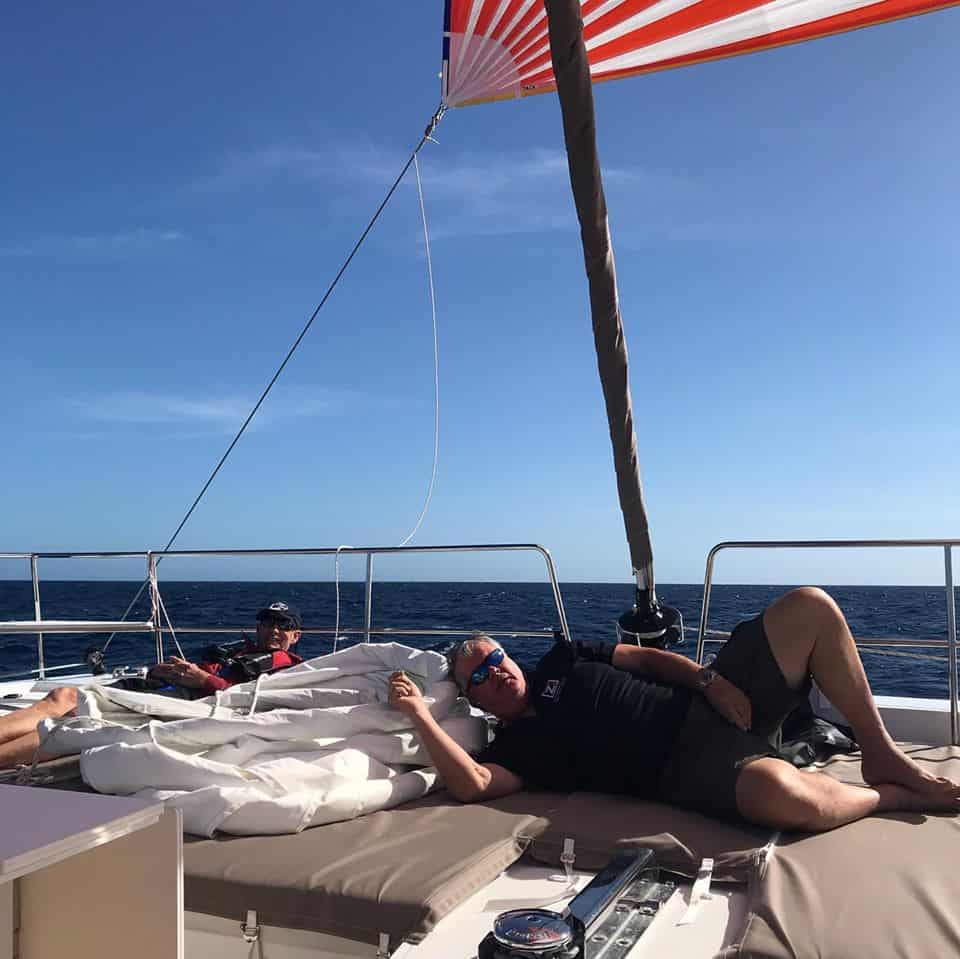 If you are just discovering our latest adventure, get in on the action now:
Though it was 73°F at the start of the race, it was jacket weather out on the water. But even the slight chill and occasional shower did not cool our spirits.But we are looking forward to a long sunny stretch promised by weather forecasts that should begin on Tuesday, maybe as early as Monday evening.
The wind was NE 8-13 knots at the start. Soon after getting underway, Z3 took a was cruising 11-14 knots downwind under spinnaker. Hopefully that will keep our competition behind us!
As we sailed away from The Canaries, it was already warming a bit as part of the crew enjoyed a sunning session on the foredeck. Good idea to relax now!
We expect it to pick up to 13-18 knots as we sail southward away from The Canaries. With our sailing over the past few weeks, often in gusts with churning seas, has fully prepared us for a good start under the predicted conditions over the next few days.
More About Arc Rally Race for Cruisers
Our race course will be about 2800 NM from Las Palmas, Gran Canaria to St Lucia in the Caribbean. Z3 is still quite new to us, but we given what we have learned about her so far, we estimate an average speed of about 8.5 NM per hour. The crew share a bit about their last ARC Rally prep day in the video at left. We were all eager and anxious at the same time about our bluewater crossing.
Get in on the Guessing Game!
Compete with others following our ARC Rally for Cruisers race. Visit our Catamaran Guru Facebook page to comment the exact day and time you predict for our arrival in St Lucia. Closest without going past our actual arrival day and time wins a prize…and bragging rights.
Guesses will be accepted thru December 14, 2019.
Meet Up With Us in the Caribbean
If you will be in the Caribbean in late December 2019, take a look at our ARC Rally meetup schedule to see if we can meet up.
We always enjoy meeting fellow sailors!
ARC Rally for Cruisers 2019 Start Photos
Here are a few moments from the start of the race. Enjoy!
Click to enlarge photos.
Boat Buyers' Brokers
If you are considering buying a new yacht, talk with us first before you make a decision. Our concierge boat buyer broker service is free to you, the buyer. We give you all the information you need to lower risks and maximize charter yacht program potential.