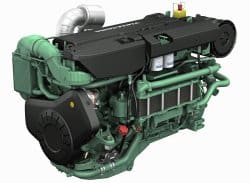 Volvo Penta Engine Recall Alert!
We recently did a survey on a 2013 Lipari 41 in Tortola, BVI for our client. As luck would have it, this boat was eligible for FREE engine replacements under the Volvo recall arrangement. What a stroke of good luck! You might also be eligible!
If you own Volvo Penta Engines, you too may be entitled to two brand new engines. According to Volvo Penta, they are doing a recall of certain D-130 and D2-40 compact auxiliary engines. These Perkins engines, marinized by Volvo Penta for the recreational boating industry, are good engines, but do not comply with USA emissions standards and have to be replaced.
The recall started on July 1, 2017, and ends July 1, 2019. New engines with a 2-year warranty will be provided.
If you have any questions, call your local Volvo Penta authorized dealer. Find the your dealer here volvopenta.us or contact Volvo Penta of the America, 1300 Volvo Penta Drive, Chesapeake, VA 23320, Phone (866) 273-2539.