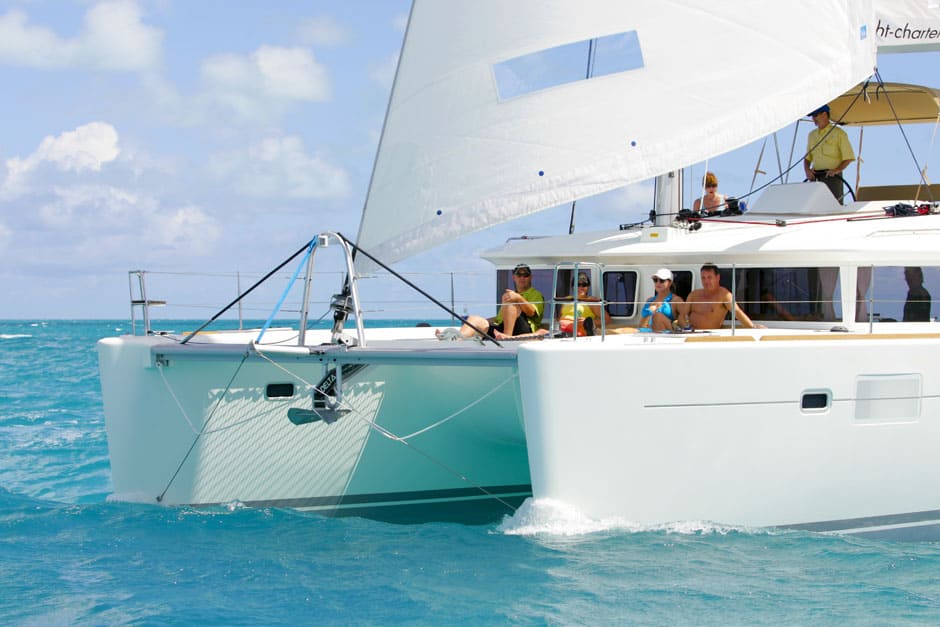 NOTE: Katlo sold to an lovely owner/operator couple who moved her base to the US Virgin Islands and they have since sold her again and retired. Below is an artcle written when she was a professionally crewed yacht.
I have received this fun post from our friends at Katlo Charters in the BVI. They happen to be one of our favorite crewed charter boats in the Caribbean (okay, we are a little biased since we sold the boat to Mackie and Kathy, but our accolades to the boat and crew are well deserved). We have just returned from a few days aboard Katlo, a Lagoon 450 in Sint Maarten (they usually operate in the BVI though). We were wowed by both Captain Patrick and the owners, Kathy and Mackie, with their devotion to having happy guests EVERY time, their attention to detail, and making this the ultimate fun vacation on a luxury catamaran for all their guests. Let us know what you think and feel free to add your favourite things to do while on charter in the BVI.
Post written by Wanda Anglin
A luxury BVI yacht charter is more accessible than most people think. It is not just for the adventurers with no kids in tow. A crewed yacht charter, especially in the calm waters of the BVI, is the perfect vacation for almost anyone that loves white sand beaches, water, marine life, island culture, and having fun! While our top ten things to do on a BVI yacht charter are not the only things you can do, they are some of the favorites of sailing vacation guests.
1. Take in the wonder of The Baths, Virgin Gorda
Consistently a favorite with BVI yacht charter guests, these†giant boulders, called batholiths, were brought to the surface by volcanic eruptions. The rocks themselves are camera-worthy, but the beautiful grotto and tranquil pools formed around them are a unique tropical oasis.
2. Visit unique Anegada
Unlike the other islands in the British Virgin Islands archipelago, Anegada is not volcanic. It is a coral island. Surrounded by Horseshoe Reef, one of the largest Caribbean reefs, its underwater beauty and historic shipwrecks make it a site perfect for amazing dives and shore-entry snorkeling…that is, if you can tear yourself away from the remote white sand beaches. Anegada is the second largest, but least populated island.
3. Devour local cuisine
So many choices, you'll have to visit the BVIs more than once! Conch fritters at a beach bar, a candlelit lobster dinner, or jerk barbecue at the local dive . Try local favorites like fungi (pronounced fun-gee), which is boiled corn meal with okra, frequently eaten with boiled saltfish. Another local favorite is callaloo, a spinach-like leaf stewed with meat and okra. Most crewed yacht charters provide an excellent selection of meals with local flair so if you don't get your fill while ashore, your personal chef will assure you continue your culinary experience.
4. Relax
One of the best parts of about a crewed yacht charter is that you decide what you want to do and when, so no need to do anything if you don't want to. Most crewed charters have amazing chefs and entertaining captains who know when to serve and when to not bother you in the hammock.
5. Take a hike
Discover the diverse nature the BVIs have to offer. In Virgin Gorda's Gorda Peak National Park, a mildly strenuous hike  through a Caribbean dry forest will reveal hermit crabs, lizards, (nonvenomous) snakes, and orchids. Climb to the platform at the top of the wooden observation tower for a jaw-dropping, 360-degree panoramic view of the neighboring islands.
6. Soak up the romance on Peter Island
The island boasts one of the world's most romantic beaches, Deadman's Bay (yeah, the name is not so romantic). White sand, stunning views of the lush vegetation on the steep volcanic slopes, and the soft Caribbean breezes. Ahh…now where is my drink?
7. Meet a BVI character
While the locals are known for their fun style and friendly nature, one of the most memorable is Foxy. His Tamarind Bar on Jost Van Dyke in Great Harbour has been going strong since 1966…almost as strong as his famous rum-imbued Painkiller cocktails. If you are lucky, you will meet Foxy himself. He will be the barefoot guy strumming guitar with an amusing array of ditties to entertain his guests.
8. Groove to the best Caribbean music
The BVIs boast some of the best Caribbean music and most you can have with a tropical cocktail or local cuisine. So ask your captain to drop anchor near a local watering hole to see what BVI music is about.
9. Snorkel Cooper Island
This tiny, charming, and isolated island is just one of the best BVI snorkeling destinations. But when on a yacht charter, this island is an easy spot to moor up and jump in to experience the amazing diversity of undersea life.
10. Surf Tortola
Yes, surf! If you are lucky to visit during the winter months, Cane Garden Bay in Tortola can provide 1-3 foot waves most days with larger swells up to 7 feet on stormy days. While this is not legendary surfing, you will be one of the few to say you have surfed the BVIs. †If there are no waves, there is plenty going on at this popular beach. After you visit, let us know what we missed on our top ten list of things to do on a yacht charter in the BVI!