Tips For The Best Catamaran Galley Design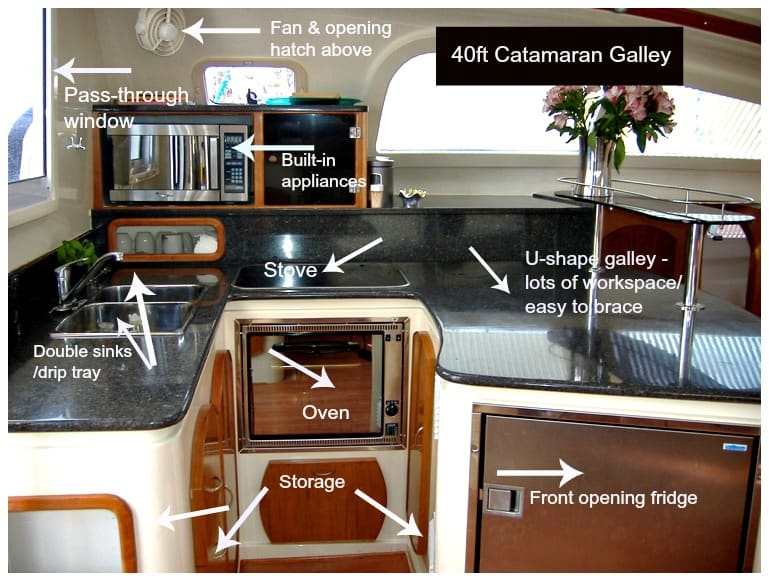 "Galley up or galley down?" I have been asked this question more often than any other about catamaran cruising life. The only answer in my opinion, is galley up. When at sea, every meal comes from the galley, so live-aboards spend a lot of time in the galley and many cruising couples and families find that the separation is not ideal. Therefor, in modern catamarans, the most popular galley design option is galley up which makes it a focal point of the main living and entertainment areas.
It makes it easy for the chef/cook to be part of the social activities while keeping an eye on the food. It is also a safety issue when at sea. Having the galley on the same level as the serving area and cockpit is less tiring and safer than hauling hot food up the stairs. Ventilation is better on the bridgedeck than down in the hulls which makes cooking a lot easier when prone to seasickness.
The downside of the galley up design is less privacy for the cook and it can significantly impact the size of the saloon seating area, specially on smaller cats. For me, the most important feature for any galley on any boat is its functionality when at sea. A well-designed galley should be safe, well-ventilated and functional. The wrap-around or U-shape galley is ideal in my opinion. It allows for loads of counter space and offers the ability to brace oneself on the high seas. You need that even in a catamaran from time to time!
Read more here about my recommendations for catamaran galley designs. These posts, "Choosing your Catamaran Galley: Things To Consider" and "Galley Design Issues On A Catamaran" will give you all the information needed to choose your galley layout, design and and the pros and cons of each design.