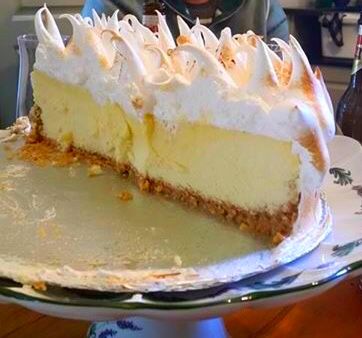 This recipe is the easiest, yummiest and most decadent dessert! Plus it is easy!
This is a taste sensation – first the zing of the lemon, followed by the creamy sweet condensed milk and the buttery crunch of the cookie base, topped with the fluffy meringue. Mmmmm…..and it prevents scurvy!
My mom first made it for us when I was little and I have made this recipe one of my go-to desserts on board many times.
How To Make The Pie Base
PREHEAT OVEN to 180 degrees C (350F)
1. Grease a pie dish with butter.
2. Crush 1 200-gram packet (1 cup) Tennis biscuits or any digestive biscuit.
3. Melt 125 grams (1/2 cup) butter.
4. Combine biscuits and butter and PRESS into the pie dish then place in fridge to set.
OR here in the USA, a Graham crack/er crust will do fine.
How To Make The Lemon Filling
Mix 1 tin (385 g / 14oz) of Nestle / Carnation condensed milk with 125 ml (1/2 cup) of lemon juice and 3 egg yolks (put the egg whites aside for the meringue topping).
How To Make The Meringue Topping
Whisk 3 to 4 egg whites until stiff and then gradually add 125 ml (1/2 cup) castor sugar (super fine sugar). Whisk until the peaks are stiff and the egg whites are shiny.
Pipe (or spoon on) the meringue onto the filling.
Bake
Bake at 180 degrees C (350 F) for ten – 15 minutes or until the meringue is lightly browned.
Allow to cool before serving.