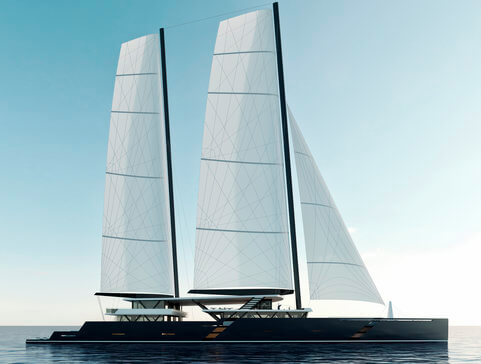 The concept superyacht, Sea Voyager 223, is the continuity of Sea Voyager's adventure into its concept of "Born to Be a Wave" embodying the marriage of sailors, the sea, and the ship. The SV223 continues the evolution of concept, contributing to the industry trend to build the "ultimate boat size". The designers and engineers utilized a new approach to the use of technology, with a desire to create a very large catamaran able of navigate under sail with performance of 18/20nds with the necessary comfort.
The 2-deck SV223 is a daring and immense concept that embraces the pleasure of living in sea, without fear or worry, setting a home for a free spirit with room for plenty of guests.
SV223 Level 1
Dedicated to everyday, but not "common" living given the dimensions that are worthy of "ultimate" size:
Lounge/Night bar of 120m²
Reception room of 240m²
A huge space for the owner to decide how to utilize for dining, entertaining, and relaxation.
SV223 Level 2
A "Owner's Cabin" suite of 100m² accessible by private elevator access with a king size bed and a desk. The suite includes a fully-equipped bathroom, dressing
room, and a private 50m² terrace and an outdoor walkway.
A beach deck near the pilot post including a beach bar.
Space for landing a small helicopter
In the Hulls
4-6 cabins for guests
Galley that no chef will complain about
Storage capable of supporting round-the-world travel
Water sports equipment garages
Learn more at the Sea Voyager website.
Sea Voyager 223 Concept Design Renderings
SV223 General Specifications
Length overall – 68m – 223'
Waterline length – 66,00m – 220'
Beam – 28.50m – 93'5"
Water draught – 5.90m/2.20m
Air draught – 64m – 210'
Main mast – 60m – 196'8"
Mizzein mast – 54m – 177'"1
Sail Area – 1662m² – 17889sq ft
(main sail+staysail)
Deck – 766m²-8245sq ft
Owner cabin – 100m² – 1076sq ft
Lounges/diners/beach – 590m² -6350sq ft
Maneuver space – 90m² – 968sq fr
Displacement (Lightship) – estimate 350 to 500tons
Speed range – 15t o 20 / Knots
Engines – Power – 2×1200/1500 kW
Fuel capacity – 2X74000L
Water capacity – 2X14000L
Designer – Jerome VOLLET
Architecture – Duchatelet design
Study office – ESY Concept
Construcion – Standard version:

Hull – Alumium
Deck – Composite
Mast – Alumium

Construcion – High

Hull – Carbon fiber
Deck – Carbon fiber
Mast – Carbon fiber
Want to Build A Concept Catamaran?
Whether your dream is to build this or another concept catamaran or a custom version of a catamaran model on the market today, work with us. As buyers' brokers, we have your interests in mind and our experience as catamarn builders gives us the upper hand in negotiations.
* Renderings courtesy Sea Voyger