2017 Multihull Boat Show, La Grande-Motte, France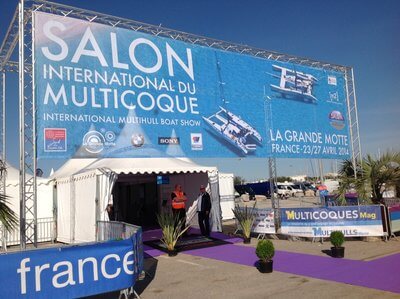 Join Catamaran Guru at the 2017 Multihull Boat Show in the South of France. 
This 7-year tradition continues to explode in growth with more and more luxury catamarans shown in water every year. As excitement builds, so do the crowds. Sailing fans know there will always be unveiling of more innovative new boat models and 2017 is not a disappointment.
We will meet here with some of our buyers to view the debut of the Fountaine Pajot NEW 47. We will make sure to take lots of pictures and video to bring back for the U.S. buyers!
Top Multihulls Exhibiting
All the newest multihull models will be presented at this show, creating the largest collection of catamarans and trimarans at any show in Europe. Look for the latest from Bali, Lagoon, Fountaine Pajot, Xquisite Yachts, Leopard, Outremer, Nautitech, and many others. 
Salon International du Multicoque 2017 Dates
or just hang out with us and talk boats! text us to find us at the boat show!

Tour boats and see innovative accessories and equipment from Wednesday, 19th April to Sunday, 23rd April 2017. Hours are 10 am until 7 pm except for Sunday when the close is at 6 pm.
Boat Show Admission Fees
Standard fee: 8€
Under 16s / Students*: FREE
*on presentation of proof
Payment accepted: cash, bank card
2017 Salon International du Multicoque tickets available online
Boat Show Location
Western hard standing area in the harbour of La Grande-Motte (Hérault), France
Click here for more boat show details>>