rtia, Bahamas June 24-July 3, 2018

It is Regatta Time In The Abacos, Bahamas! The RTIA Race Committee announced the 43rd annual RTIA scheduled for June 24th through July 3rd. It is always a good time and we will be there again this year. There is a large variety of activities and it family friendly.
Never raced before? This is a good time to give it a try as the RTIA is an amateur event. Don't miss the video below where our Zuri and her captain, Stephen, kicked butt last year!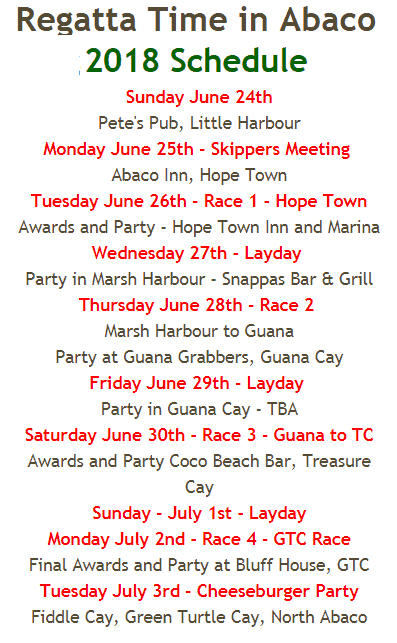 The Kick-Off Party starts at Pete's Pub in Little Harbour with tons of parties and sure-to-be, sundowners over the week. The RTIA is open to all seaworthy cruising sailboats bigger than 20ft with amateur status skippers and crew. Look for us giving racing another try this year with Zuri (Lagoon 450S) in the Multihull Cruising Class. If you are not racing, please root for us! The regatta includes a series of 4 races that takes racers throughout the The Abacos paradise. This is a family-friendly event.
RTIA Registration
Regatta classes:
RTIA (spinnaker boats)
PHRF (non-spinnaker boats)
"Mother Tub" or Cruisers
Multihull.
This regatta attracts all makes of boats and types of amateur sailors from live-aboard cruisers to high-performance sailboats. There is an early registration discount so be sure to check out the Regatta Time in Abaco website.
Watch our Seminars & Events page for details about all the fun sailing events.