71-Foot Picchio Boat Concept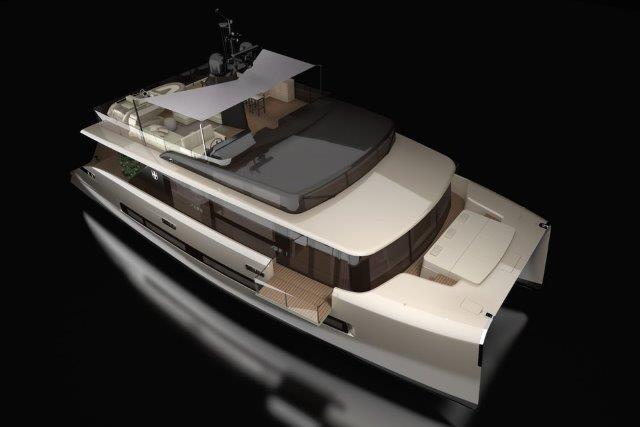 Picchio Boat (picchio is woodpecker in Italian) is a catamaran concept that delivers understated elegance in its immense indoor and outdoor spaces.
Yacht designer Christian Grande teamed up with award-winning Italian actor, Pierfrancesco Favino, to capture this dreamy yacht design. For US$8 million or so, you and your family can cruise more than comfortable with ever-changing "art" due to the stunning glass-bottom floors in the main living area and master stateroom that change color and scenery with location.
Grande imagined the 71-ft Picchio Boat as a luxury catamaran with ultra-modern features throughout as a floating holiday home. Large living spaces indoors and out, high protective bulwarks, natural wood decking, luxurious finishes and furnishings, and the clever (and sturdy) glass bottom all meld to present the wow factor.
Keep reading for more unusual as well as incredibly practical design ideas.
Picchio Boat Distinctive Features
Beyond the glass bottom, there are many features that are unique for a catamaran concept and many are quite practical, especially for liveaboards:
The master stateroom is unlike any on a similarly sized catamaran including a large wardrobe, vanity desks, and an
enormous private bathroom with a double sinks, shower, and whirlpool bath.
The pilot area has a large sofa for family and guests and quick access to the master cabin.
A large children's playroom offers additional sleeping quarters with foldaway berths and sofas.
Removable canvas sun protectors offer shade, when needed.
Two vertical garden walls complete the Utopian environment designed into this concept.
As if the quietly opulent catamaran were not enough to impress you and your guests, the Picchio Extra package is offered for a US$90,000 more. The uber-luxe add-ons include:
A custom bicycle, foldable and designed to be just as unique as the boat, sporting a Brooks saddle, a teak handlebar and hand-made wheels in anodized aluminum.
Designer travel suitcases
Directors chair
Cotton foulards.
The boat is designed for a cruising speed of 12 knots and maximum speed of 17 knots with two Volvo Penta IPS1200 engines producing 900hp each. A build of the Picchio boat concept retails at $8 million.
Picchio Boat Catamaran Concept Photos
Want to Build A Concept Catamaran?
Whether your dream is to build this Italian-designed beauty of a catamaran or a custom version of a conventional catamaran model, work with us. As buyers' brokers, we have your interests in mind and our experience as catamarn builders gives us the upper hand in negotiations. And our services do not cost you anything extra on the purchase price of your dream yacht.
* Photos courtesy of Christian Grande