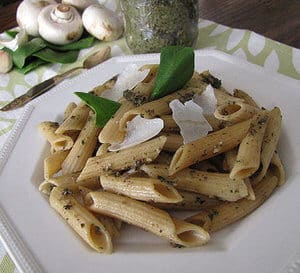 I rarely cook with mushrooms because Stephen hates them. But a few months ago, Don and Lynda, our previous seaschool students turned full-time cruisers, visited Fort Lauderdale. They invited us for dinner aboard their Island Spirit catamaran, "Awe-Spray". Lynda served Mushroom Pesto (unaware Stephen dislikes mushrooms). Stephen almost licked his plate clean. He loved it.  I have served it ever since. It is great for our liveaboard galley because it freezes well. I make it in large batches (after a trip to Costco) and put 3/4 cup portions in freezer bags. Press the air out and lie flat to freeze.
Mushroom Pesto Ingredients
1/4 cup dried mushrooms, re-hydrated and drained ( I use the assorted from Costco)
2 cloves of garlic
1/4 cup of Parmesan cheese
1/8 cup of pine nuts or nuts of your choice
pinch of salt
1 tsp Worcestershire sauce
1/2 cup olive oil
Directions
Chop the mushrooms, garlic cheese and nuts with added salt and Worcestershire in a food processor, then add olive oil slowly.
A 3/4 cup serving of the pesto makes enough for 1lb of dried pasta. Add extra olive oil and Parmesan cheese to taste.
*Disclaimer: Lynda (as do I), does not really measure when she cooks – it's usually a little bit of this and a little bit of that…so these measurements may not be 100% accurate. Pleas feel free to adjust the measurements to taste.