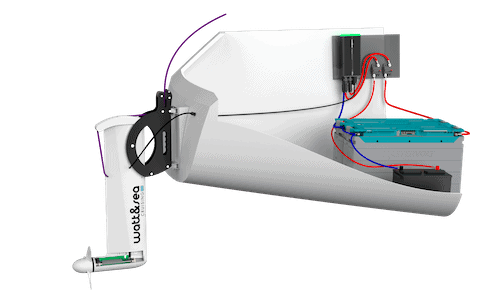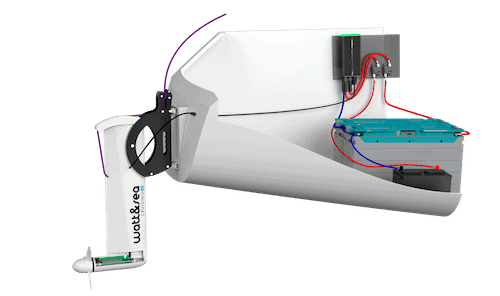 The key to worry-free energy generation on a catamaran is to have multiple sources of power. Keep reading to see our VIDEO.
One of the things many of us love about sailing is the idea of getting off the grid. But that has often led to great sacrifice. Those of us who have been cruisers and liveaboards for decades often joke about the early days when sailing dreams sometimes became nightmares when your batteries failed or your generator packed up. A lot of those things we can laugh about now but it felt like real hardships then.
Recent improvements and innovations in energy generation and efficiency changed everything. Now, a cold sundowner or three to close out the day, cool air to sleep while in the Tropics, hot showers, fresh water by the gallons, and delectable salads and meats enjoyed anytime you like, is not considered total luxuries on a boat any more. Recent innovations have made all that possible.
Our Bali 5.4 has a full-size refrigerator and we have the galley equipped with all sorts of gadgets including our beloved panini maker. And the luxuries extend beyond creature comforts to navigation and safety aids with marine electronics, computers, bow thrusters, and both navigation and deck/interior lights. All these conveniences consume energy at alarming rates.
The key is to have multiple sources of power that at some point every day charge the batteries to support nighttime energy needs when solar is not producing and you don't want to run the generator.
Our Power Plan
Retracing our 1992 sail from Gibraltar to the Caribbean while in the 2019 ARC Rally, it was striking how different the voyage was in terms of power availability and the conveniences it brings. A lot less canned food, hot showers, brilliant navigational and weather forecasting support…the list could go on and on.
During our crossing with a crew of 8, our daily power draw was about 35 amps…a very greedy boat and crew! Our energy production plan for this high demand had 4 parts:
125 amp alternator on each engine
3 kilowatt diesel generator with 100 amp battery charger – we ran the generator for making hot water
8 solar panels – about 200 amps per day
"Sparky", our Watt & Sea hydrogenator – minimum 350 amps per day, often more depending on speed
Another frequently used option is wind, but we did not include that in our plan. But the quieter modern wind generators are worth a look.
With our 4-pronged power plan, most days we had surplus power to charge the batteries. Our Bluetooth-enabled power management system enabled us to determine the power generation and power needs for easy management with a glance at our cell phones.
As we sailed to the middle of the Atlantic self-sufficiency and reliability that redundancy brings were important to us. The Watt & Sea hydrogenator was a key element to give us a lot of freedom to use power and to not worry if, for example, we had a failure of a solar panel. An excellent resource to work out your power needs is The Boat Electrics Bible.
Comparing Power Generation Options for Boats
Here is an overview of the good, bad, and ugly of various power generation options for cruising and living aboard boats.
Diesel Generators
+ Immediate power (if you are not out of diesel)
+ Can be used while docked or sailing
+ Diesel is easy to get in most parts of the world
+ More efficient charging than the main engine
+ Provides AC power
– Noise destroys the tranquility for you and your marina neighbors
– Smelly exhaust
– Requires periodic maintenance
– Prone to failures
– Takes up precious space on your boat
Hydrogenerators
+ Excellent when sailing, particularly on long passages
+ Transom mounting and a small box aboard do not take up space aboard
+ No noise or fumes
+ Creates surplus power to charge the batteries
+ Provides AC power
– Only works when sailing
– Produces very slight drag
Solar Photovotaic Cells
+ Very efficient cost/watt ratio
+ Virtually no maintenance
+ Works silently while docked or sailing
+ Rarely takes up space as mulithulls have plenty of flat surfaces out of the way like atop a Bimini
– Short and cloudy days reduce efficiency, and longer nights create more demand for power while the power generation is at a lower level
– Pricy upfront investment
Wind Generators
+ 24-hour power generation (versus solar)
+ Very effective in tradewind anchorages
– Power generation reduced when running downwind
– Must be mounted above head height which can be challenging on catamarans
– Quieter models available but can create noise