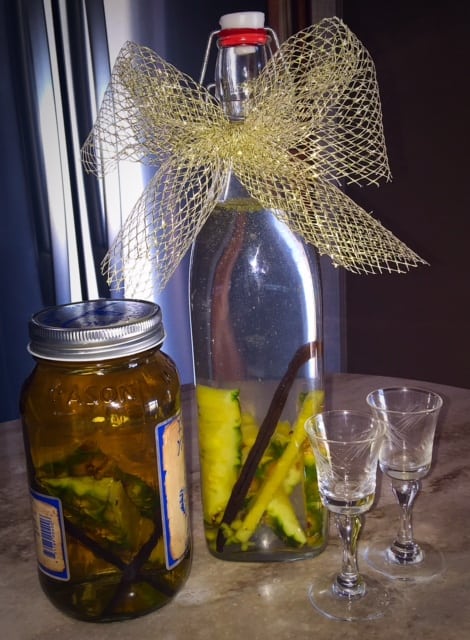 When we first sailed to Madagascar in 1992, we quickly learned that rum is the drink of choice for all yachties. It is cheap, available on many islands, and you can make your own brew to taste!
French and Australian yachties who mostly frequent the Indian Ocean Islands, quickly took us under their wing and showed us the way around the food markets and the rum distilleries. Not to be outdone, we bought our first 5-liter jerrycan of potent 100% proof rum from a rum distillery soon after arrival for about 50 cents a liter. I was a little skeptical that we could ever make that stuff taste palatable (just the smell was enough to make you swoon), but our Australian buddy, Ian, showed us how to cut and spice our rum.
So we started on our road to becoming master rum mixers. We decanted it into several containers, cut it with 50% of watermaker water and started spicing and flavoring our rum with vanilla pods, cinnamon bark, molasses, and tropical fruits. After about 2 weeks, we could no longer stand the wait and we started tasting the rum. It was delicious!…but we learned to be more patient and let it age longer…the longer you leave it, the smoother it becomes! Our favorite brew is also the simplest one, but feel free to experiment with pineapple, mango, banana and more! Add a squeeze of lime and ice for a refreshing drink or sip straight up, when aged long enough. Watch out, it has a vicious kick!
This is really quite simple to make but you need a little patience and no "tasting" while it's brewing!
Ingredients
1 bottle of any brand of rum (no top shelf required) with about about 3/4 cup removed…hmmm…what to do with the bit removed…LOL
3 vanilla beans
1 tsp molasses
½ cup Simple Syrup Mixture (see below) or buy ready-made
Directions
Slit vanilla bean lengthwise and add to bottle.
Pour molasses and simple syrup into bottle.
Let mixture sit for at least one month. The flavor will continue to get better with age.
The end result should taste of sweet vanilla-flavor with a mild rum bite.
Simple Syrup Recipe
Combine equal parts of water to sugar in a sauce pan. Boil until sugar has dissolved in the water. Remove syrup from heal and let cool to room temperature. Note: You may substitute vanilla sugar for plain sugar if you like.