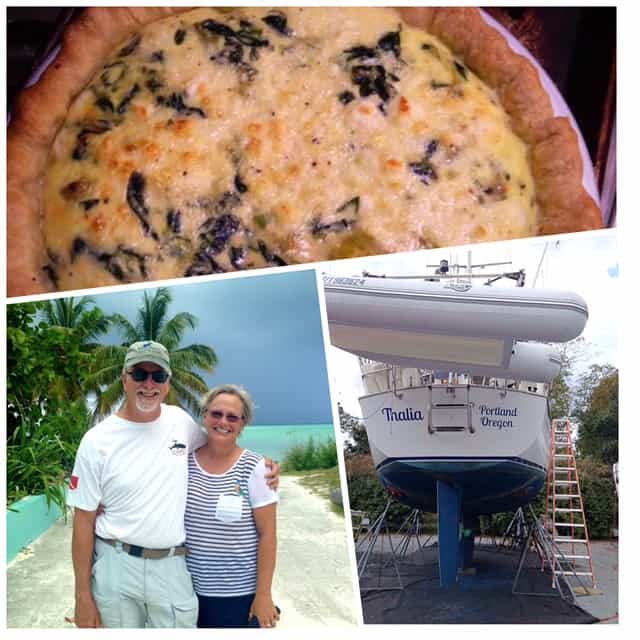 Caroline and Larry, our former sailing school students and now the owners of s/v Thalia, a Passport 40, have become veteran cruisers and adventurers in the last two years of living aboard. About two years ago they jumped onboard their 'new-to-them boat' in Annapolis after selling their home and business in Oregon to pursue their dream.
They have since put thousands of miles under Thalia's keel, sailing up and down the east coast and to The Bahamas and back. Their next destination is New Orleans. They are foodies you see, and destinations known for their good food like Charleston and New Orleans among others, attract them like moths to a flame.
Caroline happens to be a superb professional chef and we are constantly amazed at her creativity in the galley. She has a small galley in which to do her magic and she has no freezer, so her meal planning is based on what is available and what she can source at the local freah markets. Caroline recently posted this great quiche recipe on facebook and I just had to try it! With just a few ingredients and lots of imagination, Caroline whipped up this yummy Spanakopita quiche in no time and she agreed to share the recipe with Catamaran Guru followers. Thank you, Caroline!
Caroline says…
"Living on a boat with no freezer, I never have ingredients on hand like phyllo pastry, which is used for one of my favorite Greek dishes, spanakopita. Walking by a Greek restaurant in St. Augustine yesterday, it occurred to me that I did have on hand the other necessary ingredients: green onions, feta cheese, and some beautiful baby spinach I'd just bought at a local vegetable stand. When I got back to the boat, I made up this hybrid of spanakopita and quiche, adding another favorite, canned artichoke hearts. We both loved the results!"
Ingredients:
Recipe By: Caroline Lewis
Serving Size: 6-8
Crust
1-1/2 cups unbleached all-purpose flour
1/2 teaspoon kosher salt
pinch fresh ground nutmeg
4 ounces cold unsalted butter, cut into chunks
1/2 teaspoon vinegar or lemon juice
5 tablespoons ice water, approximately
Filling:
2 tablespoons extra-virgin olive oil
1 bunch green onions, trimmed and chopped
1 clove garlic, finely chopped
8 ounces baby spinach, washed, dried and roughly chopped
½ teaspoon kosher salt
7 ounces canned or frozen artichoke hearts, thawed if frozen, drained, and coarsely chopped (optional)
5 eggs
1 2/3 cups whole milk, or half and half, if desired
1/4 teaspoon fresh ground nutmeg
1/4 teaspoon kosher salt
1/2 teaspoon freshly ground black pepper
4 ounces feta cheese, crumbled
Directions:
To make the pastry: combine the flour, salt, and nutmeg in a bowl. Add the butter and, using your fingers, work it into the flour mixture until the mixture resembles very coarse crumbs. Add the vinegar and stir with a fork. Continuing to stir, gradually add the water, using only enough to just bind the dough until it holds together without being at all wet or sticky. Squeeze a small amount together; if it does not adhere, add more ice water, 1 teaspoon at a time. Form the dough into a disk and wrap in plastic wrap; refrigerate 30 minutes.
While the dough is chilling, make the filling. Heat the olive oil in a large sauté pan over medium-high heat. Add the green onions and garlic and sauté 3 or 4 minutes, or until soft. Add the spinach in several handfuls, stirring to wilt it as each handful is added. Add salt and sauté until the spinach is wilted. Reduce the heat to medium, add the artichoke hearts, and stir until all liquid is evaporated. Remove from heat and allow mixture to cool to lukewarm.
Roll the chilled dough out into a 12″ circle. Gently drape over a 9″ round pie pan. Press gently into place. Trim pastry edges to about 1" from edge of pie pan, tuck excess pastry down on the sides, and crimp the edges. Pierce the bottom all over with a fork and chill at least 15 minutes.
Preheat the oven to 375º F.
Line the pan with foil, pressing gently into the sides, and bake the dough about 15 minutes. Remove the foil and continue baking the crust until it's a blonde color and no longer looks wet. Remove from the oven, leaving it on.
Scatter the spinach mixture evenly in the bottom of the crust. Top with the crumbled cheese.
In a large bowl, beat the eggs, milk, nutmeg, salt and pepper. Gently pour over the vegetable mixture and cheese in the crust. Bake about 40 minutes, or until the custard is set. Let sit 10 minutes before serving.