250G all purpose flour (best to weigh flour, but approx 2 cups)
1/2 c whole milk yogurt from Indian grocer (this is crucial, it's unlike anything you'll get a typical grocery, IMO)
1/8 c milk
1/2 tsp baking soda
1 tsp sugar
1/2 up to 1 tsp Salt
2 Tbsp Vegetable Oil
Diced fresh garlic
Diced jalapeño
Chopped cilantro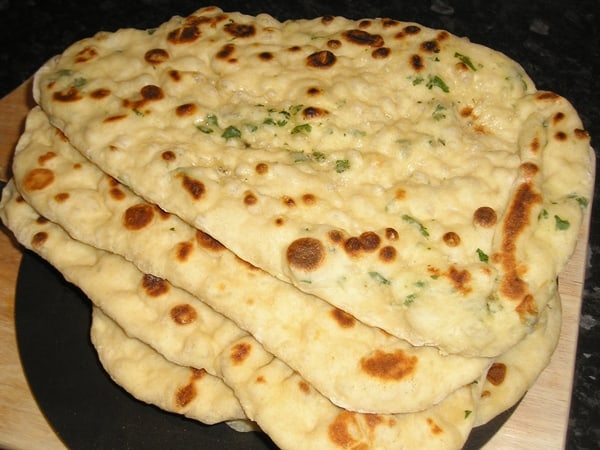 Best garlic jalapeño naan I have ever made – outstanding with tonight's yellow curry & an off-dry Riesling.
First off, naan has to be THE most fun bread to make in the history of bread – I LOVE making naan. And this. This one is just…off the chain.
Combine flour, salt and sugar. Make a small well in the center and add the oil and yogurt. I used my baby KitchenAid mixer, but you can also mix & knead this by hand.
Gradually add the milk a bit at a time and start kneading/mixing the dough until smooth and elastic and an impression made in the dough with your finger bounces right back. Shape dough into a ball & let rise in an oiled bowl, covered in a warm place, for about 2-3 hours.
Once dough has risen (note that there may not be a ton of rise here since there is no yeast in this recipe), divide into 6 pieces. Knead a little more by shaping each piece into balls, then roll out as thin as possible (my first ones were perfectly thin but then I got really hungry and some of my last ones were a tad thick – no matter, they were all delicious!).
Add the garlic, jalapeño and cilantro to each rolled out piece of naan and roll the toppings into the dough a few more times so they stick.
Drizzle some oil in a pan, drop the naan in with the topping side up & brown on the bottom until the naan starts to bubble up, then flip and brown the topping side.
Serve warm with fresh ghee.
*Note: I started to use a torch here to get the char, but could not see a significant enough difference to continue – browning on both sides in a pan worked just fine.