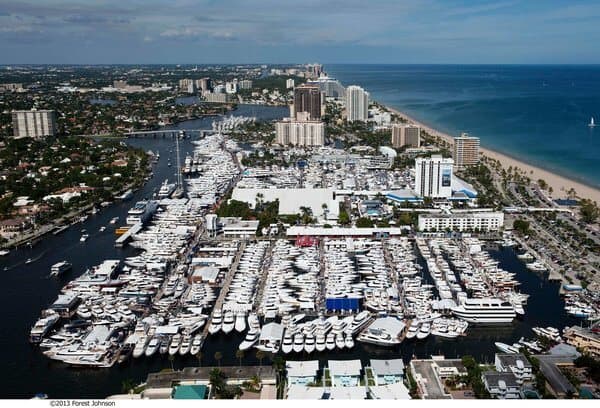 The Fort Lauderdale Boat Show for 2016 will be held November 3-7 in the "Yachting Capital of the World". This south Florida boat show is the world's largest in-water boat show, filling 7 locations with approximately 1,500 boats. The one-mile long venue along the Intercoastal Waterway presents watercraft of all types in 3 million square feet of exhibit space. Boating enthusiasts will get a chance to see a large variety of boats from over 1,000 exhibitors. Look for mega yachts, skiffs, boating accessories, and brokerage yachts for outright ownership or for placement in charter programs.
Keep up with the latest happenings by following the Fort Lauderdale Boat Show Facebook page.
The Catamaran Cove added to the Fort Lauderdale Boat Show in 2015 on the Hyatt Regency Pier Sixty-Six on 17th Street was a rousing success. Look for us again this year on Pier 66.
Chat with Catamaran Guru at the Boat Show
Drop by Pier 66, C Dock, 313 to view our Lagoon 450S, Zuri, and the exciting new Lagoon 77 with test sails! Interested in talking about yacht ownership and saving subtantially? Book an appointment with us by calling 1-804-815-5054 or emailing us.
Fort Lauderdale Boat Show Tickets, Hours
Get your Fort Lauderdale International Boat Show Tickets.
The boat show will be held in the following locations: Bahia Mar Yachting Center, Hall of Fame Marina, as Olas Marina, Greater Fort Lauderdale/Broward County Convention Center, Fort Lauderdale Hilton Marina, The Sails Marina, and Hyatt Regency Pier Sixty-Six.
Hours:
Thursday, November 3, 10:00 a.m. – 7:00 p.m.
Friday, November 4, 10:00 a.m. – 7:00 p.m.
Saturday, November 5, 10:00 a.m. – 7:00 p.m.
Sunday, November 6, 10:00 a.m. – 7:00 p.m.
Monday, November 7, 10:00 a.m. – 5:00 p.m.
Boat Show Transportation Options
To avoid the traffic on the beach, try one of the transportation options: