The 150′ Eco Catamaran Concept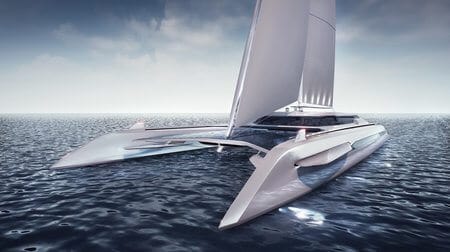 It is rare that ecological and sexy coincide, but that is exactly what you get with René Gabriellié Gabrielli's Eco Catamaran concept design. You must check out the video later in this article to really see the possibilities of this über-luxurious yacht.
The Slovak designer applied the best of wind and solar energy including energy storage to this massive, aerodynamic 150' multihull design. The innovation, while awe-inspiring, has merit in its ability to satisfy energy consumption needs of propulsion and household activities without the need for petroleum fuels for travel or electrical connection when docked. But clean energy is only where this concept begins.
Unique style and design concepts make this catamaran concept one to hope gets brought to life. Telescoping sails are cleverly hidden within the construction of the boat when not in use and upon command rise to catch the wind. An opulent swimming pool with two decks is the focal point of the central zone of the yacht. Aft sundecks at the stern provide more entertaining and lounging space for this ultimate party boat.
This ultra-modern vessel offers ecological power-saving designs:
Its massive sails catch breezes for wind-powered travel.
When needed, the multihull glides in the water using two electric turbines, each powered by lithium batteries harnessing the sun's energy via connections to solar panels that cover 1/3 of the boat's surface.
Batteries store the clean power for use when the sun and wind are not available.
Eco Catamaran Concept Design Renderings
After you've enjoyed the video above right, the images below offer a closer view at what makes this concept catamaran very tempting to bring to life.
Want to Build A Concept Catamaran?
Whether your dream is to build this or another concept catamaran or a custom version of a catamaran model on the market today, work with us. As buyers' brokers, we have your interests in mind and our experience as catamarn builders gives us the upper hand in negotiations.
* Renderings courtesy René Gabrielli