Dave is another "Old Salt" who joined our team at Catamaran Guru as a broker. As live-aboard cruisers, Dave and Peggy know what its like to be fully prepared, stocked, and totally self-sufficient. They had planned to be cruising in the Bahamas for four months, but that visit was cut short when the Coronavirus reared its ugly head. Here is what's been happening with them during the past few weeks since COVID-19 hit.
Peggy and I are currently in Fernandina Beach, en-route to Beaufort, SC. We crossed the Gulf-stream from the Abacos, Bahamas, two weeks ago to Ft. Pierce and spent a week in Vero Beach getting and installing a new alternator. It was a tough decision to leave the Bahamas. We felt safe from the virus as we cruised Eleuthera and then Spanish Wells and the Abacos. All of these places are fairly remote except for the more populated islands like Great Abaco. We had very little, if any chance of getting infected since we were well provisioned for an extended period of time anyway. We only ventured into town periodically for fresh vegetables and diesel.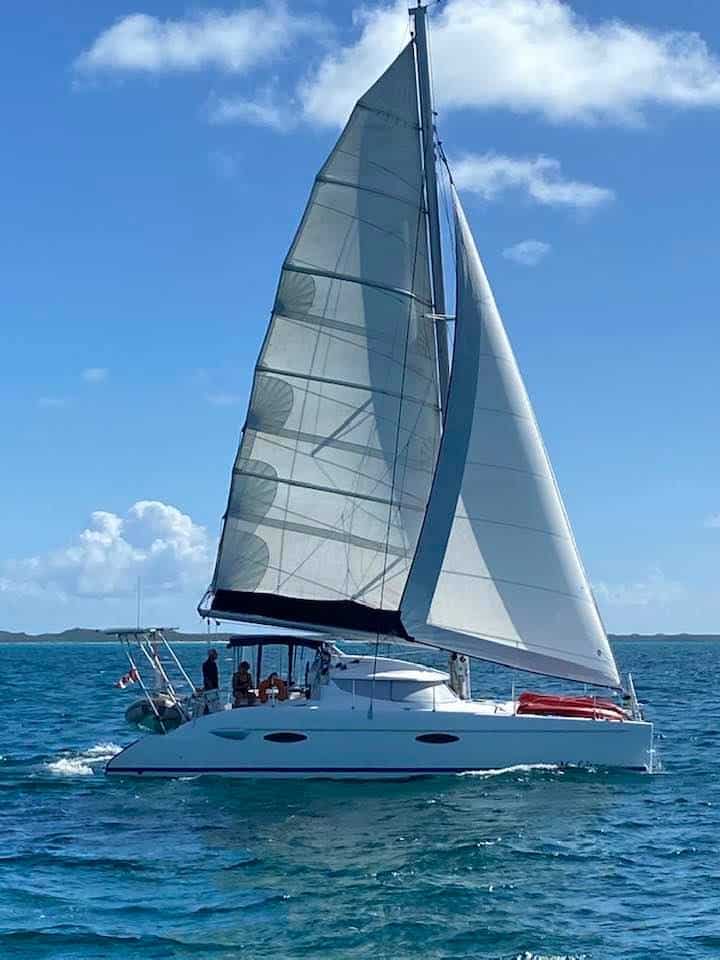 During the early stages of the COVID-19 outbreak, we felt completely comfortable socializing with other cruisers who, like us, essentially had been isolated on their boats. But we could see a change in the tide. There were rumors going around of total lockdowns everywhere and thought we'd get out of the Bahamas while limited movement between islands were still allowed, unlike all the restrictions currently put on visiting vessels.
In addition to the normal provisioning for our expected four months in the Bahamas, I brought along materials for a rather lengthy "To-Do" list developed during the four months we've owned SIMPLICITY. So, in the downtime, when we normally would be walking around town, visiting a beach or socializing with cruisers or locals, we managed to complete several jobs onboard. We did re-string the trampolines with Spectra line nice and tight so it's not so "springy" and is much easier to walk on when we work on the sails upfront. We serviced all the sailing winches, cleaned and oiled all the blocks and pulleys, put backing plates on the lifting eyes on our new dinghy for extra strength and inspected the rigging and seizing on every screw-pin shackle on the boat.
And, of course, we've done a lot of reading. During the purchase process for SIMPLICITY on the west coast of Florida I was introduced to the "Doc Ford" series by Randy White. Fortunately, the digital library I belong to had all 24 books in the series and I managed to read them all. The backdrop for all the books is the quirky folks living on boats in and around a marina. Imagine that! Quirky folks living on boats!
Learn more about yacht broker, Dave King.