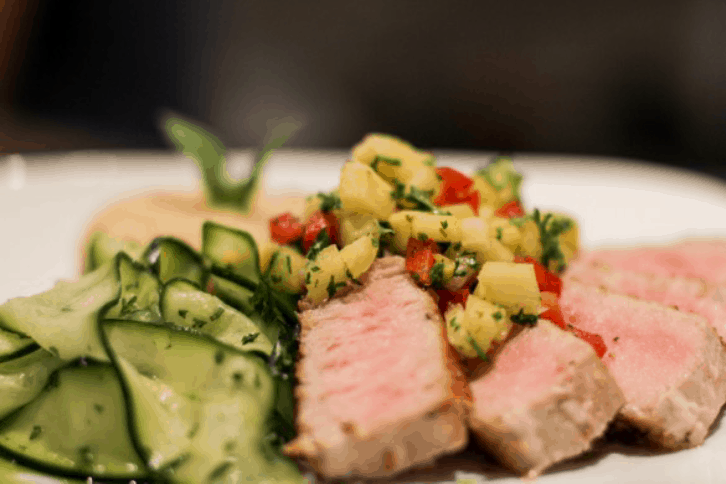 Natasha Pinfold of Voyage Charters shares this amazing recipe for a complete meal sure to satisfy your hunger for a tropcially inspired meal.
Ceviche Ingredients
4 to 6 zucchini squash
2 teaspoon salt
1 tablespoon olive oil
Juice of 1 large juicy lime
¼ cup of finely chopped mint
¼ cup of finely diced cilantro
Ceviche Instructions
Trim both ends off each zucchini.
Using a mandolin or vegetable peeler, peel the zucchini and cut into thin slices.
Evenly distribute the salt through the zucchini slices and set aside for ½ hour.
Squeeze water out of zucchini slices.
Pour lemon juice over slices. Mix well and leave in the fridge for 1 hour.
Drain the lemon juice, dress with herbs and olive oil.
Coconut Tuna Ingredients
4 tuna steaks
Egg wash (1 egg + 1 tbsp water whisked)
Coconut flakes
2 tablespoon ground black pepper
1 tablespoon coconut oil
Coconut Tuna Instructions
Blot the moisture from the tuna with a paper towel.
Dip in the egg wash and sprinkle with pepper.
Press tuna steaks onto a plate of coconut flakes.
Place into medium hot skillet with coconut oil.
Cook 3 minutes on each side for rare.
Cous Cous Recipe
Mix all together:
4 cups of cooked cous cous
Juice and zest of 1 lemon
1 cup of finely chopped parsley
2 large diced tomatoes
Pineapple Salsa Recipe
Mix all together:
2 cups of diced pineapple
¼ cup of diced
Juice of half a lime
Chopped cilantro
5 drops of Matouks hot sauce