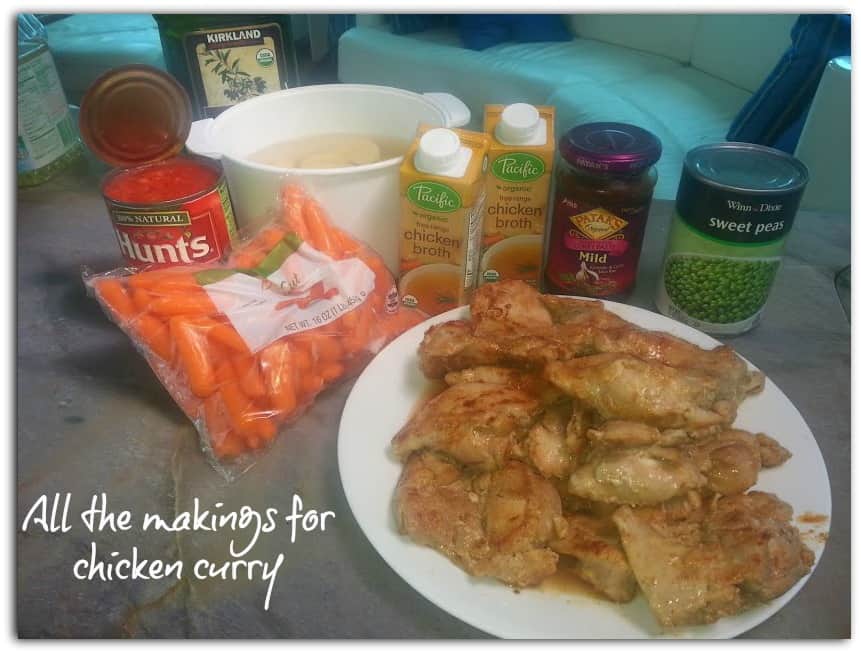 I usually cook this dish from memory with a little bit of this and little bit of that adding "whatever" until it tastes good. So feel free to add your own flair to this dish.
It also tastes so much better a day or so later when all the flavors have had time to meld. It is a hearty tomato-based curry with the spices of coriander, cumin, turmeric, and chili powder, very satisfying and full of flavor. This picture was taken in my galley while preparing a batch of chicken curry for our ocean passage.
I usually make enough for two to three meals. It freezes well and is an easy comfort food on passage. You could do a long version and get all your own spices, but I use Patak's curry paste. They have various different flavors and it is extremely good. It saves you from having to carry the up to ten or more spices that goes into this dish.
Ingredients
2 pounds skinless boneless chicken cut in small pieces (I like dark meat but breast is fine, too)
1 small onion, diced
6 tbsp Patak's Madras curry paste
2 x 8 ounce cans of chopped tomatoes
2 tsp apricot jam or 2 tsp brown sugar
Salt to taste
3 cups of water or chicken stock
*Those are the ingredients for the actual curry recipe but I add the following to make a more complete meal for passages:
4 large potatoes, quartered
1 cup of diced carrots
1 can of peas
Method
Heat the oil in a pan. Brown the chicken pieces, a little at a time, for about 2 minutes each side. Set aside.
In the same pan, fry the diced onions for 3 minutes.
Add the Patak's Madras Paste and continue to fry for a further 2 minutes.
Add the chopped tomatoes and jam / sugar and cook for 5 minutes.
Add the water or chicken stock, diced chicken, potatoes and carrots and cook for about 45 minutes or until potatoes and carrots are tender and the stock is reduced by half. The sauce should be fairly thick. If not, add a tbsp. flour mixed in a few tsps of water to thicken the sauce. Add the peas and simmer for 5 minutes.
Adjust the salt. Serve hot, with Basmati rice and Naan (if available). Good accompaniments are chutney and raita (yogurt, mint and cucumber).