Join Us for the Cannes Yachting Festival in France!

UPDATE: This festival was a smashing success. Watch right here for next year's event and plan to join us!
This is a favorite event for our clients and future boat buyers to enjoy with us. It kicks off the start of the boat show season and is a hugely significant event on the yachting calendar. The Cannes Yachting Festival is on once again from September 11th through 16th. It will undoubtedly be a chic and uber-fun event as well as the biggest boat show in Europe.
Last year, there were more than 50,000 visitors with 50% come from abroad, 520 exhibitors (60% from abroad), 214 new products including the premiere of 108 innovative items! Look for more than 100 sailing boats on exhibit with almost half of them multihulls.
You'll even find previously owned boats from 65′ to 215′ long. Most of the major brands take this opportunity to to showcase their full range of products and it is also the global debut of their latest designs.
On Display During Cannes Yachting Festival
This year we will once again tour these catamarans with our clients. We tyoically sell the bigger catamarans at this show. There are only a limited number of large catamarans built each year and it pays off to be one of the first to view the newer models and get your order in before boat show season gets into full swing.

Bali 5.4 DEBUT: This yacht promises to be another great innovation from Bali!
Dufour 48 DEBUT: This long awaited catamaran will finally make its debut. The Dufour 48 undoubtedly has some very innovative design ideas and we are exited to see her!
McConaghy 60 DEBUT: This is a super high performance cruising catamaran. The MC50 debuted this year in Europe and it was a great succes, so we know that the MC60 will be a winner!
Sunreef 80 DEBUT: This yacht looks like a very elegant design and this Polish yard do some really nice work on these yachts that are often highly customized to each owner's style.
Lagoon Seventy7: The Lagoon SEVENTY7 is a genuine super yacht. It is big, luxurious and elegant. Having sold three already and delivered one, we can tell you that this yacht is exquisite.
Fountaine Pajot 67 DEBUT: This yacht is another very luxurious offering from FP, styled similar to the smaller new range of models.
Contact us for brochures of any of these yachts. For a private showing, please schedule an appointment with us.
Work With The Catamaran Guru Team!
Your Catamaran Specialists: Stephen & Estelle Cockcroft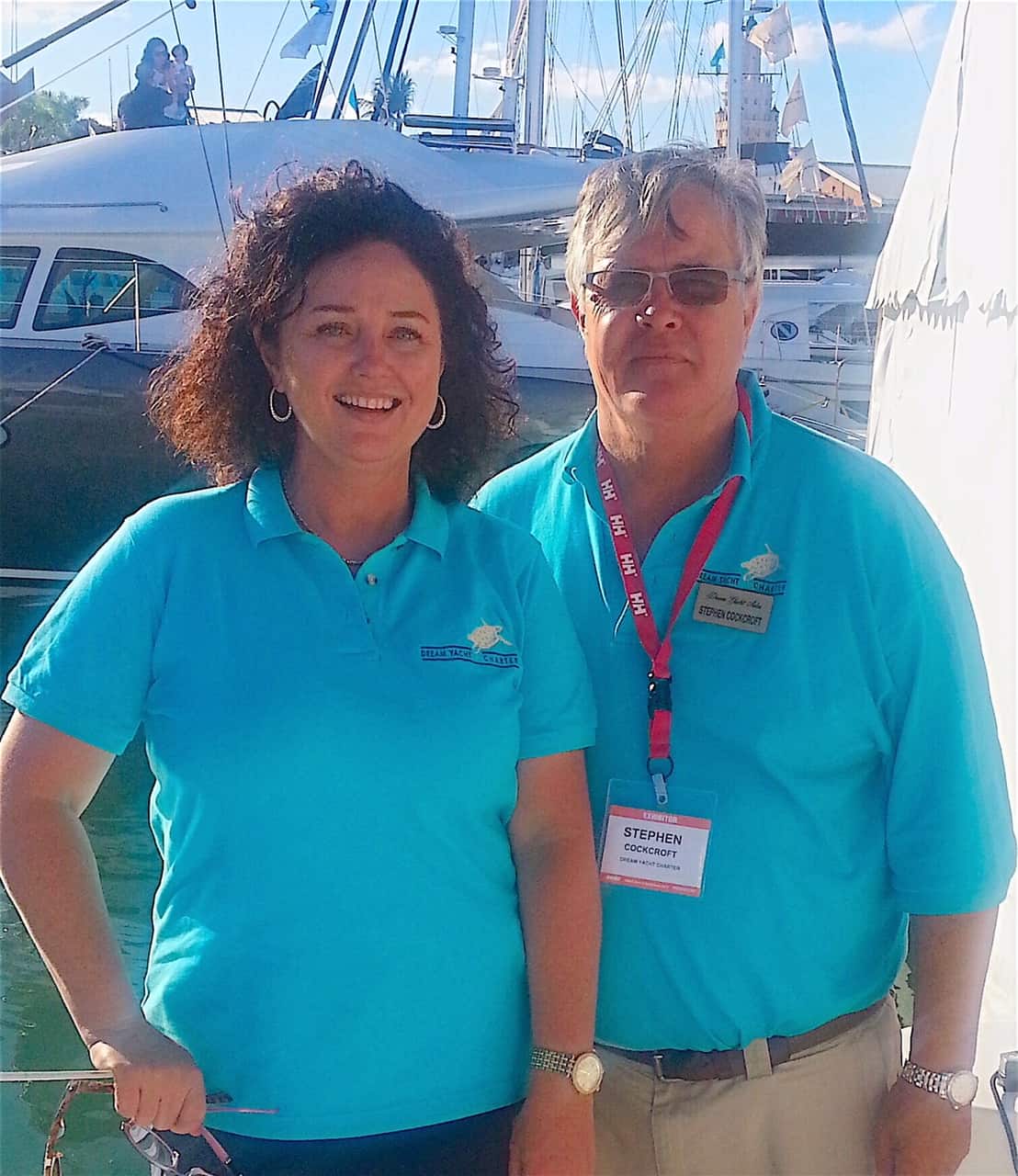 Do you want your own independent yacht buyer representation to protect your interests as you look at the options among large catamarans for sale?
Consult With Catamaran Guru! We are:
Acknowledged in the industry as catamaran specialists
Experienced at structuring charter programs to offset the costs of yacht ownership
Specialists in "yacht as a business" models and business set-up
Proven track record of structuring a business environment which enables owners of large yachts to take advantage of existing tax laws
Independent

large catamaran

buying advice at no cost to you
For An Appointment At The Show To View These Catamarans Call: 1(804) 815 5054 OR
Schedule An Appointment Get your Cannes boat show tickets here>>
OR follow us on Facebook while we are there to hear about all the exciting new catamaran products now on the market.