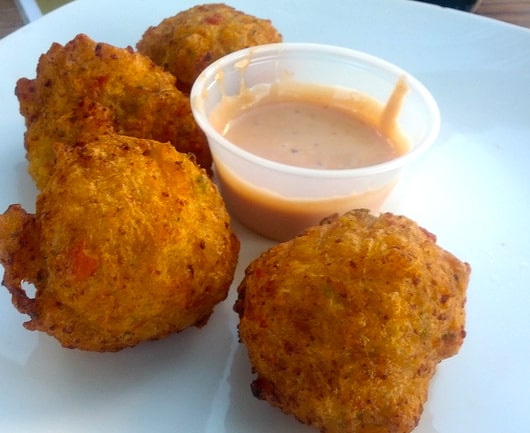 Indigenous to the Bahamas, queen conch fritters are one of the most popular dishes in the islands. Each family has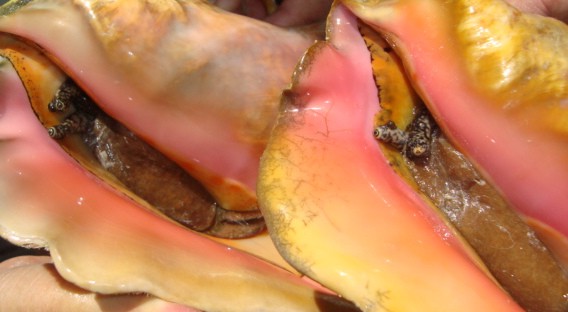 its own recipe, spice combinations, and flavors to keep their fritters unique and true to their own family traditions.
Conch fritters are savory, fried balls of dough with chopped conch, chopped veggies, and spices.
Conch is a type of large sea snail. There are six kinds of conch found in the area, but only Queen Conch (the largest) is eaten in the Caribbean. It's estimated that over half a million pounds are consumed each year!
Try this traditional conch fritter recipe from my Bahamian friend, Susan. It is easy to prepare and the result is a delicious Bahamian treat that's a great snack or the perfect appetizer.
Conch Fritters
Ingredients
Oil (for frying)
3⁄4 cup all-purpose flour
1 egg
1⁄2 cup milk
Dash of ground Cayenne pepper
Red pepper flakes, to taste
Seasoning salt to taste
Ground black pepper, to taste
1 cup fresh chopped conch (if you don't have a local fish market that offers conch, it can be purchased frozen from Amazon)
1⁄2 of a large onion, chopped
1⁄4 of a green bell pepper, chopped fine
1⁄4 of a red bell pepper, chopped fine
2 stalks celery, chopped fine
2 garlic cloves, chopped fine
Directions
Heat the oil in large pot. In a bowl, mix the flour, egg, and milk. Season with cayenne pepper, seasoning salt, pepper, and red pepper flakes. Mix in the conch meat, onion, red & green pepper, celery and garlic. Drop the batter by rounded tablespoons into the hot oil and fry until golden brown. Remove from oil with slotted spoon and drain on paper towels.
Serve with cocktail sauce or Calypso Dipping Sauce.
Calypso Dipping Sauce
2 tablespoons ketchup
2 tablespoons fresh lime juice
2 tablespoon mayonnaise
1 teaspoon Tabasco sauce, or
salt, to taste
fresh ground black pepper, to taste
Directions
In a bowl, mix the ketchup, lime juice, mayonnaise, hot sauce, salt & pepper. Serve dipping sauce on the side with the fritters and a slice of lime. Enjoy!
Watch The Video Below On How To Clean & Prepare A Conch