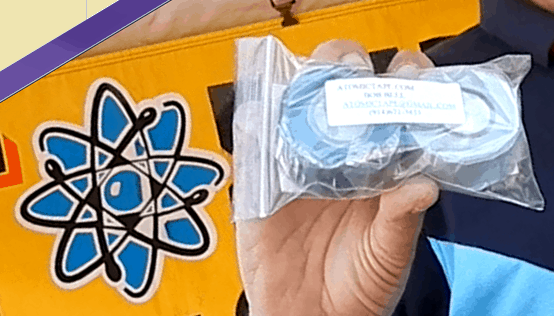 Bob Bell is as enthusiastic as his legendary Atomic Tape is versatile. We met up with him at last year's Annapolis Boat Show and have a video to share with you in which Bob explains in his rapid-fire manner, all the ways this flexible (in more ways than one!) silicone tape can be used on the boat and off. This amazing product made in Delaware has many marine and other uses, but was originally developed in the 1960s for wire-bundling on fighter jets.
Check out Bob's demo at the right (apologies that his head is cut off…this was one of our team members' first go at using the video camera!). Bob's low-tech demos and sales methods are refreshingly honest. He does not need fancy websites and elaborate videos to sell Atomic Tape and his other products such as the Spiroll rope protectors that he offers. His products are useful, inexpensive, and have a myriad of uses which is great for boats that are small on space and, usually, big on things that can go wrong.
Top Features for Catamaran Owners
Withstands heat up to 500° F (260°C) degrees so can be used on exhaust systems or heat exchangers
Withstands 700 psi pressure
Easy, quick, cheap fixes for leaks in hoses or bundling cables even on wet or dirty hoses and cables
Great idea for finishing ends of dock lines and identifying dock link lengths using different colors
Does not stick to anything except itself
Will not degrade in sun, oil, fuels, or salt water
When securing spreader boots, turnbuckles, and mast boots, it will not back off even sitting in the sun all season long
Better than rigging tape as it won't back off
Price: $24.99 for a pack of 2 (~40' per roll), in a variety of colors
Made in the USA.
Where to Get Your Atomic Tape
Email Bob at atomictape@gmail.com or catch him at a sailboat show.
What's Your Take on Atomic Tape?
Atomic Tape comes in handy all the time. It it a super low-cost way to securely make all sorts of repairs and organize unruly cables, cords, and ropes…lots of those on boats! What do you think? Have you used Atomic Tape? Let us hear from you!